By Brian Nelson, CFA
Valuentum's equity research covers a lot of ground. Not only do we assess fundamental components such as revenue and earnings growth and technical considerations such as relative pricing strength in the 16-page stock reports, but the one-page supplemental dividend reports showcase each firms' dividend yield, strength and track record. We think this rigor of process has allowed us to build one of the best -- if not the best -- reputation on Microsoft's (NASDAQ:MSFT) stock in the equity research industry. A glance at our article history on Seeking Alpha alone is enough to turn a great many heads. We were pounding the table on Microsoft in 2011 and stuck to our call all the way to current levels (post dot-com bubble highs!). Just look at how consistently bullish we were on the company! No mixed messages -- just straight talk. We're confident our members are very pleased. But what do we think about Microsoft today? Well, let's dig in!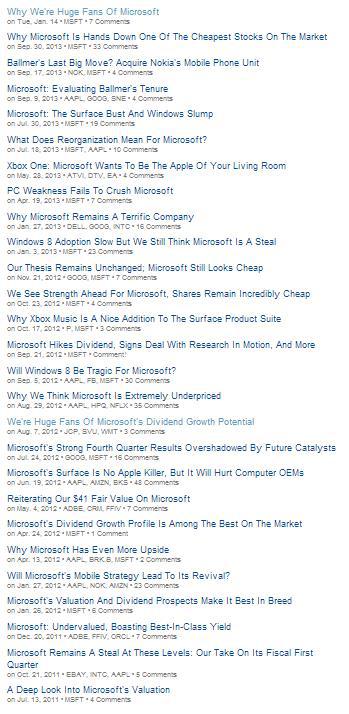 Image Source: Valuentum's article archive on Microsoft at Seeking Alpha
As a partner for financial advisors, we rely on the weight and depth of our research and analysis, which goes well beyond historical data, to arrive at a pertinent and relevant fundamental free cash flow measure of dividend health, the Valuentum Dividend Cushion. We're one of the few independent companies that provide full financial statements and forecasts of free cash flow of a company long into the future to determine just how safe a cash dividend truly is.
The Valuentum Dividend Cushion tool, which is used by financial advisors and individual investors alike, is based on a company's future fundamental cash-flow generation and the health of its balance sheet, helping avoid the two major factors that cause dividend cuts. The score is forward-looking and meaningful. For example, in the case where one of your dividend-growth holdings has a score of 2, an investor can confidently say the following:
Company XYZ can cover its future cash dividends and embedded growth rate in them (as shown in the dividend report) with traditional free cash flow (cash flow from operations less capital expenditures) and after considering the obligations of its balance sheet by 2 times during the next 5 years.
Financial advisors find this tool valuable as a supplement to their in-house research that they perform for their income clients. Nobody wants the call from the client that a company in their income portfolio cut its dividend. The Valuentum Dividend Cushion score can easily be compared to those of other firms (as shown below) -- it offers a safety ranking system, to a degree. In finding a great dividend growth stock for their income clients, we help advisors look for firms that have an excellent combination of a high dividend yield and a Valuentum Dividend Cushion score comfortably above 1 (preferably above 1.25). The beauty about the assessment is that it is completely independent.
Microsoft's Dividend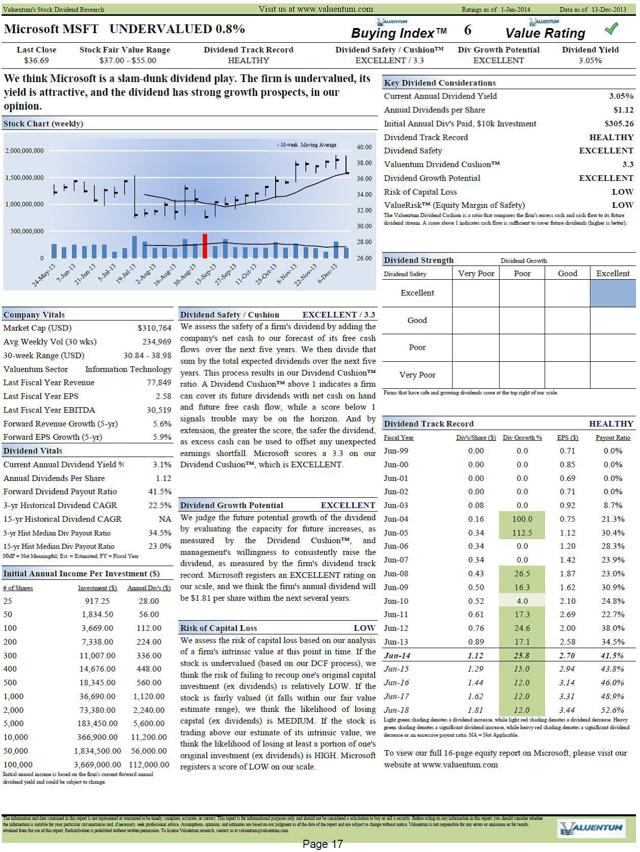 Microsoft's dividend yield decent, offering a 3% annual payout at recent price levels. As many can gather by our enthusiasm of the company, we think the safety of Microsoft's dividend is excellent (please see our definitions at the bottom of this article). We like to be as transparent as possible with our process so the outcome is repeatable in predicting strong dividend growers.
We measure the safety of a company's dividend in a unique but very straightforward fashion. As many know, earnings can fluctuate in any given year, so using the dividend payout ratio (dividends per share dividend by earnings per share) in any given year has some limitations. Plus, companies can often encounter unforeseen charges, which makes earnings an even less-than-predictable measure of the safety of the dividend in any given year. We know that companies won't cut the dividend just because earnings have declined or they had a restructuring charge that put them in the red for the quarter (year). As such, we think that assessing the cash flows of a business allows us to determine whether it has the capacity to continue paying these cash outlays well into the future.
That has led us to develop the forward-looking Valuentum Dividend Cushion™. The measure is a ratio that sums the existing cash a company has on hand plus its expected future free cash flows (CFO less capex) over the next five years and divides that sum by future expected cash dividends over the same time period. Basically, if the score is above 1, the company has the capacity to pay out its expected future dividends. For income investors, however, we'd like to see a score much larger than 1 for a couple reasons: 1) the higher the ratio, the more "cushion" the company has against unexpected earnings shortfalls, and 2) the higher the ratio, the greater capacity a dividend-payer has in boosting the dividend in the future.
For Microsoft, this score is a solid 3.3, revealing the firm has a nice "cushion" and capacity to pay out its expected future dividends (including dividend expansion, as displayed in the one-page report above). The beauty of the Dividend Cushion for financial advisors is that it can be compared apples-to-apples across companies. For example, Wal-Mart (NYSE:WMT) scores a 1.5 on this measure. For firms that have a score below 1 or that have a negative score, the risk of a dividend cut in the future is certainly elevated. In fact, the Valuentum Dividend Cushion has caught all dividend cuts in our non-financial coverage universe, except where management could almost be accused of misleading investors. We use the Dividend Cushion as a key decision component in choosing companies for addition to the portfolio of our Dividend Growth Newsletter.
Now on to the potential growth of Microsoft's dividend. As we mentioned above, we think the larger the "cushion" the larger capacity it has to raise the dividend. However, such dividend growth analysis is not complete until after considering management's willingness to increase the dividend. Capacity and willingness are the two qualities that a fantastic dividend growth company must have -- it can't have one and not the other to be a dividend growth gem. As such, we evaluate the company's historical dividend track record. If there have been no dividend cuts in 10 years (a lengthy business cycle), the company has a nice dividend growth rate, and a nice dividend cushion, its future potential dividend growth would be EXCELLENT, which is the case for Microsoft.
For dividend growth investors, we also assess the risk associated with the potential for capital loss (offering dividend growth investors a complete picture). In Microsoft's case, we think the shares have valuation upside north of $40 per share. Please click here to dig into our valuation analysis on the company. We're fully transparent with our assumptions. All things considered, the growth potential and safety of Microsoft 's dividend are attractive, and the size of its yield makes the firm worth considering as a income play. We continue to like shares! Thank you for your continued support. We trust you are doing well!
The glossary below shows how we rate a company's dividend in each key area: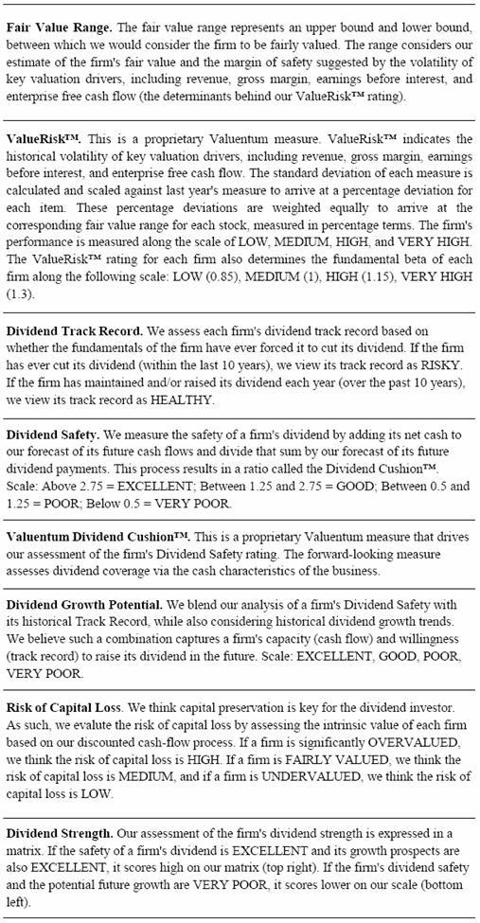 Disclosure: I have no positions in any stocks mentioned, and no plans to initiate any positions within the next 72 hours. I wrote this article myself, and it expresses my own opinions. I am not receiving compensation for it (other than from Seeking Alpha). I have no business relationship with any company whose stock is mentioned in this article.
Additional disclosure: MSFT is included in the Dividend Growth portfolio.