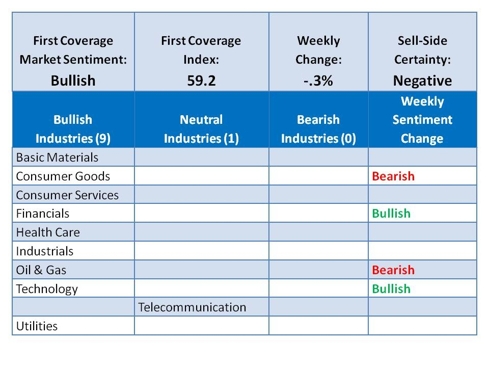 Last Week had Some Worrisome News on Consumer Spending
Last week was a light week for economic reports and earnings reports. Among the few economic reports were a couple that disappointed. Monday brought a 1% drop in April consumer credit card debt from March. That left consumer credit card debt at the lowest level in four years. It appears consumers may still be more concerned with getting their finances in line, rather than cranking up spending. Friday's report on May retail sales showed a 1.2% drop from April, even though April retail sales were presumably negatively impacted by the early Easter. May sales were even below those of March. This was the first monthly decline of the year. Biggest culprit in May was building materials sales, where the 9% decline may have been affected by an earlier mini-surge in homebuilding to beat the April 30th cut-off on tax breaks for home buyers who bought before then. However, May seems a little premature for that to have had an impact. On the positive side, there was a good jump in the June University of Michigan consumer sentiment survey.
Equity Markets Enjoy a Good Week
Aided by the consumer sentiment news, the market easily weathered the negative economic news with a late Friday rally. For the week, the DJIA and S&P 500 each were up about 3%. Helped by some good outlook news from National Semiconductor on Friday, Technology closed out the week on a high note, enabling a gain of 1% in the NASDAQ for the week.
Basic Materials and Oil & Gas led the way with gains of 6% and 5%, respectively. Technology brought up the rear with a gain of not quite 1%.
Not Much Movement in Sell-Side Sentiment
Sell-Side sentiment remains at 59.2, just under the highest levels of recent weeks. The post crash high of 60 first occurred four weeks ago, and sentiment has remained at or near that level since then. It barely budged last week with a drop of only 0.2%. The 60 level is the highest since mid-year 2008.
Back in 2008, sell-side sentiment fell from a peak of 57 in May to a low of 43 in October, anticipating the market crash that fall. Since bottoming at 43, sell-side sentiment gradually rose, although, it has at least temporarily stalled the last six weeks in the 58 to 60 range.
Sentiment's Three Tenors Continue to Sing, but Not so Loudly
For the past six weeks, Oil & Gas, Industrials, and Health Care were rated highest by the sell side. The order got shuffled again last week, with Industrials now a tad ahead of the other two. All three industries saw a drop in sentiment last week. Sentiment for prior front runner Oil & Gas declined 8%, pulling it back closer to the other two leaders. Sentiment for Health Care and Industrials each dropped about 1%. Industrials lead the list followed by Oil & Gas and Health Care. Technology, with a 3% gain in sentiment last week, has pulled close enough to make it a foursome in positive sentiment leadership.
Financials
Sentiment for the Financial industry has deserved special attention because it encompasses the companies that both caused the Great Recession as well as the companies that many believe have to lead the economy out by beginning to make credit more readily available. As one of the lowest rated industries, Financials have plenty of room for sentiment to increase, even though sentiment for Financials has been increasing at a sharp pace over the past six weeks. Sentiment surged a further 5% last week, moving Financials into sixth place in sentiment among the ten industries.
Meaningful Economic Reports Due This Week
Biggest economic news this week is the Wednesday morning reports on May housing starts and permits. Permits declined substantially last month as the tax breaks disappeared. Following the permit decline in April, May starts are expected to show a decline. May permits may bounce back a little, but that may be only because the decline was so great in April. Industrial Production is likely to be good as companies continue to rebuild inventories. Capacity Utilization will likely also increase, but the amount of the rise the last few months has been disappointing for this stage of a recovery. That likely will help to keep inflation low. Weekly data deserving of attention in these times includes jobless claims and purchase mortgage applications.
Other big economic reports this week are the May PPI on Wednesday and the May CPI on Thursday, but both are likely to be benign and not have much market impact.
We are in a dead zone for earnings reports and pre-announcements. However, earnings from bellwether companies with May ending quarters could impact the market, including Best Buy (NYSE:BBY) on Tuesday and FedEx (NYSE:FDX) on Wednesday. Also, Norfolk Southern's (NYSE:NSC) analyst meeting on Wednesday could shed some light on the economy. Finally, the very visible Fed Chairman, Ben Bernanke, speaks on Wednesday. All in all, Wednesday is not a good day to hit the beach.
Stocks to Watch
Over the last week, the following stocks had the largest bullish and bearish sentiment shifts amongst the sell-side.
Bullish: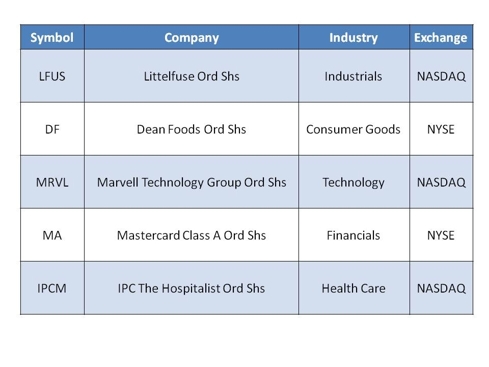 Bearish: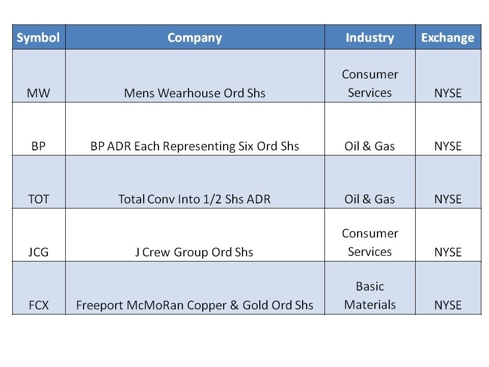 Disclosure: No positions