eirIt is easy to understand the investing community's frustration in Apple (NASDAQ:AAPL) stock, which gets besieged with a cacophony of rumors, new releases and stories on a daily basis. Experts continue to argue that Apple should trade at valuation multiples similar to other technology firms, and existing valuation gap should converge. Fundamental business reality and our naïve perceptions are subject to multiple forms of interpretation challenging our understanding of the truth.
Growth Drivers
Gartner expects the smartphone market to more than double from 2012 to 2015, providing Apple with avenues for iPhone growth. Total smartphone shipment is forecasted to reach 1.7 billion units in 2017. Demand for smartphones will continue to be strong across all geographies, and further adoption in developing regions of Asia Pacific, the Middle East and Africa will drive much of the growth through 2017. Longer term, Apple should still attract late smartphone adopters in developed markets and new customers in emerging markets, especially as Apple's partnership with China Mobile, the world's largest wireless carrier, begins to pay dividends. As more consumers become experienced smartphone owners, rather than first-time buyers, Apple should be able to retain a sizable portion of its iOS user base today, and perhaps gain additional share at the high end of the market. ISI released a very bullish note on Apple saying "the 'mother lode' of all Apple upgrade cycles will happen this year when Apple releases two new iPhones with big screens".
Over the next four years, total shipments in the mobile computing market are expected to shoot up to 450 million units, 75 percent of which are tablets. Market researchers are projecting that the upcoming generation of today's iPads will continue to dominate the competition. Apple achieved a 19.5 percent slice of global combined PC and tablet sales in 4Q-2013.
Valuation
My discounted cash flow model estimates Apple's fair value at $585/share using the below listed factors.
Discount rate of 11.64 percent for Apple. Since Apple is a multinational company, I have used the revenue breakdown by region to determine weighted equity risk premium.
Capital Structure: Equity: 96 percent weight; and Debt: 3.88 percent weight (after converting operating leases to Debt).
Assuming compounded annual revenue growth rate of 3 percent over the next 5 years.
Used a target pre-tax operating margin of 27.5 percent (almost 100 basis points lower than existing operating margin).
Subtracted employee options as the cost to shareholders (outstanding as per company's 10-K).
For sales/Capital ratio, I have used the US Industry average of 2.66.
In an earlier article, I argued that artificially raising the return on equity, either through share buybacks or by modifying capital structure, will negatively affect the earnings multiple for Apple. The correlation which existed between the price/earnings multiple and return on equity supported my thesis. We identified revision in growth expectations as the most important driver for multiple expansions. The biggest risk to the stock is the disappearance of growth. How will the market react if new products fail to create a momentum similar to the iPhone and iPad? That will create an inflection point from where market participants will start re-pricing the growth risk.
The mechanics of price discovery have decoupled from reality, resulting in paradoxical expression of value; pricing of risk does not reflect the fundamental three-dimensional reality in Apple. Asset volatility is an important dimension of risk, because it gauges the uncertainty associated with future asset prices, as well as investors' expectations. Bets against volatility in Apple have risen as investors take advantage of a contango, where implied volatility levels increase into the future. Options implied volatility is said to be a highly significant and "informationally efficient predictor" of realized volatility in an asset.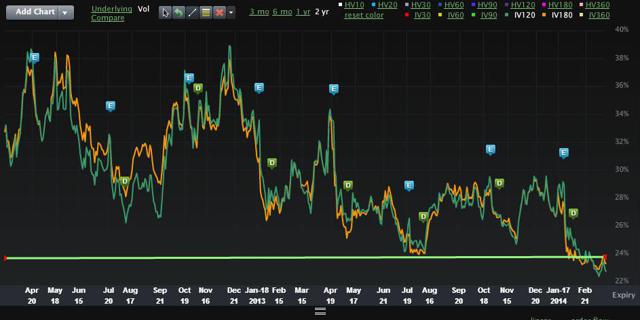 Figure 1. Source Livevol
On the surface, it sure seems like the short volatility trade in Apple has gotten crowded. Concentrated short Vega exposure "signals potential volatility squeeze risk" in Apple. A rise in the volatility will drive short Vega sellers to cover their trades, pushing volatility higher. You are quickly in trouble, and the more the market moves against you, the bigger your losing position becomes. The more hedging investors do, each time locking in a loss, pushes the market more against you, especially if you are massively short volatility. Long-dated options have less liquidity, and at the moment when liquidity providers sense oversized positions, it becomes more difficult and expensive to cover the short Vega exposure. Long-dated Vega gets illiquid when volatility rises sharply.
So far, market has successfully restricted Apple's earning multiple from expanding, and high concentration of short Vega exposure among market participants reinforces this argument. In any scenario, revision in growth expectations (positive or negative) can cause Apple to hit a "volatility patch". This move sure could spell trouble for the crowded short Vega trade as everybody tries to cover their short volatility play.
Disclosure: I am long AAPL. I wrote this article myself, and it expresses my own opinions. I am not receiving compensation for it (other than from Seeking Alpha). I have no business relationship with any company whose stock is mentioned in this article.