On March 10, 2014, Vringo, Inc. (VRNG), a company engaged in the innovation, development and monetization of intellectual property ("IP"), announced its fourth quarter and and year-end results.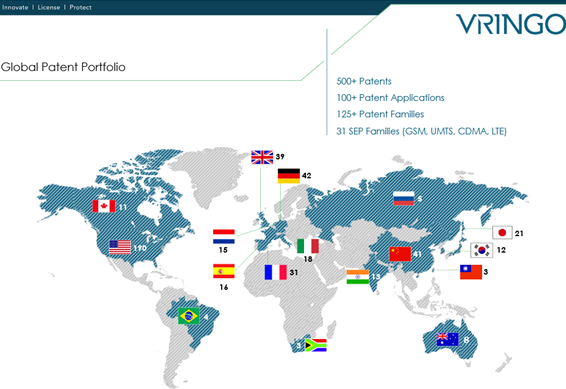 Investors who have watched the Vringo story unfold over the years, knew there wasn't likely going to be anything out of the ordinary when the company reported its earnings last week. After all, the Company just held a special conference call last month to talk about the recent events that have taken place.
However, that didn't stop some investors from asking me about Vringo's upcoming earnings report and what I thought would happen. I chuckled a bit when I first read some of them, as I knew those investors had to be new to Vringo. Those who have followed the Company, knew that earnings was most likely going to be a non-event compared to other publicly traded companies.
The change in the Company into an IP enforcer from ringtone business has changed the earnings season around. Vringo went from trying to live up to analyst expectations on the top and bottom lines, to simply giving management the opportunity to inform and update shareholders about what is taking place within the Company. While nothing extraordinary was mentioned in the latest report, there were a couple of things that stood out to me that I would like to share with you.
Some Takeaways From The Report
As of February 6, 2014, Vringo had approximately $31M in cash and cash equivalents. The Company expects these funds will be sufficient to support current operations and allow timely execution of the Company's current business plans.

The average monthly use of cash in operations for the year ended December 31, 2013 was approximately $2.0 million per month. Management said they expect this figure to decrease in 2014 and believe the cash balance is sufficient for Vringo to operate through 2014 and 2015, conservatively without budgeting for a significant revenue event.
Seeing the use of cash in operations on the decline was the biggest thing that jumped out to me. Instead of burning through $3M-$4M per month in previous years, Vringo is now using less then $2M per month. On top of that, the Company expects the $2M per month figure to continue to decline in 2014. This is wonderful news for investors, as it shows that Vringo is able to continue operations through 2015, even without budgeting for significant revenue events.
During 2013, Vringo recorded revenues of $1.1M (+1,000%) compared with the corresponding period in 2012.
Nothing excites investors more than seeing huge growth take place in the revenue department. Of course the reason for the 1,000% increase in revenues was due to the Microsoft (NASDAQ:MSFT) settlement with Vringo last May. In that settlement, Microsoft agreed to transfer six of its patents to Vringo, pay an upfront payment of $1M, and pay 5% of whatever amount Google (NASDAQ:GOOG) ends up paying Vringo in a separate suit, up to a certain cap.
On December 31, 2013, Vringo entered into a purchase agreement to sell its mobile social application business to Infomedia Services. The transaction closed on February 18, 2014, upon which the Company received an equity stake of approximately 8% of Infomedia.
When it was announced in January that Vringo had sold off the remaining assets of its mobile business, I was ecstatic. Why? The mobile business was becoming a drag on the Company and was becoming more of a hindrance then a benefit to the Company.
Vringo's future clearly wasn't with its mobile business and I believe selling that part of business was a good investment for Vringo. The Company was able to unload the pieces it wasn't really using in the first place and received an 8% stake within a fast growing company in the process. Management went on to talk about their view on this matter saying;
In exchange for ownership of the relevant Vringo technologies and related intellectual property Vringo acquired an approximately eight percent owner stake in Infomedia. Given Infomedia's access to broad markets around the world we believe this transaction could yield a great return on investment for our company as well as enable us to focus on monetizing our intellectual property portfolio on a global scale.
Was The Sell-off Really Warranted?
Over the last couple of months, Vringo has won some big victories against Google. The two biggest announcements came in January when the court ruled that Google's so called "work-around" is nothing more than a colorable variation and subsequently issued that I/P Engine (Vringo's subsidiary), is entitled to ongoing royalties as long as Google continues to use its "modified system."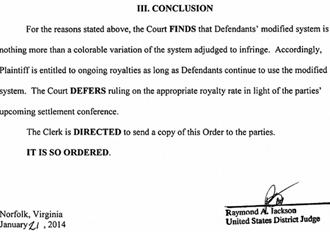 Not only that, but Judge Jackson also ruled that the ongoing royalty raised should be raised from 3.5% to 6.5% in favor of Vringo.

These results really couldn't have been any better for the Company and its investors. After these rulings hit the wires, shares of Vringo soared as the Company was awarded two key victories in its battle against Google. Not only were these decisions great for Vringo, but it removed a huge amount of risk in the process as well for investors.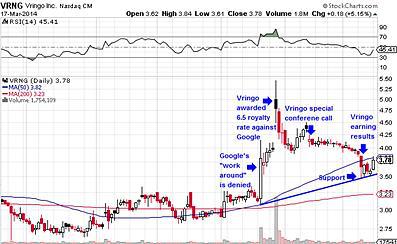 After such key wins and with so much risk being taken off of the table, does it make any sense at all to see shares trading lower than some of these announcements? Absolutely not! So what exactly is going on right now and where is Vringo headed? I have a couple of reasons why and would like to share them with you.
First, it is no secret that there is a lot of volatility in this stock. Shares are driven on news and not fundamentals. Why? Because the fundamentals are not there yet. Once Vringo receives the money that it deserves, investors will have no choice but to value the company correctly.
Looking at the institutional ownership now, we can see that Vringo is starting to gain some traction. On January 31, 2014, Blackrock Inc. (NYSE:BLK) disclosed that it had acquired a 5.4% stake (4.36M shares) in the Company. If Vringo can get more institutions involved, shares won't be as volatile and those pops and drops that investors are used to, will be few and far between.
| | | |
| --- | --- | --- |
| | Last Quarter | This Quarter |
| Institutional Ownership | 16% | 21% |
Second, over the last few years Vringo has become a day traders paradise. If you looked at the charts over this time frame, you can see that shares have never held onto their gains. This pop and drop action has been so obvious, that even the longest of long-term investors are now getting in on the action. Because everybody knows what's coming now, investors aren't even thinking twice about selling the pops and loading up on the drops.
Third, while Vringo has been awarded victories that will fetch the company hundreds of millions of dollars in the coming years, it seems that Wall Street is waiting for the money to hit the books before they start correctly valuing the Company.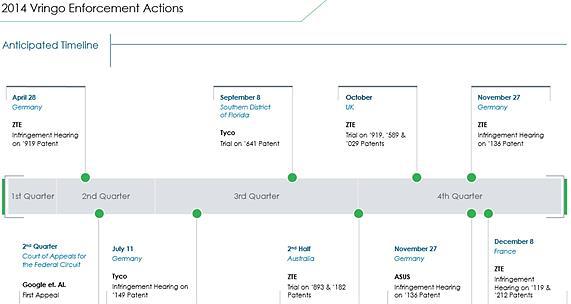 It doesn't help either that most of the catalysts are in the back half of the year. With shares driven by news, the lack of news could send shares on a downward trend until the Company receives some more great news.
Conclusion
Right now, shares are almost half the price then what they were originally going for when the royalty rate was given by the court back in January. Clearly shorts have done a great job at capitalizing on the patterns of Vringo and its investors.
So the million dollar question becomes, is this a great deal that investors cannot pass up, or is there room for shares to fall even further? While nobody knows for sure what will happen, looking at recent history should serve investors well on both sides of the trade.
With a market cap just over $325M and with the likelihood of hundreds of million of dollars on the way, its no secret that Vringo is one of the most undervalued companies out there on the market.
The story looks like it will only get better as Vringo is already underway in cases against ZTE (OTCPK:ZTCOY), ASUS (OTC:AKCPF), and Tyco (NYSE:TYC). With over 500+ patents and patent applications, not to mention many more pending, don't be surprised to see Vringo go after some more defendants this year. With David (Vringo) already slaying Goliath (Google), Vringo is becoming a major IP power that is not to be messed with.
While nobody knows how things are going to play out in the IP industry, I prefer to take a cautious approach by playing it safe and holding my core position and sometimes trading around it. While some investors like to jump in and out of the stock, I prefer to hold my core position and accumulate more shares when the price drops. After all, you could wake up the next morning and realize that Vringo just settled with XYZ company (ZTE, ASUS, Tyco, etc.), or that they just filed another lawsuit against another corporate giant.
As always, I'm providing you with my track record and other particular stocks that I recommend. The link provided will show you all of my picks, how they have fared, and where I think they will be going in the near future. I think you will find my track record to be very impressive as well as useful.
Disclaimer: Investors are always reminded that before making any investment, you should do your own proper diligence on any stock mentioned in this article. Have a great day and as always, I look forward to hearing your thoughts or questions that you might have.
Disclosure: I am long VRNG. I wrote this article myself, and it expresses my own opinions. I am not receiving compensation for it (other than from Seeking Alpha). I have no business relationship with any company whose stock is mentioned in this article.