Halcon Resources (NYSE:HK) is oil and gas company involved in the acquisition, exploration and development of oil and natural gas properties. The company focuses on three main areas; El Halcon where it holds around 22.7 MMBoe of proven reserves, Bakken/Three Forks with 90.5 MMBoe proven reserves and the future core region Tuscaloosa Marine Shale (TMS) where drilling and exploration is ongoing to find a suitable position for pumping of energy. HK last reported its proven reserve to be 136 MMBoe; divided into 114.5 million barrels of crude oil, 9.8 million barrels of natural gas liquids and remaining natural gas.
Bakken/Three Forks
This region is divided into two basins; Williams County and Fort Berthold. Halcon is currently operating four drilling rigs in this region. During fourth quarter 2013, it spudded 8 wells and brought 10 wells online in Fort Berthold while spudded four wells and put two wells online in Williams County. Furthermore, the company produced 24,125 Boe per day from Williston Basin (Williams County) during the fourth quarter which is a 15% increase compared to the third quarter.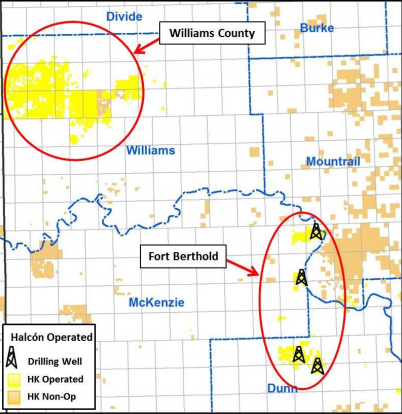 Source: Company Presentation
Halcon is focusing on trying to reduce the costs while improving the production and based on the recent production results, it has revised EUR estimate for its type curves. In Fort Berthold, the average type curve increased to 801 thousand barrels of oil equivalent while, in Williams County, it increased to 477 thousand barrels of oil equivalent. This shows that the new technique is working for the company and has improved the type curve of both basins.
For 2014, HK expects to operate four drilling rigs on average and spud between 40 and 50 gross operated wells. Furthermore, it also plans to be a part of 200 to 225 gross non-operated wells for the year 2014 having approximately 3% working interest.
The company would be spending 49% of the total CapEx budget on drilling and completions in Williston basin. With the improving results and improving output from this region, we should be expecting better performance from Williston Basin for the coming quarters. The company intends to drive a major portion of its growth from this basin which is evident by its spending almost half of the D&C CapEx budget on. The region has also attracted other major players which is a testament to the huge potential of the region for Halcon.
El Halcon
In this region, Halcon currently operates four drilling rigs and 13 wells. During the fourth quarter, the company brought 9 more wells online. This has helped Halcon to increase its production during the fourth quarter by 43%, to 7,138 Boe per day. Just like in the Bakken/Three Fork region, Halcon revised EUR to higher El Halcon type curve by 22% to 452 Mboe. There are currently 45 wells online; 10 wells are almost completed, and 4 wells are currently under construction. Adding to this the company plans to operate 3 rigs and spud between 40 and 50 gross operated wells during 2014.
With the new wells coming online in the future, we should be expecting increase in production every quarter. The focus and updates from Bakken and El Halcon are good for Halcon and can be instrumental in creating shareholder value. They will increase production for the medium term, but we believe that in the long term, the company should focus on TMS. While it is not providing any production right now, it has huge potential and is the biggest catalyst for Halcon.

Source: Yahoo! Finance
Tuscaloosa Marine Shale
Halcon has a 307,000 net acres of leased land where the company plans to operate an average of two rigs during 2014 while it spud 10 to 12 gross operated wells. The plan is to spud the wells in March 2014 near the online TMS wells in Wilkinson County. Other players are already gaining from the region, but Halcon has adopted a slower and probably more risk averse approach.
The reason behind this might be that the company has not yet started operating from this region and does not want to start with bad results. It is highly likely that it will keep focusing on the areas where production is already ongoing.
The company is targeting its production with a risk-averse strategy here and plans to spend only 10% of the D & C capex. Furthermore, the company has divested its non-core assets, raising $450 million in the process. This influx of cash would be diverted to the TMS region. The company is also evaluating its option for the joint venture for the whole HK lease area which would help it to speed up the process of development of this Marine Shale play and is in line with its low risk.
While the handling of TMS would be regarded by many as a very passive strategy, we believe it is good for the investors. Focusing the CapEx on ongoing ventures will ensure short-term OCF stability and medium-term growth. On the other hand, long-term value creation can be achieved through JVs in the TMS area without any major strain on cash flows.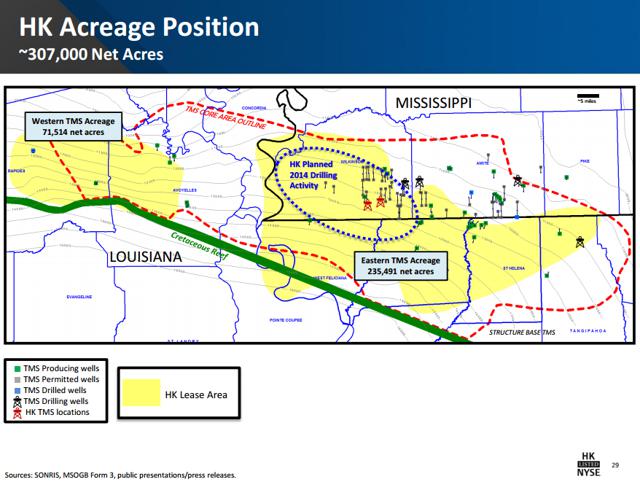 Source: Company Presentation
Bottom-line
While focusing on all three regions, the company has safeguarded itself against any market volatility through smart management of CapEx. Moreover, Halcon has hedged almost 80% of its total production for next 2 years which will help the company reduce risk.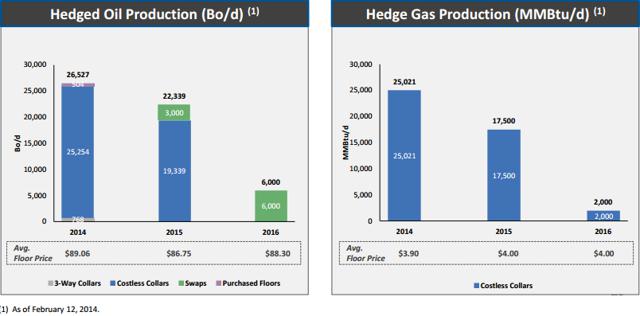 Source: Company Presentation
| | | | |
| --- | --- | --- | --- |
| | Company | Industry | Sector |
| LT Debt to Equity | 219.94 | 45.75 | 34.60 |
While the company has a very high debt ratio compared to industry, it won't be maturating anytime soon which has given the company time to manage its cash flow. Most of these long-term loan would be maturing around 2020.
Furthermore, while the company has reported a net loss in the last two quarters, it still has positive operating cash flows which make us believe that the bottom-line performance will improve pretty soon. During the last two years, the shares of Halcon have declined almost 65%, and we believe they have bottomed-out. The shares are trading at a 40% discount to mean sell-side target price and show superb upside potential. The slow and steady strategic vision along with bottomed-out price really limits the downside to this investment and makes the 40% upside even more attractive.
Disclosure: I have no positions in any stocks mentioned, and no plans to initiate any positions within the next 72 hours. I wrote this article myself, and it expresses my own opinions. I am not receiving compensation for it (other than from Seeking Alpha). I have no business relationship with any company whose stock is mentioned in this article. Equity Flux is a team of analysts. This article was written by our Basic Material and Financial analyst. We did not receive compensation for this article (other than from Seeking Alpha), and we have no business relationship with any company whose stock is mentioned in this article.