North American Palladium (PAL) is one of only two palladium producers in America and one of only four producers in the entire world. Palladium is the closest substitute of platinum in the automotive industry. With the rising prices of platinum, the demand for palladium is on the rise.
The company is also involved in the extraction of platinum, nickel, copper and other metals. PAL divested most of its gold segment last year after heavy losses caused by the decline in the price of the yellow metal. At present, the company holds very limited gold reserves and is focusing on palladium.
Year in Review
Last year, PAL managed to produce 135,158 ounces of palladium at a cash cost of $560 per ounce, whereas the average realized price for the year was $724 per ounce. This means that the operating margin was a mammoth $164 per ounce. However, revenues for the year declined by 5% to $153.2 million (compared to $160.7 million in 2012). During the year, the price increased from $640 per ounce to $724 per ounce and, therefore, the decrease in revenue can be associated with a volume decline.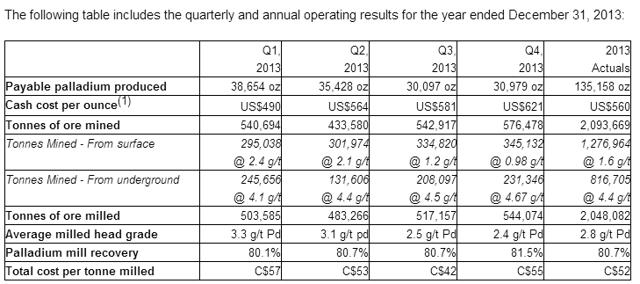 Source: Yahoo! Finance
During 2013, PAL spent around $91.8 million on expansion of the LDI mine while $17.7 million was other sustaining capital expenditure. Furthermore, it invested $12.3 million on exploration and infill drilling near the LDI mine (including upper Offset Zone southeast extension, Roby Zone northeast extension, North VT Rim, Sheriff Zone and South LDI.
Recent Developments
As with other precious metals, holding the maximum amount of reserves and then mining those reserves efficiently is vital to the success. Therefore, the following developments regarding new projects and available reserves are key to the future valuations of PAL.
PAL is working on only one mine located in Ontario Canada, the Lac des Iles (NYSE:LDI) palladium mine. In February 2014, the company announced that the construction on new shaft infrastructure at this mine has helped production to ramp up. In January 2014, the underground production exceeded the company's guidance for the first half of 2014's average production at 3,100 tonnes per day. Furthermore, it reported that the payable production of palladium for the month of January was 15,200 ounces, which is 15% more than the forecast, and this month proved to be the best for the company in terms of production in the last two years. American Palladium has plans to develop the underground ore handling system which, after completion, should increase the amount of extraction from the mine while reducing the mining costs. This will be beneficial for the company as it will be able to widen its profit margins and recover from the net losses.
After the increase in production from the LDI mine, the company announced its capital expenditure for the year of approximately $30 million and $4 million for capital investment and exploration budgets,respectively. Last year, PAL spent $109.5 million as capital expenditure, which shows that this huge decrease in expenditure will translate to an improvement in the cash flows. This will help the company in stabilizing its liquidity and improving its leverage position.
| | | | |
| --- | --- | --- | --- |
| | Company | Industry | Sector |
| LT Debt to Equity (MRQ) | 79.73 | 51.88 | 22.88 |
| Interest Coverage (NYSE:TTM) | -2.78 | 21.13 | 23.01 |
| Quick Ratio | 1.14 | 1.33 | 2.38 |
| Current Ratio | 1.31 | 2.80 | 2.97 |
Source: Reuters
Analysis
North American Palladium has made the right decision to divest the gold segment of is operation, as the volatility in gold prices is becoming a major issue for all miners. This has also enabled the company to focus on palladium, which is a bigger value generator due to growing demand and the expected increase in commodity prices.
The biggest consumer of palladium is the automotive industry, which is responsible for 65% of the total demand of the metal. With such a high share of demand coming from just one industry, it is no surprise that PAL's valuations depend highly on the performance of the automotive industry. China is the biggest auto market for palladium at present, with around 715,938 ounces shipped during 2013, an 8.9% increase as compared to 2012.
Last year deliveries of automobiles by China increased by 14% to approximately 22 million and can expand to 24 million in 2014. So it is expected that this growth will continue in this year as well, lifting the demand for palladium by 4% to 6.97 million ounces and U.S. with demand of 1.51 million ounces up 13.5%.
Furthermore, the supply of palladium is contained due to only a few regions supplying the metal in the market. Russia contributes 44% to the world supply, but the country's total reserves are still unknown.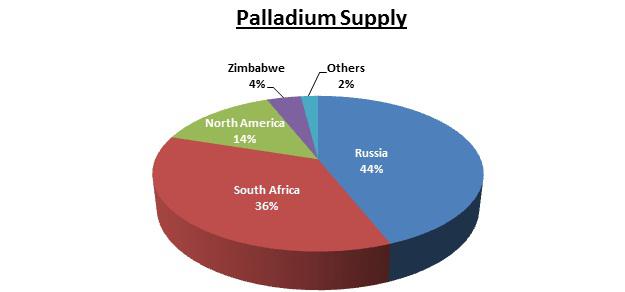 Source: Platinum Today
The supply from this stockpile fell to 100,000 ounces from 1 million ounces in 2013. This has been the reason why many analysts are expecting a shortage of palladium and the resultant increase in prices. Citigroup (NYSE:C) forecasted a shortage of 1.137 million ounces, while others are expecting a shortage between 1 million ounces to 1.277 million ounces of palladium in 2014. Due to this shortage, the price of palladium is expected to rise year over year according to many different analysts. The average price of palladium is expected to be $786 per ounce in 2014, $844 per ounce in 2015, $824 per ounce in 2016 and $827 per ounce in 2017.
These estimates were made before the Ukraine crisis had taken hold of the commodity market. With the sanction on Russia, we are expecting wider gap between demand and supply, which should push the price of palladium even further than analysts' expectations. This should help PAL to make even more revenues by exploiting higher prices with its rise in production.
Looking at the steps North American Palladium is taking, we can see that the company is trying to decrease its costs and increase its production. With the transformation of the LDI mine shaft, costs are expected to fall during the second half of 2014 when the new shaft starts producing at full capacity. Cash cost per ounce is forecasted to be higher during the first half of 2014, but PAL is expecting it to decrease it to $450 in fourth quarter 2014 from last reported level of $581 cash cost per ounce (third quarter 2013)
PAL has targeted to achieve between 170,000-175,000 ounces of palladium production for 2014, which means that with a lower cost of production and higher output, it will be able to report higher revenues for this year. Furthermore, we believe that this stock has hit bottom at $0.48 per share and would rebound with the improving market conditions of the industry. At current valuations, PAL is an excellent investment and stock to hold for the long run.
Disclosure: I have no positions in any stocks mentioned, and no plans to initiate any positions within the next 72 hours. I wrote this article myself, and it expresses my own opinions. I am not receiving compensation for it (other than from Seeking Alpha). I have no business relationship with any company whose stock is mentioned in this article.
Additional disclosure: Equity Flux is a team of analysts. This article was written by our Basic Material and Financial analyst. We did not receive compensation for this article (other than from Seeking Alpha), and we have no business relationship with any company whose stock is mentioned in this article.
Editor's Note: This article covers a stock trading at less than $1 per share and/or has less than a $100 million market cap. Please be aware of the risks associated with these stocks.
Editor's Note: This article covers one or more stocks trading at less than $1 per share and/or with less than a $100 million market cap. Please be aware of the risks associated with these stocks.