For an investor looking for a little energy exposure north of the 49th, Essential Energy Services (OTCPK:EEYUF) is a oil and gas service company with strong earnings potential looking to capitalize on the growing onshore market.
The second half of 2014 leading into 2015 looks to be a turnaround point for onshore drilling within North America. Led by the increasing demand for natural gas, E&P onshore capex spending within the U.S. is estimated to increase by ~8% while in Canada E&P onshore spending is estimated to increase by ~3% over last year's numbers.
Within the U.S. the Permian Basin expected to dominate activity. Demand for growth in this region is expected to increase after a challenging 2013. The Permian Basin is expected to support an increase of ~50-70 horizontal rigs which equates to a 35% increase from 2013.
Led by independent Apache Energy (NYSE:APA), which recently announced it would spend two-thirds of its $8.5 billion capex on exploration and production by drilling more oil wells onshore in North America. Within North America Apache is also focusing on the Permian Basin in West Texas and the Anadarko Basin in Oklahoma and Texas as they expect oil and gas production to grow 5% to 8% this year. All this is designed to improve returns and show steady production growth.
Anadarko Petroleum (NYSE:APC) is the independent that is expected to "lead the pack" regarding U.S. capex spending. The company estimates that it would increased its capital budget by nearly 8%. The company also stated it would spend about 60% of this total on drilling more oil wells onshore in North America. This leads to U.S capex spending at ~$6.5 billion which is an increase of ~10% over 2013. As Anadarko is expecting to spend ~$6.5 billion in the U.S. it will be leading the revival for growth within the industry.
Thanks to independent oil and gas companies that are increasing their capex spending, this trend is expected to spark the onshore drilling market above and below the 49th parallel.
After a strong dip in 2013, the chart below provided by Baker Hughes indicates that North American horizontal drilling looks to be on the rise in the later half of 2014.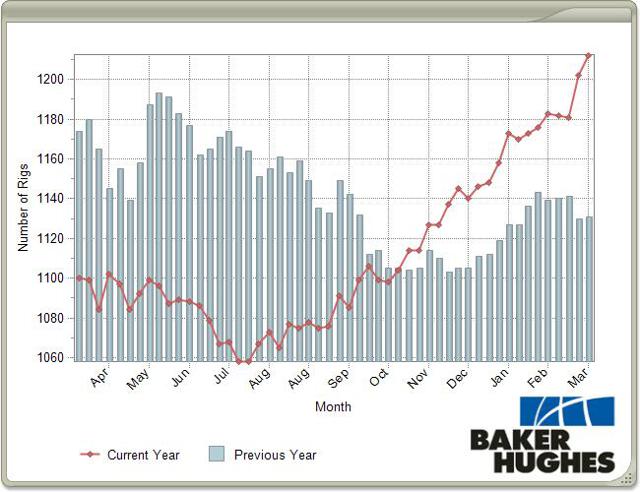 With the growing number of horizontal oil wells in recent years and as the chart above indicates many more to come, the industry has been expecting an increase in demand for service rigs to perform work over services on these wells. As this demand is beginning to build up, Essential's investments in its service rig fleet should enable the company to benefit from this potential demand.
Essential Energy Services
Essential Energy Services Ltd., provides oilfield services to oil and gas producers in Western Canada as well as the Southern United States.
Essential operates in three segments, Rig Service, Coil Well Service and Downhole Tools and Rentals. With recent additions of new equipment, I believe Essential's rig utilization rates and overall revenue will continue to trend higher over the next few years.
The deep coil tubing market remains strong and expected to grow at a respectable CAGR of 7% until 2018. Essential Energy is the largest deep coiled tubing provider in Canada and has a growing service rig fleet. Deep coil tubing is continuing to play a vital part in servicing the deep, long-reach wells within the Duvernay, the Montney and the Horn River plays. Essential's investments in deep generation 3 and 4 coiled tubing rigs will be perfect for servicing these long-reach wells.
Essential Energy estimates that all seven of these rigs will be delivered and operational by the end of 2014.
To add to the 7 generation 3 and 4 coiled tubing rigs, Essential continued to invest in its service rigs by adding 4 mobile free standing, double service rigs. Three of the four are SAGD compatible which is very important for customers like Canadian Natural Resources (NYSE:CNQ) and Cenovus (NYSE:CVE).
Canadian Operations
While the longer-term outlook still remains positive for the development of proposed liquefied natural gas (LNG) projects in British Columbia, political and environmental issues delayed these projects. Having stated that, development of the Montney, Horn River and Duvernay basins for LNG export is expected to increase. This increase in demand will in turn increase the demand for oil field services, including Essential's deep coil tubing, and downhole tools and rentals.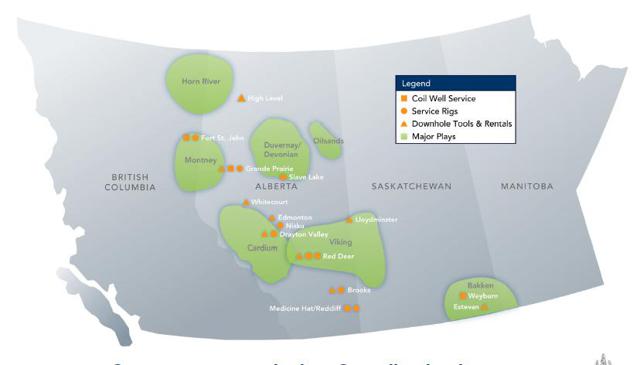 Essential Energy Expansion into the U.S.
To capitalize on the nat gas growth within the Permian, Anadarko Basin and Eagle Ford basins, Essential has already begun expansion into these regions.
Within the Southern United States Essential has and is continuing to expand its downhole tool operations. As this region is new to the company expanding there in 2013, Essential anticipates the U.S. to produce positive cash flow by the end of 2014.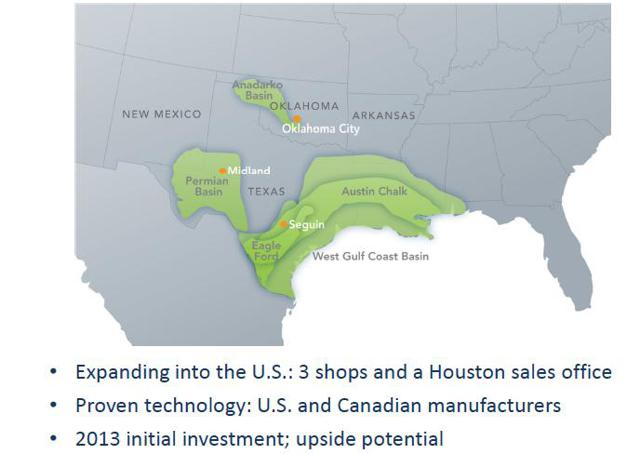 Valuations
Currently, Essential is trading at very attractive valuations. According to data presented by MSN, Essential Energy Services is currently trading at a P/S of 0.98, below the industry average of 1.69, P/B of 1.05, below the industry average of 2.28, and a P/FCF of 7.78, which is below the industry average of 11.2.
NAV - Net Asset Value = Shareholders Equity / Number of shares
Net Asset Value 2011 = $289 million / 102 million = $2.83
Net Asset Value 2012 = $302 million / 124 million = $2.44
Net Asset Value 2013 = $313 million / 124 million = $2.52
As the metrics above state the company is currently trading at book value. If we do a break down of the company sum of its parts based on EBITDA we get an estimation of what the sum of the parts are producing and what they are worth. The chart below calculates the sum of the parts based on what they are earning.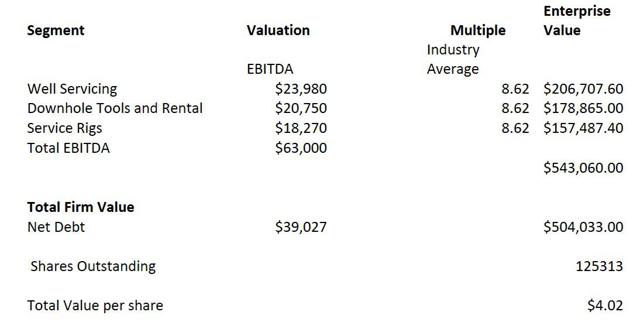 Based on 2013 EBITDA the calculations above indicate the company's sum of the parts based on EBITDA is ~$4.02 per share.
Looking forward, Essential is expecting significant growth. Based on the growing demand for deep coiled tubing and service rigs within Canada and downhole tool rentals within the U.S. the chart below shows a significant increase in Earning before Interest Taxes Depreciation and Amortization.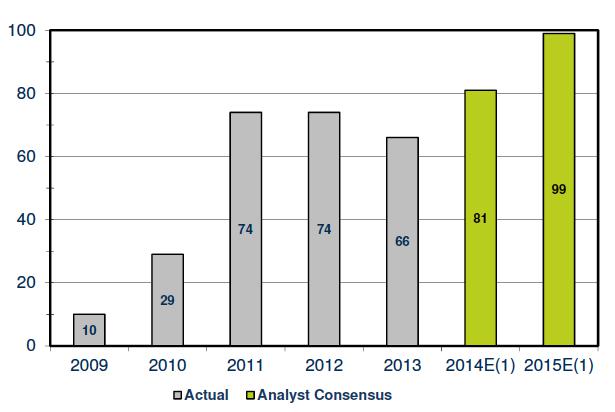 Shareholder Returns
As the chart below indicates over the past five years the stock price has produced significant gains.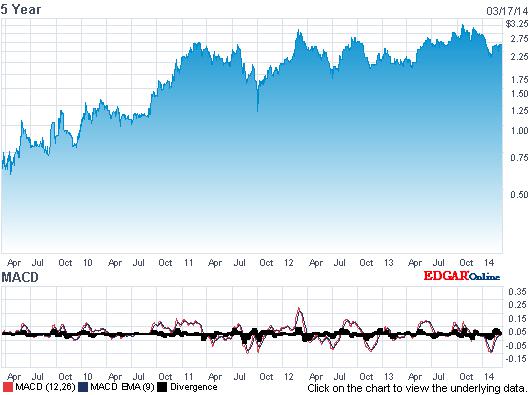 Essential has an attractive dividend of 4.09%. Starting in 2012, a dividend has been declared and paid for every quarter.
The company is expecting to earn $.33 in 2014, representing a significant increase over 2013's .10 EPS.
One year total return of ~29%.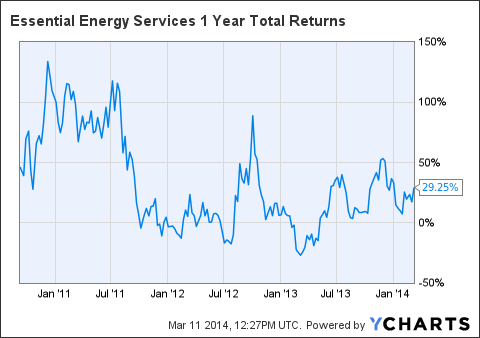 EEYUF 1 Year Total Returns data by YCharts
Based on the chart provided by Seeking Alpha, in the United States Essential Energy Services can trade rather "thinly." Today the company moved 23,345 shares but I have seen it trade much less. If you have access to the TSX, you will find significantly higher liquidity. Over the past month Essential traded anywhere from 75,000 shares to almost 2 million in per day. In Toronto the company trades under the symbol ESN.TO.
Conclusion
As the macro picture looks promising with 2014 leading into 2015 being a turnaround point for the onshore drilling within North America, Essential Energy has a niche that is currently in demand. Growing its downhole tools and rental within the U.S. and making significant purchases to support the growing Coil Well and Rig Service bushiness, future revenue, margins and earnings look to be increasing at significant rates. At current levels, based on the evidence above, I believe the stock is trading significantly under the sum of its parts, has a management team that is shareholder centered and through capital appreciation and a 4% plus yield has delivered significant returns in the past. As this company capitalizes on the upcoming increase in market conditions, I believe the shareholder will continue to be handsomely rewarded. Accumulate.
Disclosure: I am long CNQ. I wrote this article myself, and it expresses my own opinions. I am not receiving compensation for it (other than from Seeking Alpha). I have no business relationship with any company whose stock is mentioned in this article.