I don't make it a habit to buy stocks when the market is clearly selling off on heavy volume, rallying on light volume, and leading stocks of the past rally are breaking down left and right. In saying that though, on Thursday, Deckers Outdoor (NASDAQ:DECK) made a bullish start to breaking out to new highs that was completed on Friday. This breakout was very strong and if the market can start to get its act together by putting in rallies on higher volume this might indeed be a stock to keep an eye on to buy on the pullbacks.
Deckers Outdoor Corp. markets luxury sheepskin footwear and sandals for men, women, and children, and operates 18 stores internationally. Despite recent retail sales being weak overall, this company still seems to be doing very well, and no matter what your opinion is on future retail sales the stock hitting a new 52-week high is clearly telling you that this stock should continue to produce strong numbers in the future.
Taking a look at the actual numbers that are important - that is the EPS and sales - Deckers has been putting in an impressive string of growth. EPS growth, YOY, for the past eight quarters have been strong with gains of 129%, 34%, 51%, 8%, (-33%), 31%, 29%, and 47%. Helping produce those numbers, sales growth during that time has been just as impressive with gains of 73%, 52%, 56%, 38%, 13%, 16%, 15%, and 16%. While it seems like this kind of growth might be hard to sustain, current estimates for 2010 and 2011 expect EPS gains of 12% and 11% respectively. This indicates that the growth machine is alive in well for this company.
Other financial numbers that have proven to be historically important for leading mutual funds when buying leading growth stocks include the Return-on-Equity number and Cash flow number. The numbers that Deckers Outdoor has is quite impressive on both with a ROE of 27% and a cash flow of $9.92. These kind of numbers above are the reason mutual fund growth the past four quarters have gone from 125 funds to 128 funds to 148 funds to the current 152 funds that are invested in this stock.
Now, like I said earlier, I do not make it a habit of buying stocks when the market is in an overall downtrend. However, I am wise enough to know that the market could turn on strong volume at any time and when it does the stocks that have held up the best during the recent pullback will usually be the ones that lead the market higher. Even if we only have a small short-term run in a longer drawn-out downtrend, this stock could still produce some nice gains, while we wait for better short setups to appear in the market.
Technically, this stock has setup in a solid chart pattern and though it is a bit loose and is not perfect it still has broken out of a double bottom with handle pattern on strong volume with the Relative Strength line leading the way higher. The only two caveats to this pattern is that it is more volatile in relation to the previous price run up and on the second leg down you usually want quieter volume and not heavier volume than the first leg like Deckers Outdoor has here. I am looking to buy the stock on any low volume pullback to the 50 day moving average area that is followed by a bounce on heavier volume. I would also like the market to be trending higher with the stock, though that is not necessary as long as the stock continues to trend higher on higher volume and low volume pullbacks.
Other stocks in the Apparel-Shoes & Related Mfg. group that have strong price action confirming the move in Deckers include Skechers (NYSE:SKX), Crocs Inc. (NASDAQ:CROX), Lacrosse Footwear (NASDAQ:BOOT-OLD), R G Barry Corp (NASDAQ:DFZ), Steven Madden Limited (NASDAQ:SHOO), K Swiss (NASDAQ:KSWS), and Heelys (NASDAQ:HLYS).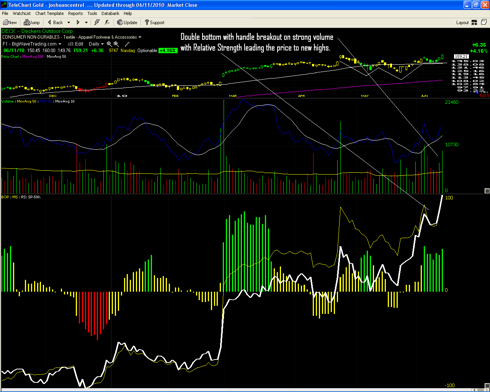 Disclosure: No positions