Nothing has changed since last week to alter our near term bearish view of risk assets. The market was due for a technical bounce, its first positive weekly close since early May. Oversold markets are capable of rallying on even mildly positive news as those late to short the market quickly hit stop loss levels, and thus begins the cascade of short covering that becomes a growing short squeeze. This very oversold positioning contributed to last week, combined with relatively positive conditions that included:
The absence of bad news out of the EU for the first week in recent memory
Positive data from the US, Germany, and especially China (almost 50% export growth)and
Encouraging words from the Chinese and assorted central bank heads that growth should continue, albeit slowly
All contributed to last week's risk asset bounce.
Just A Technical Bounce-Target 4.2% Gain
However, as the daily chart of the bellwether S&P 500 below shows, , the easy gains are finished, as stocks now site just below serious resistance. Our view is that risk assets as represented by the S&P 500 remain firmly in a downtrend, within the past months' trading range. The index has yet to break through any kind of major resistance on its daily chart.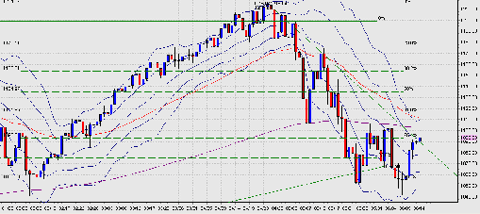 S&P 500 Daily Chart Courtesy of AVAFX.com Firm downtrend, multiple near term resistance levels 02jun14.11
Note in particular that:
Its death cross (50 day moving average (red) below 200 day m.a (purple) is widening
The zone around 1100 offers quadrupled-layered resistance immediately ahead:
The psychologically important 1100 price level itself
The 20 day moving average (middle blue line)
The 200 day m.a. (purple)
The 50 day m.a (red). just above these, around 1130
The downtrend line (green)
The Upper Bollinger Band (upper blue line)
The 61.8% Fibonacci retracement level at 1115.95 and 50% level at 1134.91
Watch these resistance points carefully. All considered, these lead us to see the rally continuing no further than the 1100-1140 range. After that the sellers will be testing hard, and unless the bulls have new evidence to justify further gains or the Fed decides to throw more money at the market, we expect the rally to then fade.
Implications: Ideas On Playing The Bounce
Barring any major bullish or bearish news, here's how we see this playing out in the major global asset markets.
Stocks: Indexes Following The S&P
Thus we're looking at no more than a maximum 4.2% gain (if we get to 1140) for stock indexes and most risk assets.
Commodities
Crude: Tends to exaggerate the S&P 500, so it could see somewhat bigger gains.
Gold: Is neither risk nor safe haven asset, but rather a currency hedge. It gained big in 2009 on concern about the USD, the most widely held currency. In 2010 it has gained as the Euro has fallen. The last time the Euro rallied, in mid-May, gold pulled back as traders took profits and closed out EUR shorts. Gold has held on thus far, but any serious EUR rallies are likely to produce the same result, given that gold is once again near all time highs and a tempting target for profit taking at these resistance levels.
Forex: Bias To Risk Currencies While Stocks Rise
Expect roughly similar gains in risk currencies. Those most beaten down, the EUR, AUD, and NZD could also see larger gains, as could the already fundamentally strong CAD, which tends to rise with oil and stocks.
Because the Yen and US Dollar have been so heavily bought, these could see somewhat larger pullbacks than 4.2% as the leading safe haven assets,
US T-Bills, Bonds
As another leading safe haven asset, US Treasuries should also pull back. We would love to see prices fall for yields to get back as close as possible to 4% yields and establish new longs.
Conclusion
In short, the projected maximum 4.2% overall gain for the S&P 500 and risk assets allows plenty of room for very short term traders.
Longer term investors should be waiting for the reversal to establish new shorts in stocks, commodities, and risk currencies.
Disclosure: No Positions