After reviewing Skullcandy's (NASDAQ:SKUL) earnings call and guidance, I believe SKUL offers a better-than-even-odds for achieving superior capital gains over a two-year time frame. Because of the multifaceted parts to SKUL's comprehensive turnaround strategy, my analysis is broken up into two parts so that investors can adequately flesh out and gauge the effectiveness of management's execution of that strategy as the year progresses.
Therefore, this article delves superficially into the company's new CEO, the strategy to immediately increase SKUL's bottom line and the match-up between the company's present product line with solid tend research published about the headphones market.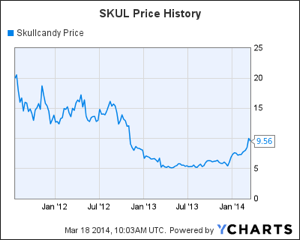 Firstly, at $9.54 the stock is not cheap at this stage of the turnaround. But between now and until the company's next earnings call in June, I'll be watching for a much better entry point to ride, what I think could be, a company poised to potentially lead the under-25-year-old demographic in the growing headphones space.
After listening to SKUL's CEO Seth Darling during the earnings call, and watching his various interviews with media, I'm confident that he is the right man for the company at this time.
His solid textbook blueprint for renewed growth is based on known marketing tends within the growing niche market of premium headphones. And the plan comes with a reasonably small risk of failure, as I see it. Darling's plan just needs to be executed, monitored and controlled, as there's nothing esoteric here for a rebound back to robust earnings growth.
And after hearing Motley Fool's analyst Ron Gross conclude that he didn't believe that "there's much competitive advantage in this [Skullcandy's] business," it occurred to me that there must be lots of aging investors who don't 'get' SKUL, much like they didn't get Zynga's (NASDAQ:ZNGA) comeback either; though SKUL doesn't come with ZNGA's monstrous quarterly losses, bloated R&D and production costs.
In addition, what may appear as an exogenous risk of the "fickle" consumer to one analyst's appraisal of SKUL's business model, may instead turn out to be a misdiagnosed case of a disjointed and confused merchandising message to SKUL's target consumer.
That's where I believe the former General Manager of Nike+ Digital Sport, Seth Darling, could make the difference; he's already demonstrated a sensitive finger to the pulse of the young-adult and teenage marketplace through his experiences with Nike (NYSE:NKE). Unlike the bizarre turnaround in the retail space with the appointment of Ron Johnson to J.C. Penney (NYSE:JCP), Darling's challenge at SKUL will be to woo a similar consumer to Nike's.
And so far, Darling's efforts have stabilized the company, the first step in the SKUL turnaround. Following fourth-quarter results on Mar. 6, the stock soared on the prospects of renewed vigor at SKUL. D.A Davidson's Andrew Burns stated in a research report to investors:
With clean inventories, accelerating new product introductions, new distribution opportunities, and international growth potential, it is clear that the painful market reset experienced in 2013 has better positioned SKUL for 2014. The brand appears set to solidify its place as a top 4 brand alongside Beats, Bose and Sony (NYSE:SNE).
Burns raised his price target for SKUL to $10 per share, only 50 cents away from today's market price of $9.54.
Though, in my opinion, SKUL presently trades at a rich price at this stage of the company's turnaround phase, I do agree with Burns' assessment that SKUL will become a rejuvenated player in the headphones business. And those who bought shares between the $5 and $7 last year may be rewarded handsomely by the year's end. Here's why:
Plenty of Room for Gross Margin Improvement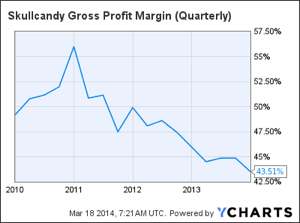 In the U.S., SKUL is cutting distribution to the off-price retail outlets such as TJ Maxx (NYSE:TJX) and others, enforcing pricing points, stepping-up displays, and promoting higher-ticket headphones, in an effort to increase sales and, more specifically, gross profit margins.
After peaking at 56% in the first quarter of 2011, gross margin has tumbled below 44% (see chart, above), a loss of $9MM of contribution to the most-recent quarterly earnings, which equates to a whopping 32.4 cents per share for the quarter!
Darling, who previously said that SKUL was offered in too many stores where the product wasn't showcased and merchandised properly, reiterated his commitment to stop the decline in gross margins. Darling said, in his Mar. 6 conference call to investors.
We'll also be enhancing our in-store look and feel in 1,000-plus retailers with vastly improved POS materials that showcase marquee products like Crusher and Air Raid.

SKUL is the only pure play in the headphones space, no comparison can be made with its competitors Beat, Bose and Sony, but narrowing the distribution channel to only those stores which match SKUL's product line and competing lines should firm pricing and better control inventor costs.
SKUL to Seize Pricier Products to Under-25-Years-Old Market
And the specific mention in the conference call of two SKUL product lines, Crusher and Air Raid, both priced at $100 and up, strongly insinuates Darling's grasp of the recent glaring trend in the headphones marketplace that speaks directly and uniquely to SKUL's market demographics. Darling had this to say on Air Raid, the company's first Bluetooth speaker:
[It] has had a lot of great hype since launching in mid-November,"With its powerful sound performance and durable construction, Air Raid is a great building block for expanding Skullcandy's known-for categories per our strategic plan. It's 50% louder than any other speaker at similar price points and inspired by military specifications showcasing the power, durability and quality of our innovation platform.
According to consumer tracking firm NPD Group, more than 90% of headphone revenue growth in the U.S. stemmed from premium purchases of the $100-and-up price category, which climbed at a 25% rate between Q1 2013 and Q1 2012. Though Q1 2014 statistics won't be available until later this year, NPD Group doesn't expect the trend toward higher-end headphones to die anytime soon. Said Ben Arnold, NPD's director of industry analysis:
Sales growth in premium headphones is being driven by a number of factors including greater attachment to mobile devices and more choices for consumers to adapt to their on-the-go lifestyles.


Today, the premium headphone market is defined by fashionability and brand as much as it is by sound quality. One third of premium headphone buyers are under the age of 25 and many of these consumers view headphones as equal parts listening device and fashion accessory.

[emphasis added]
And after I finished listening to SKUL's conference call, where CEO Seth Darling spoke in detail for nearly 30 minutes, there's no doubt in my mind that he understands exactly which products to focus the company's investment, sub-markets to exploit and new channels to expand core offerings.
Consistent with NPD' Group's findings, SKUL's own sales results indicate that the company's $100 over-ears "Crusher" headphones were a big hit with the company's core demographic of young consumers during the current quarter. Said Darling:
[There was] great consumer responses to our key product story, the 'Crusher' headphone.

After a successful launch with select core and specialty accounts early in the year, we brought in Crusher's distribution to key CE retailers for the holidays and sell-through was very strong. This is a great signal that when we innovate, we win.
Core Revenue Stream Expected to Firm or Grow
And with SKUL's "Smokin' Buds 2", a troubling trend of inconsistent ratings of the company's lower-priced Buds category appears to has been corrected. My search for customer feedback regarding earlier products revealed too many 'one-star' ratings for the Smokin' Buds, with poor construction as the primary reason for the numerous thumbs down. One earphone went dead, the sound quality suddenly deteriorated and an uncomfortable fit were among the primary complaints noted by unsatisfied customers.
But, according to online India-based mega-store, Flipkart.com, ratings for the Smokin' Buds, especially the Smokin' Buds 2, have been quite high for both quality-of-sound, construction and comfort (read ratings here). With 51% of SKUL's total sales, according to The Wall Street Journal, derived from the 'earbud' category, core sales for 2014 should remain steady, or increase, in my opinion. Said Darling:
Smokin Buds 2 strengthened our position in ear phones thanks to the product's superior fit and sound quality.
He went on to say that Smokin Buds 2 has performed well maintaining MSRP at Amazon and Yahoo Shopping, a testimony, so far, to the success of SKUL's goal of dramatically raising gross margins.
Conclusion
Though SKUL's climb back to its IPO price range of $20 to $23 won't happen quickly, it appears that the new CEO has forged a fundamentally solid plan for a comeback, which includes a focus upon regaining a healthy overall gross margin, showcasing products that serve the fastest growing segment of the headphones marketplace and solidifying its core offerings to the under-25-years-old demographic.
In part 2, I'll discuss the implications of SKUL's venture into Wal-Mart (NYSE:WMT), the potential revenue generated from the introduction of the company's women's line, the potential impact from the deal with Toshiba (OTCPK:TOSBF), the overseas opportunities in Europe, India, Japan as well as other markets, and the company's prospects with its present celebrity endorsements.
If you would like to be alerted to the second part to the SKUL analysis, entitled, Playing SKUL During the Turnaround (Part 2), click the "Follow" button located next to my photograph at the top of this article. Seeking Alpha will notify you when the article is posted on the site.
Disclosure: I have no positions in any stocks mentioned, but may initiate a long position in SKUL over the next 72 hours. I wrote this article myself, and it expresses my own opinions. I am not receiving compensation for it (other than from Seeking Alpha). I have no business relationship with any company whose stock is mentioned in this article.