About 3 ½ months have passed since I sent my first letter and shareowner proposals in late-February to the Board of Directors of Internet Initiative Japan (NASDAQ:IIJI) [JP: 3774], a leading ISP and related services (cloud computing, systems integration, etc.) in Japan. As a longtime shareholder (since 2006), my concerns included the company's level of capital spending, its corresponding levels of depreciation, and its deteriorating returns on assets/equity/etc., the latter being partially suppressed by a large, low-yielding cash position. And my proposals involved items that a Board of Directors typically has more direct influence over (as opposed to my aforementioned concerns) such as stock splits, share repurchases, dividends, and shareholder say in significant non-core business investments.
While I was initially told the Board received and was reviewing my correspondence, I was later informed around mid-April that since I was an ADR holder I would have to work with IIJ's depository bank, the Bank of New York Mellon, in order to submit my shareowner proposals for shareholder resolution. Note that my correspondence with IIJ from the start stated specifically that I was submitting proposals either for adoption by the Board or for shareholder resolution at the company's Annual Meeting in June (this month); the former option of course may have also required a shareholder vote, but would certainly have passed if supported by the Board. Nonetheless, IIJ's Investor Relations Officer conveyed to me that the company was thankful for my proposals and asked for my continued shareholder support.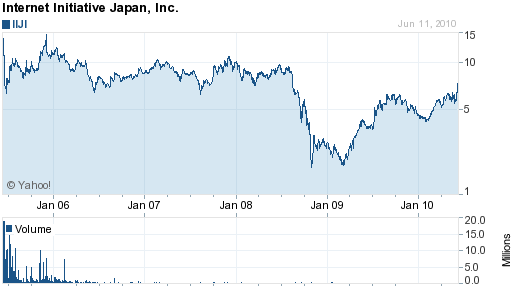 So began my interaction with BNY Mellon, which as IIJ's depository bank readily agreed to assist me in my efforts. Still, I was informed that individual shareholder attempts to submit a proposal for proxy vote at the Annual Meeting as a Japanese ADR holder is largely unprecedented – I believe there had been one previous attempt that was unsuccessful. BNY Mellon said it had seen ADR holders convert to Ordinary shares prior to the required holding record date in order to submit a proposal, and thus although unlikely that IIJ would accept my proposals, the bank agreed to work with me in order to formally submit both my letter and proposals. Right around that time, I received a message on Seeking Alpha from an IIJ ADR holder that held a substantial number of shares rivaling the holdings of some of the largest IIJ insiders excluding founder/Chairman Suzuki, whom owns 6.4% of the company, the third-largest stake, behind the 6.6% of shares listed as ADRs and the 24.9% stake held by NTT.
The fellow longtime IIJ ADR holder (in his case, since 2005) and I then jointly submitted an updated version of my original letter and proposals at the end of the first week of May. We received confirmation that the company had received the documents and was reviewing them. And so there was another period of waiting. I must say that throughout the process, BNY Mellon was of great assistance, very prompt with correspondence and timely in its execution. The week following the submission was IIJ's annual earnings presentation and announcement of current fiscal year targets (see my write-up). The company's earnings were better-than-expected and its current year forecast was for top and bottom-line growth. IIJ, whose stock had begun to recover from mid-February, spiked to a new high, slightly above its recent highs as it had just been in somewhat of a downtrend. IIJ spiked yet again (having once more been trending downward) on June 1st, on news of its deal to acquire AT&T Japan's approximately 1,600 corporate customers. The deal, which is expected to be completed in September, led to double-digit upward revisions to its full-year revenues and earnings forecast.
On June 4th, we learned that IIJ was unable to accept our proposals for shareholder resolution since we are ADR holders. Otherwise, in a direct response from Chairman Suzuki, he addressed many, but not all, of our concerns and proposals. He thanked us for our support and interest in the company and said that the Board "continuously seeks opportunities to maximize corporate value" for its shareholders. We knew that having our proposals appear on the proxy could be a challenge given our ADR holder status, but it was one we were up for, plus we were hopeful that the Board would adopt the proposals itself. In fact, regarding the payment of dividends – which relates to our concern over the sizable amount of low-yielding cash on the company's balance sheet – at the time of its earnings release on May 14th, IIJ said it would increase its dividend by over 11% for both the fiscal-year ended in March and for its targeted dividend for the current fiscal year. And regarding our concern about the use of capital for non-core business investments, specifically relating to its foray into the ATM business, Chairman Suzuki told us what shareholders were informed in mid-May, that the ATM business is expected to break even in this fiscal year. Further, in his response to us, he conveyed that the ATM business was a part of the company's overall growth plan, and most importantly, that an unspecified amount of revenues would be used for "business developments for [IIJ's] core business in the future."
In the remainder of his response, Chairman Suzuki explained some recent developments in IIJ's new cloud computing service, and he said that IIJ is "making headway to seize the Japanese cloud computing market." He mentioned the previously announced consolidation of two wholly-owned subsidiaries involved in systems integration. This is a positive move with real cross-company synergies, as he noted. Regarding the AT&T Japan deal mentioned above, Chairman Suzuki said that IIJ "expect(s) to expand the scale of [its] business and to achieve further growth in the mid- to long-term …." The 19% expected increase in fiscal revenues is great, but the corresponding expected increase in operating earnings of 11.6% is ostensibly not so impressive because it represents a slim 3.7% margin on the AT&T-derived operations. However, if we read carefully and note that Chairman Suzuki expects growth in the mid- to long-term, we can see that there are likely material costs related directly to completing the acquisition and thereafter in incorporating the operations. I anticipate following-up with Chairman Suzuki to try and learn more about the purchase price and expected returns and margins from AT&T Japan. Finally, Chairman Suzuki detailed some of the company's domestic and overseas investor relations efforts. We have been largely unimpressed with its inability to drum up investor interest in the stock, as evidenced by its thin trading, particularly on the Nasdaq. Nevertheless, volume has picked up noticeably in recent trading, and perhaps, by way of our letter/proposals, the company will pay more attention to investor outreach.
The latest news in my ongoing effort to enhance the shareholder value of Internet Initiative Japan is my response to Chairman Suzuki's letter that I submitted last week. In the response I thanked him for his reply and for the Board's review of our letter and proposals. I voiced our dissatisfaction that ADR holders are not on a level playing field with Ordinary shareholders. And while acknowledging that we were pleased to learn earlier of the dividend increases and that the ATM business is expected to break even, I pointed out and went on to detail the two key proposals which he did not respond to: share repurchases and stock splits. For investors new to IIJ, the company's Ordinary shares trade at a 1:400 ratio to its ADRs traded on the Nasdaq. We are advocating a 100:1 split to the Ordinary shares and a corresponding 1:4 reverse split to its ADRs. The idea is to have a share price that attracts more individual investors in Japan and one that is more attractive to institutional investors in the U.S. And by doing so, hopefully the daily trading volume of IIJ would improve, fostering better liquidity. While stock buybacks would enhance volume at the time of any such transaction, but theoretically limit it correspondingly in the future, we think that the liquidity boost from the stock splits would more than offset the effects of buybacks. Furthermore, history shows that volume often quickly dries up with IIJ and declines in share price follow, and thus it is precisely these times when buybacks would be most effective.
With the recent announcement of the $100M purchase of AT&T Japan, which is scheduled to close in September, the case for IIJ being undervalued based on its assets alone may lose some weight depending on how the deal is financed (all that is known at present is that it will be a mix of cash and debt) and what value is ascribed to the assets acquired. Until now, IIJ has held cash on its balance of a similar amount or more than the AT&T Japan transaction price, which has equaled 20% to 30% or more of IIJ's market capitalization. It turns out that should the AT&T Japan accounts return more than 0.4%, they would yield more than the cash on IIJ's books, and should they yield at least 2%, they would exceed the company's cost of bank financing. However, there is a much higher cost borne by the company's equity holders. That said, I believe that I have done my best to express among my concerns to IIJ that growth for the sake of size is unwanted by shareholders, and I think that Chairman Suzuki agrees. After all, he owns 6.4% of the company. Meantime, with a modest, albeit rising, dividend, and hopefully the potential for future stock buybacks, the real driver of valuation will be the company's earnings. Since operating cash flows are already rather solid, and given the company's sustained capital investments and acquisitions, the focus ought to be on what should be an improving bottom-line.
As I most recently said to Chairman Suzuki, since companies' "IT-related investments have been constrained in Japan, and acknowledging that a recovery in spending must be realized, likely sooner, rather than later, the upside to both IIJ's business and stock price is significant." IIJ is trading at 23.6x trailing earnings, but only 17.6x forward earnings. The forward earnings are still representative of a weak environment for corporate IT spending, only reflect the expectation that IIJ's ATM business will break even, and are partial-year results for AT&T Japan's accounts – not to mention the costs associated with the acquisition. Therefore, looking out to even just 2012, and seeing the need for companies to pony up to maintain or better yet, to modernize their IT systems, including web connectivity and services, and also for what should be profitability in IIJ's ATM business, higher earnings from its AT&T Japan accounts, and finally, the possibility of cash being deployed for share buybacks and further increases to its dividend, the current valuation of IIJ remains a compelling one.
Disclosure: The author owns IIJ ADRs and may own Ordinary shares following publication of this article. This article does not constitute investment advice. The author has owned shares since 2006, and at any given time may transact in the shares, including IIJ's options. The author's cost basis, by virtue of having previously sold covered-calls and based on additional purchases over the past two years, is below the stock's current market price. While always looking for as large a margin of safety as possible, despite the run-up in IIJ since February, and its recovery from its trough in February 2009, based on the information detailed above, the author continues to find IIJ to be an attractive investment, although returns from the current price level will obviously be inferior to market prices available since mid-2008.