The Energy Information Administration (EIA) releases its weekly natural gas inventories report at 10:30 am eastern. Last week's report saw inventory fall to just 1.001 trillion cubic feet (Tcf), a level not seen in more than ten years, and a drop below one trillion could mean a big shift in sentiment for related stocks. Over the longer term, excess supply is at risk of turning to a deficit, and could change the economics of energy use.
Inventories dangerously low, but dangerous for whom?
It wasn't too long ago that natural gas prices were making new 10-year lows on weak demand and an explosion in production. Prices in the U.S. fell below $2 per million Btu in April 2012 as storage started to build on the highest annual trough in decades. The surge in production, with only marginal increases in usage meant that inventories were building and production started to become unprofitable for some drillers.
You see, storage of natural gas usually builds to November, as electricity and cooling usage lags production. Then inventories typically fall to March, as the gas is used to keep people warm through the winter. As long as the summer build keeps up or outpaces the winter drawdown, prices stay low.
A graph of the weekly storage report is extremely telling of how the situation has changed just over the last year. March has almost always seen the low point in storage, and this year will probably be no different. The problem is with the size of the drawdown in inventories since the November high. The historically cold winter drove inventories down by more than 2.8 Tcf of gas, well over the average 2.1 trillion drawdown over the last ten years.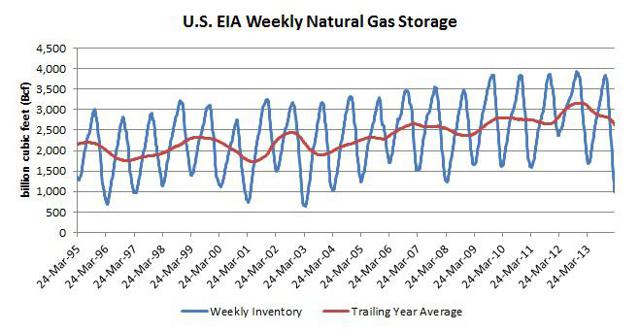 Source: U.S. Energy Information Administration
Even if we add 2.1 Tcf to inventory over the summer, the ten-year average trough-to-peak additions, by the winter drawdown, we will still only have just over 3.0 Tcf in storage. That would be the lowest in more than a decade.
Now picture a summer heat wave like we saw in 2012, where the buildup in inventory was just 1.5 Tcf due to demands on electricity from cooling systems. If that scenario plays out and we reach just 2.5 Tcf of inventory by winter, we would be at the lowest peak inventory on record and would not have enough storage to meet demand for another winter like last year's.
Last week's report showed a continued drawdown of 195 billion cubic feet, and it is likely that this week will put us below 1.0 Tcf. Breaking under one trillion for the first time since 2003 could mean a big shift in sentiment for related stocks. While inventory should start to build, natural gas prices could spike this summer if it looks like the additions will not take us to a decent level of storage before the winter.
As if domestic supply and demand were not enough, exports of natural gas are set to increase in 2015, with Cheniere Energy (NYSEMKT:LNG) approved to start shipping from its Sabine Pass facility. Prices for natural gas are up to five times higher in other regions, and a stronger export market may help drive convergence of global prices.
Drillers have some room to increase production, especially from dry gas wells that have been neglected on lower prices in favor of wells containing natural gas liquids. While the U.S. may not be at risk of running completely dry of natural gas, declining storage will significantly affect energy prices for the fuel and substitute energy sources.
Coal shares trading at multi-year lows
Coal producers could be the first to benefit as prices for thermal coal in the U.S. respond to a stronger competitive position in electricity generation. The EIA reported last year that natural gas usage in electricity, relative to coal usage, had slipped since the prior year on higher gas prices. Usage in generation for the two energy sources was nearly the same in April 2012, as low gas prices drove plants to switch fuels. Prices for natural gas have increased dramatically since last year, and the dominance of cheaper coal in generation looks to easily reassert itself this year.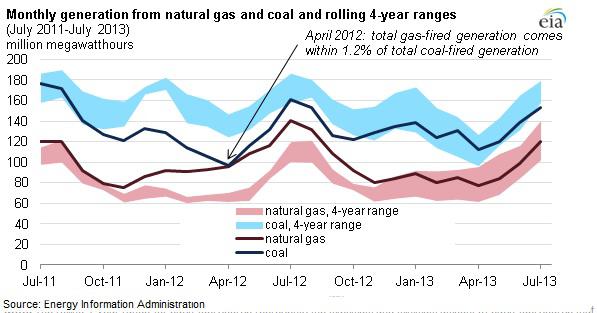 Shares of Peabody Energy (NYSE:BTU) are trading just 9.7% off their 52-week low and at an enterprise value of just 1.4 times trailing sales. The company operates mainly in the Powder River Basin (PRB) and Illinois Basin (ILB) producing regions in the United States, both of which produce coal at costs competitive with natural gas, at prices of $3.25 per million Btu or higher. The company operates in Australia, as well as the United States, so continued weakness in metallurgical coal prices may limit gains. Peabody books 30% of its operating profit from non-U.S. markets, and has been positioning for emerging market growth through acquisitions over the last several years. Despite the international sales, the company is a leader in U.S. coal and one of the few producers still operating at a profit.
Peabody recently announced organizational changes to operations and key personnel. The functions of global sales and marketing, trading, business development and strategy will be reorganized into two new groups, a global marketing and trading group and a global development and strategy group.
Shares of Alpha Natural Resources (ANR) could see the strongest returns on a rebound in coal. The company books 46% of its revenue from Appalachian coal operations, which are more expensive to operate and not competitive with natural gas until $4.50 per million Btu. Shares of the $1.0 billion producer have fallen 73% over the last two years, against a 50% drop in shares of Peabody Energy. The company has $956 million in cash and short-term investments on its balance sheet, and liquidity should not be a problem at least through this year and next. Shares trade for an enterprise value of just 0.69 times sales, and short interest of 24% of the float may get squeezed out on good news for the industry.
Alpha Natural Resources recently agreed to settle with the U.S. government for $27.5 million on toxic discharges from mines in five states. The company, along with 66 subsidiaries, will install and operate treatment systems to reduce toxic waste from mines in Kentucky, Pennsylvania, Tennessee, Virginia and West Virginia. Though the settlement sets a precedent that may bring future actions, the fine is relatively minor and clears up some legal uncertainty around the shares.
Natural Gas MLPs benefit on volume, even as storage fees weaken
Partnerships of midstream natural gas assets should also do well as producers increase production on higher prices. The increased production will mean higher volume through pipeline assets and higher fees for the partnership owners. Fees for storage will most likely lag, but are usually a much smaller percentage of total sales.
Williams Partners (NYSE:WPZ) operates one of the country's largest midstream natural gas gathering and processing operations. The company's strength is in its Marcellus shale assets, but its system transports gas all the way from south Texas to New York. Approximately 75% of cash flows are fee-based, with much of it from pipeline transportation. The shares pay a 7.2% distribution yield and trade for 19.8 times trailing earnings.
Williams Partners continues to receive dropdowns from its parent Williams Companies, with a $1.2-billion deal for an oil sands gas processing plant and 260 miles of pipeline in Canada. The assets are expected to add to earnings immediately and contribute to distributable cash flow. The company is also expected to see its Geismar olefins plant return to service in the second quarter, which should significantly add to cash flows.
Enterprise Products Partners (NYSE:EPD) is particularly strong in natural gas liquids ((NGLs)), with 16,700 miles of NGL pipelines and 159 million barrels of storage capacity. This has helped to protect it from lower natural gas prices, but should not limit gains much when prices increase. The company also owns more than 20,000 miles of natural gas pipelines through the southern U.S. and the Gulf of Mexico. The company has $4.5 billion of new projects entering service in 2014, which should help drive cash flow substantially. Shares pay a 4.1% distribution yield and trade for 24.4 times trailing earnings.
Energy Products Partners was found to have wrongfully dropped Energy Transfer Partners (ETP) from a pipeline agreement to carry crude from Cushing, Oklahoma to the Gulf of Mexico. A Texas jury awarded Energy Transfer Partners $319 million for the failed pipeline. Enterprise announced that it was leaving the agreement in August of 2011, but was still found to be liable for damages.
The revolution in U.S. energy production is just getting started, but historic usage of natural gas last winter and in the summer of 2012 have left inventory storage in a precarious position. Gone are the days of historic lows in the price of natural gas, and the economics behind the market could shift significantly over the next year. This will affect coal producers, as well as companies in the natural gas space, and investors may want to position their portfolios ahead of inventory reports.
Disclosure: I am long BTU, EPD. I wrote this article myself, and it expresses my own opinions. I am not receiving compensation for it (other than from Seeking Alpha). I have no business relationship with any company whose stock is mentioned in this article.