Digital Realty Trust (NYSE:DLR), despite the sudden resignation of CEO Foust, is in the market with a new preferred stock. DLR is issuing Series H cumulative perpetual preferred. Details of the offering (at this time) are: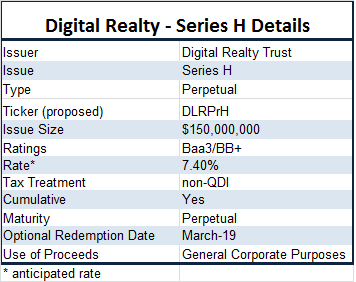 The prospectus can be found here.
Digital Realty Trust, Inc. provides customers with data center facilities. Digital Realty's customers include domestic and international companies across multiple industry verticals ranging from financial services, cloud and information technology services, to manufacturing, energy, health care and consumer products. Digital Realty's 131 properties, including 12 properties held as investments in unconsolidated joint ventures, comprised approximately 24.5 million square feet as of December 31, 2013, including approximately 1.8 million square feet of space under active development and 1.3 million square feet of space held for future development. Digital Realty's portfolio is located in 33 markets throughout North America, Europe, Asia and Australia.
As usual, the first thing I look at is the profile of the REIT versus its peers. This is to determine how fixed securities should trade relative to each other (weaker financial profile, higher required yield). In order to do this, Digital Realty will be compared to peer (and other) REITs including Dupont Fabros (NYSE:DFT), CoreSite Realty (NYSE:COR), Alexandria Real Estate Equities (NYSE:ARE) and Sovran Self Storage (SSS):

The first thing that is apparent is that Digital Realty is over 2x as large as their two closest peers - combined. The second thing that is evident is that it pays the highest yield while maintaining a moderate financial profile (investment grade at the senior unsecured level). As Digital Realty is the biggest player in the space, and has an investment grade profile, they should not be expected to trade cheap to peers - on a preferred yield basis.
Using the same peer group, let's see how the proposed preferred looks:

As you might expect, Digital Realty preferreds trade tight (lower yield) to peers - although not by much (and wide to ARE).
Why do they trade at these levels? Simply put: Digital Realty has hit one pothole after another. Accounting restatements (albeit somewhat minor), earnings misses and yesterday the resignation of the CEO (sudden and unexpected, but does not seem to be insidious as he still got his severance). Let's take a look at how the preferred and the equity trade: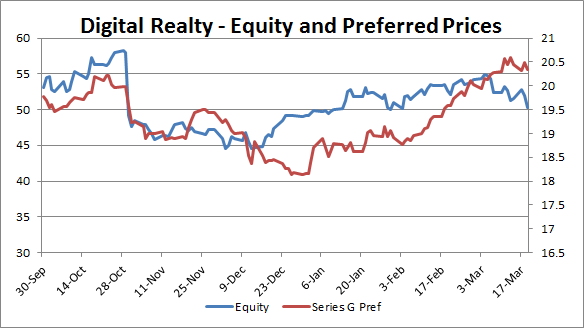 They have followed the same pattern, which is good for people interested in buying the preferred (not always so great for existing holders) as their financial condition has not materially changed although the equity market has been spooked.
For those of you who like to view the entire capital structure when assessing these securities, I have listed the more liquid debt below:

Finally, putting it all together in a capital structure pricing format, we get the following picture:

Bottom line: I like the new issue at 7 3/8% + and think you will buy it at 7.40% plus prior to settle. I would be a buyer of their preferred before CoreSite at the same level (although I like CoreSite's growth better). The preferred is attractive and should be considered for income focused accounts (short duration players might want to consider the 4.50% '15s).
Disclosure: I am long DLR, DFT. I wrote this article myself, and it expresses my own opinions. I am not receiving compensation for it (other than from Seeking Alpha). I have no business relationship with any company whose stock is mentioned in this article.
Additional disclosure: DLR is an equity position, DFT is a preferred position.This article is for informational purposes only, it is not a recommendation to buy or sell any security and is strictly the opinion of Rubicon Associates LLC. Every investor is strongly encouraged to do their own research prior to investing.