On Wednesday, First Solar (NASDAQ:FSLR) surprised many investors by providing full-year guidance for not only this year but for all years from 2014 through 2016. The company's long-term guidance cheered many investors who bought up the shares during the day, causing a rally of 21%. This new rally takes us to a new 52-week high, which pretty much crushed the previous 52-week high.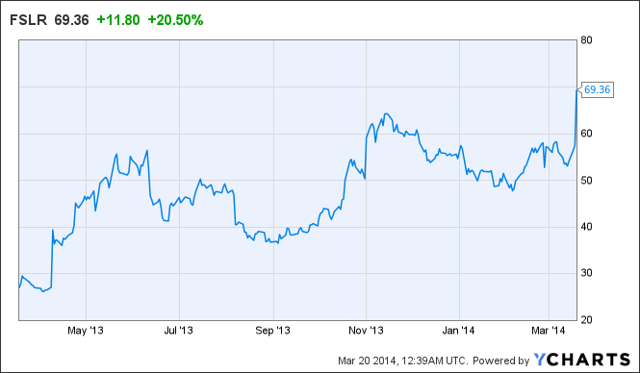 First Solar's guidance calls for revenues of $3.70 billion to $4.00 billion for 2014 followed by $3.80 billion to $4.30 billion in 2015 and $3.80 billion to $4.50 billion for 2016. If we take the mid-points of these three guidance figures, we are looking at $3.85 billion for 2014, $4.05 billion in 2015 and $4.15 billion in 2016. The analysts were looking for $3.77 billion in 2014 and $4.24 billion in 2015 (with no estimates in 2016 since it is rare for companies or analysts to offer estimates beyond 2 years).
As for net earnings, First Solar expects to earn $2.40 per share this year (mid-point of $2.20 and $2.60), $5.25 per share in 2015 (mid-point of $4.50 and $6.00) and $4.25 per share in 2016 (mid-point of $3.50 and $5.00). The analysts were looking for $3.21 per share for this year and $3.68 per share for the next year.
Basically, for this year, First Solar will be beating revenue estimates for 2014 and earnings estimates for 2015 whereas it will be missing earnings estimates for 2014 and revenue estimates of 2015.
If we compare these guidance figures with the past numbers, we see an interesting trend. First, let's take a look at revenues. The company's revenue growth in the last decade has been nothing short of impressive. In the last 3 years, First Solar grew its revenues from $2 billion to $3.31 billion. The new guidance calls for further growth as the company will be generating $4.15 billion in 2016. Basically, in the last 3 years, First Solar was able to grow its revenues by 61% and in the next 3 years, it expects to grow its revenues by another 26%. While the revenue growth looks like it will be slowing down, it still looks solid given that the company will be tapping its backlog for the next two years and then generate new revenues starting 2016. This tells me that First Solar's products and services will continue to see strong demand for the foreseeable future.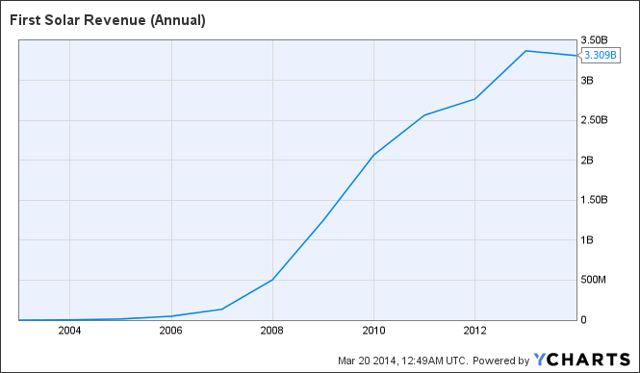 As for net earnings, the company had a bumpier rode, just like most solar energy companies. It is very rare to see a solar energy company that has been consistently profitable for the last 10 years, but First Solar is pretty close. If we look at the company's last decade, it was profitable, for all years except for 3. The company generated $3.70 per diluted share in net earnings last year and the guidance calls for a sharp decline in 2014 followed by a sharp increase in 2015 and another decent figure in 2016. If First Solar can achieve the high-end of its estimate for 2016, it will be growing its net earnings by 35%, if the company achieves its mid-point figure, it will be growing its net earnings by about 15%. While this is nowhere near what we saw in 2009 and 2010, we are still looking for a solid recovery from the company's disappointing performances of 2011 and 2012.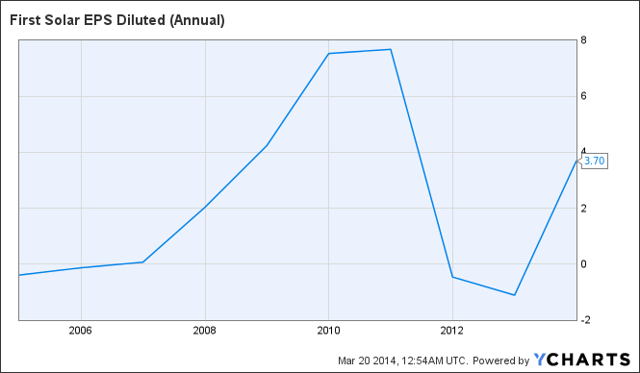 Many people were worried that First Solar would stop growing and its technology was outdated, and this is why First Solar has been trading for a P/E in low teens even though many other solar energy companies have P/Es of 50 and above. The company continues to demonstrate that the demand for its products is still strong and it will be tapping a big backlog for the next two years until it can get to the newly generated demand.
Having said that, First Solar will now sell for a valuation it hasn't seen in a while. In the last couple years, First Solar was being punished by the investors due to the same worries I mentioned above. Notice that at some point last year, the company's price to (normalized) earnings ratio was as low as 5. Currently, this figure is nearing 16 and this is a value we haven't seen in a while.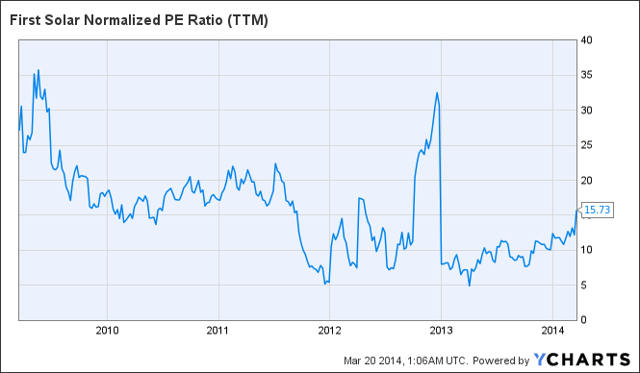 Furthermore, First Solar is one of the few solar energy companies that actually trades at a value close to its book value. While many solar energy companies trade for 15-25 times their book value, First Solar's current value is mostly backed by the company's assets. Even though it's been on a rise, the company's price to book value ratio still sits at a low 1.53.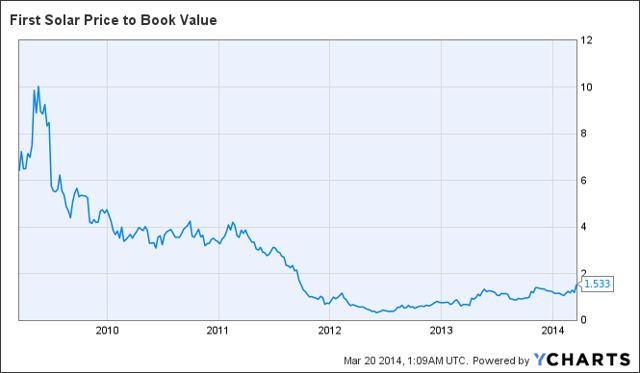 Finally, we will look at First Solar's price to CFO (cash from operations - the cash a company generates before it invests this money into debt servicing, taxes and investments). Even though this value is at the highest level we've seen in more than a year, it is still pretty low at 7.74.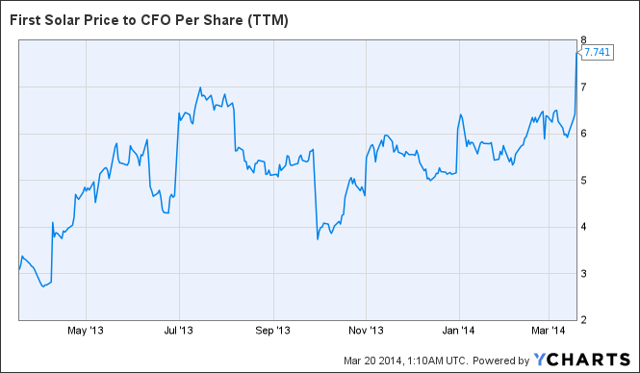 Today's rally added $1.18 billion to the company's market value and many investors might be reluctant to initiate a position. In fact, this is one of the most volatile stocks in the market. Every time I bought some shares, it moved up and down in sharp moves and I felt like I was in a wild roller coaster. Investors that are not patient enough to wait for a correction can sell naked puts (or covered calls after buying the shares) to make this more interesting. I am bullish on this company in the long-term; however, I wouldn't be surprised if we have a correction in the share price in the short-term, because it almost always happens with this company.
Disclosure: I am long FSLR. I wrote this article myself, and it expresses my own opinions. I am not receiving compensation for it (other than from Seeking Alpha). I have no business relationship with any company whose stock is mentioned in this article.