If you saw a company that hired some of the brightest, most well-educated graduates from top universities, set them up with some of the most sophisticated computers known to man, and put them to work at a business that generated net profits in the 75% range, wouldn't you assume the firm at which you were looking was a tech firm loaded with valuable intellectual property? This description fits one of Exxon Mobil's three segments to a "T" - the "Upstream" segment responsible for finding and drilling for oil and natural gas. For example, in 2012, Exxon Mobil's (NYSE:XOM) upstream segment generated roughly $40 billion in sales and generated a whopping $30 billion in profits after taxes.
The "Downstream" segment deals with refining crude oil into various types of useable energy products (aviation fuel, gasoline, diesel, etc.) and marketing it to consumers. It is a notoriously volatile and low-profitability business, but makes up 80% or more of Exxon Mobil's revenues. 2012 was a very good year for the downstream segment - with after-tax profit margins four times what they had been in the previous two years - after-tax margins climbed to 4%.
Chemicals are the last of the firm's major segments, producing one-tenth of Exxon Mobil's revenues at an average after-tax margin in the low double-digit percent range.
Graphically, the segments' revenue and profit share are as follows: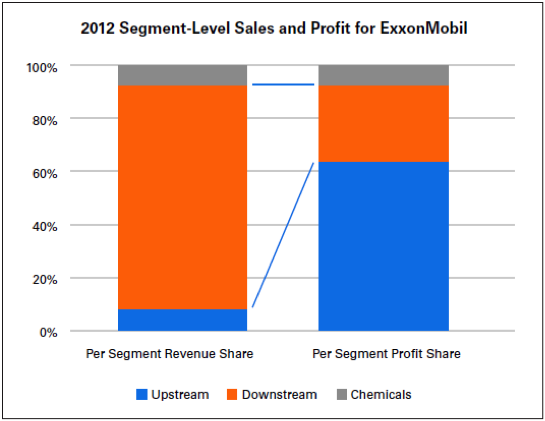 The cynic in me would characterize Exxon Mobil's business in the following way:
Upstream: Exxon Mobil's real business
Downstream: A conveniently low-profitability business whose effect on overall profit margins is so large as to keep politicians and, to the extent possible, environmentalists, off management's back
Chemicals: Gravy
Below, we investigate the interplay of each of these segments in influencing the three fundamental drivers of corporate valuation: revenue growth, profitability, and investment efficacy.
Revenues

Because Exxon Mobil's main source of revenues is the price of a commodity, the firm's revenue changes are easy to explain but hard to predict, leading to considerable short-term forecasting uncertainty. While it is tempting to think that the enormous acquisition of Mobil Oil caused the spike in revenue growth of 50%, a good bit of this movement has to do with oil prices moving from an average around $10 per barrel (BBL) level in 1998, when the announcement was made, to around $20 bbl when the transaction closed approximately $30 bbl in 2000.
There are only two ways to get more revenue: 1) sell more stuff (higher volumes), and 2) sell stuff for more (higher prices). Exxon - unlike other companies at its stage of maturity - can count on a fairly stable increase in demand as the global economy expands over time. As such, it does not have to fret about how to sell more stuff. Exxon's revenue uncertainty comes because it has minimal control over the sales price of its most important product. It is a price-taker, so cannot make a decision to sell stuff for more.
Profitability
While Exxon cannot affect the price of the commodity it is selling into the market, it does have control over its cost of production. We discuss why a concept called "optionality" allows the upstream segment to phenomenally profitable in our full 1% Focus Report on Exxon.

First, compare the jaggedness of the Owners' Cash Profit (OCP) margin line during Period 1 compared to the relative smoothness of that line (excluding the dark days of 2009, of course) during Period 2 (OCP is a measure of corporate profitability that focuses on cash available after operating costs and maintenance capital expenditures have been made). These two periods are separated by an interregnum of three or four years, during which, we believe, the firm was focused on right-sizing operations after the Mobil acquisition simultaneous to China's explosive growth in energy consumption.
The average price of oil in Period 1 was $19.71 per barrel . The average price in the interregnum was $28.40/bbl. The average price in Period 2 was $74.06. Even when the price of oil was at its lowest, Exxon Mobil's upstream after-tax profits were above 30% of revenues - higher than high-tech giants like Google (NASDAQ:GOOG) and Oracle (NYSE:ORCL).
Investing Efficacy
YCharts estimates the efficacy of a company's investment program by comparing the growth of the firm's profits to the growth of profits in the economy overall, as measured by nominal GDP. Companies with plentiful investment opportunities and a management team skillful at exploiting them will be able to generate profits on behalf of its owners at much quicker rates than a firm with fewer investment opportunities.

The light blue columns show the saw-tooth pattern of OCP growth throughout the '90s that we highlighted earlier, followed by stabilization through the 2000s. The first positive value after the merger with Mobil is 2003 - just as BRIC demand was starting to become a larger topic in the economic news. That emerging market resource boom period lasted for six years, with only one instance where Exxon Mobil's OCP growth slipped below GDP growth during that time, and an average outperformance of 22%.
This slip in OCP growth probably has its roots in the Exxon Mobil's cost structure. Rental costs for deep-water rigs soared as BRIC oil demand surged in 2006. Exxon Mobil was enormously profitable during this period, but its profit growth fell vis-à-vis GDP due to rapid operating cost rises. Despite the slip, Exxon's ongoing investments in the oil mining business represent the highest return on investment projects in the world. There are only six public companies in existence with the capital resources and technological expertise to exploit these opportunities. In a game where scale counts, Exxon Mobil is the largest player.
Cash Flow Generation

As oil prices rise, Exxon enjoys strong profits and cash flows - as can be clearly seen in the strong Free Cash Flow to Owners (FCFO) margin between 2003 and 2008 - largely due to the enormous margins in its upstream operations. However, Exxon Mobil increasingly has to spend more on capital projects in order to increase its production. Over the last 5-6 years, net expenditures on Property, Plant & Equipment (PP&E) have increased at roughly 15% per year, and these expenditures have eaten into Exxon Mobil's FCFO Margins. The growing expenses involved in exploring and exploiting oil reservoirs in deep water, arctic conditions, and other challenging locations is one of the reasons that the company made the acquisition of domestic natural gas producer -- XTO Energy -- in 2010. Natural gas reserves are fairly plentiful and comparatively easy to find in North America, operating conditions are benign, and the political environment is more stable. XTO was a domestic natural gas producer, and exploiting these reserves are much less capital-intensive.
Note that for the purpose of clarity, we have removed the huge negative FCFO margins in the year of the Mobil and XTO acquisitions. We estimate if these acquisitions were made with cash, it would have taken roughly 4.5 years of Exxon's OCP to pay for the Mobil acquisition and just over a year to pay for the XTO acquisition.
Exxon Mobil in a Nutshell
Exxon Mobil is an enormously profitable, high-tech, intellectual property firm disguised as a low-profit commodity producer. As long as oil prices stay above the $20-$30 per barrel range, Exxon Mobil will continue to generate healthy profits for its owners. To the extent that the global economy will continue to expand as developing countries modernize and industrialize, the capacity for Exxon Mobil to generate these profits and cash flows is virtually guaranteed.
In short, Exxon Mobil's present competitive position appears very strong. In addition, its management has made sensible strategic moves in anticipation of a future shift in global energy consumption. Exxon's is a confusing business, and the stock can be volatile when geopolitical and macroeconomic winds change suddenly. However, it is fundamentally a very good business.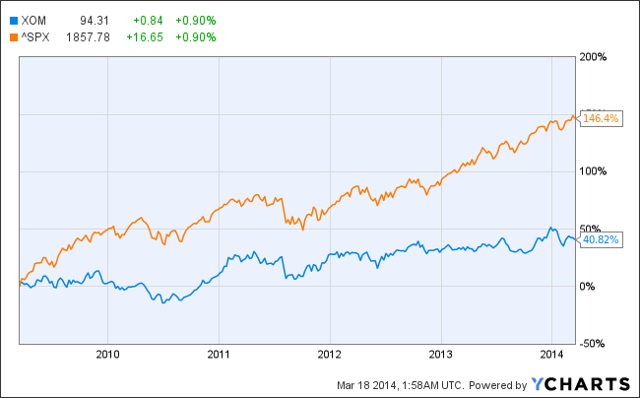 XOM data by YCharts
Disclosure: I have no positions in any stocks mentioned, and no plans to initiate any positions within the next 72 hours. I wrote this article myself, and it expresses my own opinions. I am not receiving compensation for it. I have no business relationship with any company whose stock is mentioned in this article.