Summary
In light of Facebook's (NASDAQ:FB) US$19bn acquisition of WhatsApp in February, I conducted a deep dive on the deal and concluded that a major factor behind Facebook's decision of acquiring WhatsApp is to defend itself from the growing threat of Asian messaging apps such as Tencent's (OTCPK:TCEHY) WeChat and Naver's LINE.
Given that Asia is the largest smartphone market in the world and that the majority of the chat app revenue could be generated from the region, I believe that it is critical for Facebook to acquire WhatsApp, 50% of whose user base are in Asia, so it can capitalize on the chat app monetization potential and defend itself from the threat of the emerging Asian chat apps.
I reiterate my positive view on Facebook. The stock is trading at 54x consensus FY14E P/E, supported by 44% revenue and 110% EPS growth, implying a 0.5x PEG, a 17% discount compared with listed chat app/social networking peers.
A market Facebook cannot ignore
Asia is the largest smartphone market with 2.4bn mobile phone users in 2013. Smartphone users numbered around 738mn, more than 4x as many users as the second largest region, EU, which has 287mn users, and North America (152mn users). Rest of the world has 224mn users.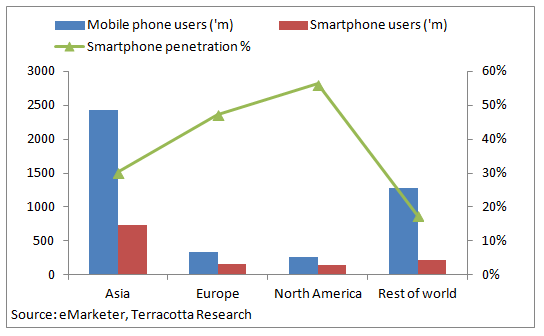 However, Facebook's MAU (monthly active users) profile shows a large gap in Asia, where messaging apps are most popular. While I recognize that Facebook is banned from operating in China and that the majority of its users are PC-based rather than smartphone, I would like to point out that mobile MAU is a better indicator of Facebook's long-term growth trend as mobile MAU increases.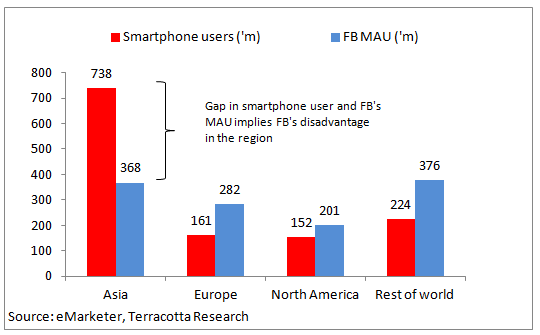 I see this gap places Facebook at a distinct disadvantage and the possibility of failing to capitalize on the Asian mobile ad market, which is expected to be the second largest in the world. In particular, China's mobile internet ad reached US722m in 2013, and is expected to grow at a 55% CAGR from 2013 to 2017 and account for 32% of Asia's total mobile ad spends as advertisers shift budget to mobile devices from traditional channels such as PC and TV.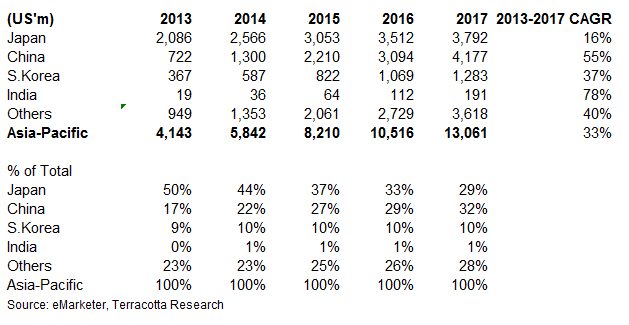 Asia currently accounts for 15% of Facebook's total revenue, but competitors in the region could easily erode Facebook's user base given the popularity of mobile internet and chat apps in the region. I note that Facebook's mobile app competes against leading incumbents including Tencent's WeChat in China, LINE in Japan (along with Thailand and Taiwan) and Kakao in Korea.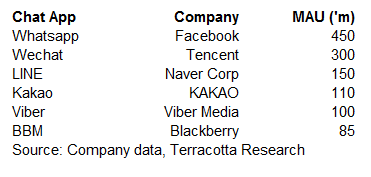 According to GlobalIbIndex data, WhatsApp has 450m users globally, of which approximately 50% are in Asia. Given WhatsApp's strong presence in the region, I believe the acquisition is a positive for Facebook in that it will first prevent FB users from switching to a competing chat app that is proven to be more popular in the region than traditional social networking app, which has proven to be popular in North America.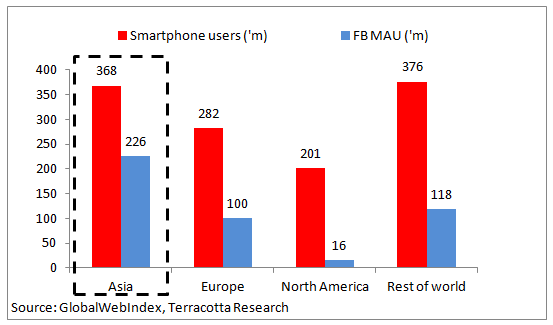 Once the user base is maintained, Facebook could pursue various monetization initiatives such as ecommerce and revenue sharing with O2O service providers (ie. Taxi calling).
This acquisition could also indicate that Facebook Messenger, which has proven to be popular in North America, is failing to gain meaningful traction in Asia. As a result, it is critical for Facebook to maintain its presence in the fast growing chat app space via M&A given that building a new chat app would require large financial resources and years of investment to build user base, IT infrastructure and brand loyalty. The best option available to Facebook, in my view, is to acquire a popular messaging app that has a global presence and large user base that is capable to fend off the Asian rivals.
Three-horse race
I believe the future of mobile messaging/social app space will be dominated by three key players, namely WhatsApp in the developed world, WeChat in China and LINE in Japan and ASEAN region.
The Asian chat apps have been aggressive in expanding their apps beyond simple messaging by including functions such as social games, radio, ecommerce, taxi calling and unique emoticons to maintain user engagement and attracting users from traditional messaging platforms (ie. BBM).
I expect WhatsApp to struggle initially to stay relevant to its users as many of the functions mentioned above are nonexistent on WhatsApp. However, I believe that the gradual integration with Facebook will transform WhatsApp into a comprehensive social networking platform as WhatsApp embeds Facebook functions such as newsfeed, voice/video calling, music, ebooks and ecommerce as part of the WhatsApp messaging platform.
Valuation
I reiterate my positive view on Facebook and find current valuation of 54x FY14E consensus P/E, supported by 44% revenue and 110% EPS growth, implying a 0.5x PEG, a 17% compared with the average of social media and chat app comps.

Disclosure: I have no positions in any stocks mentioned, and no plans to initiate any positions within the next 72 hours. I wrote this article myself, and it expresses my own opinions. I am not receiving compensation for it (other than from Seeking Alpha). I have no business relationship with any company whose stock is mentioned in this article.