By Todd Shriber & Tom Lydon
With the exception of India, BRIC equities have been disappointments once again in 2014. That after a 2013 in which all four of the largest single-country BRIC ETFs finished lower, led by an almost 18% loss for the iShares MSCI Brazil Capped ETF (NYSEARCA:EWZ).
Strip out the WisdomTree India Earnings Fund (NYSEARCA:EPI) and the major BRIC ETFs have again been duds in 2014 as EWZ, the Market Vectors Russia ETF (NYSEARCA:RSX) and the iShares China Large-Cap ETF (NYSEARCA:FXI) are down an average of 13.3%.
The struggles of BRIC ETFs come as the group struggled mightily in two of the past three years. Those struggles also shine the light on concept being offered by some new ETFs: Ditching BRICs while keeping emerging markets exposure. One of those ETFs is the SPDR MSCI EM Beyond BRIC ETF (NYSEARCA:EMBB). EMBB, which debuted in December 2013, is off 1.5% year-to-date, better than the losses of more than 3% for the Vanguard FTSE Emerging Markets ETF (NYSEARCA:VWO) and the iShares MSCI Emerging Markets ETF (NYSEARCA:EEM).

State Street Global Advisors Vice President and Head of Research, David B. Mazza, said in an interview with ETF Trends:
Excluding the BRIC countries allows for investors to tilt portfolios toward sectors more exposed to local economies, such as consumer discretionary, and away from sectors that are more tied to broader global growth rates and commodity prices, such as energy.
While financial services is EMBB's top sector weight at 27.3%, often the hallmark of many diversified emerging markets ETFs, the fund does devote a combined 20% of its weight to consumer discretionary and staples names. Additionally, EMBB's second-largest weight is a 14% allocation to technology, the sector that offered the highest level of out-performance of the MSCI Emerging Markets Index in the three-year period ending Dec. 31, 2013.
Said Mazza:
Investing in emerging markets beyond the BRICs offers the ability to take advantage of greater future growth opportunities outside of the BRICs. Smaller emerging market countries have many of the characteristics that the BRICs had 10 years ago including a rapidly growing middle class, increased political stability and increasingly sophisticated financial markets.
Excluding BRIC nations does not mean increased risk. In fact, EMBB could, over time, damp volatility due to its combined 30% weight to Taiwan and South Korea. Those are two of the most advanced, lowest beta emerging markets. The tech-heavy iShares MSCI Taiwan ETF (NYSEARCA:EWT) is up 1.5% this year, a respectable performance among single-country emerging markets ETFs. South Korean shares have recently perked up as the iShares MSCI South Korea Capped ETF (NYSEARCA:EWY) is higher by nearly 4% since the start of February.
EMBB offers insurance and opportunity on another front: Robust exposure to emerging markets with current account surpluses, or in the case of Indonesia (7.2% of the ETF's weight), narrowing deficits. Taiwan, South Korea, Malaysia, Thailand and the Philippines are all account surplus nations and combine for over 47% of EMBB's weight, according to State Street data.
South Africa and Indonesia, a combined 22.4% of EMBB's weight, have seen their account deficits narrow in recent months.
Said Maza:
With emerging markets being broadly sold off this year, especially BRIC ETFs, now may be the time for savvy investors to consider ways of adding exposure to the long-run growth of emerging markets, but in more sophisticated ways. In fact, EMBB can be considered a core building block for future EM allocations as it includes all of the countries within the MSCI EM Index except for the four BRIC markets.
In the past month, four of the single-country ETFs tracking EMBB's top six country weights have traded higher. The ETF charges 0.55% per year.
SPDR MSCI EM Beyond BRIC ETF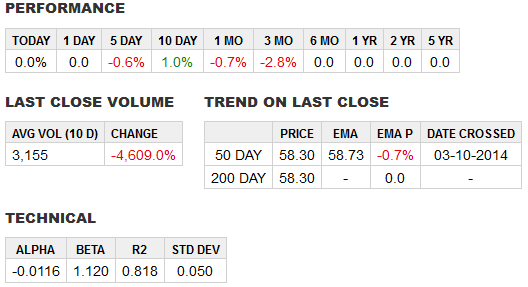 Images From ETF Trends
Tom Lydon's clients own shares of EEM.
Disclosure: I am long EEM. I wrote this article myself, and it expresses my own opinions. I am not receiving compensation for it. I have no business relationship with any company whose stock is mentioned in this article.