With the U.S. economy humming along, inflation expectations are rising, and investors are turning back to exchange traded funds that track Treasuries tied to the cost-of-living increases.
The 12 ETFs that track Treasury Inflation Protected Securities saw $399 million in inflows over March, the first time combined inflows surpassed redemptions since August 2012, Bloomberg reports.
Some bond market investors anticipate consumer demand will be strong enough to fuel inflation toward the Fed's 2% target.
Consequently, investors are taking a second look at TIPS as inflation expectations rise on a government report that revealed hourly earnings among U.S. workers in February rose higher than what economists predicted. The wage growth could lead to more consumer spending.
Michael Pond, the head of global inflation-linked research at Barclays Plc, said in the article:
Inflation is coming. [We're starting to break] free from some of the deflationary shackles of last year. The labor market is picking up, which will cause wages to pick up.
So far this year, TIPS have gained 2.8%, with yields on the benchmark 10-year TIPS dipping 0.31 percentage points this year to 0.49%. Bond prices and yields have an inverse relationship, so falling yields typically correspond with rising bond prices.
In comparison, TIPS slid 9.4% in 2013, the worst annual decline since the securities were introduced in 1997.
Bonds and Treasuries will loss value as living costs increase. However, TIPS are indexed to inflation as a way to hedge against rising consumer prices.
The iShares TIPS Bond ETF (NYSEARCA:TIP), the largest TIPS-related ETF, has gained 2.7% year-to-date while the iShares 7-10 Year Treasury Bond ETF (NYSEARCA:IEF) is up 3.6% so far this year. TIP has a real yield duration of 7.69 years and a 1.86% 30-day SEC yield. IEF has a 7.64 year duration and a 2.35% 30-day SEC yield.
iShares TIPS Bond ETF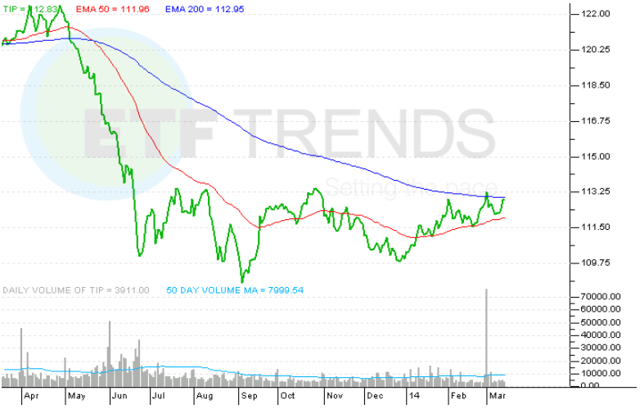 Max Chen contributed to this article.
Disclosure: I am long TIP. I wrote this article myself, and it expresses my own opinions. I am not receiving compensation for it. I have no business relationship with any company whose stock is mentioned in this article.