China's Government Wants to "Stabilize Growth"
Apparently China's government appears to be slightly alarmed at the recent slew of negative headlines and data releases and fears that its "growth target" may not be met this year. By way of countering this threat, it evidently plans to resort to Keynesian deficit spending measures:
"China will speed up construction projects and other measures to support the economy after a slowdown in industrial output and investment growth boosted risks of missing this year's expansion target.

The nation will "seize the moment to roll out already-determined measures in expanding domestic demand and stabilizing growth," the State Council, or cabinet, said in a statement last night after a meeting. China will "accelerate preliminary work and construction on key investment projects with timely assignment of budgeted funds," it said.

The statement suggests the depth of the slowdown is testing Premier Li Keqiang's tolerance for growth below what he says is a flexible target of "about" 7.5 percent. A gauge of Chinese companies listed in Hong Kong entered a bear market today, the yuan fell the most since 2008 and Goldman Sachs Group Inc. projected a 5 percent annualized pace of expansion this quarter.

"Against the background of increasing downward pressure on growth, the pro-growth signals from the meeting are very timely and necessary," Xu Gao, chief economist with Everbright Securities Co. in Beijing, said in a note. "Measures to stabilize growth will materialize gradually to cause a modest acceleration in growth," wrote Xu, who formerly worked at the World Bank.
(emphasis added)
Construction projects? Construction is the one thing China already has way too much of. Not only has residential housing and office space construction gone absolutely nuts over the past few years, but the boom was replicated in the infrastructure area as well.
We don't doubt that as Mr. Xu says such measures will increase economic activity in terms of aggregate data. However, they do not represent genuine "growth" and are not really "pro growth signals" either. They are highly likely to simply represent even more malinvestment. Reading this one cannot help thinking that China's political leadership has maneuvered itself into a box: if it allows the necessary purging of malinvested capital to proceed, it will have to stomach what could well turn into a severe bust, with all that entails in terms of disrupted "social harmony" and resistance from vested interests. Said vested interests are opaque to outsiders and it is difficult to judge how powerful they are, but economic advancement and political connections are probably not exactly strangers in China.
On the other hand, adding to the growing pile of misdirected investments is not going to make the situation any better on a fundamental level, but rather the opposite. In recent years, more and more credit creation has created less and less "bank for the buck," which is an outward sign that investment has flown into increasingly dubious ventures. China is very large, and its economy is probably bigger than is widely assumed (the statistics probably don't capture it adequately), but even China is faced with the fact that resources are scarce and long term economic growth depends on their wise allocation under free market principles. "Growth" ordered to size from the top hardly qualifies.
Yuan and H-Shares Sink
The decline in the yuan has accelerated further and by now the decline is quite noticeable. It should be pointed out that while the level at which the non-convertible yuan trades is a matter of official whim (the central bank lowered its reference rate by 0.18%, the second cut since March 10), the moves in the currency do have wide-ranging effects, as a big "can't lose" leveraged trade has reportedly been built around the one-way street the yuan hitherto represented. While the actual size and the degree of leverage of the associated hot money flows is not known for certain, it is definitely conceivable that knock-on effects could be created in seemingly unrelated areas (similar to how in times of market stress, leveraged traders are often forced to sell things they would ordinarily not want to sell and that have no direct connection to the area in which the stresses have become visible).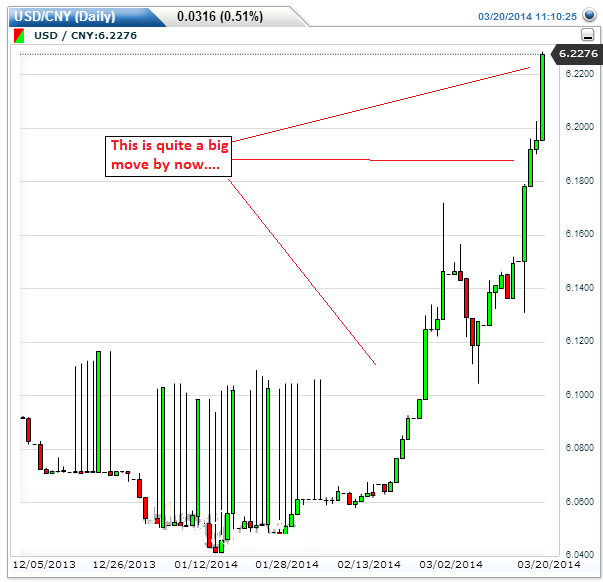 A daily chart of the yuan. At the very beginning of this move we pointed out that it appeared to us to be different from previous spikes ("a trend seems to be crystallizing"). By now it is quite obvious that it is indeed different.
Even though this is still not a very large move on a very long-term basis, it brings the yuan back to levels first seen in early 2013. The weekly chart shows that this has been the biggest move since the most recent uptrend began in 2010: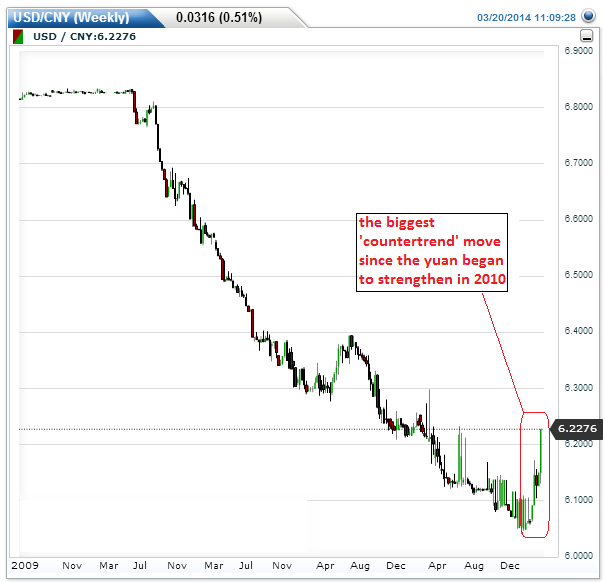 Even on a weekly chart the recent move is beginning to stand out.
H-Shares are shares of mainland companies listed in Hong Kong. They are represented by the Hang Seng China Enterprises Index. The index has continued to sink as well recently, but similar to the Shanghai Composite, remains so far above last year's lows: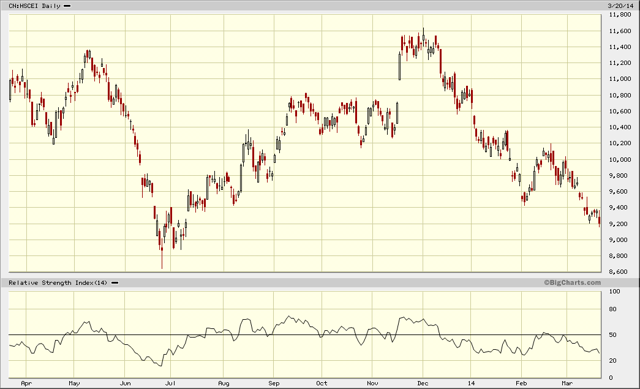 The H-shares index in Hong Kong.
Electric car maker BYD was mauled badly in the most recent trading session, tumbling by 14%. Another company, solar-cell maker Baoding Tianwei Baobian Electric Co., announced that its bonds will be halted from trading tomorrow. This is the second Chinese solar firm experiencing problems lately.
If there is one thing that is slightly positive, it is that there are now already very widespread concerns about China's economy. It is of course unknowable how much economic trouble is already discounted in stock and bond prices, but recent surveys of fund managers have seen worries about China placed right at the top of their lists of things to worry about. A weaker yuan should also boost the accounting profits of export oriented companies, at least initially. On the other hand, the sharp slowdown in money supply growth is going to continue to exert a dampening effect on economic activity, even if it should be reversed, due to the usual time lag.
Conclusion:
China's economy needs to be watched closely. Large scale malinvestment and unfettered credit growth have taken place for a long time. At some point, there has to be a reckoning. It seems doubtful that new construction projects funded by the government will make much of a difference, although they might "buy more time" and thereby help make the structural situation even worse.