With the Federal Reserve taking a posture that many market participants viewed as more hawkish than before it is no surprise that commodities have come under pressure in the past 24 hours. Also adding to the stress in the sector are the comments out of Goldman discussing their revised growth rate estimate for China which is lower (surprise!) than their previous estimate.
The only real good news received in the past 24 hours, and again it was bad for certain commodities, is that Ukraine has decided to abandon their military bases in Crimea and pull out their assets as tensions in the region ease.
Chart of the Day:
To add to the comments on the Ukraine military pulling out of Crimea, it has had the impact of forcing palladium prices lower. As readers will remember we have used this commodity as a channel trade for some time and recent went bearish of it after breaking out past $750/ounce level and ending up very near $780/ounce. That call to exit the trade, and possibly go short, via the ETFS Physical Palladium Shares (NYSEARCA:PALL) has panned out well thus far and now the question is whether the $750/ounce level is strong enough to provide support or whether it will once again become resistance.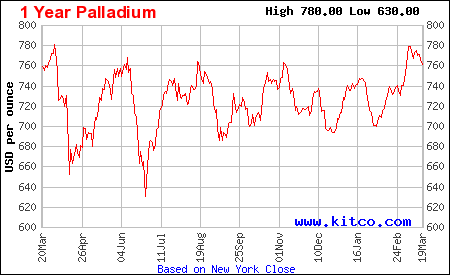 Source: Kitco
Commodity prices this morning are as follows:
Gold: $1,330.20/ounce, down by $11.10/ounce
Silver: $20.44/ounce, down by $0.386/ounce
Oil: $100.29/barrel, down by $0.08/barrel
RBOB Gas: $2.8674/gallon, down by $0.0014/gallon
Natural Gas: $4.37/MMbtu, down by $0.114/MMbtu
Copper: $2.9425/pound, down by $0.044/pound
Platinum: $1,441.40/ounce, down by $10.30/ounce
Coal Remains A Tough Market
The coal market remains tough, to put it kindly. We continue to see the coal companies suffer as demand has yet to pick up and losses continue. Walter Energy (NYSE:WLT) shares are once again moving lower today as they have some financing activity in the bond market going on and had S&P come out and keep their corporate credit rating at B- while issuing a negative outlook on the company. In short, S&P sees weakness in the market over the next 12 months and believes that the general market weakness will continue to translate into weakness for Walter Energy.
Although we are not yet bullish on the sector, we still think that investors need to focus on the larger names in the industry if the goal is to build up long-term positions in this speculative market. We always believe that the first step one takes should be on solid ground and buying names like CONSOL Energy (NYSE:CNX) and Peabody Energy (NYSE:BTU), two diversified names, would provide a nice foundation to branch out from.
Russian Exports Of Fertilizers
One has to look at what is happening in the palladium market in response to the news out of Crimea and then look at the potash market and wonder what is going on. It is tough to believe that one asset can sell off on the news after rising strongly and the other can hold its gains, but that is exactly what is happening. Our thinking is that a name like Potash Corporation of Saskatchewan (POT) is not a buy at these levels and should be avoided until a pullback occurs.
This three month chart shows the recent strength in POT shares, however we think that it has to head lower before it heads higher as other commodities are doing right now.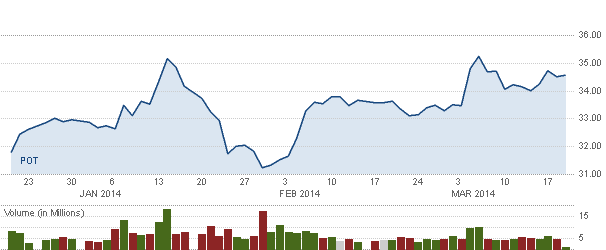 Source: CNBC
The chart mandates that one stays away at these levels, and with the recent resistance hit and failure to retest and move higher the technicals are speaking pretty loudly.
Disclosure: I have no positions in any stocks mentioned, and no plans to initiate any positions within the next 72 hours. I wrote this article myself, and it expresses my own opinions. I am not receiving compensation for it (other than from Seeking Alpha). I have no business relationship with any company whose stock is mentioned in this article.