Why is everybody complaining about investment in the U.S.? More than 70% of the S&P 500 companies have recently announced that they were expanding their productive capacity. The chart below shows that not only is the capacity utilization rate getting closer to its medium run average but also that commercial and industrial loans are clearly drifting upward.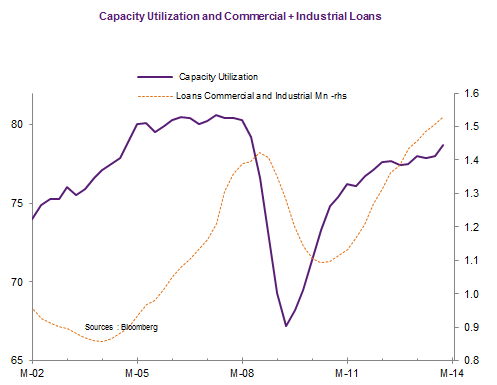 Interestingly enough, the reason why investment is perceived as lackluster is probably linked to the nature of the equipment goods purchased by U.S. businesses. The chart below is a proxy of the breakdown between investment that is a substitute for labor and capital that tends to be more "complementary" to labor (Structures).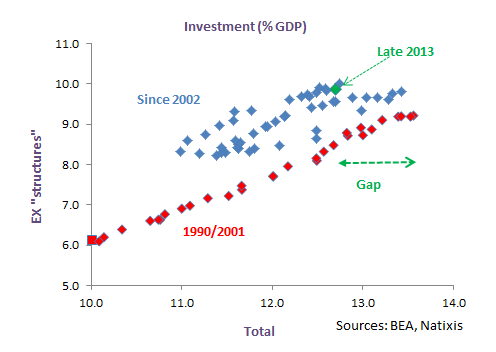 We can clearly see that:
i. Ex-Structures investment (computers, software, IT goods), as a share of GDP, is already close to its historical high (close to 10%). It stands close to 2 points of GDP above the level that would have been reached if the link between total and ex-structures investment had been unchanged over the last two decades (dotted red line)
ii. On the contrary, there is clearly a 1 point of GDP gap between the total investment share of GDP and its previous cycle peak of 14.7%.
As businesses continued to substitute capital for labor, they failed to increase their CapEx for reasons that might be linked to weakness of growth and regulatory uncertainty. Yet, several indicators call for positive momentum for investment spending.
As can be seen below, the rebound in rig counts is pointing towards higher structures spending.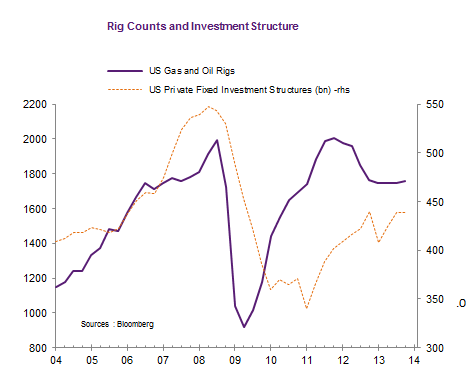 The price action of REITs stocks would also call for a rebound.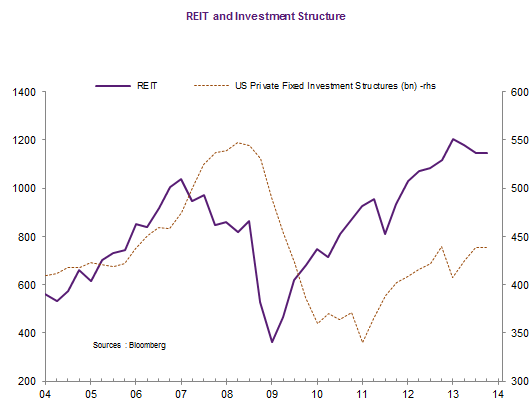 Lastly, my favorite Philly Fed-implied leading indicator of investment would call for stronger investment in structures, even though we cannot rule out a lag.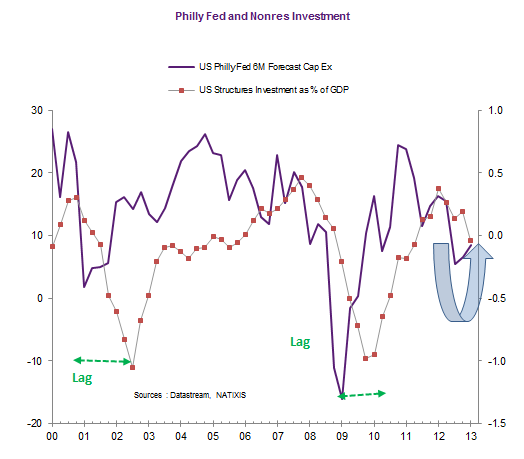 Bottom Line: There is no proof of an investment crisis in the U.S. The chart below, which compares the U.S. and the Eurozone, is probably the best example.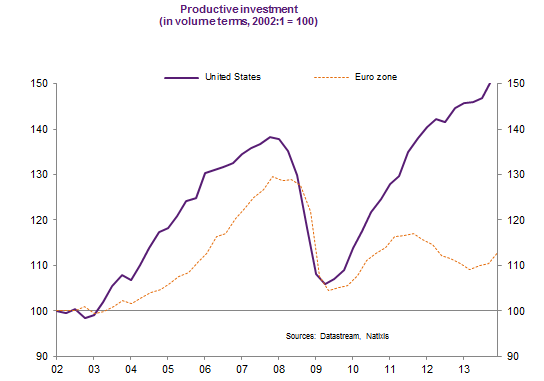 Of course, the wide gap between the level of profits and the investment-to-GDP ratio would call for much higher equipment and plant spending by U.S. businesses. In addition, the growing share of digital and IT equipment in total investment has weakened the link between business spending and employment. But the underlying indicators for structures investment and the current level of capacity utilization would call for a sustained level of investment spending - a feature at the core of my recovery scenario.
For that reason, I continue to favor a portfolio long recovery such as technology and industrial goods through networking (NYSEARCA:IGN), software (BATS:IGV), transports (BATS:IYT) and infrastructures (NYSEARCA:GII) while being short or underweighted "wealth effect sectors " such as travel & leisure (NYSE:PEJ), media (NYSE:PBS), or gaming (NYSEARCA:BJK).
Disclosure: I have no positions in any stocks mentioned, and no plans to initiate any positions within the next 72 hours. I wrote this article myself, and it expresses my own opinions. I am not receiving compensation for it (other than from Seeking Alpha). I have no business relationship with any company whose stock is mentioned in this article.