Opening:
SA's contributors have been watching Intel (NASDAQ:INTC) closely, with a wide array of articles published on all of the company's movements. To catch up on the bull case, I recommend reading Ashraf Eassa's article and for some of the tailwinds, I recommend Michael Blair's write up. Intel's profits and competitive advantages are driven mainly by the technology offerings the company offers - a product line Intel is enhancing.
Intel's New Releases:
(Source)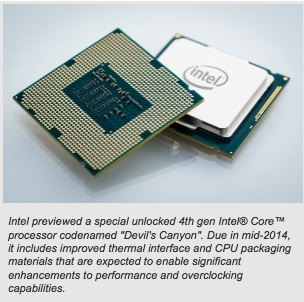 Intel is aiming to improve its desktop computing business. Lisa Graff, vice president and general manager of Intel's Desktop Client Platform Group stated
The desktop business is a large and important segment for Intel, and we are investing in it - reinventing form factors, experiences and products for our customers.
Recently, at the game developers conference, Intel unveiled a special unlocked 4th gen Intel® Core™ processor named "Devils Canyon". The processor is set to debut in mid-2014 and will rock an improved thermal interface and CPU packaging materials. These enhancements will provide significant performance enhancements to performance and overclocking abilities.
Also at the conference, Intel provided gaming enthusiasts with an awesome announcement. Intel will offer an 8-core, 16-thread Intel Core Processor Extreme Edition in the 2H of 2014. Key aspects surrounding this chip are its support for DDR4 memory standard for increased performance, video editing and 3-D content for premium users.
Lastly, Intel released plans for an Intel® Pentium ® anniversary edition processor to celebrate over twenty years in the Pentium Brand. This chip will allow the ability to increase the core and memory frequencies independent from the rest of the system, for increased performance.
Albeit more of a forward looking announcement, Intel also released plans for unlocked desktop versions of their 5th generation processor packing Iris Pro Graphics, known by code name as "Broadwell".
These releases will help Intel deliver increased performance to desktop users and continue to drive growth. Desktop growth for Intel was up 7% on a YoY basis in the 4Q of 2013, momentum Intel definitely wants to keep strong and should be able to maintain with their new product announcements.
Areas Of Interest For Intel:
Intel is not only focusing on enhancing desktop performance. Intel's desktop processor offerings can be used in mini PCs in mobile areas such as a boat or mall kiosk. They can also be utilized in portable all-in-one PCs in any room in the house. Intel has stated that they have partnered with several software developers to offer multi-user, multi-touch applications to take advantage of the size and capabilities of all-in-one PCs.
Twelve new software titles are being announced, for a total of more than 170 multi-user MU/MT applications now available. Sony (NYSE:SNE) Pictures Television's Wheel of Fortune*, Legacy's Crayola's Color, Draw and Sing* and Tarzan Unleashed*, Sesame Street's Prankster Planet: Banana Blast Off!*, Ubisoft's Chubby Kings Penguins* Black Mana's Home Interior Design*, Nuiteq's Snowflake ABC and Entertainment Suites*, Omnivision's Halli Clack and Halli Galli*, Konnect's Parking Friendzy*, and Playtales's* Interactive Storybook are now available in the ecosystem. (Source)
Building upon exciting offerings from developers to make full use of these devices, Intel is set leading the way with an all-in-one PC design codenamed "Black Brook". Packing an Intel RealSense 3-D camera, a quad microphone array, premium audio and a full HD display, Black Brook is set to redefine the all-in-one PC market.
Broadwell Steals The Show:
Out of the release, the most advanced is Intel's Broadwell chips, which were delayed earlier last year. The chips are made on a 14nm process that is extremely advanced in the industry. Previous to Broadwell were Intel's Haswell processors that utilized a 22nm process. The smaller the dimensions of the circuits on the chips, the more you can fit for more performance. Intel has stated that Broadwell will be 30% more power-efficient while also being faster than the Haswell chips.
Will These Chip Improvements Be Costly?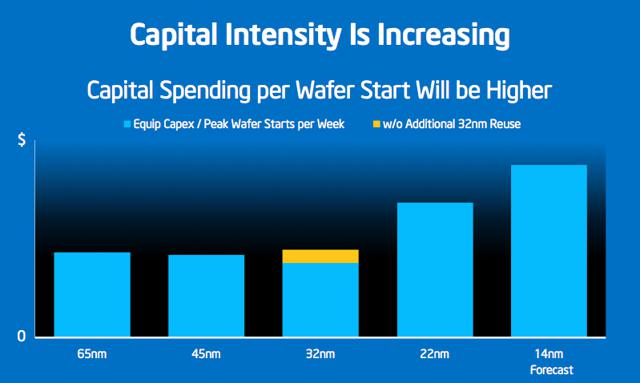 (Source)
Intel's 14nm process is set to be more costly than the Haswell and other 22nm process chips. These 14nm chips, namely Broadwell, will be more advanced than previous versions and should drive income, if costs do not push the bottom line down. Luckily for Intel, these costs are not as high as they may seem.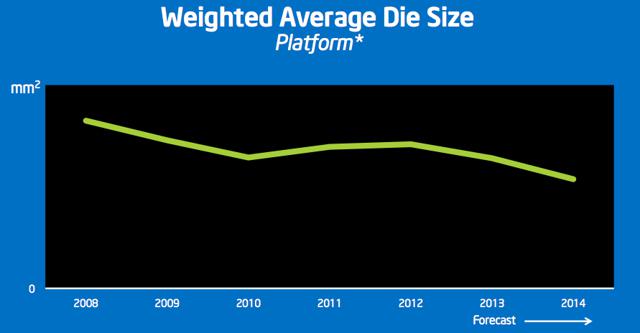 (Source)
One of the costs offsetting higher capital spending per wafer is the decreased in die size per platform. The use of die shrinking lowers overall costs of a chip company since there are no major design changes, so R&D is cheaper. This then allows more processor dies to be created on the same wafer, resulting in less cost of goods sold.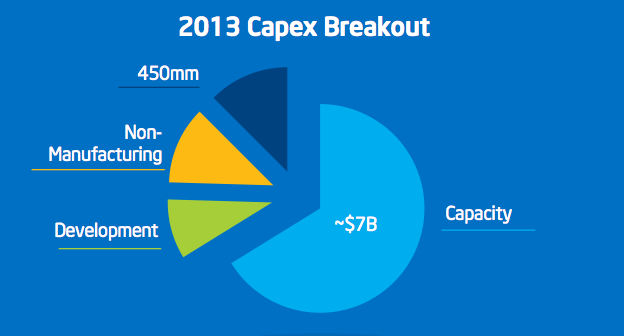 Intel is also not slating all of its operating expenses for unit capacity. Capacity will amount to roughly $7B out of the $11B budget.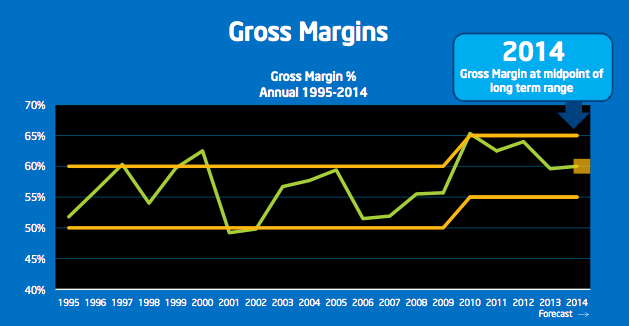 Intel's increased performance from its new processors, coupled with cost savings is helping to stabilize margins. Margins have been within the 55% to 60% range over the past three years, which is generally higher than in the company's past. An improving GM can help the company overall as well. Regardless, Intel's book value is improving as they enhance the overall business.

Conclusion:
Intel has been a shaky company over the past few years. It seems that the engineering department at Intel may be mad at the marketing department for setting expectations too close or too high.
At the end of the day, Intel's profits are driven from offering the best, and most advanced technology to its customers. Moving to the 14nm Broadwell design, along with its other announced processors to redefine desktop computing, can help Intel deliver on this front.
If Intel can avoid any hiccups, deliver to the desktop PC market and deliver strong with the XMM 7260 to compete with Snapdragon on mobile, the company could hold a lot of potential at current levels. With a 3.70% dividend yield buying on a pullback could prove favorable for investors willing to wait.
Disclaimer: This article is informational and is in my own personal opinion. Always do your own research and contact a financial professional before executing any trades.
Disclosure: I have no positions in any stocks mentioned, and no plans to initiate any positions within the next 72 hours.
I wrote this article myself, and it expresses my own opinions. I am not receiving compensation for it (other than from Seeking Alpha). I have no business relationship with any company whose stock is mentioned in this article.