KMG Chemicals, Inc. (NYSE:KMG) is a leading global provider of specialty chemicals for the semiconductor and wood-treating markets. In order to offset stagnant sales and falling margins in its legacy wood-treatment chemicals business, the company has been making a handful of strategic acquisitions since 2008 that established the company as the first global supplier in the market for high-purity process chemicals for the semiconductor industry, with dominant U.S. market position.
Short-term upside available after the March earnings release
In the recent months, the stock price has been depressed by multiple one-time factors, causing very strong negative sentiment, including management changes, an earnings miss, acquisition uncertainty, restructuring and downgrades by analysts. Investors have been patiently waiting for stabilization of the management, a definite confirmation of the turnaround being real, and the turn in the strong negative sentiment that has been dragging the stock down toward the $15 level.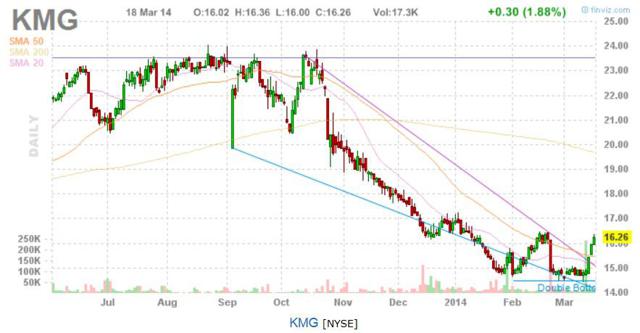 After the March 12, 2014, announcement of the latest quarterly results that showed continued turnaround progress on track, these hurdles have finally been cleared. There is clear evidence that the turnaround is real in the short run, and KMG has finally shaken off the strong negative sentiment. The few analysts that cover this small-cap stock began reverting their sell ratings in the past couple of days, and one actually initiated new coverage with a buy rating.
Due to these facts, now is the right time to buy the stock, which has a solid 20% upside potential in the next 12 months, implying a $19.20 per share price target. The company's realization of gains from the restructuring will keep increasing its EPS in the next few quarters. However, due to substantial downside risks, the risk/reward is not tempting even for this short-term trade. Therefore, any buy of KMG Chemicals' stock should only be viewed as a short-term trade with a time frame of up to 12 months.
Furthermore, as I will show below, KMG is likely to underperform broad indices in the longer term, and it even carries high downside risk and volatility.
The company's long-term strategy looks good on paper, but has serious long-term flaws
KMG operates in a specialty chemicals industry that is a bit more protected from the low margins than the basic chemicals industry. Many companies reacted to the pricing pressure in the basic chemicals industry by asset sales and focus on specialty chemicals business. KMG's strategy is to use acquisitions to become very strong and very focused in a handful of smaller niche segments that are too small for most of the largest specialty chemicals companies to successfully operate in, while achieving a global reach in these niche segments.
Long-term upside only available at the expense of a large downside risk and high sales and earnings volatility
However, in the long-term horizon of the next ten years, the stock offers uninspiring returns below market averages. The legacy cash-generating wood-treatment business suffers stagnant or falling sales, falling margins and unabated margin pressure despite the company having a near-monopoly position. The situation in the legacy business will only stagnate or get worse.
The company's new major segment that generates roughly two-thirds of sales is the semiconductor high-purity production chemicals business. This segment is the one on which the company places high hopes to generate future growth. It indeed sounds and looks great on paper and seems to be a great long-term growth driver on the surface. And the industry as a whole is indeed poised to grow in the future. The overall semiconductor industry has grown 4.8% worldwide in 2013 Y/Y, while the North American region grew by a robust 13.1%. Nevertheless, semiconductors are an extremely competitive business with very volatile sales, cut-throat low, volatile margins.
Therefore, a closer evaluation of KMG's long-term competitive potential reveals that the company has been losing market share in the semiconductors division, with its organic sales falling in a growing industry. Moreover, the company's semiconductors sales have lagged the industry growth rate even when the sales from the 2013 acquisition are added. KMG's overall semiconductor segment sales were essentially flat Y/Y in 2013.
If KMG is not capable of increasing its sales in an up cycle, what will happen to it during a cyclical downturn? Past cyclical downturns more than confirm my concerns, judging from the stock's deep falls by significantly more than 50% during 2008/2009 and 2011, as the long-term stock price chart shows.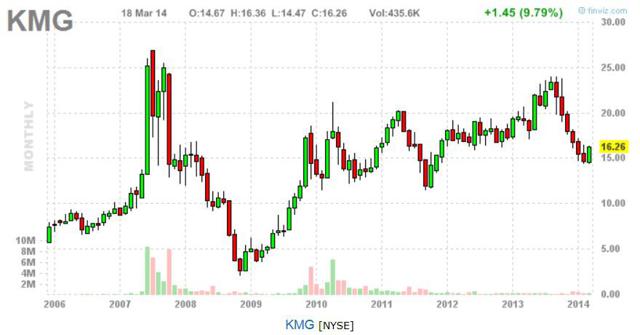 Therefore, KMG again is likely to be hit harder than competitors, should there be a major cyclical downturn in semiconductors or the general economy. The upside currently present is not worth the high risks of substantial losses in the case of a cyclical downturn in the highly competitive and fluctuating semiconductor segment or a general economic downturn.
Lack of focus
As part of the company's strategy, KMG Chemicals plans to enter a third strategic segment to further diversify its revenue sources when opportunities arise. However, thanks to a major acquisition and a strong restructuring taking place in the past 12 months, the company's expansion plans will likely be postponed for at least 12 to 18 months, even though the company's officials maintained their stance that if an attractive opportunity presents itself, they are ready to pull the trigger even now.
The company's lack of focus due to basically operating two disparate businesses already and looking for a third one will result in mediocre performance in each of the segments. This will mean the company will not be able to maintain its competitiveness vis-a-vis much larger and more focused competitors in the respective segments.
Company burdened by constant acquisitions that are needed to achieve growth
Additionally, the company's business model is solely dependent on acquisitions-driven growth. This model has its severe long-term drawbacks, especially during periods of generally higher stock market levels, such as now, when it is hard to find suitable growth businesses at a reasonable price as any significant growth is bid up very high. KMG's latest August 2013 acquisition is a case in point. The company faced rapidly falling organic sales (roughly 10% to 15% Y/Y in various quarters), hence it was basically forced to make an acquisition in order not to post overall sales fall for 2013 Y/Y. Thus, it paid $63.3M for Ultra Pure Chemicals Subsidiaries of OM Group (selling products under the name Cyantek in North America) that generated roughly $93.8M sales in 2012. Revenues generated by this acquisition in 2013 reached a slightly lower level, so KMG essentially bought a business with stagnant or even mildly falling sales for a trailing 0.8 P/S ratio, higher than the company's existing P/S of 0.58 that already includes the blended higher P/S from the acquisition.
Becoming a global player will not be enough to reach long-term high earnings in the promising high-growth semiconductors arena
I understand the reasoning behind the past acquisitions - the pursuit of the strategy of becoming the first global high-purity chemicals supplier to the semiconductor industry that can serve its customers globally. However, the semiconductor industry overall has low margins, fluctuating sales and constant cost-cutting pressures, meaning that KMG will still experience severe margin pressure despite having global reach. Therefore, the positive effect of this competitive advantage on actual long-term earnings will be negligible. The price paid for the acquisition not being a bargain is not exactly helping the business case either.
Moreover, evidence shows that even a competitive advantage often doesn't secure higher margins or rising sales, but merely stabilizes profits at current levels at best. If we take as an example the KMG's legacy wood-treatment business where it enjoys near-monopoly status, its margins are still falling in this segment because B2B customers (often utilities) are simply under cost-cutting pressure as their stagnant or falling sales and volumes put pressure on their often heavily indebted balance sheets to generate more cash.
For the most recent final quarter of 2013, KMG's segment sales in the electronic chemicals were $61.4M, up from $35.6M Y/Y. However, the increase was driven by the addition of the acquired UPC business. Adjusted EBITDA in the electronic chemical segment was $6.4M or 10.5% of sales compared to adjusted EBITDA of $3.9M or 11% of sales last year.
KMG is losing profits in the legacy wood-treatment business as well
In addition to the semiconductor industry, the company operates in the wood-treatment segment. In one part of this legacy business, KMG claims to have a near-monopoly position with its Penta product that generates high and recurrent cash flow streams that requires very little new investments. However the definition of competition and market that KMG uses fails to cover the broader understanding of competitive threats that include a multitude of substitute processes that are capable of serving the same purpose of protecting wooden poles. These alternative solutions have been gaining market share at the expense of KMG Chemicals. This will mean decreasing sales and margins, even in this near-monopoly segment. A case in point, Penta sales were down in Q4 2013 on a Y/Y basis. While overall wood-treatment segment sales were up 7.8% Y/Y at $22.8M in the final quarter of 2013, EBITDA was just $1.3M or 5.3% of sales, versus $2.3M or 11% of sales a year ago. This segment was not affected by any recent acquisitions and shows pure organic results.
Moreover, one strong factor influencing sales of Penta is the hurricane season as damaged poles are replaced with new ones after natural disasters, and sales driven by hurricanes are falling from the increased levels of 2011 and 2012. Pole replacement programs are expected to stay flat in the long run, with ups and downs, and virtually the only promising long-term source of rising Penta sales could come from demand for new transmission poles as solar plants and wind farms connect to the electric grid. However, with increasing growth, more competitors emerge as the segment becomes attractive.
Apart from the Penta product, KMG has virtually no competitive advantages in the other parts of the wood-treatment business as it is largely a commodity business with many competitors and substitute solutions.
The most recent quarterly earnings call has revealed some very disturbing facts confirming this trend of increasing margin pressure in the wood-treatment business, when the overall sales in the final quarter of 2013 increased slightly due to higher volume of Creosote sold, but the margins fell. The overall industry demand keeps falling, due to substitutes, mostly borates. This continues to exert pressure on margins. In other words, the sales increase is of low quality in nature because it has been gained by sacrificing margin, which is not a long-term viable way. Also, the company's contract with its European supplier of Creosote that expired in December was not renewed due to disagreement about pricing, confirming increasing margin pressures in the industry. As a result, KMG was forced to secure sources of Creosote from other suppliers, which hurt the company's margins in the short run as it continues to look for more suppliers.
In short, competitive pressures have been increasing fast in the wood-treatment segment. For example, Lonza Group, a Swiss conglomerate with more than 100 years of history, owns as part of its holdings a series of companies covering all regions of the world that offer a comprehensive range of wood-treatment products and solutions, including industrial applications, such as utility poles treatments. And this is just one example from the multitude of companies that are capable of serving the same market needs. Koppers Holding (NYSE:KOP) is another example of a strong competitor in the wood-treatment segment.
Current financial situation
During the most recent March 12 quarterly earnings call for the calendar Q4 2013, KMG reported GAAP loss per share of $0.24, as a result of ongoing restructuring. Excluding restructuring and integration expenses, KMG reported adjusted earnings per share of $0.12 versus $0.18 per share in last year's second quarter. This is a substantial deterioration of results. Revenue reached $84.25M in the quarter. Adjusted EBITDA that excludes all one-time charges, such as acquisition-related or restructuring, reached $6M compared to $5.6M a year ago. This seemingly positive improvement fails to account for the fact that this EBITDA was achieved on roughly 40% higher sales. Thus, in terms of the percentage of sales, adjusted EBITDA is actually significantly lower than a year ago, reflecting the lower margins of the newly acquired semiconductor business, and confirming that the acquisition will not contribute to a significant EPS increase in the long run, even though short-term EPS increases are likely in the upcoming quarters as restructuring expenses decrease and the benefits kicks in for this restructuring. This again confirms that in the short run, the stock has upside, but in the long run, it is likely to underperform.
Financial outlook
KMG reiterated its prior guidance for fiscal 2014 ending June 2015 for consolidated net sales to exceed $350M. Further restructuring charges of $4M to $5M are expected, as well as $3M non-cash restructuring charges related to accelerated depreciation. Also, $2M in incremental CAPEX are expected, related to the acquisition and restructuring. Restructuring synergies are expected to reach $2M to $3M in fiscal 2014. Hence, there will be a ~$2M negative net effect of the restructuring in FY2014, with FY2015 expected to generate net positive restructuring benefits.
Valuation
The current restructuring efforts will have a total one-time negative effect of $7M to $9M. However, the company expects to start strongly benefiting from the beginning of the second half of calendar 2014, with full effects in calendar 2015. KMG anticipates synergies and commercial benefits of $6M to $8M on an annualized basis beginning in 2015.
These positive effects of the restructuring and the resulting rise in EPS back to previous levels are the main driver behind the short-term 20% stock price upside within the next 12 months. Nevertheless, despite net higher sales due to falling organic sales but boosted acquisition sales, long-term margins are likely to fall as the acquired business doesn't carry the same margins as the legacy business. As a result, the long-term EPS is likely to stay on the same level as before the acquisition after the one-time restructuring effects recede.
When the dust settles in roughly 12 to 18 months from now as the acquisition and restructuring costs as well as when its benefits are fully realized (one-time restructuring costs of roughly $8M over the course of 2014 and 2015 in total, rewarded with roughly $7M savings annually), the company will reach roughly $1.2 normalized EPS on the current level of sales, implying 4.5% net profit margin.
Due to headwinds that I've mentioned throughout this analysis, the stock offers mediocre long-term EPS growth prospects that I estimate at around 5% per year. Nevertheless, the company offers a reasonable short-term stock price upside of roughly 20%, implying a $19.20 per share price target within 12 months, because the EPS is expected to increase as the turnaround begins to bring more benefits than costs. However, even in the short run, the downside risks are large if the turnaround doesn't progress as expected, or if the industry and overall macroeconomic trends turn south. Moreover, in the long course of the next ten years, this cyclical company's stock is likely to underperform average U.S. indices while bearing much greater downside risks and volatility than an average stock.
The DCF fair value of KMG is roughly $15 per share, so the stock is trading a little above its intrinsic value, offering little upside and high downside risks.

Risks
Many risks and headwinds have been mentioned often throughout this analysis. However, I would specifically point out that the acquisition-driven growth strategy fueled by debt can run into its limits soon, given the current debt-to-equity ratio of 0.66. Acquisition-driven growth has many risks, such as lack of synergies, unexpected costs and other inefficiencies.
Also, specific competitors, some with substantially larger market cap and capital strength, should be mentioned. They include Koppers Holdings, especially in the legacy wood-treatment and utility business. Large competitors in other product lines include BASF, Dow Chemical (DOW) and many others.
Conclusion
KMG Chemicals offers a short-term upside of 20% in the next 12 months due to improving EPS after a turnaround. However, in the long-run, the company lacks competitive advantages and significant growth drivers as organic sales fall and margin pressure and competition increases. KMG's sales growth is solely dependent on external acquisitions. The increasing debt-to-assets position as well as increased market valuations make this strategy unsustainable in the long run. Therefore, the company's stock price will likely underperform broader indices. Moreover, the upside potential comes with high downside risk and volatility.
Disclosure: I have no positions in any stocks mentioned, and no plans to initiate any positions within the next 72 hours. I wrote this article myself, and it expresses my own opinions. I am not receiving compensation for it (other than from Seeking Alpha). I have no business relationship with any company whose stock is mentioned in this article.