The drilling industry is back in momentum with recent growth in the economic environment and the stabilization of oil and gas prices. Most companies that work in the energy sector have increased their capital spending in order to reach new sources of production. Thus, the demand for drilling activities has been improving over the past two years and will likely further increase in the coming days. Amid this, many drilling companies like Transocean Ltd (NYSE:RIG) are expecting the pace of demand to remain slow in the short-term. This trend also reflects in Transocean's backlog, which decreased to $27.2 billion compared with the past year's $29.8 billion.
However, some operators like Ensco PLC (NYSE:ESV) and Noble Corporation (NYSE:NE) are opposing these trends and have made attractive contracts for their newly built rigs. In these conditions, investors need to be cautious before investing in these companies. In this article, I picked Transocean to see whether it is a good investment or whether investors should look at the other industry peers: Noble and Ensco.
Where Does Transocean Stand?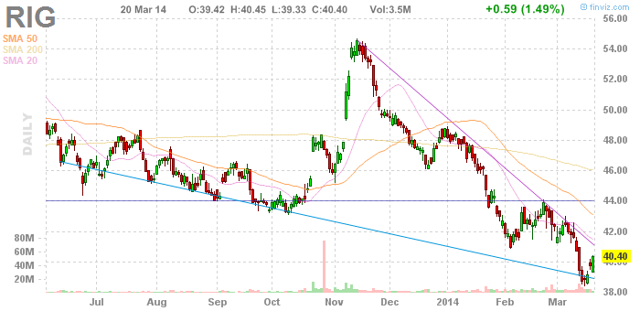 Transocean had a horrible start in 2014. Year to date, the stock lost around 18.67%. The steep decline in value is a result of the company's reduced backlog and decline in revenues and earnings. Further, the company has a soft outlook for this year, as its nearly 12 ultra deep water and 8 deepwater contracts are coming to end. Its uncommitted days will increase in the coming days.
| | | | | |
| --- | --- | --- | --- | --- |
| | 2014 | 2015 | 2016 | 2017 |
| High-Specification Floaters | 24% | 52% | 67% | 76% |
| Midwater Floaters | 33% | 56% | 89% | 100% |
| High-Specification Jackups | 10% | 38% | 68% | 80% |
Source: SEC Fillings
Many reasons are behind the increase in uncommitted days. The most important might be that the speed of tendering and the length of contract terms have decreased, and RIG is experiencing fierce competition for each tendering opportunity. Its other closest peer, Seadrill (NYSE:SDRL), has a premium fleet in the industry compared with RIG. This impacts RIG's contract winning ability. These factors put pressure on RIG's fleet utilization and day rates for its rigs. At the start of this year, its 23 of 46 High-Specification Floaters contracted through the end of 2014. Out of 22 semisubmersible rigs, 5 are available in the active fleet of 2014. However, 2 of its existing 11 High-Specification jackups have availability in 2014. The company has been seeing increased demand for high specification rigs in 2014.
Investors became concerned, which caused a continued decline in its stock price. Further, the company generated poor results in 2013. Its revenue declined from $2.5 billion in 2012 to $2.3 billion in 2013. The company's fleet utilization and backlog were reduced compared with the previous years. Fleet utilization and backlog are expected to reduce further this year from the slowdown in demand and tendering, which will ultimately lead to low day rates. Further, its cash flows are also impacted by the company's performance. Operating cash flow decreased to $1.7 billion, and capital expenditure rose to $2.2 billion in 2013. Free cash flows were negative at $320 million. Here, we can raise a question on the company's ability to pay dividends; both operating and free cash flows are not providing cover to dividend payments and are less than its capital requirement.
Where Do Ensco and Noble Stand?
Ensco PLC offers offshore contract drilling services to both domestic and international oil companies. Ensco has the second largest offshore drilling rig fleet in the world, with 75 rigs. Its fleet portfolio includes 10 drillships, 46 independent leg jackups and 19 semisubmersible rigs. It is aggressively investing in its fleet portfolio to provide advanced technology to customers. Consequently, its newly built ultra-deepwater rigs have started work on a multiyear contract with existing customers. It also accepted delivery of two new ultra-premium, harsh environment ENSCO 120 Series jackups. Both ENSCO 120 Series jackups were contracted in advance for a multiyear program. All these positive investments in its business take its backlog to $10.7 billion. It has also generated record revenue and earnings in the last year and has increased its dividends twice by 33% and 50%.
In addition, $10.7 billion of contract backlog, a strong balance sheet and borrowing capability, with both its commercial paper program and revolving credit facility will all provide more flexibility for the company to make additional investments.
Noble Corporation is a leading offshore drilling contractor for the oil and gas industry. The company, with a fleet of 77 offshore drilling units, is located all over the world. Noble is also in a strong position to generate better growth in 2014. Its recent investments in its fleet portfolio set strong footprints for future growth. Its recent addition of three new ultra-deepwater drillships, Noble Bob Douglas, Noble Don Taylor and Noble Globetrotter II, plus the high-specification jackup, Noble Mick O'Brien, set it to generate record revenue of $4.2 billion and earnings per share of 3.05 in 2013. Further, at the end of last year Noble received two more JU3000N jackups, the Noble Regina Allen and Noble Houston Colbert. The company is expecting the delivery of five more rigs by the end of 2014, which should make Noble a premium offshore drilling rigs provider. The company is likely to generate better revenue in 2014 with the newly added rigs.
Which Is a Better Company to Buy?
Transocean is facing challenges in growing its revenue from a low backlog, and its fleet portfolio is not updated compared with its peers. I do not recommend initiating a position in a struggling company. On the other hand, Ensco and Noble plan to produce another year of strong performance. They have set strong footprints for future growth with their investments in fleet portfolio. Also, Ensco and Noble are in a better cash position than Transocean. Both companies have the ability to sustain their dividend growth, and both are trading at a discount.
Disclosure: I have no positions in any stocks mentioned, and no plans to initiate any positions within the next 72 hours. I wrote this article myself, and it expresses my own opinions. I am not receiving compensation for it (other than from Seeking Alpha). I have no business relationship with any company whose stock is mentioned in this article.