"The language that we use in this statement is 'considerable period.' This is the kind of term that is hard to define, but, you know, it probably means something on the order of six months or that type of thing…it depends on what conditions are like. We need to see where the labor market is. How close are we to our full employment goal. That will be a complicated assessment not just based on one statistic. And how rapidly are we moving toward it….Inflation matters here too."
This is from Janet Yellen's first Federal Reserve press conference as Fed Chair (starting around the 37:00 mark). Yellen answered a question from a reporter from Reuters on when rates would start increasing after QE has ended this Fall. On the whole, this statement is just as innocuous as any of the many statements made during the press conference. It is purposely imprecise and full of conditions and caveats. However, it appears the market in trigger-happy form interpreted Yellen's timetable too literally. I believe expectations for the first Fed rate hike are for mid to late-2015. Yellen's "six months or that type of thing" target could be interpreted as delivering a first rate hike as early as the Spring of 2015. The adjustment in expectations helped send the U.S. dollar index (NYSEARCA:UUP) soaring off its recent bottom.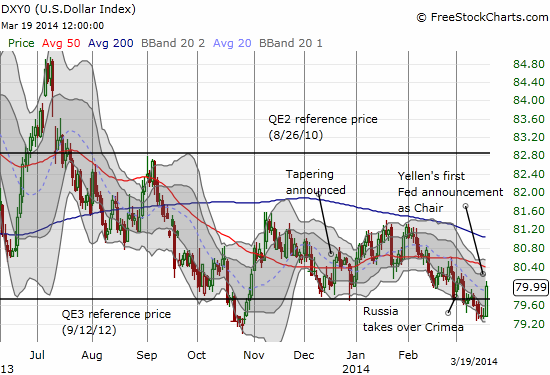 The U.S. dollar surges as market adjusts to potential for rate hikes sooner than expected.
The U.S. dollar index is still nowhere near strong, but the response was particularly notable against the Canadian dollar (NYSEARCA:FXC). The U.S. dollar has formed another breakout as U.S. policy gets increasingly interpreted as hawkish relative to the Canadian stance on monetary policy.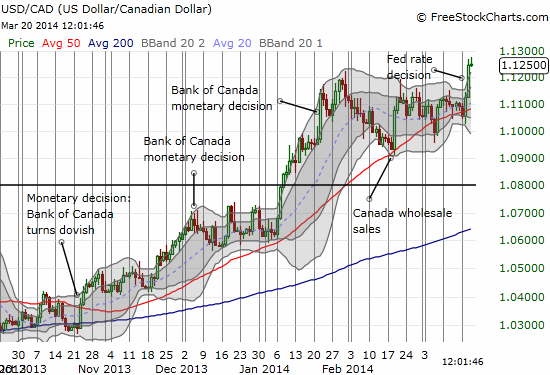 A fresh breakout for USD/CAD.
Source of charts: FreeStockCharts.com.
I remain bearish on the Canadian dollar and am sticking to the 1.16 target by early next year. I used this latest run-up as an opportunity to close out the latest long trade on USD/CAD.
Interestingly, Yellen appeared to walk reporters away from thinking rate expectations were going higher faster right at the beginning of the press conference. Wall Street Journal's Jon Hilsenrath asked the second question in the press conference with an observation on the apparent "upward drift" in forecasts by Committee members for interest rates going out to 2016. Yellen effectively dismissed the chart as a bunch of dots subject to fluctuation over time, emphasizing that the upward drift is limited. She highlighted that essentially nothing has changed in the outlook since December. She guessed that, perhaps, there is some drift because the employment picture is ever so slightly stronger than expected by forecasters. Ultimately, and this is the key point, the Fed is going to stay flexible and keep its options open depending on the economic data. That stance remains firmly planted in policy-making.
Disclosure: I have no positions in any stocks mentioned, and no plans to initiate any positions within the next 72 hours. I wrote this article myself, and it expresses my own opinions. I am not receiving compensation for it (other than from Seeking Alpha). I have no business relationship with any company whose stock is mentioned in this article.
Additional disclosure: In forex, I am net long the U.S. dollar.