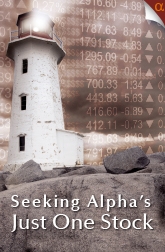 Several times a week, Seeking Alpha's Jason Aycock asks money managers about their single highest-conviction position - what they would own (or short) if they could choose just one stock or ETF.
---
Chuck Carnevale, a 40-year veteran of the securities industry, is co-founder and CIO of EDMP Inc. Before forming EDMP Inc., he was a partner in a 30-year-old RIA firm in Tampa, Fla. He has been a partner with a private NYSE member firm, the president of a NASD firm, VP and regional marketing director for a major AMEX-listed company, and an associate vice president and investment consulting services coordinator for a major NYSE member firm.
If you could only hold one stock position in your portfolio, what would it be?
First of all, we believe in investing in a diversified portfolio of high-quality companies trading at sound valuations, with above-average historical growth of earnings per share, and expectations for above-average growth in the future. However, if we were forced to pick just one stock today, it would be Hudson City Bancorp (NASDAQ:HCBK). They are the nation's largest thrift holding company with over $60 billion in total assets.
Tell us a little more about the company behind the stock.
With just under $7 billion in market cap, Hudson City is ranked as one of the top 25 U.S. banks by asset size. They are the country's largest thrift institution with 132 branch offices; 95 in New Jersey, 28 in New York and 9 in Connecticut. Hudson City stands out as one of the few remaining old-school conservative banking institutions. Their policy is to only loan money to people that can afford to pay it back and they require a minimum down payment for loans of 20%. Their business is mostly made up of one- to four-family residential mortgage loans, and they modestly offer consumer and other loans.
Hudson City Bancorp traces its roots all the way back to March 27, 1868, and therefore has over 140 years of history behind it. Not only did the company survive the stock market crash of 1929 and the Great Depression of the '30s that saw insolvent banks close, Hudson City actually thrived through it all. During the recent "great recession" of 2008, Hudson City saw their business grow and their earnings accelerate as they exploited the trials and tribulations of their competitors.
Hudson City first went public in 1999 selling 47% of their outstanding stock. Then in June 2005 Hudson City marked another significant milestone in their 142-year history by raising $3.9 billion in capital as they converted to a full publicly owned institution. Since this last public offering they have grown their assets from $22 billion to over $57 billion as of June of 2009. In early 2007, Hudson City joined the ranks of the S&P 500. They were named to the Forbes Platinum 400 List of "America's Best Big Companies" and Forbes also has selected Hudson City as the Best-Managed Bank for 2007, 2008, and 2009.
How does your choice of Hudson City reflect your investment approach?
The investment approach utilized at EDMP Inc., is a fundamentally based sound approach to investing in businesses rather than stocks. There are three critical attributes that must be present before we would invest our clients' capital. The first is that any selection must be an industry-leading, high-quality, consistently above-average earnings growth achiever; only the highest quality companies are good enough for our clients. Second, no matter how much we like the underlying business, the current valuation must be at or below our True Worth based on the company's ability to generate cash flows for its stakeholders. Finally, our expectations for the company to continue growing at above-average rates must also be evident, and our thesis for future growth must be based on compelling and reasonably believable logic.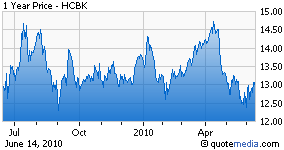 At EDMP Inc., we strive to generate an above-average return of 15%-20% per annum over at least a market cycle (three to five years). When you consider that the average company as reflected by the S&P 500 has only grown at about 6% to 8% over the past 20 years, our approach implies only investing in above-average selections. Putting this goal into mathematical terms, we endeavor to buy a dollar's worth of earnings today that we are confident can grow into two dollars' worth of earnings in three to five years. This equates to the 15%-20% growth rate. If the company pays a dividend we are willing to accept a slower growth rate of 10%-15%. However, the company must have a history of raising their dividend consistent with their earnings growth rate. Therefore, through a combination of capital appreciation and dividend growth we can still expect to achieve our 15%-20% goal.
Frankly, at current levels we believe Hudson City has it all, i.e., above-average earnings growth, a high and growing dividend, and an attractive valuation. They have grown earnings at over 20% a year for the past 10 years and they sell at just 11 times earnings. Their price-to-book at approximately 1.2 is one of the most compelling in the entire industry; they offer a current dividend yield of 4.7%, and earnings are expected to continue growing at 20% or better over the next three to five years. We believe it is quite rare to find such a high-quality company trading at such a discount and with a strong dividend that should increase every year. In over 40 years in this business I have rarely seen a company that meets all these criteria. Typically, a company that offers such a high dividend would normally be a slow grower. However, thanks to today's low valuation, Hudson City Bancorp's current yield is abnormally high.
Can you talk about the sector? How much is your selection based on Hudson City's industry, as opposed to a pure bottom-up pick?
We believe that Hudson City Bancorp, as a member of the thrift industry, is suffering from a general prejudice against all things financial. With financial reform a looming threat, the industry in general remains out of favor with most investors. Regarding thrifts specifically, Hudson City Bancorp has one of the best operating histories and one of the best prospects for future growth, and yet they trade at the lowest valuation in the group. When you consider how conservatively this company is run, that just doesn't make any sense.
Hudson City Bancorp is the only thrift we would consider investing in. Therefore, I would call this much more of a bottom-up pick than an industry play. The fundamentals underpinning this fine company are what attract us most. We believe an investor would be hard-pressed to find another company with such excellent fundamentals regardless of what industry was examined.
How is Hudson City positioned with regard to its competitors?
Well, first of all, as a member of the thrift industry, Hudson City Bancorp stands head and shoulders above its competition. Not only is it the largest thrift in the nation, it also has the most consistent and fastest operating growth of the entire group. Even though lending conditions are still under stress in our country, recent initiatives instituted by the Federal Reserve could actually benefit the thrift industry.
Most important, current economic conditions favor the stronger financial institution over the weaker. Not only does Hudson City Bancorp possess one of the strongest balance sheets of the group, they also have no exposure to subprime and other exotic loans. As a testament to how well managed this company is, they did not need to, nor did they, participate in the government's Troubled Asset Relief Program (TARP).
Financial flexibility is another attribute of Hudson City Bancorp that really stands out. They recently filed a shelf registration statement that enables them to easily access the capital markets should an opportunistic transaction arise. With the threat of Congress increasing regulatory capital requirements, Hudson City Bancorp is poised to continue to execute their business model and/or pursue opportunities that the current market turmoil may provide.
It's also important to note that Hudson City Bancorp is already extremely well capitalized. Their Tier 1 capital ratio at approximately 7.59% is far above the minimum requirement of 4%. Also, HCBK is the industry leader regarding operational efficiency as they are ranked No. 1 in efficiency ratio at approximately 18.3%. This compares quite favorably to the national aggregate of 55.53% for all US banks and thrifts, according to the FDIC. This means that Hudson City only needs to pay 18 cents in overhead to generate a dollar's worth of earnings.
How does HCBK's valuation compare to its competitors?
At under 12 times earnings, Hudson City Bancorp's valuation is the lowest in the entire thrift industry. While most thrifts suffered significant earnings declines during the great recession of 2008, Hudson City Bancorp, thanks to its conservative policies, put together one of the strongest earnings growth rates in its history. However, with investor sentiment sour on anything financial, the falling tide of financial stock values sunk Hudson City's stock price along with all the rest of its financial cousins.
Since Hudson City's earnings grew and their price fell, their P/E ratio is currently low. In contrast, most of their competitors saw earnings fall with prices, which kept their P/E ratios high on depressed earnings.
Regardless of its industry dynamics, based on pure fundamentals alone, we believe Hudson City Bancorp represents compelling valuation at current levels. We believe one of the most efficient and effective ways to see this is through the lens of our EDMP Inc. F.A.S.T. Graphs™. Figure 1A below plots Hudson City Bancorp's monthly closing stock prices correlated to earnings since calendar year 2000. As the graph clearly illustrates Hudson City's stock price (black line) has not been this far below its earnings justified level (orange line with white triangles) over this entire time frame. Therefore, based on fundamental values and historical norms, we believe Hudson City Bancorp is an extremely undervalued selection at this time.
Figure 1A Hudson City Bancorp Inc 11 year EPS Growth Correlated to Price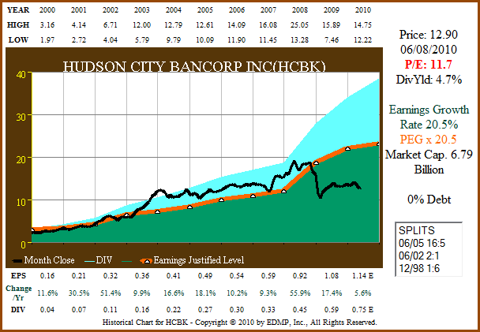 Figure 1B below calculates the performance associated with Figure 1A. As this chart clearly illustrates even at today's current low valuation Hudson City Bancorp shareholders have been well rewarded since calendar 2000. Not only did they enjoy strong capital appreciation of 19% compounded annually vs. a 3.2% compounded annual loss for the S&P 500, their dividend cash flow was strong and increased every year as well.
Figure 1B Hudson City Bancorp Inc. 11 year Dividend and Price Performance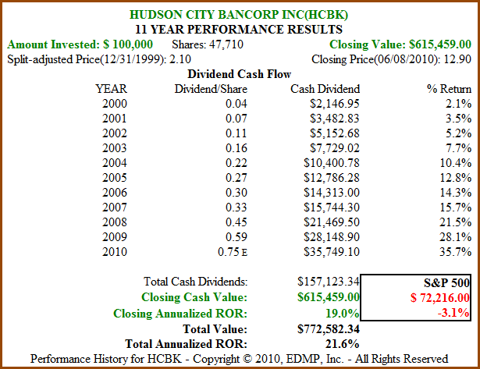 Figures 2A and B through 5A and B provide EDMP Inc. F.A.S.T. Graphs™ on four competing thrifts. These charts and graphs clearly illustrate the superior operating performance of Hudson City Bancorp and how much more attractive its valuation is. As you review these graphs, note two things listed at the right:
The earnings growth rate each company achieved, and

The price earnings ratio it currently trades at.
Especially notice how they compare to Hudson City Bancorp's earnings growth rate and P/E ratio found in Figure 1A. They say a picture is worth a thousand words, and these pictures say it all regarding Hudson City's valuation in comparison with its main competitors.
Astoria Financial Corp. 11 year EPS Growth Correlated to Price
In contrast to Hudson City's 11.7 P/E ratio, Astoria Financial (NYSE:AF), a thrift headquartered in Lake Success, N.Y., currently trades at 29 times earnings. This is mostly due to earnings falling since 2006.
Figure 2A Astoria Financial Corp. 11 year EPS Growth Correlated to Price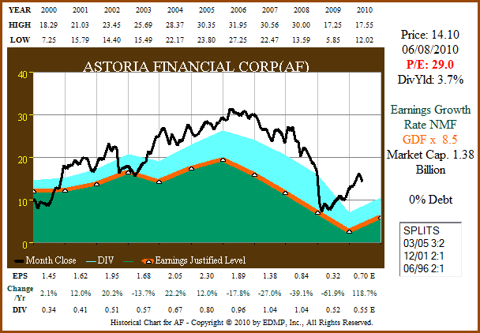 Astoria Financial Corp. 11 year Dividend and Price Performance
Due to collapsing earnings, as shown in Figure 2A, Astoria Financial was forced to cut their dividend in half in 2009.
Figure 2B Astoria Financial Corp. 11 year Dividend and Price Performance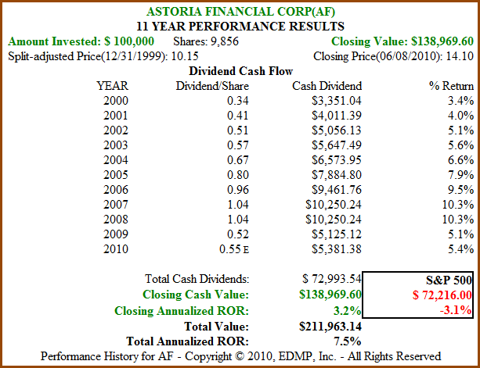 Northwest Bancshares Inc. 11 year EPS Growth Correlated to Price
Northwest Bancshares (NASDAQ:NWBI), headquartered in northwestern Pennsylvania, currently trades at a P/E of 26.9, relatively high for an earnings growth rate of 9.5%. Although earnings did fall through the recession, they held up reasonably well, all things considered.
Figure 3A Northwest Bancshares Inc. 11 year EPS Growth Correlated to Price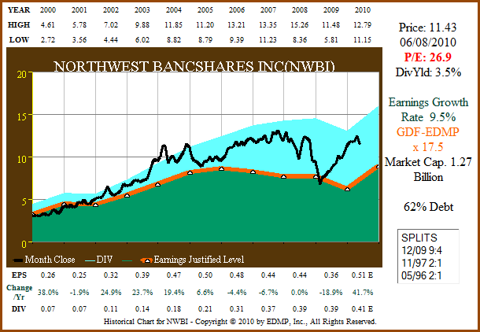 Northwest Bancshares Inc. 11 year Dividend and Price Performance
Although Northwest Bancshares earnings held up reasonably well, it did force them to keep their dividend the same through 2008 and 2009. However, total return for this well-run thrift has significantly outperformed the S&P 500 since the year 2000.
Figure 3B Northwest Bancshares Inc. 11 year Dividend and Price Performance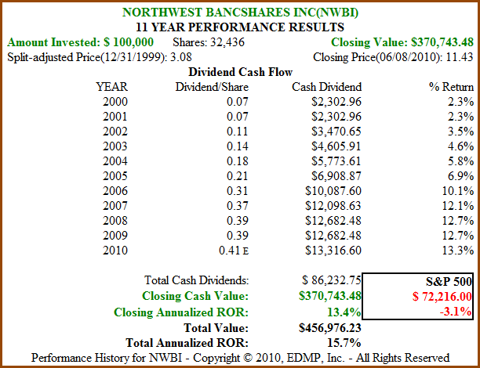 Washington Federal Inc. 11 year EPS Growth Correlated to Price
Washington Federal (WFSL), headquartered in Seattle, Wash, experienced a 54.2% drop in earnings in 2008, followed by a 35.2% drop in 2009 - therefore, their current high P/E ratio of 20.5, although almost double Hudson City's P/E ratio, is based on severely depressed earnings.
Figure 4A Washington Federal Inc. 11 year EPS Growth Correlated to Price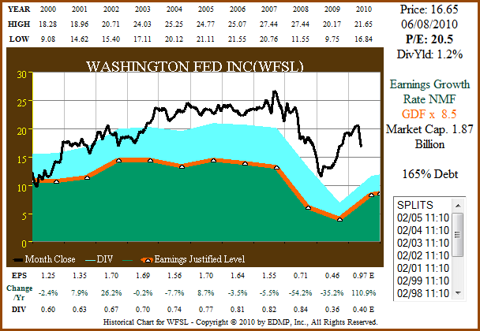 Washington Federal Inc. 11 year Dividend and Price Performance
Weakening earnings during the great recession of 2008 forced Washington Federal to cut its dividend significantly in 2009. Weakening earnings also produced an anemic 3% compounded return for shareholders; however, this was significantly better than the 3.1% loss of the S&P 500.
Figure 4B Washington Federal Inc. 11 year Dividend and Price Performance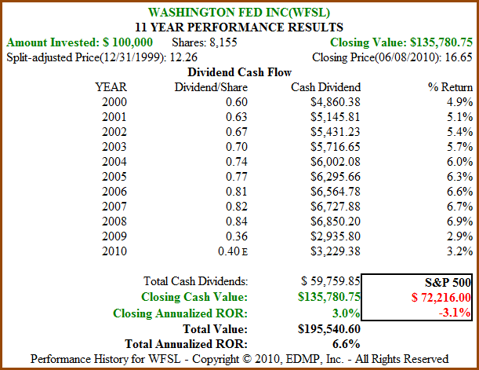 First Niagara Financial Group 11 year EPS Growth Correlated to Price
Buffalo, N.Y.-based First Niagara Financial (NASDAQ:FNFG) held up pretty well during the recession, with earnings more flattening than collapsing, even though they did fall 25.6% in 2009. Even though First Niagara Financial Group's earnings growth rate of 11.5% is above average, it is almost half of what Hudson City Bancorp accomplished, yet the market is capitalizing those results at 17.7 times earnings.
Figure 5A First Niagara Financial Group 11 year EPS Growth Correlated to Price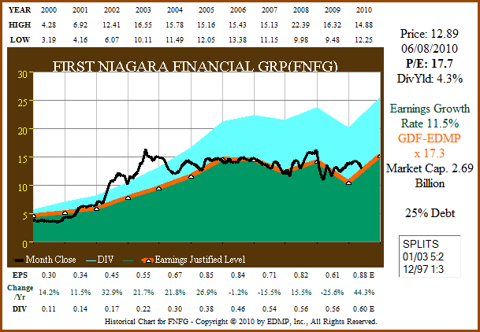 First Niagara Financial Group 11 year Dividend and Price Performance
Thanks to reasonably good earnings, all things considered, First Niagara Financial Group generated strong shareholder returns. However, their flattening of earnings from the period 2006 to the present only allowed them to maintain dividend levels in 2009, instead of growing them.
Figure 5B First Niagara Financial Group 11 year Dividend and Price Performance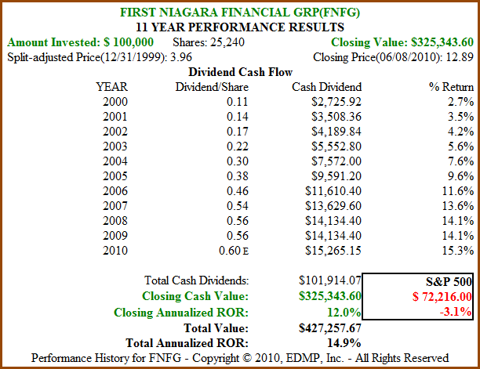 As Figures 2A and B through 5A and B clearly illustrate, Hudson City Bancorp dramatically outperformed their competitors on both an operating basis and shareholder returns generated. Yet inexplicably, the stock market is capitalizing Hudson City Bancorp's excellent results at significantly lower valuations than its peers. We believe this anomaly will inevitably be rectified over time.
Does your view differ from the consensus sentiment on Hudson City?
Since Hudson City Bancorp is a financial, its stock price has been under pressure since the great recession of 2008. Although we would agree that most financial stocks deserve the treatment investors have been placing on them, we believe that Hudson City Bancorp is an exception. Their stodgy old conservative banking practices allowed them to attract assets when most competitors were losing assets.
As the most efficient savings institution in the United States, Hudson City Bancorp accomplished this because they are able to offer higher rates on their investment offerings and simultaneously charge lower rates on loans. Therefore, we believe that Hudson City Bancorp is being unfairly treated by investors.
Does the company's management play a role in your selection?
To us management always matters a great deal. One of the reasons we covet companies with consistently above-average operating histories is because it says a lot about how well-managed the businesses are. In Hudson City's case, as the previous graph indicated, this has been a very well-managed enterprise over a very long time.
Ronald E. Hermance Jr. has been their President and CEO since 1997 and is only the 11th person to hold that position in Hudson City's over-140-year history. Today he is also chairman, and Forbes Magazine has named him one of "America's Best Performing Bosses."
What catalysts, near term or long term, could move HCBK significantly?
As general economic conditions continue to improve, we believe that the compelling valuation and strong fundamentals behind this quality enterprise are sure to attract investor attention. Most importantly, as housing values strengthen, and specifically in Hudson City's market, then much of the fear should abate. Our confidence is high considering that Hudson City has branches in 10 of the top 50 counties in the United States regarding median household income.
The bottom line, however, is that their above-average earnings growth and the rising dividend income stream it offers should increase Hudson City's P/E ratio over time. An expanding multiple on a higher level of earnings should generate strong investor returns in the future.
What could go wrong with your pick?
Many investors are currently focusing on the fact that Hudson City's nonperforming loans have increased in recent times above historic norms. However, their strict credit standards have held these nonperforming assets at still modest levels. For Hudson City the ratio of net charge-offs to average loans was 0.30%, as compared with the industry average of 2.20% for banks with over $50 billion in assets.
However, if housing prices in Hudson City's market were to fall substantially from current levels, then nonperforming loan levels could rise even further. But thanks to their conservative lending practices, most of their loans possess a strong equity cushion against such an occurrence. And on June 9, the Federal Reserve reported that economic growth has spread to every corner of the country.
Thanks, Chuck, for sharing your thesis.
Disclosure: Long HCBK
Read more Just One Stock articles »
If you are a fund manager and interested in doing an interview with us on just one stock or ETF position you'd hold, please email Rebecca Barnett.