While 2013 proved to be the year where "rising rates" threatened bond and high-yield investments, 2014 started off on a different note. Even as the Fed further tapered purchases beginning in January, 10-year yields actually decreased as aggregate demand for U.S. "risk-free" assets year-to-date has improved.
On March 19, 2014, Fed Chair Janet Yellen's remarks in her first statement as Fed Chair included the following bullet-points:
Keep the low short-term interest rate (0% - 0.25%) in place.
Guidance to keep "easy money" policy in place well past the full employment/2% inflation target.
Announcement that the Fed has already reduced the monthly treasury/MBS buybacks to $55 billion per month, from $65 billion, as of January 2014.
While this announcement was expected by the markets, the 10-year yield spiked from 2.68% to 2.77%, a move of 9 basis points.
In reviewing the YTD performance of the 10-year, 2.77% represents close to a mid-point on the YTD yield range.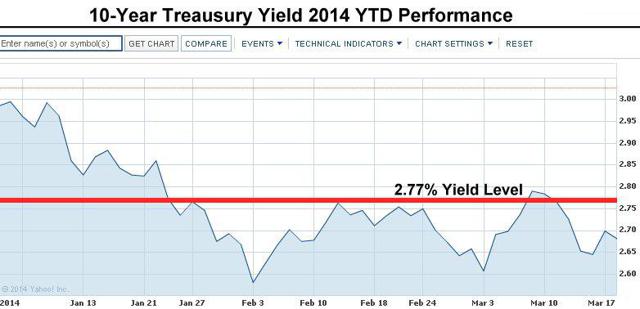 Chart Source: YAHOO! Finance
While this move brings the 10-year back near the 2014 mid-point level, it still does not discount a bullish trend that remains intact as rates continue to observe a downtrend.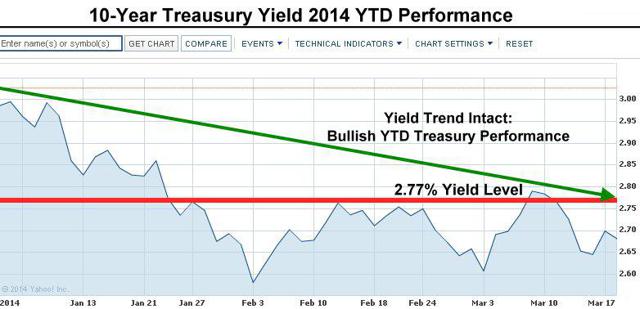 As noted from the chart above, the 10-year remains in bullish territory. The bond is up 26 basis points, or 8.6%, on the year, even after discounting today's move.
Rising Rates Gives Way To Currency Risk
While rising rates was the theme that worked on the back-half of 2013, the new macro theme in town, "currency risk," has created the opposite effect.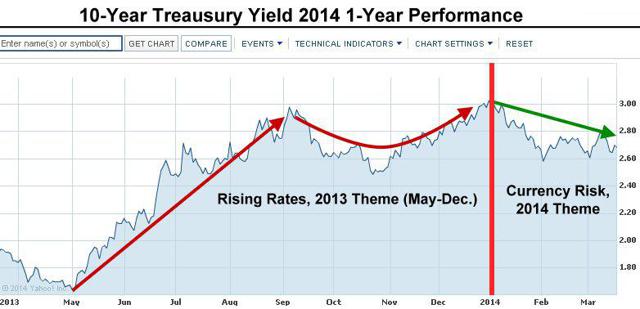 As the global non-reserve currencies have taken major hits this year, the demand for the "safe-haven" U.S. treasury market has actually increased enough to discount the taper effect and push yields lower.
REITs Drop Across The Board Due To Treasury Spike
As the 10-year treasury bond yield spiked to 2.77% today, U.S. equity REITs, as measured by the Vanguard U.S. REIT Index ETF (NYSEARCA:VNQ), slid 1% further on a down day after 2 p.m.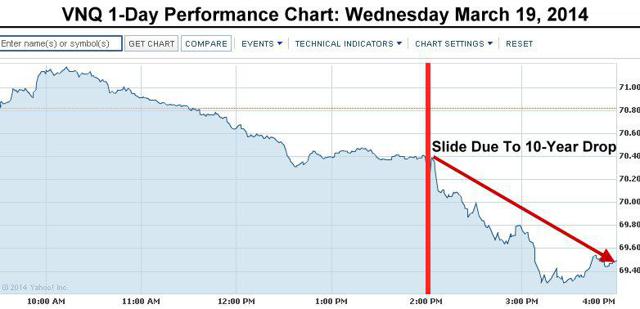 In total, the VNQ fund lost 1.88% on the day. While a nearly 2% daily decline is big for the U.S. equity REIT market, two names stand out to me today for the following reasons:
The U.S. REIT decline of 1.88% is a temporary reaction to potential rate hikes that are one-year out.
Currency risk remains a central macro theme for 2014, which should continue to keep the 10-year in a bull market (i.e., sub 3% yields).
Specific REIT declines in bullish names offer capital appreciation opportunities.
Specific REIT declines offer an increase in forward yields to above-average levels.
1. American Capital Realty Partners (ARCP)
ARCP currently yields $1 per share in the form of monthly dividends. After a big down-day, the shares lost $0.35, or 2.45% in value.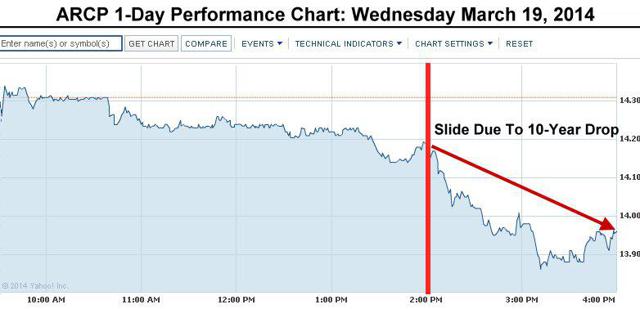 At the closing price of $13.96 per share, ARCP shares have a forward yield of 7.2%. Also to note, ARCP shares are up 8.6% on the year, without including dividends.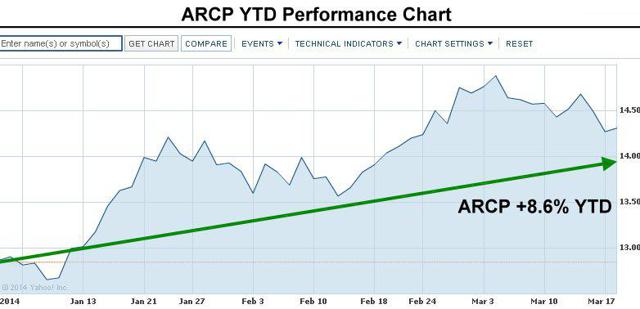 The shares have traded above $14 most of March, so the current breach below $14 may be a discounted entry-point.
ARCP is further undervalued as the company has a short-term track record as a public company, has been fueled by rapid acquisitions and has a spin-off in the works.
If the company was valued in-line with peer Realty Income Corp. (NYSE:O) however, in terms of Realty Income's current yield of 5.4% ARCP would trade at $18.51. As ARCP grows and gains a longer track-record of success, the shares should merge in-line with peer valuation (on both an FFO and yield basis).
2. Medical Properties Trust (NYSE:MPW)
Medical Properties Trust is a healthcare REIT that specializes in owning hospitals. The company closed at $13.62/share on March 5, 2014, when a secondary stock offering was announced, then priced at $13.25/share pre-market on March 6, 2014.
Due to the stock offering in progress, shares naturally made a short-term move to the downside. As of the March 18, 2014 closing price of $12.89/share, the stock was resting 2.9% below the secondary price that closed just a week earlier.
Now that the REIT market has taken a tumble, this small player dropped 2.33% to land at $12.59/share. At current pricing, MPW shares yield 6.7% and must rise 5.2% to break-even at the secondary offering.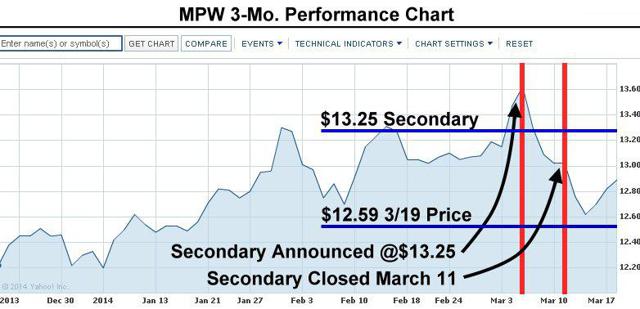 With 3/4 of the quarterly $0.21 dividends to be distributed by year-end, a 5% dividend return and 5.2% break-even return would equate to a 10% total return.
At the current FFO estimate of $1.10 (not including acquisitions, which could total $500 MM in 2014), MPW trades at 11.5 times 2014 FFO, for a 8.7% 2014 FFO yield.
To learn more about MPW and their growth prospects going forward, please read this recent interview with CEO Edward Aldag, Jr., published February 27, 2014.
Conclusion
Although the "Fedspeak" did spook markets and cause a spike in the 10-year treasury yield, the 2014 macro theme of currency risk remains intact. As such, yield-related investments such as the higher-yielding equity REITs ARCP and MPW have major upside potential.
In particular, ARCP and MPW are already undervalued due to individual reasons such as short-term history and a recent closing of a secondary offering. With additional downside due to a U.S. REIT sell-off, these companies now offer even more compelling valuations.
Disclosure: I have no positions in any stocks mentioned, and no plans to initiate any positions within the next 72 hours. I wrote this article myself, and it expresses my own opinions. I am not receiving compensation for it (other than from Seeking Alpha). I have no business relationship with any company whose stock is mentioned in this article.