Earnings estimates have fallen sharply for Clean Harbors (CLH) following its third consecutive earnings miss and disappointing guidance from management. It is a Zacks Rank #5 (Strong Sell) stock.
With shares trading at high multiples to both earnings and cash flow, investors should consider avoiding this stock at least until its earnings momentum improves.
Clean Harbors provides environmental, energy and industrial services throughout North America. It also provides used oil recycling and re-refining, parts washers and environmental services for the small quantity generator market through its Safety-Kleen subsidiary. The company is headquartered in Massachusetts and has a market cap of $3.3 billion.
Since I last wrote about Clean Harbor as the "Bear of the Day" on September 26, 2013, shares have fallen more than -6%, while the S&P has risen almost +10%.
Fourth Quarter Results
Clean Harbors reported disappointing Q4 results on February 26. Earnings per share came in at 44 cents, missing the Zacks Consensus Estimate by 12 cents. Revenue surged 57% to $879.4 million, but this was well below the consensus of $897.0 million. CEO Alan McKim cited "adverse weather and the timing of holidays in December" as two factors affecting the soft Q4 results.
Estimates Falling
Mr. McKim also warned about 2014 results, stating that "[w]e enter 2014 with substantial headwinds that have caused us to revise our expectations for the year." Management reduced its revenue and adjusted EBITDA guidance, prompting analysts to slash their estimates for both 2014 and 2015.
This sent the stock to a Zacks Rank #5 (Strong Sell).
The 2014 Zacks Consensus Estimate is now $1.75, down from $2.61 before the Q4 report. The 2015 consensus is currently $2.18, down from $3.11 over the same period.
You can see the sharp, steady drop in estimates over the last several months for Clean Harbors in its "Price & Consensus" chart: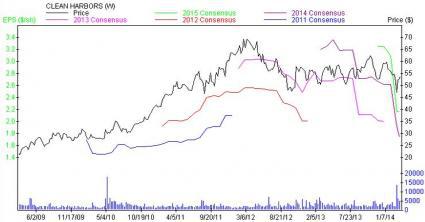 The company has reported three straight earnings misses and six misses in the last seven quarters.
Pricey Valuation
Shares of Clean Harbors sold off initially after the Q4 report but have rallied back. However, the stock does not look like a value at 29x 12-month forward earnings. And its price to free cash flow ratio doesn't look much better at 23x.
The Bottom Line
Given its negative earnings momentum and premium valuation, investors should consider investing their money elsewhere for now.
CLEAN HARBORS (NYSE:CLH): Free Stock Analysis Report (email registration required)