Bofi Holding, Inc. (NASDAQ:BOFI) is the holding company for Bank of the Internet Federal Bank, a nationwide bank based in San Diego, California. It is the 22nd largest bank in the state of California and the 222nd largest bank in the country.
The bank was founded in 1999 by the former president of La Jolla Bank. As of 12/31/13, the bank held $3.6 billion in assets.
Unlike traditional brick and mortar banks, Bank of the Internet Federal bank has just one branch location at its headquarters and only around 300 employees. As a result, their business model is more efficient, providing banking services more cost-effectively by eliminating the overhead costs of branches. These efficiencies extend to the back office and the distribution and delivery of banking products.
And as a result of these efficiencies Bofi is in the top percentiles relative to its savings bank peers with assets greater than $1 billion for return on equity (ROE) and return on average assets (ROAA). By keeping operating costs down, Bofi can also consistently offer higher deposit rates and competitive loan rates to attract new customers.
Bofi's business model has benefited from the migration to online banking as consumers become disenchanted with traditional banks. In recent years, advances of technology have removed many of the barriers to branchless banking such as remote deposits, reload networks, and enhanced ATMs for depositing of cash. In addition, mobile and smartphones have facilitated the convenience of online banking functions.
According to the American Bankers Association, internet banking is now the preferred method of banking among all age groups. Indeed, 85% of transactions in 2013 were non-branch transactions (Source: Tower Group, McKinsey & Co, Novantas) with branch traffic declining at an annual rate of 4%.
Retail Distribution Channels
Bofi's business over the internet is augmented by several affinity programs and prepaid credit card programs. It also has a retail distribution agreement in place with Costco Wholesale.
Bofi also markets under several different national brands which target specific consumer segments.
BofI Brands (Source: Bofi Holding, Inc. Investor Relations)
As the oldest and most trusted online bank, Bank of Internet USA is the best choice for convenient, safe, and financially rewarding banking. Since its inception, Bank of Internet USA has been dedicated to offering you industry-leading rates on a wide variety of banking products.
BofI Advisor is a comprehensive and straightforward solution for advisors seeking secure investment products. BofI Advisor offers competitive rates, customizable marketing collateral, high-touch service, and an online Advisor platform. BofI Advisor will also not compete in wealth management services, making BofI Advisor the ultimate partner for today's financial advisor.
UFB Direct, a division of BofI Federal Bank, is a branchless bank that pays you airline mileage for your everyday banking. Redeem Airline miles from participating airline partners on our Airlines Rewards Checking account and our Airline Rewards Savings account that can be opened online. Keep doing your everyday banking - you'll earn rewards automatically.
Earn a higher savings rate, guaranteed. Bank X offers generous rates and the convenience of an online bank that fits your active lifestyle. Enjoy unlimited ATM withdrawals and never pay ATM fees, anywhere in the United States.
NetBank offers you a second chance at the checking and savings accounts you deserve, even when other banks say no. With Purchase Rewards, you can earn cash-back while you shop and PopMoney allows you to easily transfer money via text or email to and from your NetBank account.
Growth Catalysts
In September of 2013, Bofi completed an acquisition of $173 million in deposits from Principal Bank, including $142 million in checking, savings and money market accounts and $31 million in time deposits. Bofi continues to look for strategic opportunities to gain customer assets from other financial institutions.
Beyond deposit growth, another key driver of Bofi's growth has been organically sourced loan production. The company's loan portfolio has grown successively over the last five quarters from $2.1 billion to $2.8 billion. These loans are high quality loans with an average loan to value (LTV) of 55%. And the company's loan pipeline is at a record high level.
Competition
BofI competes with traditional banks for banking business, but also faces competition from several virtual banks such as Ally Bank, E-Trade, Discover Bank, GE Capital Bank, CIT Bank and INGDirect. These virtual banks compete mainly on the basis of rates, financial stability, supplementary services, and overall convenience.
Recent earnings results (2/5)
The company's Q4 earnings results were $0.91 share which was a penny ahead of the analyst consensus. Some of the highlights for the quarter included:
Total assets reached $3,568.3 million, up $694.0 million or 24.1% compared to December 31, 2012
Loan portfolio grew by $622.0 million or 28.9% compared to December 31, 2012
Loan originations for the three months ended December 31, 2013 were $787.6 million, up 28.6% compared to the quarter ended December 31, 2012
Deposits grew by $434.8 million, or 22.1% compared to December 31, 2012
Asset quality remains strong with total non-performing assets of 0.49% of total assets and non-performing loans equal to 0.58% of total loans at December 31, 2013
Tangible book value increased to $21.82 per share, up $4.74 per share compared to December 31, 2012
The Bank's Tier 1 capital was 9.01% at December 31, 2013, compared to 8.52% at December 31, 2012.
Summary & Risks
BofI offers a full-service, branchless banking platform which offers structural cost advantages relative to traditional banks. As a result, it offers superior growth and ROE metrics relative to its banking peers. Like any bank, it is subject to the credit risk of its loan portfolio. The marketplace for online banking products and services is also very competitive, which may reduce margins and profitability over time as more competitors enter the market.
Gunderson Capital Management's Best Stocks Now! Analysis
Bofi Holding, Inc. has a current Gunderson stock grade of A+ and it is currently ranked 8 out of 3838 stocks.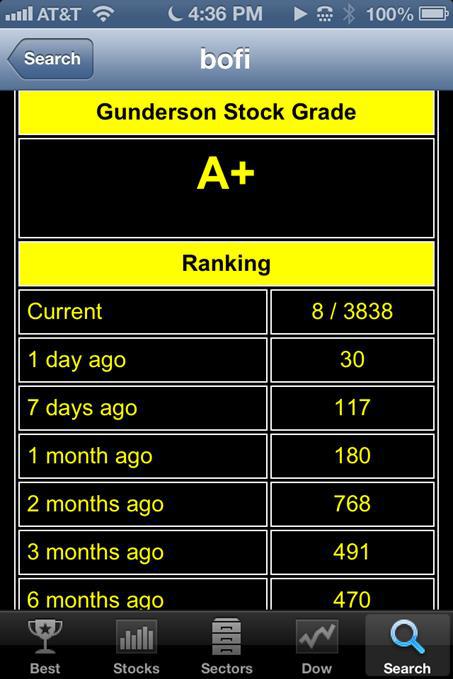 Here is why.
With a market cap of $1.4 billion, it is considered a Small Cap bank and is suitable for aggressive investors. We initiated a position for clients on 2/26/14.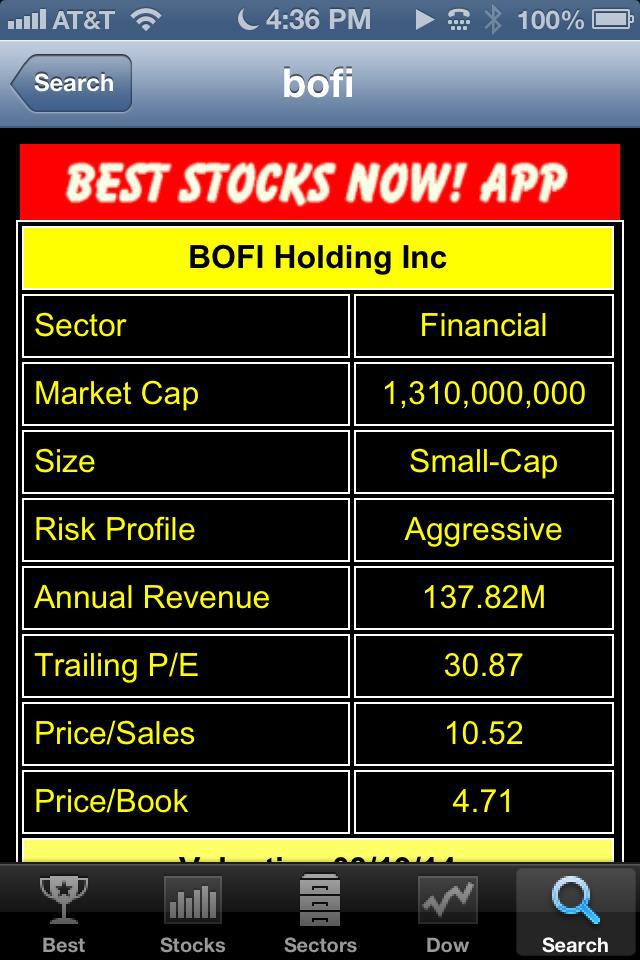 While on the surface the stock's valuation seems lofty, especially for a bank stock, I believe that the stock's premium valuation is well justified given its superior growth metrics.
Let's take a look at the recent performance of the stock.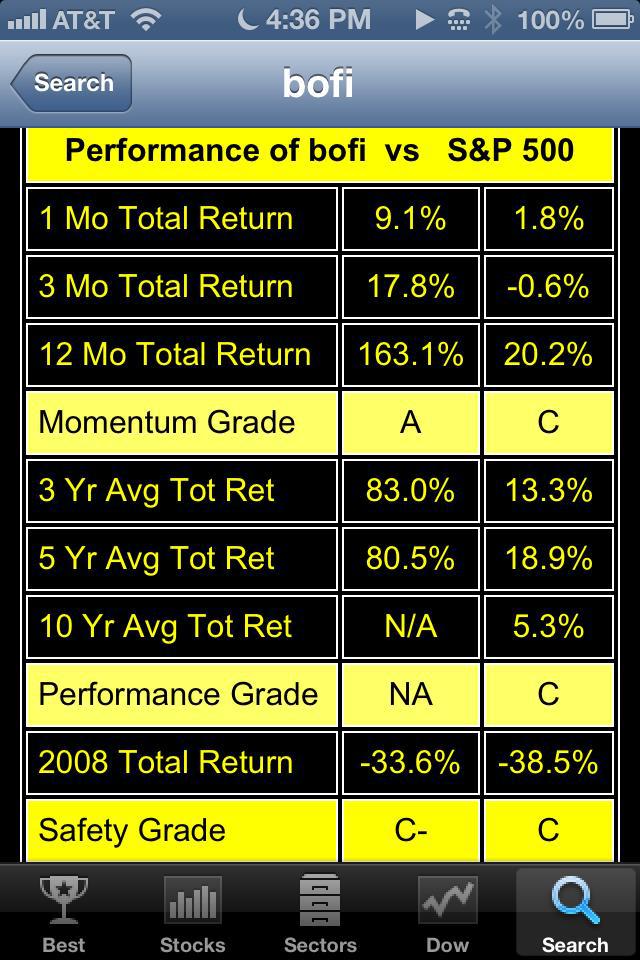 Over the last five years, the stock has delivered an average of 80% per year to investors. During that same period of time, the market has delivered 18.9%.
Over the last three years, the stock has delivered an average of 83% per year to investors, while the market has delivered just 13.3%.
Over the last twelve months the stock is up 163% vs. a 20.2% move by the S&P 500.
This is one of the top performing stocks in the entire market. The stock currently earns a momentum grade of A. Superior growth stocks with low cost structures deserve premium multiples.
We next look at the stock's current valuation.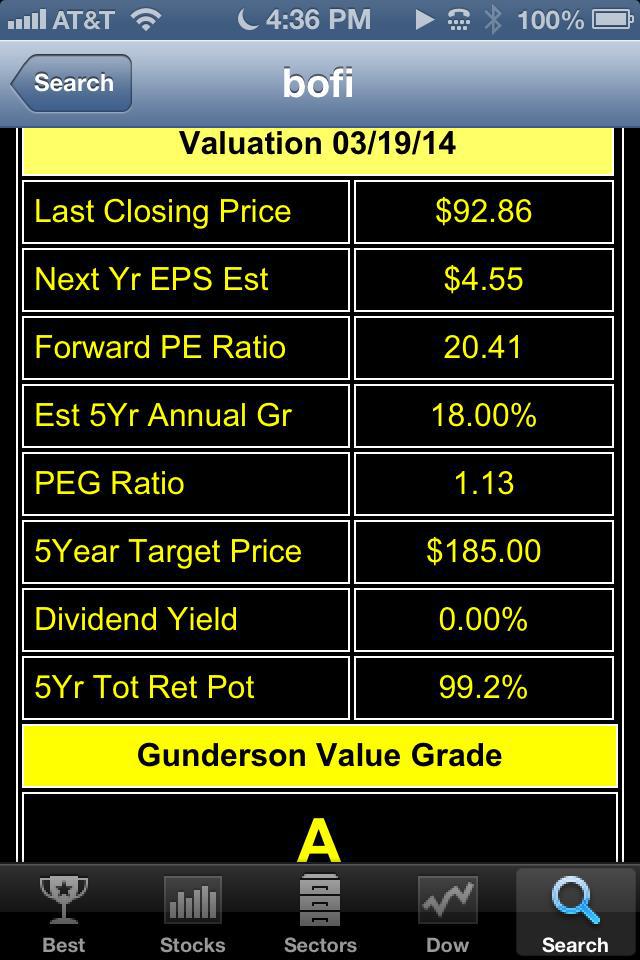 The stock is currently trading at 20.4X forward earnings. The consensus analyst estimate for growth over the next five years is 18% per year.
This makes for a very reasonable PEG ratio of 1.13.
When I extrapolate out next year's earnings estimates of $4.55 by 18% per year over the next five years, and then apply a multiple that I believe is appropriate for a superior growth stock, I come up with a 5-year target price of $185.
Post its strong February earnings results, BofI experienced a sharp technical breakout to a new 52-week high.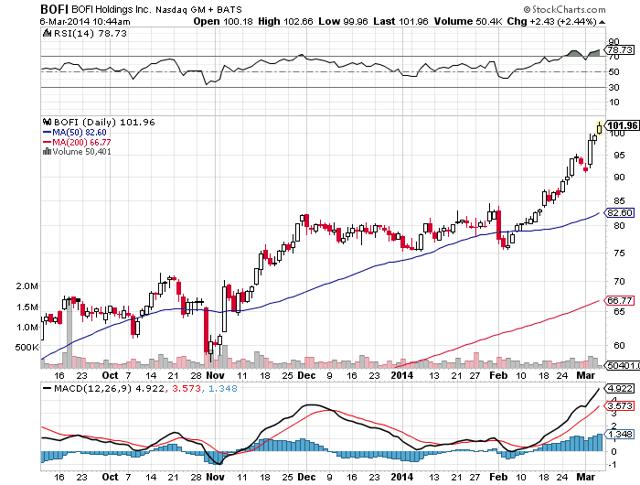 BofI remains an attractive play on the secular shift to online banking. Its business model offers structural cost advantages relative to the traditional bank branch model and delivers superior growth and ROE metrics relative to its banking peers.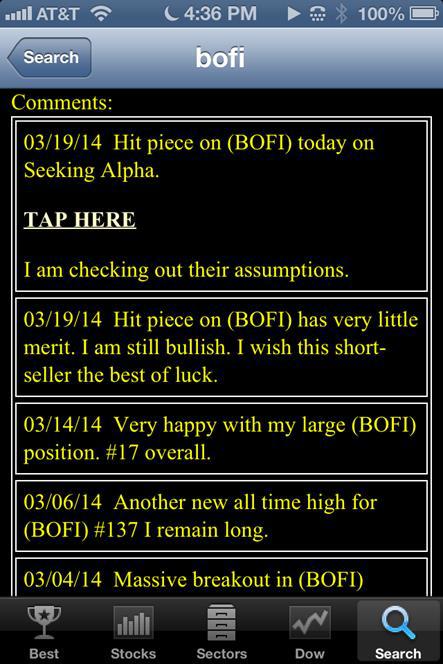 Disclosure: I am long BOFI. I wrote this article myself, and it expresses my own opinions. I am not receiving compensation for it (other than from Seeking Alpha). I have no business relationship with any company whose stock is mentioned in this article.