By David Russell
US companies face pension shortfalls, and the problem will only get worse unless the stock market keeps rallying, according to a new report.
Delta Airlines (NYSE:DAL), advertising company Omnicom Group (NYSE:OMC), and chemical firm Nalco (NYSE:NLC) are among the worst-funded companies, with less than half the sufficient amount of money set aside to cover future payouts, according to Fitch Ratings.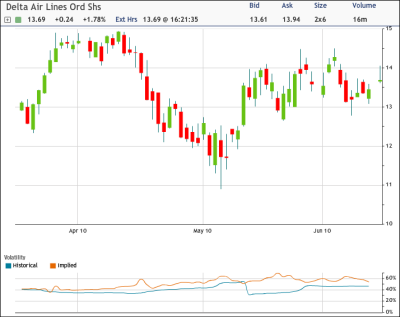 Fitch, whose research is mainly used by corporate-bond investors, said the pension plans at 144 of the 220 companies it tracks were less than 80% funded. That means they could be considered "at risk" under the Pension Protection Act of 2006.
The main takeaway of the study is that investors should check annual reports for information about pension obligations. While it's unclear how the liabilities will affect any individual company, they're likely to become increasingly relevant as 2011 approaches because that's when the requirements of the law are scheduled to take full affect.
John Culver, a co-author of a report on the subject, said:
The report is an attempt to make people aware there could be an increase in these outflows to company pension plans, and it's not really clear what the amounts will be. Cash going to plans is not available for the companies to reinvest in their businesses or to buy back stock.
Because they are funded mostly with equities and corporate bonds, pensions lost 29 percent of their value between December 2007 and December 2008, according to Federal Reserve data.
The collapse occurred shortly after the Pension Protection Act raised the bar for funding requirements, similar to what happened with fair-value accounting for financial institutions under FASB 157. Congress waived some of the rules in late 2008, and an extension of that move is now being considered.
Culver added:
If there is continued downward pressure on the equity markets, that's going to increase future funding requirements.
Other companies with low levels of pension funding include American Axle & Manufacturing (NYSE:AXL) and Masco (NYSE:MAS) at 58 percent and Mattel (NASDAQ:MAT) at 59 percent.

Disclosure: No positions