BlackBerry (BBRY) Chief Executive Officer John Chen recently sat down with Bloomberg for an interview (check it out here) about BlackBerry's future strategy. His demeanor in the interview and demonstrated disregard of Wall Street's nonsense (for instance: Do you think BlackBerry is the right name?) was actually more interesting and refreshing than the actual interview. In addition, Chen also conducted an interview with the Financial Times in which he now famously stated, that BlackBerry's turnaround odds stand at 50%.
While many investors and market observers did interpret his remarks negatively, I see the odds as another reminder that BlackBerry is still a great turnaround investment with an asymmetric payoff profile.
Technically, BlackBerry could indeed go bust and investors could lose their entire investment - that's the sort of the inherent risk when someone buys equity securities and this really isn't new information - however, I consider this scenario to have a low single-digit probability. The company has a sound balance sheet and a solid cash position: I estimate that Q4 2014 financial statements will show a cash/investment position of around $2.6-2.9 billion (around $5 per share). Also, shareholder confidence has returned since Chen took over his current leadership position at BlackBerry.
As to the 50:50 turnaround remark: Of course, the Chief Executive Officer needs to tread carefully here. Other CEOs have made the mistake of overpromising, and too optimistic statements can not only backfire quickly and destroy trust if the company doesn't deliver instantly, but also could undermine the CEO's credibility as well as the restructuring progress itself.
Also, let's not forget that Chen received a massive BlackBerry restricted stock welcome package that makes sure his interests are strongly aligned with those of shareholders. I find this point is consistently forgotten in many discussions about BlackBerry. As Bloomberg reported on November 6, 2013 [emphasis added]:
John Chen, who will attempt to turn around BlackBerry Ltd. as its new executive chairman and interim chief executive officer, will get $3 million in salary and bonuses, as well as restricted stock valued at $85 million.

Chen, named to the post on Nov. 4, will be eligible for $1 million in base salary and a performance bonus of $2 million, the Waterloo, Ontario-based company said yesterday in a filing. He will also be awarded 13 million shares that will vest over the next five years.
Long-term equity incentives make sure that Chen and his management team will leave no stone unturned in order to get the company back on track.
Fourth quarter results and speculators
Investors can expect that the market will put BlackBerry's upcoming fourth quarter results under the microscope. As usual, a quick consensus will be reached about whether BlackBerry's turnaround is successful or not. I don't think that BlackBerry's turnaround can be judged just based on the results of any single quarter, but long-term investors are surely in the minority.
Another point I want to highlight, is the increase in short interest at a time when BlackBerry was thrown under the bus at the end of 2013. It is interesting to see, that BlackBerry's short interest spiked in November just when BlackBerry's stock price bottomed out.
(Source: Nasdaq)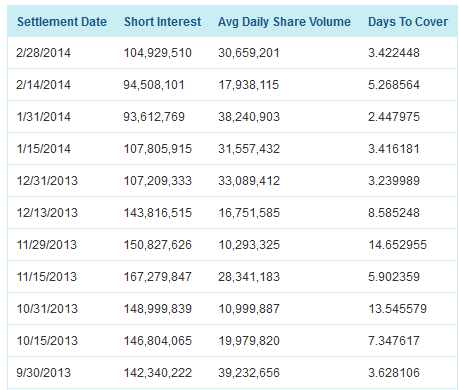 In November and December 2013, BlackBerry was trading only at slight premiums to cash value while shorts built up their positions. It is quite mind-boggling to recognize, that peaking short interest is such a great contrarian indicator.
With a herd of speculators eyeing BlackBerry's earnings release, I expect short interest to increase (as well as volatility) in light of fourth quarter results. I would urge serious long-term investors to not overweight information contained in BlackBerry's quarterly results and instead to ride the full turnaround cycle in this security.
(Source: Yahoo Finance)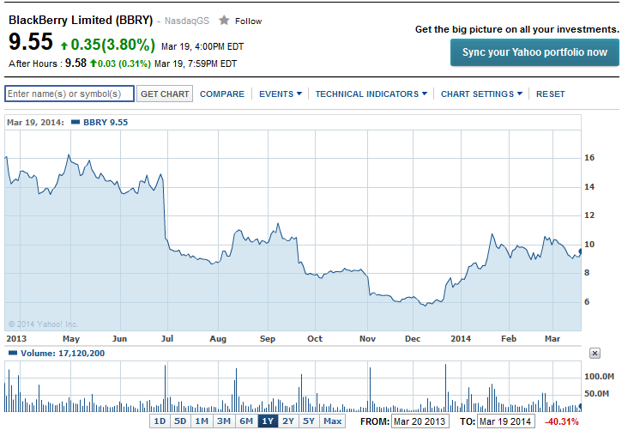 Conclusion
Chen's remarks about the odds of a turnaround should be seen as a positive. I personally think that BlackBerry has a turnaround probability of over 90% and believe Chen is deliberately understating BlackBerry's turnaround odds to avoid the perception of overconfidence and to avoid falling in the same trap as his predecessors who overpromised restructuring results. A strong cash position, a capable, visionary and properly incentivized CEO as well as a competent management team create confidence that BlackBerry's turnaround can be build on a solid foundation.
Investors should not give in to the urge to buy or sell BlackBerry because of information presented in upcoming fourth quarter results. It is my opinion that short-term trading is vastly inferior to a long-term Buy and Hold approach in a restructuring context.
BlackBerry also faces a variety of positive catalysts, some of which include: EPS surprises, a faster-than-expected turnaround at the hardware unit, cash inflows from real estate transactions, BBM monetization and BlackBerry's Z3 pilot launch in Indonesia with potential to expand into other Asian markets.
The odds of positive surprises are much higher than the odds of disappointment.
Disclosure: I am long BBRY. I wrote this article myself, and it expresses my own opinions. I am not receiving compensation for it (other than from Seeking Alpha). I have no business relationship with any company whose stock is mentioned in this article.