Introduction
Many investors of the energy sector ignore the safe bets but they often dive into E&P companies that are only for adrenaline junkies. When their investment fails to deliver for a long period of time, they wonder who is to blame for their failure. I have read numerous articles about Halcon Resources (NYSE:HK) over the last twelve months. Many of the bulls have been saying for months now that Halcon's stock has bottomed out. However, the chart below says something else: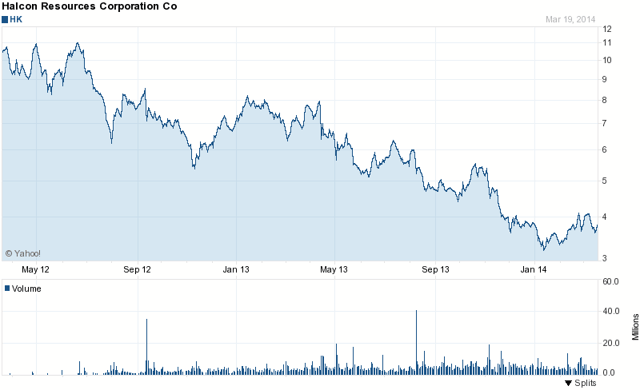 Unfortunately, this company has burned thousands of investors, and I fear that we might have not seen the bottom yet. To me, the writing has been on the wall for 1.5 year now, and I have written seven bearish articles on Halcon since early 2013, explaining the fundamental reasons why Halcon's strategy does not work. A couple of these articles are here and here.
Business Plan Update
Halcon released its annual report a couple of weeks ago, and here are some key points:
1) The company unloaded another $450 million worth of assets in Q1 2014. Halcon's Woodbine assets in Leon, Grimes, and Madison County, TX produce 3,800 boepd and hold 16.3 MMboe of proved reserves. Halcon will use these proceeds to bridge the gap between its operating cash flow and its 2014 CapEx.
2) Halcon disclosed that its third core play is the Tuscaloosa Marine Shale (NYSE:TMS). The roulette ball landed on the TMS this time. Halcon had disappointing results when the roulette ball landed on the highly touted Utica in 2013. The ball also landed on the promising Woodbine, but it did not stay there for long because the company decided to sell those assets a few weeks ago. I am curious to see whether the roulette ball will land and stay on the TMS finally.
In one of my bearish articles about Halcon back in H1 2013, I pointed out that Halcon's western acreage in the TMS was not looking promising because it was highly unproven. I also noted that Halcon should move to the east side of the play to increase its chances in this undeveloped play.
So I was not surprised when Halcón Resources announced a substantial increase in its position in the TMS to 307,000 net acres. The newly acquired acreage is in the "Eastern TMS" counties of Wilkinson and Amite, Mississippi and the Louisiana parishes of West Feliciana, East Feliciana, St. Helena and Tangipahoa.
Halcon will operate one to two drilling rigs and expects to spud two Eastern TMS wells in Wilkinson County, MS in March and April 2014. Halcón plans to spend 10% of its Capex in the TMS in 2014.
Some say that Halcon is turning the corner on risk. I wish I could share their enthusiastic approach, but the balance sheet currently mirrors quite the opposite, in my opinion. But this is what makes a market.
The Balance Sheet Gets Weaker Y-O-Y
As of September 2013, Halcon had $3.03 billion long-term debt and negative working capital of $400 million. In fact, Halcon has been having negative working capital of $300-400 million since 2012.
In Q4 2013, Halcon received approximately $300 million from the sale of the conventional assets that were producing 4,500 boepd and had 21.2 MMboe of proved reserves. In my previous article, I wondered whether Halcon would use the proceeds of ~$300 million from the sale of the conventional assets to reduce its debt. As a prudent investor, I assumed that Halcon would use most, if not all, of this money to reduce its high debt-to-cash flow ratio. However, Halcon's management team had a different opinion, and the proceeds from the sale of the conventional assets did not go to the debt reduction. As a result, the long term debt continued uptrend on a quarter over quarter basis and hit $3.18 billion in December 2013.
I also estimated that Halcon's operating cash flow for 2013 would be approximately $550 million in 2013. And that was a rich estimate, as I noted. According to the company's annual report, Halcon's operating cash flow for 2013 was $494 million.
Pro-forma the non-core East Texas divestiture, the net debt stands currently at approximately $3.1 billion, and the net debt to cash flow ratio currently stands at approximately 6.1 times, which is much higher than the industry average, implying increased risk associated with the management of debt levels within the company.
The Valuation
Based on the latest projections, asset sales and corporate updates, let's see where Halcon stands from a valuation perspective. Kodiak Oil (NYSE:KOG), Oasis Petroleum (NYSE:OAS), Zargon Oil (OTCPK:ZARFF) and Abraxas Petroleum (NASDAQ:AXAS) are intermediate and junior companies with light-oil weighted production that operate in Halcon's neighborhood in the Williston Basin.
Among these companies, my bullish pick is Zargon Oil and Gas. The reasons are fundamental, as always. Those folks who have been following me since late 2012, know that I have never bought or recommended any speculative play or any hype. Zargon Oil is extremely undervalued and has the potential to hit at least 60% return from the current levels, as shown in my latest article that was selected as a Top Idea by the SA PRO Editors a few days ago. In fact, Zargon's current valuation is even lower than the valuation of the Canadian heavy oil weighted producers.
Zargon Oil is an off-the-radar company with low decline oil-weighted wells (14%) and a very prudent strategy that reminds me of Chinook Energy (OTC:CNKEF) and Arsenal Energy (OTCPK:AEYIF). Chinook Energy and Arsenal Energy have yielded 70% and 30% since I recommended them, and my articles about them were also selected as Top Ideas by the SA PRO Editors. That being said, let's now leave the numbers speak for themselves.
1) Per EV/Production: Here is the table with the first key metric:
Company

EV

($ million)

2014 Production (*)

(boepd)

EV

---------

2014 Production (*)

($/boepd)

Oasis

Petroleum

6,600

48,000

(~88% oil/liquids)

137,500

Halcon

Resources

5,460

43,000

(~89% oil/liquids)

126,977

Kodiak

Oil

4,670

40,000

(90% oil/liquids)

116,750

Abraxas

Petroleum

430 (**)

5,000

(70% oil/liquids)

86,000

Zargon

Oil

350

~7,600

(70% oil/liquids)

48,103
(*): Based on the latest corporate guidance.
(**): Excludes Raven Drilling's EV which is estimated at ~$20 million.
2) Per EV/EBITDA: Let's check out the table below with another key metric:
Company

EV

($ million)

2014 EBITDA (*)

($ million)

EV

---------

2014 EBITDA (*)

Abraxas

Petroleum

430 (**)

40

10.75

Oasis

Petroleum

6,600

800

8.25

Halcon

Resources

4,670

650

7.18

Kodiak

Oil

5,460

870

6.28

Zargon

Oil

350

78

4.48
(*): Estimate, based on the company's production guidance.
(**): Excludes Raven Drilling's EV which is estimated at ~$20 million.
3) Per D/CF Ratio: The higher this ratio is, the weaker the balance sheet is. As long as this ratio is below 2 times, the debt is under control. A low debt ratio coupled with a decent dividend is like when you kill two birds with one stone.
Any prudent investor has to wonder whether a company sacrifices its balance sheet in the name of an explosive short term production growth that satisfies the media and the analysts, but becomes a boomerang a few months later. For instance, Forest Oil (NYSE:FST) has loaded a ton of debt over the last years and its chart is below: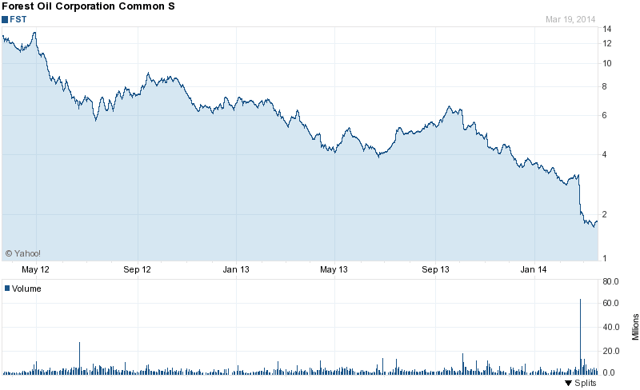 Does this chart remind you of Halcon's chart? Most likely. The thing is that many investors and analysts were bullish on Forest back in 2012. Their number declines gradually. Hope never dies but the hope can't turn things around. The fundamentals will weigh sooner or later. I believe all the investors have to always bear Forest's chart in mind, before they dip their buying toes into a company.
As shown below, Kodiak's and Oasis' debt ratios are not low but they are still manageable, while Halcon's debt ratio is alarming:
Company

Net Debt

($ million)

(as of Dec 2013)

2014 CF (*)

($ million)

Net Debt

---------

2014 CF (*)

Dividend

(%)

Zargon

Oil

115

68

1.69

9.1

Abraxas

Petroleum

80

35

2.29

-

Kodiak Oil

2,320

740

3.14

-

Oasis

Petroleum

2,550

730

3.49

-

Halcon

Resources

3,100

550

5.64

-
(*): Estimate, based on the company's production guidance.
The combination of these three ratios above shows that Halcon still enjoys an unjustifiable premium although the market should value it at a significant discount, given its sky high debt ratios. The markets are often irrational but Forest's, Pinecrest's, Chinook Energy's and Arsenal Energy's charts prove us that they do not stay irrational for long.
The "Wilson" Premium
To me, Halcon's case is a typical "management trap" case. A lot of investors bet big on the management team and ignored the fundamentals. The original bullishness over the management team led to a significant enterprise value out of the gate when the company was created. The skills of Halcon's management team were selling like hot cakes in H1 2013, and the buyers were in denial. To me, that was a lame thesis.
Many helicopters have crashed because the pilots were overconfident in their abilities. Here is a small sample of cases where the past performance of a management team is no guarantee of future results:
1) Argosy's (OTC:AYEYF) bankruptcy ended the team's success. Argosy's management team built and sold two junior oil and gas companies before creating the third one, Argosy Energy, which has been placed in bankruptcy in 2013.
Argosy's senior managers have been together since 1993 when they were employed at Olympia Energy. That company was sold to Provident Energy Trust in 2004 for $218 million and the team then went to Accrete Energy, which grew to 8.4 million barrels of oil equivalent in reserves and production of 1,900 boepd before being sold for $95 million in 2008 to Pengrowth Energy Trust. Argosy was spun out from Accrete.
2) Here is the chart for Pinecrest Energy (OTCPK:PNCGF):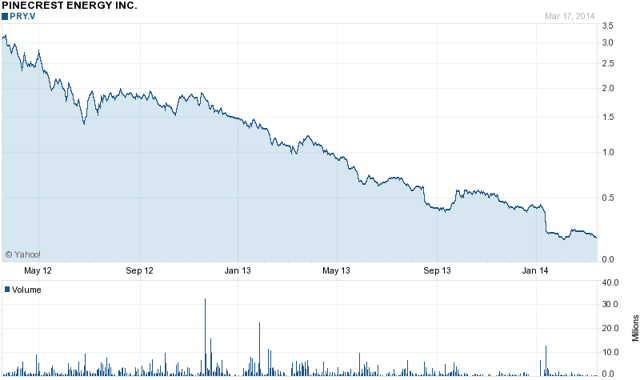 Pinecrest's management team is coming from Crescent Point Energy (NYSE:CPG). In fact, Pinecrest's CEO was VP Land and co-founder of both Crescent Point Energy Trust and its predecessor Crescent Point Energy Ltd. However, it is clear that the company has disappointed the investors big time during the last two years, because of its high debt and its high decline oil-weighted wells.
3) Here is the chart for Sure Energy (SHR.TO):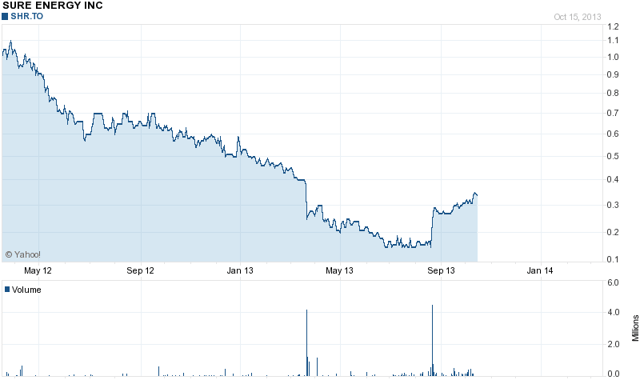 Sure Energy was a junior Canadian oil and gas company listed on the TSX with an experienced management team which was instrumental in building Vermilion Resources (NYSE:VET) which has a current market cap of $6.7 billion. As shown at the chart above, they failed big with Sure Energy and Tamarack Valley (OTC:TNEYF) was the White Knight who acquired them and saved them.
4) Charger Energy's stock (CHX.V) dropped from C$6.5 in 2011 down to C$0.30 in early 2013, as shown here. Charger's CEO had over 30 years of experience in the oil and natural gas sector.
He was President and Chief Executive Officer of Provident Energy Trust from 2001-2010. He co-founded Founders Energy Ltd., predecessor to Provident Energy Trust in 1993. Provident Energy became a billion-dollar company that was acquired by Pembina Pipeline (NYSE:PBA) in 2012. Nevertheless, he failed big with Charger Energy despite his credentials in the oil and gas industry.
My Takeaway
I know that once again Halcon's bulls will not like my comments, but I think they do not need to shoot the messenger. Halcon loaded untested acreage in Utica and the de-risking resulted in some tremendous losses in 2013.
After the fiasco in Utica, now Halcon is buying big in TMS. Will TMS be another mishap? Will TMS be the catalyst to greatness? To me, TMS is a very risky play because it is highly unproven. This play is still in its infancy and is much riskier than Utica. I seriously doubt the consistency of its wells. We will have a glimmer of it over the next months.
Meanwhile, Halcon does not seem to get the message. The debt is still piling up despite significant asset sales which paid down none of it, while CapEx remains in the red for 2014. Based on the existing business plan that sacrifices the balance sheet for the production growth, I do not expect any solid rebound from the current levels. Any move upward will remind me of a "dead cat bounce".
My estimate is that Halcon's operating cash flow will be approximately $550 million in 2014. Adding the proceeds from the sale of the Woodbine assets, I estimate that Halcon will most likely borrow approximately $50 million to complement its CapEx requirements of $950 million.
To me, the current business plan leads to a downward spiral, and a sustained deterioration of the oil price can "kill" Halcon. Will Halcon continue the same strategy of overspending in 2015? If yes, what will Halcon sell to complement its CapEx? Are there any non-core producing assets left? Do they have a significant value?
Add the high decline rates of Halcon's wells, and you have the perfect storm. To me, this strategy of overspending does not lead anywhere, let alone when the wells are expensive and have steep decline rates. And more importantly, if TMS proves to be a dud, it will lead Halcon even more into the red area.
Disclaimer: The opinions expressed here are solely my opinion and should not be construed in any way, shape, or form as a formal investment recommendation. Investors are reminded that before making any securities and/or derivatives transaction, you should perform your own due diligence. Investors should also consider consulting with their broker and/or a financial adviser before making any investment decisions.
Disclosure: I am long ZARFF. I wrote this article myself, and it expresses my own opinions. I am not receiving compensation for it (other than from Seeking Alpha). I have no business relationship with any company whose stock is mentioned in this article.