With the release of the Sears Holdings (NASDAQ:SHLD) 2013 Annual Report, several developments were revealed that have particular relevance to shareholders and are worth paying close attention to throughout 2014. Specifically, significant changes are occurring in the composition of the Sears Holdings asset portfolio that are likely a signal preceding fundamentally vital developments in the next 12 to 18 months. In our first report, Sears Holdings' Valuation: Between Berkshire Hathaway And Bankruptcy in June 2013, we explored the topic of Sears Reinsurance Company Ltd., known as Sears Re, which is the wholly-owned insurance subsidiary of Sears Holdings. Respectfully, there are widespread misconceptions and an abundance of fairy-tales regarding this subsidiary of Sears Holdings, which can be attributed to a variety of origins. In some cases the stories are reasonable and grounded in a measure of reality, in others, they are pure fiction. In this report we will conduct a brief overview of Sears Re as it relates to these profound developments in its structure disclosed in the 2013 annual report.
In the interest of being concise in this update on Sears Holdings, please refer to the aforementioned article "Sears Holdings' Valuation: Between Berkshire Hathaway And Bankruptcy" if you are not familiar with Sears Re and would like to gain an understanding of its relevance within the overall framework of the company. This Sears Holdings report is intended to serve as more of an update on recent developments than a comprehensive analysis on the massive volume of research on this topic that will be available in my upcoming book about Sears Holdings. To be perfectly clear, Sears Re is not the central focus of the investment thesis and the valuation models presented in my upcoming Sears Holdings book, nor is the reinsurance subsidiary really even considered a core asset in most sum-of-the-parts valuations of the company due to the opaqueness surrounding a host of key variables that are simply not publicly available. For the record, much of my past year was dedicated to a crash-course on the legal implications, court decisions, industry regulations, and complex set of accounting standards for bankruptcy-remote special purpose entities generally, and captive reinsurance in Bermuda, in particular. The important consideration regarding Sears Re is that it exists to perform a valuable role for Sears Holdings by providing reinsurance to third-party insurance companies and self-insurance reserves that are segregated into a perpetual trust contained in a separate subsidiary located in a safe-haven insurance jurisdiction that would allow claims to be paid in the event of a credit event from the parent company.
For now, let's restrict our analysis to the fundamental basis of this core set of facts and leave the complexities of why this is objectively the case from both a legal and accounting perspective, as well as the prospective role of Sears Re in the future of Sears Holdings, to the book. It is far too arcane and nuanced in terms of law, insurance regulations, and the unique intricacies of insurance industry accounting to accomplish in even a series of long reports. As for its relevancy to valuing Sears Holdings, this actionable update will provide you with an understanding of possible events that might unfold in coming weeks and months throughout 2014.
New Holding Company Subsidiary Within Sears Holdings
In its 2013 10-K filed on March 18, Sears Holdings made essentially the same statements regarding Sears Re that it has in previous filings before a recently added sentence disclosed the existence of a newly created subsidiary in Q4 2013. The notation reads:
"In the fourth quarter of fiscal 2013, Holdings contributed all of the outstanding capital stock of Sears Re to SRe Holding Corporation, a direct wholly owned subsidiary of Holdings. Sears Re thereafter reduced its excess statutory capital through the distribution of all REMIC Securities held by it to SRe Holding Corporation."1
The key portion of that phrase for investors to focus on is: "reduced its excess statutory capital through the distribution of all REMIC Securities held by it to SRe Holding Corporation."
The clear implication is that Sears Re was deemed to be holding excess statutory capital in the judgment of its regulator, the BMA, which is the Bermuda Monetary Authority. This was not done on a whim, or simply because Eddie Lampert felt like it and hopes Sears Re is sufficiently capitalized to meet its estimated obligations. This was done as a result of the BMA issuing a determination to Sears Holdings that Sears Re not only meets its capital requirements, but in fact was capitalized in excess of its statutory requirements. As a consequence, Sears Holdings acted by incorporating a new subsidiary at the end of 2013 in Delaware called SRe Holding Corporation, which was then capitalized by a contribution of the equity in Sears Re. Subsequent to receipt of the capital stock, SRe Holding Corporation took custody of all the MBS in the REMIC that had previously been the underlying collateral of Sears Re since the true contribution was made by pre-merger Sears, Roebuck and Co. in 2003 to replace the $29 billion portfolio of receivables from the credit card business it sold to Citigroup in July of that year.
Quick Primer on REMIC
Essentially, the REMIC was created as a way for Sears, Roebuck and Co. to continue to meet collateral requirements for Sears Re to carry out its important role for the company by replacing the $29 billion credit card receivables portfolio with some of its own valuable real estate assets that were being carried on the books in 2003 under GAAP accounting rules at historic cost that was a fraction of likely market values. Sears made a true contribution of 125 of its most valuable full-line Sears stores - keep in mind this transaction occurred a year before the Kmart Holdings merger agreement was sealed - to the REMIC, then mortgaged them with mortgage pass-through certificates.2 The REMIC is basically a pool of CMBS divided into multiple classes with significant tax advantages and exceptional flexibility obtained by having more than one tranche of MBS allows mortgage cash flows to accumulate tax-free simultaneously over an array of different durations and terms to reflect prepayment risk. As most of you already know, prepayment risk is one of the primary risk considerations when valuing the weighted average life - known as WAL - for a particular tranche of MBS.
While this may seem like pretty basic material to most of you, please allow us to quickly expound on the significance of prepayment risk for a brief moment. Consider this succinct description of the ways in which prepayment risks make MBS fundamentally less attractive fixed-income investments than Treasuries from former Kansas City Federal Reserve Bank economist Sean Becketti:
"Prepayments make mortgage pass-throughs less attractive investments than Treasury securities in three ways. First, changes in prepayments in response to interest rate movements reduce the capital gains and increase the capital losses accruing to MBS investments. Second, prepayments accelerate the cash flows from an MBS when reinvestment opportunities for these cash flows offer low returns, and decelerate the cash flows from an MBS when reinvestment opportunities offer high returns. Third, prepayments make the cash flows from an MBS unpredictable compared with the cash flows from a Treasury security."
This major risk factor was not, however, as much of a risk for Sears in November 2003 when it mortgaged these 125 stores and packaged them into MBS for the REMIC. Those 125 stores were then leased back to Sears with the monthly lease payments paid to the various MBS tranches in the REMIC.2 Essentially, Sears was paying the leases as they would any of their leases to REITs, only the payments were to MBS held by the REMIC in Bermuda. Unlike many traditional debt securities that compound quarterly or semi-annually, CMBS in REMICs can receive monthly payments in what is known as sequential pay classes that amortize more quickly and allow principal to be retired earlier than other classes. Since prepayment risk is not as much of a risk for the intended purpose of the SPE, the capital could simply accumulate tax-free until such time as distributions were made to settle claims from front-carriers or Sears itself.
REMIC Joined by KCD IP ABS
While we do not know the exact terms in which Sears structured the MBS classes in the REMIC, we do know the basic form and sequence of events leading to the creation of the REMIC as collateral for Sears Re from the Sears Holdings disclosure about the securitization structure. First, we know that the REMIC was joined by the addition of the KCD IP, LLC securities in May of 2006 to the Sears Re collateral. Those debt securities, based on the intellectual property rights of Kenmore appliances, Craftsman hardware, and DieHard automotive products, collect the royalty fees from licensing the KCD brands to Sears and the companies it grants licenses.2 That translates into two securitization structures for seven and a half years with both compounding capital at different rates, less the amounts of claims paid by Sears Re over that length of time.2 As previously mentioned, there is much we do not know, such as the size of the cash flows and discount rates and, of course, the number and dollar amounts of the claims paid during that time. Essentially, one of the most important items that we do know is that the REMIC existed for exactly 10 years as collateral for Sears Re, collecting lease payments from Sears Holdings for its top 125 properties, before the MBS in the REMIC were distributed at the end of 2013 to SRe Holding Corporation.1 From November 2003 to Q4 2013 - which, for Sears Holdings began in November 2013 - the REMIC received 125 lease payments on a regular sequential basis for the MBS then those securities were distributed to "reduce its excess statutory capital."1
Quick Primer on Sears Re and Captive Insurance in Bermuda
In order to understand the reasons why this is so relevant to Sears Holdings, we must undertake a very brief thumbnail sketch of how Sears Re was formed, why it is "bankruptcy-remote," and how the REMIC was created for it. Be fully aware that this is the tiniest fraction of information to get you started in understanding Sears Re and the myriad complexities of captive reinsurance from the standpoint of accounting and law. For now, let's confine ourselves to a short introduction of these fundamental underlying legal concepts and regulatory framework for bankruptcy-remote SPEs:
True Contribution
True Sale
Fraudulent Conveyance4
Substantive Consolidation judgment potential by Federal Courts
U.S. Bankruptcy Code 11 U.S.C. § 109(B)(3)(A)4
U.S. Bankruptcy Code 11 U.S.C. § 3455
U.S. Bankruptcy Code 11 U.S.C. § 5486
Class 3 Insurer Designation by Bermuda Monetary Authority - BMA7
Front-carrier insurance portfolio management policies using captive reinsurer
Specific front-carrier terms for deductible buydown policies
Schedule F penalty
Corporate Deductible Reimbursement programs of fronting carriers
Captive exclusive to BMA Class 3 category and writing more than 20 percent and less than 50 percent unrelated business7
TCL: Target Capital Level as determined by BMA7
Minimum Solvency Margin - MSM - determined by BMA as a percentage of net loss reserves and NPW, which is an acronym for Net Premium Written7
Enhanced Capital Requirement - known as ECR - which consists of three separate and specific tiers in the eligible capital system set forth by BMA7
Regulatory valuation of investment collateral by BMA is based on whether financial instruments are designated as Held To Maturity7
This is the absolute briefest of outlines that truly only provides a glance at the complex framework in which these entities operate and perform the valuable financial function for which they are designed. As you can see, there are a lot of concepts to comprehend, let alone understand their applications, before delving into all the nuances and deeper implications of Sears Re. Suffice to say, that after one year of consultations with legal experts and practitioners, the conclusions I found were resoundingly unanimous that Sears Re is on firm legal ground as a bankruptcy-remote SPE that would not likely be subject to any substantive consolidation judgment by federal courts under fraudulent conveyance. Moreover, the statute of limitations to contest the true contribution expired years ago and creditors would not likely have any legal grounds with which to plea for federal courts to compel inclusion of these assets in the event of a filing. Sears, Roebuck and Co. undertook the actions to form Sears Re and REMIC securitization structure prior to the merger with Kmart Holdings. Equally important is the fact that Sears Re is closely regulated and required to meet rigorous statutory capital requirements by the BMA in order to maintain its Class 3 designation and insurance license in this jurisdiction. The BMA regularly reviews a range of disclosures, solvency measures, risk management policies, and corporate governance for each of the captive reinsurers that are chartered within the authority of the regulatory body. Clearly, between the combination of KCD IP ABS and REMIC securities compounding capital, less claims paid throughout that period, the BMA determined that Sears Re was holding "excess statutory capital" that exceeded all of its regulatory requirements, estimates of investment collateral, and liquid financial resources required to meet any potential claims in the foreseeable future.
Understanding Sears Holdings and Non-Guarantor Subsidiaries
As we have discussed in previous reports on Sears Holdings, the key to understanding the company is as a portfolio of assets with a variety of associated risks and returns. Those who choose to only view Sears Holdings from the perspective of a retail chain - essentially through the lens of its two primary guarantor subsidiaries, Sears and Kmart - are missing the big picture. Once again, as stated in my second report on Sears Holdings, which is as important as the first and now available to SA Pro subscribers in the research archive, Sears Holdings' Valuation Part Two: Credit Flows For Subsidiaries Inside A Permanently Embedded Capital Structure:
"When many look at a consolidated income statement of a holding company, which is in fact a portfolio of subsidiary companies with distinguishing features, unique risk profiles, and varying rates of return that are assembled to outperform some benchmark rate of economic return to the owners of the company, they are unable to get past the conventional accounting identities to learn the implications of the de-consolidated subsidiaries and capital structure that supports the system as a whole."
We begin to form an even clearer view of the optionality Eddie Lampert possesses with the subsidiary asset structure of Sears Holdings when we combine this observation with Warren Buffett's admonition about the dangers of relying on accounting identities in his "Owner's Manual" for Berkshire Hathaway (NYSE:BRK.A) (NYSE:BRK.B) shareholders,
"Because of our two-pronged approach to business ownership and because of the limitations of conventional accounting, consolidated reported earnings may reveal relatively little about our true economic performance. Charlie and I, both as owners and managers, virtually ignore such consolidated numbers. However, we will also report to you the earnings of each major business we control, numbers we consider of great importance. These figures, along with other information we will supply about the individual businesses, should generally aid you in making judgments about them."
Finally, we can take Eddie Lampert's own words when he described Sears Holdings' "Distributed Leadership Model" in his Chairman's Letter dated February 23, 2012, writing:
"Instead, we intend to separate the management of several of our businesses from that of the core Sears and Kmart formats, with the goal of allowing each business to pursue its own strategic opportunities and to achieve a focus that is often difficult as part of a large company undergoing significant change. Some of that separation will take place inside the portfolio and some will take place through changes to the portfolio."3
These three statements are particularly salient as a lens with which to view the direction of Sears Holdings in the next 12 to 18 months. Notably, the creation of SRe Holding Corporation and the control over the CMBS portfolio, essentially the power of Eddie Lampert's optionality to unlock value that was previously encumbered as collateral for reinsurance reserves, presents a vast array of tantalizing monetization possibilities in the coming months and years. Furthermore, the potential is there for these options to occur at any time, without explicit guidance, and could lead to substantial price action in SHLD shares when any such transactions are publicly announced.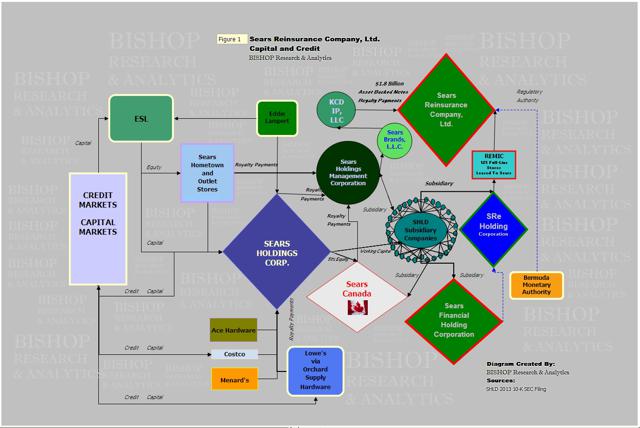 As you can see in the chart above, the Sears Holdings ecosystem includes an expansive network of subsidiaries and independent corporations with resources and power flowing between these entities. These are resources such are intellectual property rights, real estate, debt securities, dividends, equity, and credit. Please do not copy, duplicate, or republish this chart without the permission of BR&A or Seeking Alpha and provide a link to this page for source attribution if you cite it in a blog or article. This chart is designed to illustrate the way in which resources and power are exchanged in a small corner of the Sears Holdings ecosystem.
Cash
Aside from the SRe Holding Corporation update in the 2013 10-K, there are two other significant items that are worthy of mentioning in this report. The second is the cash position of Sears Holdings, which is now at its highest level in three years.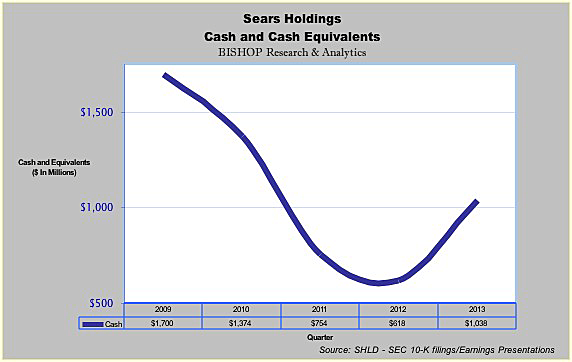 As you can see in the chart above, the cash and equivalents reported in Sears Holdings' 2013 10-K as of February 1, 2014 is $1.038 billion, which is much higher than the $618 million reported one year ago.1 In fact, that amount is also nearly $300 million higher than the $754 million reported in early February 2012 for FY 2011. The last time Sears Holdings reported cash on its balance sheet over a billion dollars was back in 2011 after beginning the year with $1.374 billion when 2010 FY earnings were disclosed. Let's take a brief look at the evolution of Sears Holdings' cash balances over the last eight quarters to gain perspective on the ways the company is raising liquidity during its transformation.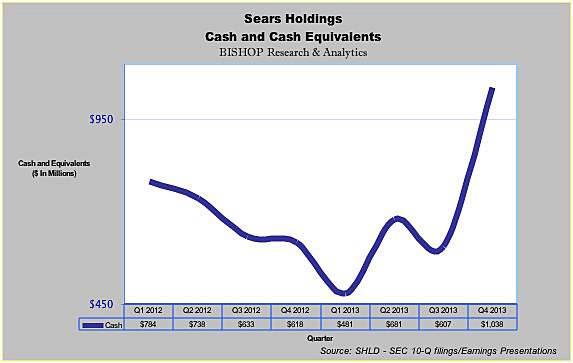 As you can see in the chart above, the cash balance reported on February 1, 2014 is around $300 million to $400 million higher than most of the quarterly reports over the past two years. When you look at the low point on the chart of $481 million in May 2013, it truly puts the progress Sears Holdings is making in the last ten months into perspective. Notably, the cash reported on February 1, 2014 does not include the anticipated $500 million dividend from Lands' End as a condition of its spin-off to become an independent company the first week of April 2014. An even more compelling and noteworthy item is that it does not include any sales of leaseholds, further Sears Canada deals, the potential options for the SRe Holding Corporation's REMIC CMBS and associated properties, or any additional real estate transactions. For the last three years, Sears Holdings reported on their 10-K several real estate transactions involving various stores of its two main guarantor subsidiaries and in 2013 that trend continued.
2013 Real Estate Sales
The third and final item from the 2013 10-K is the sales of certain assets reported by Sears Holdings during FY 2013. Now, the key point to understand about these real estate transactions is that they all seem to fit a series of important patterns over the last several years. Notably, every one of these asset sales has resulted in Sears Holdings reporting an accounting gain on the sale of the asset. This definitively refutes the conspiracy theories and folklore about Sears' real estate not being worth its carrying value on the books. Not only is it worth what FASB tells us it is worth, the booking of accounting gains under GAAP rules reveal that it is actually worth considerably more when its market value is realized. Consider this note from Sears Holdings' FY 2013 10-K:
"Finally, gain on sales of assets in 2013 also included a gain of $67 million related to the sale of a store previously operated under The Great Indoors format, two Sears Full-line stores and two Kmart stores for which the company received $98 million in cash proceeds."1
That's five stores sold for $98 million with an accounting gain on the sale of those assets of $67 million. This indicates that those properties were being carried on the books, less depreciation and other adjustments, for around $31 million, which is around one-third of their eventual market value. The disclosure of these facts in the 2013 10-K suggest that the research and investment thesis of Bruce Berkowitz and his Fairholme Fund might be far more accurate than many of the critics realized. Importantly, before we conclude by taking a look at the implications for Sears Holdings in the year ahead, let's carefully and thoughtfully consider one vital point about the research into the value of the real estate portfolio: while the bears and Sears Nihilists draw nearly all of their notions about Sears' real estate lacking value from either GAAP balance sheet accounting or anecdotal stories, for those who have actually conducted a property-by-property analysis - such as Fairholme and Baker Street Capital - have reached substantially identical valuation estimates that value the real estate portfolio, and thus Sears Holdings in at least the $130 to $150 per share range. The salient point is that those who have actually invested the time to research the topic and analyze the results of their investigation have determined that, as the accounting gains on asset sales in 2013 prove, the real estate is being carried on the books for a fraction of its true market value.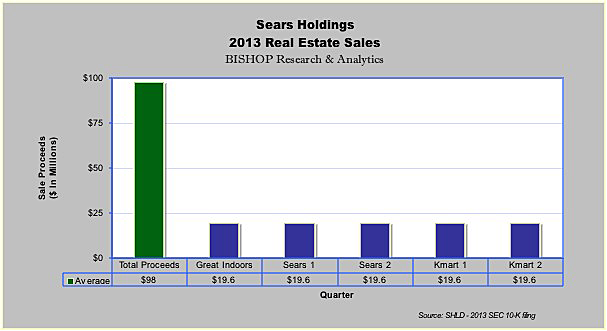 In the chart above, we take the $98 million proceeds from the previously mentioned sale of the five stores and distribute this evenly among the two Sears, two Kmarts, and the Great Indoors stores to form a naïve view of what an average store could be worth. Remember: these are not models, estimates, or projections of market values; these are actual sales of stores that generated a total of $98 million for Sears Holdings in 2013. The primary takeaway is that we could assume that certain stores in both the Sears and Kmart real estate portfolio are worth upwards of $20 million each, although we know there are differences in size of the stores and locations relative to shopping malls and big-box shopping plazas.
It would be better if we can gain greater insight so we can find out if Sears stores are really worth more than Kmart stores since: there are more owned Sears stores than Kmart stores; and SRe Holding Corporation might be exploring a variety of options regarding unlocking value on a portion of those 125 full-line Sears stores or their MBS in the coming months and years. Thankfully, Sears Holdings provided us with more information in the notes for the two guarantor subsidiaries in the FY 2013 10-K. From the 2013 Sears notes:
"The gain on sales of assets in 2013 included a gain of $43 million related to the sale of a store previously operated under The Great Indoors format and two Sears Full-line stores for which the company received $74 million in proceeds."1
From the 2013 Kmart notes:
"The gain on sales of assets in 2013 included gains of $24 million related to the sale of two stores for which the company received $24 million in cash proceeds."1
When we assemble this information, we obtain the following distribution of proceeds from the sales of these stores.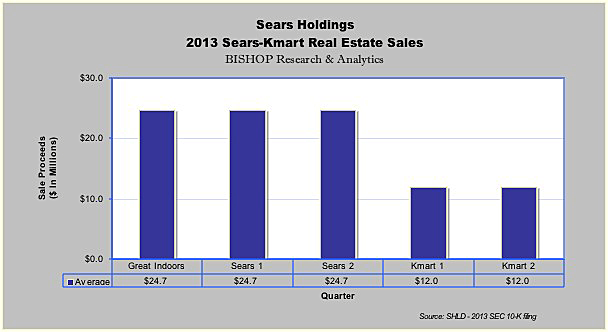 As you can see in the chart above, the two Sears stores and the Great Indoors store generated $74 million and the two Kmart stores sold for a combined $24 million. That equates to over $24 million per Sears and Great Indoors store sold and $12 million each for the Kmarts. In its 2013 10-K, Sears Holdings reports owning seven Sears Essentials and Sears Grand stores, 12 Kmart Super Centers, 183 Kmart stores, and 485 full-line Sears stores. Clearly, not all of those in the portfolio are worth $25 million each, although the evidence contained in the 2013 10-K irrefutably proves that at least some of them are by virtue of these transactions. The important aspect to consider is if these stores are worth these amounts, then even with 20 percent of the real estate portfolio valued at only these prices, Sears Holdings' properties are likely much more valuable than its current share price reflects.
Conclusion
In closing, we have learned that Sears Holdings was very active on a number of fronts in Q4 2013. Not only did the company profit handsomely from some savvy real estate transactions with Sears Canada in November, but Sears Holdings created a new subsidiary called SRe Holding Corporation that now possesses compelling optionality with the MBS from the REMIC that was formerly collateral for Sears Re. Additionally, the basis for the distribution of the MBS to SRe Holding Corporation to distribute "excess statutory capital" powerfully demonstrates that Sears Re is well-capitalized in the judgment of its regulator, the BMA, and likely was generating substantial surplus as a result of the dual securitizations of REMIC and KCD IP ABS. Similarly, Sears Holdings' cash balances are at their highest level in three years and the company will receive more cash in early April from the Lands' End dividend, which indicates that liquidity is improving over the last year. Finally, we can take the evidence of the sales of five stores in FY 2013 for total proceeds of $98 million as a strong indication that the real estate portfolio is likely to be worth considerably more than the current stock price implies and, with the creation of SRe Holding Corporation, a rapid acceleration of strategies to monetize these assets is already underway in 2014.
Finally, let me reiterate that this information is the tiniest fraction of the research and analysis I've done on Sears Holdings. Most of this is an update on the recently filed 10-K as it relates to my previously unreleased research that is extraneous to the core elements of the investment thesis in my upcoming Sears Holdings book. For the record, none of this is the central part of the investment thesis or valuation models I will share with you in the upcoming book about Sears Holdings. Notably, the thesis and valuations I will present are far more compelling and exciting by several orders of magnitude. This is one of the most exciting companies in America to observe and learn about right now. As we explored in Sears Holdings' Valuation Part Three: Multiple Valuations And Short Interest Fuel Volatility, the contrast between the common views of its imminent demise and those who evaluate Sears Holdings as one of the great stock investments of a generation are so diametrically at odds with each other that anyone who loves the stock market, corporate finance, and strategic thinking is naturally drawn to watch this history evolve before our eyes. Add in the value investor interest and the fact that we have a man who was a self-made billionaire by the age of 40 as Chairman and CEO, and you end up with a story worthy of Napoleon Hill and Horatio Alger. So whatever your view of this company, whatever your investment thesis, and however you may feel about Eddie Lampert, enjoy the show, treat your colleagues on Seeking Alpha with respect, and learn all you can about Sears Holdings and its portfolio of assets and subsidiaries. In the coming days, weeks, and months, I will be publishing more articles on various aspects of Sears Holdings that are insightful and engaging, although not central to the investment thesis and valuation models in the upcoming book, many of you may find that they suit your investment thesis or assist in empowering a whole new view of the company and its stock. Thanks for reading.
Source Attribution Key
1 SHLD 2013 10-K SEC Edgar Filing
2 Sears Reinsurance and Related Securitizations - February 23, 2012
3 Sears Holdings Chairman s Letter dated February 23, 2012
4 U.S. Bankruptcy Code 11 U.S.C. § 109
5 U.S. Bankruptcy Code 11 U.S.C. § 345
6 U.S. Bankruptcy Code 11 U.S.C. § 548
7 Deloitte Touche Tohmatsu Limited UK Presentation Bermuda Jurisdiction Analysis for General Re(Insurers)
Author's Notes
Additional research and analysis of Sears Holdings and other companies will be available on the Bishop Research & Analytics website at bishopinvestmentresearch.com
For details about the upcoming release of the Sears Holdings book, please use the contact form on the Bishop Research & Analytics website to receive updates.
For details on the 2013 performance of the Bishop Research and Analytics Model Portfolio, please read the entry on the SA Instablog or on the official Bishop Research and Analytics website blog.
Thanks for reading.
Disclosure: The author is long SHLD. The author wrote this article themselves, and it expresses their own opinions. The author is not receiving compensation for it (other than from Seeking Alpha). The author has no business relationship with any company whose stock is mentioned in this article.
Additional disclosure: Long: SHLD ahares, options, and bonds