Bank of America (NYSE:BAC) shares have been tearing higher in the past few trading sessions, trading up over a dollar in just the past week or so. Hawkish Fed-speak has taken its toll on interest-rate sensitive issues such as REITs but for banks, higher rates ahead mean higher net interest margin spreads and more profits. In this article, we'll take a quick look at what is driving BAC higher and if it can continue in the near term.
To begin, this chart of BAC shows the extent of the massive rally we've seen in shares over just the past few months. I have been extremely bullish on BAC for a while now but the stock is moving up more quickly than even I thought it would. Is this sustainable?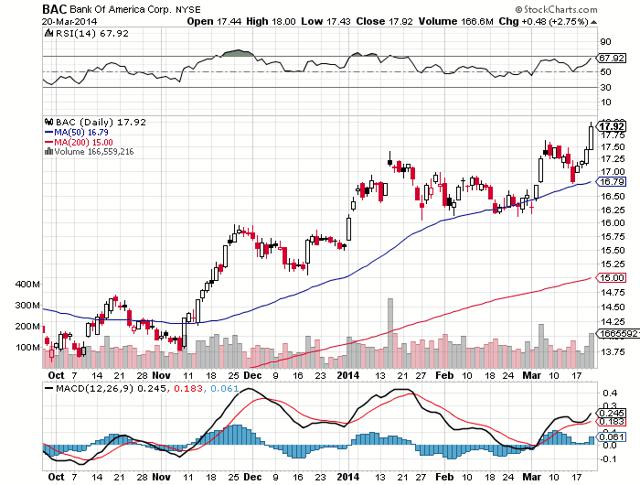 For starters, this chart is a thing of beauty. Look at the very strong uptrend in shares beginning from the bottom in November around $14; it has a very clearly defined bottom of an upward channel that roughly corresponds to the 50 day simple moving average. It has moved along this channel for several months now and for a gain from the bottom of roughly 30%. In other words, BAC is ripping higher and is showing no signs of slowing down.
If we even look at the volume of the past few days, particularly yesterday, we see that the most recent spike up has been one of conviction on the part of traders. Volume over the past couple of days has been above normal and yesterday's 167 million shares was almost double a normal day's volume. People are buying BAC and in force; the institutional money that is required to make a stock as huge as BAC move is engaged and they're buying.
Fundamentally, BAC has a lot going for it as well. First, BAC passed the Federal Reserve's stress tests and while this was widely expected, had BAC not passed, it would have sent the stock plummeting. As it stands, that is one more potential setback out of the way and investors can focus their attention elsewhere. In concert with that, BAC, along with the other largest banks, will have its capital plans reviewed by the Fed in order to determine if, in BAC's case, it can return more capital to shareholders. How exactly this will play out is anyone's guess at this point but I suspect BAC will submit a dividend increase to four or five cents a quarter versus the one penny it pays now. In addition, I think more buybacks are on the table as management is a big believer in how cheap the stock is. Regardless, BAC is fundamentally in terrific shape and getting better each day, and as a result, I think the capital plan will be a net positive, particularly if the dividend increase comes in higher than what is expected.
In addition, earnings estimates continue to move up given the improving landscape for lenders. When I first began writing about BAC, the company was expected to earn 97 cents in 2014 and $1.26 next year. Today, those same numbers are $1.32 and $1.62, respectively. You can see the enormous impact of an increase of that magnitude on the share price; when I wrote that first article shares traded hands for $12 and today they go for nearly $18. Given the improving fundamentals of banking in general and BAC, specifically, I believe the earnings estimates are far from done being ratcheted up and this will be a catalyst moving forward for shares to move higher.
Given the many positive catalysts for BAC shares to move higher, I am as bullish today as ever. The company has tremendously improved its ability to operate efficiently and it has shown in its results. In addition, the company has received the seal of approval from the Fed under stress testing scenarios, removing a potential stumbling block. I believe a significant dividend raise is in the cards in the next couple of weeks as the Fed likely will not object to whatever capital plan is submitted. Finally, rising rates are great for BAC as it is well positioned to take advantage of such a move. When you put it all together, BAC is the best value of any of the too-big-too-fail banks as it provides, scale, stability and growth.
Disclosure: I am long BAC. I wrote this article myself, and it expresses my own opinions. I am not receiving compensation for it (other than from Seeking Alpha). I have no business relationship with any company whose stock is mentioned in this article.