We recently established a long position in a virtually unknown yet impressive micro-cap called MagneGas Corporation (NASDAQ:MNGA). This company operates in the alternative energy industry, has a $30 million market cap and is listed on the NASDAQ. A primary reason we made an investment is that we believe MagneGas's technology could be adopted by many companies in the alternative energy industry. Its 3 business segments are:
Number 1: Production of an advanced industrial fuel called MagneGas, which could be a threat to commonly used fuels like acetylene.
Number 2: Development of a technology of converting liquid waste into hydrogen based fuel or sterilized water.
Number 3: Development of a combustion technology, called 'co-combustion'. Co-combustion should allow coal plants to reduce CO2 emissions, while increasing energy output at the same time.
These business segments address large markets. For example, the waste-to-energy market alone is worth $20 billion.
After spending 100+ hours on research, due diligence and speaking with management, we think today's $1.20 share price is too low. Shares could trade higher if the company's new strategy starts bearing fruit.
Our previous energy stock picks worked out well
Our previous recommendations prove buying shares of undervalued energy plays can be profitable. For example, we were one of the first to cover Plug Power (NASDAQ:PLUG) when it was trading at $0.65. This company was back then, just like MagneGas today, amidst a decisive turnaround, with improving financials, a new strategy and nearing an inflection point of explosive growth. After our call, shares peaked 17X in just 6 months. A lot of articles followed suit, and Plug Power is now one of the most debated stocks on the market. Another undervalued energy play we recommended was Lightbridge (NASDAQ:LTBR) at $1.40, and in just 2 months time, shares returned nearly 300%. In case you missed those run-ups, we think MagneGas offers investors similar potential.
Trading note: beware the recent high volatility
We began writing this article when the stock was calmly trading at $0.80. However, in the last week, volatility spiked. The share price surged on a very high volume, surpassing the free float. This recent exceptional high volatility makes this stock certainly a riskier investment than any other average stock.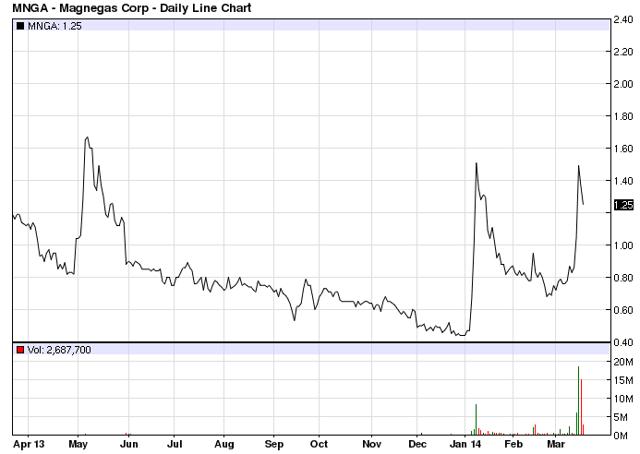 What happened? We attribute this to a press release published last Friday that the company has planned a major industry announcement to unveil its liquid biomass technology solution at the largest Bio Mass Conference in North America held this March 24th to 26th. The company will be using the targeted audience and heightened interest in biomass and related industries to bring attention to a technology that will, according to CEO Ermanno Santilli, "Reset the way we view and deal with liquid waste. Whether you are in the livestock, feed, waste energy/water and a number of other sectors, this technology will have a profound impact and we are excited to be able to premier it at this conference."
The press release sure sparked a lot of excitement and speculation. We, of course, don't know what the announcement is going to be, but it does sound promising. We'll soon know.
Why MagneGas technology could be important in alternative energy
There are 5 main challenges governments and companies worldwide would like to resolve:
Governments around the world are pressing for lower CO2 emissions
There is an urgent need for more energy
Municipalities worldwide struggle with waste problems (sewage, etc.)
There is stricter legislation to operate greener
The costs involved should be reduced
These are big challenges for sure, but we believe MagneGas could be a company that is able to address those challenges, because its technology is unique, scalable and advanced.
In order to gain some more insight, we initiated a conference call with the CEO, Ermanno Santilli and CFO, Luisa Ingargiola.
The interview
Ermanno Santilli holds an impressive resume and MBA, worked in several areas internationally and has founded MagneGas Europe where he became an expert in the MagneGas technology and business model and its various applications. CFO Luisa Ingargiola holds a MBA degree as well, and has worked at several companies in the finance area. Her responsibilities at MagneGas include budget implementation, expense and variance analysis, financial reporting and investor relations. Following are excerpts of the interview:
Question: In layman's terms, could you explain what MagneGas is all about?
CEO Ermanno Santilli: MagneGas is a small energy company that is developing a highly disruptive technology in the alternative energy sector. The company operates in 3 business segments:
Industrial production and commercialization of an industrial fuel called MagneGas; a cheaper, safer, and cleaner alternative to acetylene, which I believe is arguably the most dangerous industrial gas in the world.
Sterilization; a technology that targets liquid wastes such as sewage and agricultural wastes and converts those into sterilized fertilizer and irrigation waters. This results in the production of MagneGas and the same quantity of sterilized liquid. In this mode the liquid is retained but completely sterilized.
Co-combustion: A revolutionary technology of adding MagneGas in the process of combusting traditional energy sources like coal. This so called 'co-combustion' produces more energy, lowers costs and reduces CO2 emissions as well.
Question: Could you give a brief technical explanation?
CEO Ermanno Santilli: We believe MagneGas is the only company in the world that has developed the so called 'Submerged Plasma Arc' technology; a method of basifying or sterilizing a number of liquid wastes and thereby producing a gaseous fuel known as MagneGas. The Plasma Arc Flow is based on flowing the target liquid waste through a submerged electric arc between two electrodes. The arc decomposes the liquid molecules into atoms and forms a plasma around the tips of the electrodes at about 10,000°F / 5,500°C. The Plasma Arc Flow moves the plasma away from the electrodes and controls the formation of MagneGas that rises to the surface for collection. MagneGas is essentially interchangeable with natural gas or it can be co-combusted with existing hydrocarbon fuels and has the lowest Green House gas emissions when compared to fossil fuel. The system occupies a small footprint and runs in a completely sealed and smokeless environment. The fuel can be used for metal cutting, cooking, heating, or powering natural gas bi-fuel automobiles. It can be made from many liquid wastes such as sewage, sludge, animal manure, used oils, glycerin and used antifreeze, and it appears to be the only fuel that releases up to 12% oxygen when it burns, making it dramatically cleaner than gasoline, diesel, and natural gas.
Question: To what degree is the technology validated?
CEO Ermanno Santilli: It has been validated, and continues to be validated. For instance:
We have been selling MagneGas fuel, directly stemming from our facilities, to our customers. These customers are very happy because they can tell MagneGas is cheaper, safer and greener compared to Acetylene, which they have been using before. We expect more validation and revenue as we are engaging large companies and institutions like the GM, US Navy, New York fire department, other fire departments, etc, to follow suit. Additionally the City College of New York verified the very high flame temperature of our gas which is much higher than acetylene.
With our partners in Italy, Nuova MagneGas Italia the sterilization segment of our technology has been tested for 2 years at the one of the largest sewage treatment companies in Europe. The tests are finished now and have proven, in our opinion, to be very successful. They independently verify MagneGas treated sewage exceeds European norms for fertilization and irrigation. As for now, we have certification from independent laboratories in both the United States and Italy that our system sterilize biocontaminants within liquid waste. With this information, we are able to actively market our equipment and are doing so today. As evidenced by our sale of equipment last year.
EPA, the federal independent United States Environmental Protection Agency, has tested MagneGas combustion technology. So far, the tests show MagneGas is far more efficient and cleaner than Natural gas or Gasoline; a big validation.
With regards to co-combustion; we have verified internally, and with our partners Future Energy LLC in Australia, that the combustion of our gas with hydrocarbon fuels (such as coal) do indeed reduce emissions. We are now repeating these tests in the United States with a confidential partner, with an EPA approved laboratory, associated with a major research center, for the reduction of coal emissions. Once we have these independent results, we will begin launching this market.
Question: How is MagneGas technology any better or different than what's on the market now?
CEO Ermanno Santilli: MagneGas is superior in many ways. For instance, a solid gasification system gasifying in a vacuum or air has negative side-effects, like producing unnatural and smokey gas which isn't directly usable but with our liquid gasification system the gas emitted is immediately available for use. As a result, there's no filtration or scrubbing of any kind, which often occurs with non-MagneGas technology. But with MagneGas, you would not only save on the costs involved with filtration and scrubbing, but it is inherently more efficient than solid gasification systems as all of our energy is being absorbed by the target liquid. It is our opinion, that MagneGas is cheaper, safer, greener and faster than any other comparable solid gasification technology out there. Especially the reduction of CO2 value proposition of the co-combustion technology attracts a lot of attention from all around the world. Reducing CO2 emissions is a big thing, and if we are able to get an independent certificate, the sky is the limit.
Question: So you are effectively saying MagneGas has or is developing a true game-changing technology?
CEO Ermanno Santilli: Absolutely.
Question: MagneGas recently filed two provisional patent applications. Could you elaborate on that?
CEO Ermanno Santilli: The first application concerns a Venturi design. The MagneGas research and development team has focused on developing smaller units with less expensive and faster turnaround times allowing the rapid testing of a variety of liquids. The company has created a new 20kW micro-unit for the testing of various liquid waste. This unit expedites the testing process for customers and includes a new Venturi design which is expected to be the next generation of MagneGas units. The creation of this new unit has substantially increased the speed and efficiency of the testing process for new customers. So that's why a new provisional patent application has been filed on this design.
The second application is about the underpinnings of our unique gas, we want to make sure the intellectual property of MagneGas is protected. So therefore, we believe pursuing IP protection for the gas instead of only the process or apparatus could provide MagneGas an elevated level of protection.
Question: How many patents does MagneGas have?
CFO Luisa Ingargiola: Currently, our portfolio consists of 5 approved patents, 2 pending, and 2 provisional patent applications, and we continue to expand our patent core.
Question: Does MagneGas have any partnership with an other company or institution?
CEO Ermanno Santilli: Apart from Future Energy LLC in Australia and Nuova MagneGas Italia in Europe, we are spending a lot of time with people who can access the market for us, that is the fastest way of getting our technology onto the market. So for several countries, like the US, Mexico or Australia, we are talking to the departments of energy and so forth, to get verification. When you have verification, it's easier selling products to any potential customer and when you say you can reduce CO2 emissions by 30% verification by a credible 3rd party is absolutely required to commercialize.
Question: How does this translate to revenue potential?
CEO Ermanno Santilli: Our internal estimates show that applying MagneGas technology could save a coal plant a potential $5 million per month. In the US and Canada alone, more than 600 plants exist. You can do some math, and it becomes clear the revenue potential is enormous. By the way, there are people in the industry who claim these estimates are too conservative. But coal is potentially just the start of the opportunities as we believe that the very high flame temperature of our gas has co-combustion opportunities with other hydrocarbons.
Question: Last month MagneGas formed a 50/50 joint venture with a confidential partner. What should investors make of this?
CEO Ermanno Santilli: That is our partner to launch co-combustion in the US and Canadian coal power industry. We can't disclose the exact name, but they are experts in the US energy market with experience in biomass and the power industry; it's certainly good news our co-combustion technology will be put to the test at a real coal plant.
Question: Compared to other energy stocks, MagneGas's valuation seems oddly low. What's your thought on MagneGas's current valuation?
CEO Ermanno Santilli: The founder of MagneGas, Ruggero Santilli, was the inventor of this technology and, as a scientist and environmentalist, was focused more on research rather than commercialization. But since last year, I am trying to shift the focus somewhat more to commercialization and development, a shift investors, so far, seem to be unaware of. I think when investors take notice of this story, they will find out MagneGas is severely undervalued. For example, we held a customer day late January, as awareness grew, the share price rose substantially. That was no coincidence.
Question: So basically, Wall Street doesn't know an important turnaround is unfolding?
CFO Luisa Ingargiola: That's correct. Like Ermanno said, we launched a completely new strategy in June 2013, focusing more on development and commercialization, rather than just incubation and research. We have made a lot of announcements since then, some we are discussing right now in this interview. But the valuation is not only low because of what Ermanno suggested, but we also did a couple of capital raises to fund research. Given the small shareholder base, it does not take a lot to push the share price down. But I believe we have reached the bottom now though.
Question: What do you think MagneGas is actually worth today?
CEO Ermanno Santilli: I believe it is way more than its current valuation of $30 million. It's hard to say how much exactly, but there's a lot of scope for MagneGas investors, that's for sure.
Question: What's your view on the alternative energy sector as a whole?
CEO Ermanno Santilli: All companies in the alternative energy sector try to turn waste into something useful, and like to be green. For example, being green is very valuable to companies like General Motors or the US Navy. The sterilization industry is moving very slowly, but we are coming with a revolutionary technology. There is certainly more and more emphasis on companies to go 'green', so the alternative energy will only grow in importance. We see this happening on a global scale. You can be sure all our technology will be disruptive.
Question: How large is MagneGas's total addressable market?
CFO Luisa Ingargiola: The worldwide market for metal cutting is $5 billion, and we like to have a 5% to 10% penetration in that market. On the sterilization part, we are talking about a multibillion dollar opportunity. We are able to provide the infrastructure for clean water, and it is widely known many countries have wastewater issues. For co-combustion, one scrubber for a power plant costs $1 billion or more. With more than 600 plants in North America alone, that market appears to be a clear-cut multibillion dollar opportunity as well.
Question: What's your current cash and debt position?
CFO Luisa Ingargiola: We just completed a $4 million capital raise and have no debt.
Question: What's your cash burn?
CFO Luisa Ingargiola: about $250k to $300k per month. We have enough cash at the bank for at least a year.
Question: Could you comment on insider ownership?
CFO Luisa Ingargiola: We have about 26 million shares outstanding. A majority of the stock is held by the founding family, board of directors and major investors.
Question: What can investors broadly expect from MagneGas in the near and mid term future?
CEO Ermanno Santilli: We have set a few clear near-term objectives:
We like our industrial gas segment to break even this year, we expect certification for our co-combustion technology and we like to commence the sterilization business with our partner in Italy.
(end of interview)
Key points from the interview:
Number 1: MagneGas addresses the issues and needs in alternative energy.
Number 2: The revenue potential is big. For instance, you can imagine the scope of the issues people face in many countries regarding wastewater, let alone the number of fossil fuel plants that seek more energy output produced at lower costs. MagneGas could incur large revenue streams the moment countries and companies worldwide decide to use its technology.
Number 3: We were impressed by the board members, their intelligence, foresight, vision and enthusiasm. CEO Ermanno Santilli understands the entire landscape, knows what needs to be done, and appears to be more than capable of developing MagneGas into a multibillion-dollar corporation. The same goes for CFO Luisa Ingargiola.
Number 4: The company appears to be amidst a pivotal turnaround. Historically, the company has been exclusively focused on research, but now management is shifting the focus to commercialization, revenue growth, and being profitable. Given today's low share price, any update, any success could drive shares higher, similar to Plug Power.
Number 6: We like the fact MagneGas is already generating revenue, albeit low, and cash flow from its industrial gas business segment. That de-risks the trade, compared to investing in a comparable developmental stage company that doesn't have any revenue or cash inflow whatsoever.
Number 7: We also like the fact MagneGas is financially healthy. A solid balance sheet not only ensures dilution risk is low, but also ensures the company is financially fit to execute its strategy.
Number 8: MagneGas is not betting on just one horse technology-wise, nor does its future depend on a binary event like an FDA approval that often seriously hurts biotech investors. This element also puts sizeable risk off the table.
Number 9: It's a complex story, but if you are willing to do some work, you will realize what an interesting investment opportunity MagneGas actually is.
Why MagneGas fuel is advanced
Let's analyze MagneGas's first business segment: MagneGas fuel production and commercialisation. MagneGas has currently 7 units in place, that all produce MagneGas fuel, that can be used for metal working and vehicles. MagneGas could threaten world's most used industrial fuel in metalworking: Acetylene, a 5+ billion market. Here's why MagneGas outflanks acetylene:
MagneGas is up to 30% cheaper. Acetylene prices rose 60% in the past 5 years.
With MagneGas, the targeted area is heated up more quickly, so MagneGas is also the faster alternative.
The heated area gets hotter, compared to acetylene. This allows the user to consume less oxygen during the metalworking process, reducing costs involved.
Acetylene is the most dangerous industrial gas available and is considered toxic, unstable, emits particulates when it burns and can be volatile. MagneGas, on the other hand, emits oxygen when it burns, produces minimal slag and fewer particulates. MagneGas is the cleaner and greener alternative.
Blue chip companies discover MagneGas fuel
MagneGas is currently engaging the US Navy, One Steel, NYC fire department, General Motors (NYSE:GM) and other companies and institutions. For instance, General Motors confirmed that MagneGas indeed is cleaner, faster and more cost-effective than acetylene.
A manager of waste-reduction efforts at GM, noted:
"We are always in pursuit of technologies that enhance quality and efficiency while also performing well on a holistic business case. In its current state, this technology does just that. We're working closely with MagneGas to discuss possible future applications with potential to reduce our environmental impact."
The US Navy has begun testing MagneGas fuel for its major projects. The tests are against six other cutting methods including plasma, laser and propylene. Now, testing has entered its final phase, and awaiting analysis.
Jack Armstrong, operational manager at MagneGas said:
"Given that a key objective of the US Navy is to reduce secondary smoke from their metal cutting applications we are confident that MagneGas will perform very well in this final phase"
Some are already jumping on board. Both the New York City and Clearwater Fire Department recently approved MagneGas.
Kent Watts, special operations Fire Chief, stated:
"It is easy to use, safer than conventional fuels, and has excellent metal cutting properties. It also fits seamlessly into our green initiatives program. For those reasons we are looking forward to the use of this new innovative product."
How much could the fuel business segment be worth?
MagneGas is currently growing its fuel business segment, building new units and expanding distribution channels. This has not translated to revenue growth yet, nor is it certain it will. But let's analyze what this segment could be worth if management's estimates come true. Management has stated it aims to capture 5% percent of the $5+ billion acetylene market. We can calculate what the value per share then could be: 5% of $5 billion is $250 million revenue. With 25 million shares outstanding, equates to a $10 value per share, if one equated revenue to market cap. The upside potential sure is big, and that is on this business segment alone.
But there are some caveats: Firstly, a good market share is not be reached within a year or so. It could take 2 or 3 years to acquire any sizeable market share. Secondly, for a company to switch to acetylene could be an arduous process, it's not like switching a mobile phone subscription; long-term contracts with current fuel suppliers limit switching possibilities, and high one-time costs are involved. Thirdly, management is always on the optimistic note. It is not certain a 5% market share will be captured. Lastly, the company has not historically been able yet to grow revenue. As a matter of fact, revenue slumped a bit. Why is this?

Our explanation is that the company is still in a developmental stage, and is yet to (fully) commercialize its products. It's quite similar to a pre-revenue biotech start-up that is developing a new drug. High potential, high-risk. These kinds of investments are uncertain by nature, because it is hard to pinpoint when and if the technology will hit the market.
MagneGas's sterilization segment
Let's analyze MagneGas's second business segment: converting and sterilization of liquid waste (wastewater). Everybody knows lack of clean water is a global problem, a problem that, unfortunately, keeps growing. And anyone can imagine how large this market is, certainly in the billions of dollars already. According to the World Health Organization, 2.4 billion people worldwide do not have access to basic sanitation: they lack safe means of disposal of excreta and waste water. Further, municipal sewage, a mixture of human excreta and household wastewater, is transported via pipes to a treatment or disposal point. In many areas, municipal sewage is often mixed with industrial waste. Sewerage systems are common in industrialized countries and often occur in urban areas of less-industrialized countries. In some regions very little wastewater receives treatment before it is discharged into the environment. In Africa, virtually no wastewater receives treatment before it is discharged. In other regions, rates of treatment are not much better, for example, in the Latin America and Caribbean Region only 14% of wastewater is treated, while in Asia approximately a mere 35% of wastewater is treated before it is disposed of in the environment.
Experts say wastewater treatment is the key to provide people and companies access to usable water. As far as we can tell, MagneGas holds an advanced technology to treat wastewater. At this point, the technology is validated, but not yet commercialized. What could the stock be worth if this technology is to be commercialized?
Potential customers include primarily sewage treatment facilities. In the US alone, 16000 of such facilities exist. Most of them, according to the American Society of Civil Engineers, are in poor condition and in dire need of technological upgrade. Suppose MagneGas, out of 16000, is to land 10 contracts. With an average $5 million value per contract, the share price could surge substantially. If MagneGas's technology goes mainstream, many more facilities could follow, which could drive shares much higher. Remember, this is just the US alone. Worldwide, the potential customer base is obviously much larger.
MagneGas's co-combustion segment
As mentioned, MagneGas is further developing another promising technology, called 'co-combustion'. Co-combustion has many benefits over traditional combustion; the high flame temperature of MagneGas when utilized in the co-combustion vertical unlocks greater energy creation potential with fewer emission from hydrocarbon fuels. Currently, the following testing projects are in place:
In the US MagneGas is working with a regional utility and confidential partner.
In Mexico MagneGas is working with their partners CSE and the national utility.
In Australia FutureEnergy LLC is working with a local university.
In Italy MagneGas is negotiating contracts for testing with a local partner and National Agency for Alternative Energy.
According to management, a fossil fuel plant applying co-combustion could return MagneGas $4 million in annual revenue. In the US alone, more than 500 of such plants exist. In terms of shareholder value, suppose just 5% of all plants in the US decide to adopt co-combustion. 25 times 4 million makes $100 million annual revenue, or a $4 share, on this business segment alone. Also, when this technology goes worldwide, thousands of plants would become potential customers.
So again, the upside potential is big, but risk is too, because it isn't certain yet whether plants will adopt this technology, nor is the technology at this point 100% proven at multiple real plant sites. The tests are progressing though, and investors are awaiting further results. An update can be expected this year.
What could MagneGas be worth?
The next 4 scenarios could unfold. We use a high discount rate of 20%, since this is a high risk investment, and a time-frame of 2 to 3 years for discounting. Shares outstanding total 25 million.
Scenario 1: All three business segments fail to materialize
The valuation will drop below $10 million, or a $0.40 share price, since the company is generating some revenue selling fuel, and has some cash at hand. But the expected value from its technology will be 0.
Scenario 2: One out of three segments succeeds
Depending on which segments, the net present value could be in the range from $30 to $60 million. That translates to a $1.20 to $2.40 share price.
Scenario 3: Two out of three segments succeed
Depending on which segments, the net present value could be in the range from $60 to $120 million. That translates to a $2.40 to $4.80 share price.
Scenario 4: Most optimistic, all three segments go according to plan
This is the most positive scenario. The company achieves to capture a 5% market share in the acetylene market: $250 million revenue, plus lands 10 sewage treatment facilities contract: $50 million revenue, and sells its co-combustion technology to 25 coal plants: $100 million revenue. The calculation totals to a $400 million annual revenue stream. This implies a net present share price of $6.00.
Since the company is heading in the right direction, we think scenario 1 is unlikely. A more probable outcome is either scenario 2 or 3. Scenario 4 could happen, but is very speculative. Overall, we think the current $1.30 share price does not fully reflect the upside potential.
MagneGas's competition
There are a few developmental stage companies out there developing similar technologies to MagneGas. Here's an overview:
Number 1: ClearSign Combustion (NASDAQ:CLIR)
ClearSign Combustion Corporation is a development stage company focused on designing and developing technologies that enhance the energy efficiency, emissions control, and fuel flexibility characteristics of combustion systems worldwide. It is developing the so called Electrodynamic Combustion Control technology that introduces a computer-controlled electric field into the combustion zone to allow for precise control of flame shape and heat transfer. The company intends to provide its technology platform for various industrial and commercial combustion systems.
Number 2: Mantra Venture Group (OTCPK:MVTG)
Mantra Venture Group identifies, acquires, develops, and markets technologies related to alternative energy production, greenhouse gas emissions reduction, and resource consumption reduction. The company's so called electro-reduction of carbon dioxide (ERC) technology combines captured carbon dioxide with water to produce materials, such as formic acid and salts. Its ERC technology also produces various by-products and formic acid for use in steel pickling application. Further, it offers promotional and marketing services to companies in the sustainability sector, or those seeking to adopt sustainable practices; and distributes and installs LED lighting solutions.
Number 3: Midwest Energy Corporation (OTCQB:MEEC)
Midwest Energy Emissions is an environmental services company engaged in the development and commercialization of various technologies to remove mercury from coal-fired power plant air emissions. It focuses on the delivery of mercury capture technologies to power plants and other industrial coal-burning units in the US, Canada, Europe, and Asia.
Management believes MagneGas holds the superior technology, but that is eventually up to the markets to confirm. But since the addressable markets are so large and with just a few competitors out there, we do agree the technology is unique and comes with a big upside potential.
Comparison indicates MagneGas is undervalued
A good metric to determine MagneGas's valuation is to do a comparison with the companies mentioned above. Let's compare them on their financial metrics:

Based on these financial metrics, one would expect MagneGas's market cap to be somewhat higher than ClearSign, and certainly higher than Mantra Venture Group and Midwest Energy Corporation. But it's in fact the lowest valued company, so MagneGas appears to be relatively undervalued.
What also makes MagneGas an interesting investment opportunity is that, up to our knowledge, there are no other companies developing the same range of products and technology.
Why stricter legislation could benefit MagneGas
There are a few positive trends at play in the alternative energy sector, and one that speaks volume is the push for going green. It's all about reducing CO2 emissions, and the United Nations, governments and municipalities worldwide put stricter legislation into effect that forces companies to operate greener. Here's why MagneGas could benefit: Fossil fuel plants must adopt greener technologies, and could therefore be prone to adopt MagneGas's technology, because co-combustion presents a 30% to 40% reduction in CO2 emissions and eliminates almost any particulate.
MagneGas is expanding its patent core
Another reason we bought shares is that MagneGas is building a high value patent core. It is estimated the average value of a patent is $0.50 million. We therefore estimate the total value of the patent portfolio, consisting of 5 approved patents, 2 pending patents, and 2 provisional patent applications, at $3 to $4 million. Also, we like the fact MagneGas continues to expand its patent core and that all patents are in-house developed.
MagneGas's key financials
We estimate MagneGas has $4 million in cash, no debt and a low cash burn of $250k per month. That means the company is fully funded for at least a year. On top of that, the company initiated a cost restructuring program, that resulted in a 30% cost reduction.
Insider ownership
What about the level of insider ownership?
In our view, 49% is remarkably high. Remember, insider ownership is a telling indicator of a good buy. The people running the business understand its complexities, and can have an excellent feel for its prospects. But that's not all. There also has been consistent insider buying in the last 12 months.
Notice that institutional ownership is currently low, but that could change, the moment mutual funds (small-cap funds, etc.) discover this story. Fund managers accumulating sizeable amounts of shares could amplify the share price appreciation.
Short interest has decreased

The table shows short interest has decreased significantly. This is good news, because in most cases, only the smart money initiates short positions. So smart money covering their shorts is a signal the bottom has been reached.
MagneGas seems to be overlooked amidst the alternative energy boom
The alternative energy sector is one of the biggest winners on the stock market. Alternative energy ETFs zoomed 120% higher, whereas the broader Nasdaq index rose by 'just' a third. But shares of MagneGas did not participate in the boom, and shares are trading at the same level as a year ago. Wall Street even overlooked the up-listing to the Nasdaq, which in most cases bodes well for shareholders. Again, shares did bounce from a multi-year low in the last few days, so it seems some investors realized the level of undervaluation. In essence, we think MagneGas shares are undervalued, which provides investors an interesting buying opportunity.
Why is MagneGas undervalued?
In essence, it's a combination of three things:
Number 1: Virtually no investor knows about this stock. There's no analyst coverage and no Seeking Alpha article. On this website, only 320 members get e-mail alerts, which is low. This article might help to raise some awareness, and certainly the conference next week will. The Bio Mass conference is the largest of its kind in North America and upwards of 15,00 attendees are expected to be on hand. So we can expect more press releases concerning the 'major industry announcement'.
Number 2: The investors who do know MagneGas probably do not realize the undervaluation. As common with developmental stage companies, as updates wane, people start selling, certainly if the company does a capital raise like MagneGas did a few weeks back. The trading volume was always, except for the last week, very thin, so it did not take much to drive shares much higher or lower. At the end, it's a complex story, and it's not easy to figure out any mispricing, unless you are willing to do some work.
Number 3: Historically, the company has always been focused on research rather than commercialization. There has been basically no revenue growth so far, nor is the company ever been profitable. But as management stated, a new strategy is now in place. MagneGas appears to be in a turnaround phase, whereby their long running R&D activities are likely be put to the test in the market in the near- and midterm future.
Risks involved
MagneGas is a high risk investment. Investors should bear in mind the following:
MagneGas's primary risk revolves around execution. So far, there's no reason to assume management won't execute well, but poor execution does lie within the realm of possibilities. For example, the company is around for 30 years now, and so far, investors haven't seen a return on their investment yet.
The company has issued warrants with a $1.35, $3.00 and $4.00 strike price. At these levels, the share price could be capped temporarily if warrant holders decide to exercise. That would be beneficial eventually, because warrant conversion leads to a cash influx.
If at any time before July 14, 2014, the bid price of the company's common stock does not close at or above $1.00 per share for a minimum of 10 consecutive business days, which isn't the case so far, Nasdaq will provide written notification that the company did not achieve compliance with the continued listing rule. This is unlikely though, but it's still a risk.
The combustion technology is still in its testing phase. Results should be announced this year, but it is not certain whether the technology could immediately be commercialized, nor is it certain the testing results will be positive. Any delay could hurt the share price.
Despite MagneGas fuel being advanced, that does not necessarily mean companies will switch to MagneGas. Switching could be an arduous process, with high one-time costs involved.
The addressable markets are large, but there is competition out there. MagneGas is not the only company developing these technologies.
Again, the stock is quite volatile. This is a trading risk.
MagneGas has never been profitable.
Conclusion
MagneGas is an interesting and undervalued opportunity in the alternative energy industry. At present, not many investors know this company even exists, nor do current shareholders probably realize the level of undervaluation. MagneGas has everything going for it: promising technology, multi-billion dollar addressable markets, favorable market trends, ample catalysts, new strategy, an impressive management board and a solid balance sheet that makes downside risk acceptable. We see similarities with our previous buy recommendation Plug Power, when it was trading at $0.65. MagneGas shareholders could soon be gifted with a equivalent run-up in share price.
For full disclosure and disclaimer information click here
Disclosure: I am long MNGA. I wrote this article myself, and it expresses my own opinions. I am not receiving compensation for it (other than from Seeking Alpha). I have no business relationship with any company whose stock is mentioned in this article.
Editor's Note: This article covers one or more stocks trading at less than $1 per share and/or with less than a $100 million market cap. Please be aware of the risks associated with these stocks.