I must explain how this article on Valero Energy (VLO) progressed in order for my opinions to be clear. I wrote most of the article February 22-24 with intent to submit it by February 28, which turned out to be the day I added to my VLO position, and one of only three days VLO was within my new $46-48 suggested buy range (prior was $34-35). But, other business came up that took all of my time for the next few weeks while the article sat untouched. By the time I could resume writing, VLO had rallied to $55 so I rewrote the article while hoping for a correction and brooding over the fact that I missed my chance to update my VLO call while the stock was still cheap. However, I also concluded that a higher price could help convey my points.
All refining stocks are cyclical, but as mentioned in my first VLO article last October, I also believe VLO is "just starting a new growth spurt that will last for many years to come." So, the fact that the current share price is higher than I would pay right now does not dictate my opinions of the company's prospects. In fact, perhaps writing about the stock while the price is up will help prevent my opinion from being interpreted as a day trading call, despite my clearly stated timeframe. In other words, my opinions of VLO are not from the perspective of where the share price will be in a few weeks.
On the one hand, I wouldn't buy VLO at $55, even though I think the overall trajectory continues upward. On the other hand, some investors require less downside protection than I, so perhaps the information herein will be helpful. After all, VLO is still below my price target, which I don't consider a top.
Call Performance
Valero Energy 10/14/2013 call
[+53% from published call / +53% at peak / +63% from initial call]
Since it's deceiving to only look at call performance on the day a follow-up article like this one is written, I also included above the peak performance from my published call, as well as to-date performance from my first call.
My initial call on VLO from that October 14, 2013 article was: "My opinion is to consider buying VLO in the $34-35 range and I expect it to hit $44 by this time next year (28% return)." A reader pointed out that I called the bottom just right, but I'm not really in the business of calling short-term bottoms or tops. In other words, I'm an investor, not a trader. I do buy and recommend stocks as close as possible to bottoms, but no one can time the market so my focus is good prices to stage into positions worth holding and growing.
On January 9, I updated my call on VLO with the following: "At $52, VLO has already far exceeded my initial $44 target from October for the second best performance by any of my published picks thus far … I'm raising my price target to $59 with a 9-12 month timeline." In that article, I mentioned that I was "hoping for a buyable dip in VLO soon." There was indeed a dip in early February, before a rally back above $52, followed by the late-February dip.

Source: Yahoo Finance
Company Overview
Valero Energy is a Fortune 500 company based in San Antonio, Texas. Through its subsidiaries, the company is an international manufacturer and marketer of transportation fuels (gasoline, diesel, jet fuel, renewables, etc.), other petrochemical products (asphalt, propane, sulfur, coolants, lubricants, solvents, aromatics, natural gas liquids [NGLs], etc.) and power (wind, etc.).
Valero was formed in 1980 as a spinoff of Coastal States Gas Corporation. In 1981, Valero acquired a small oil refinery in Corpus Christi, Texas and began refining operations in 1984. With the acquisition of Premcor in 2005, Valero became the largest independent refiner in North America. Valero entered the Western Europe refining market in 2011 by acquiring the Pembroke refinery in Wales from Chevron, along with various major pipelines and fuel terminals throughout the U.K. and Ireland. Also in 2011, Valero acquired its Meraux, Louisiana refinery from Murphy Oil. As a result of these pivotal acquisitions, Valero is now the largest independent petroleum refiner in the world.
Valero assets include sixteen petroleum refineries with combined throughput capacity of approximately three million barrels per day [bpd], ten ethanol plants with a combined production capacity of 1.2 billion gallons per year, and a 50-megawatt wind farm. More than 7,300 outlets carry the Valero, Diamond Shamrock, Shamrock and Beacon brands in the U.S. and the Caribbean; Ultramar in Canada; and Texaco in the U.K. and Ireland.
Valero also owns the general partner stake in Valero Energy Partners (NYSE:VLP), which is a midstream master limited partnership [MLP]; fifty percent interest in Diamond Green Diesel, a joint venture with Darling International (NYSE:DAR) to build and operate a renewable diesel fuel refinery; fifty percent interest in a Parkway Pipeline joint venture with Kinder Morgan Energy Partners (NYSE:KMP); and fifty percent interest in PI Dock Facilities, a joint venture that constructs and operates crude oil docks and related facilities.
For more details about Valero Energy Corporation, see the company website.
Upside Potential, Downside Risk & Time Horizon
My calls are always expressed as ranges and I suggest always scaling into positions to make each buy price less critical. So, whether to buy near the top, middle or bottom of a range depends on many factors such as market conditions, portfolio size and whether one is opening or adding to a position.
Since I'm adding to a position opened in the low $30s, I'm willing to average up in the $46-48 range. In a less aggressive scenario, I would hope for a dip to the $42-44 range. For now, I'm retaining my 9-12 month $59 price target (23% above $48 and 64% above the $36 from my initial recommendation). However, I expect to adjust my target around the time of the next earnings report in late April, and I currently expect that adjustment to be upward.
My price target is based on VLO trading at one of the lowest P/E multiples in its peer group, combined with the fact that the company's earnings power is consistently and significantly underestimated. For example, VLO has beaten estimates all of the last four quarters, often by a wide margin and often after estimates had risen significantly. The current-year EPS consensus has risen by over a dollar in the last ninety days ($4.73 to $5.87) and I think it will go up more. In fact, I contend the next-year estimate should be much higher.
With that in mind, if VLO traded to a 9.5-10x range forward P/E or trailing P/E in the 13x range, in-line with most peers, the share price would be in the $56-64 range. That's the higher end of the historical P/E ranges for the group so I'm not arguing that is sustainable. Rather, that VLO deserves a multiple in-line with peers, should easily trade to the corresponding prices within my timeframe, and next-year EPS will have grown significantly by that time to keep the P/E multiple reasonable.
To confirm that my valuation and resulting price target are on track, I also ran some conservative Discounted Cash Flows [DCF] calculations. With the 10.37% five-year EPS growth projection, a 15% discount rate and a 2% terminal growth rate, my DCF calculations returned valuations in the $57-61 range. Thus, I am comfortable with my 9-12 month $59 price target.
| | | | |
| --- | --- | --- | --- |
| Company | Market Cap | Trailing P/E | Forward P/E |
| HollyFrontier (NYSE:HFC) | $9.07B | 13.51x | 10.25x |
| Marathon Petroleum (NYSE:MPC) | $25.17B | 13.84x | 8.84x |
| Phillips 66 (NYSE:PSX) | $44.81B | 13.05x | 9.95x |
| Tesoro Corporation (NYSE:TSO) | $6.77B | 18.19x | 7.49x |
| Valero Energy | $25.72B | 10.96x | 9.24x |
| Western Refining (NYSE:WNR) | $2.93B | 14.75x | 9.06x |
Source: FinViz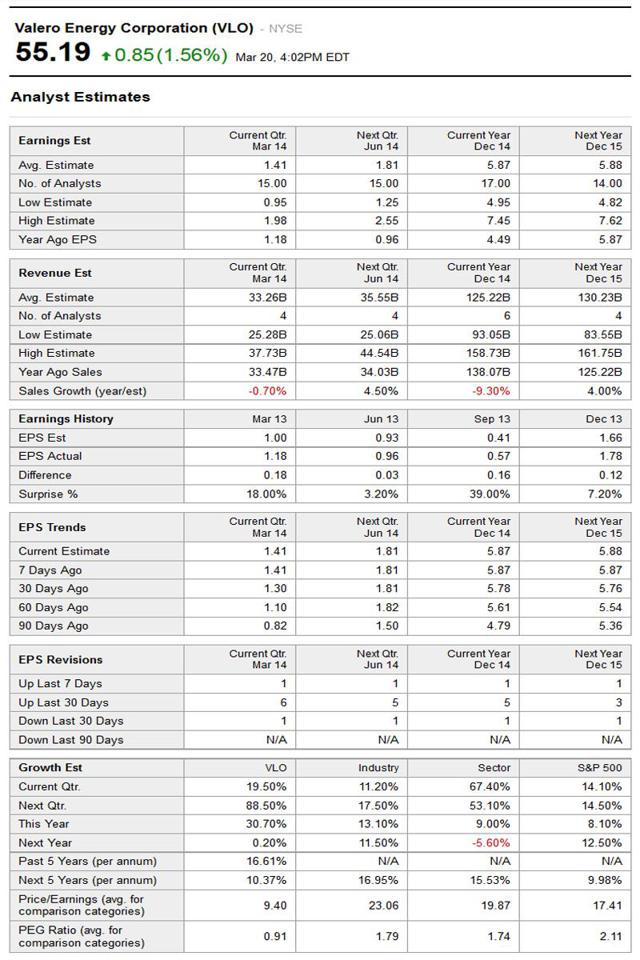 Source: Yahoo Finance
Company Updates
Growth Drivers
All VLO growth drivers relate to capitalizing on the boom in North American oil and gas production and, specifically, the differentials between abundant cheap crude and international prices for refined products. I'll break the VLO drivers into the two categories that I believe have the most impact: [1] Location Advantages and [2] Expansion Projects; though the latter includes two subcategories with some overlap.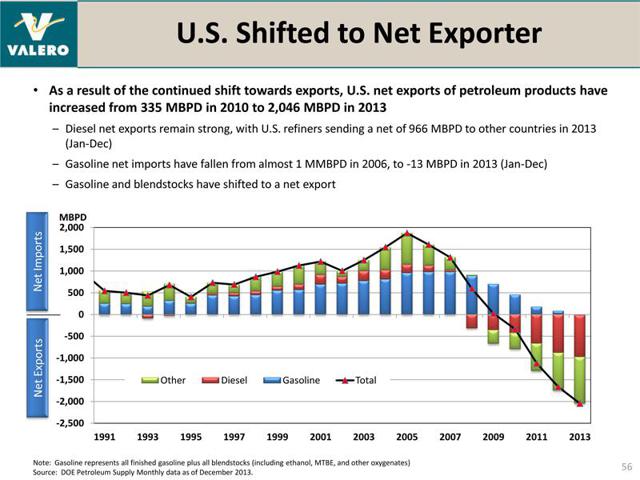 Source: company presentation
Location Advantages
A very attractive competitive advantage VLO has over competitors is that so much of its refining capacity is in inherently beneficial locations. That refers primarily to the Gulf of Mexico coast (Texas and Louisiana), but Pacific Coast (California) sites are also likely to be increasingly important in the future.
From the combination of ideal refinery locations and the company's scale as the largest independent refiner in the world, VLO has the largest Gulf Coast footprint of any independent refiner. The obvious benefit is that having a lot refining capacity so close to high-output coastal sources like the Eagle Ford means that VLO has a time and cost advantage when bringing in that crude supply. At the same time, there's another less obvious benefit.
Crude supply from high-output inland sources like the Bakken is exceeding demand in the surrounding areas. Thus, refiners with more of their facilities inland are suffering from both an oversupply of crude input and being too land locked to cost-effectively ship refined output to international markets.
The same oversupply that hurts the inland refiners benefits coastal refiners since oversupply leads to discounted prices. That means VLO can buy up cheap inland crude since the company has the rail and pipeline capacity to move that crude to its Gulf Coast refineries, from which refined products can be easily sold and shipped to international markets at much higher profits.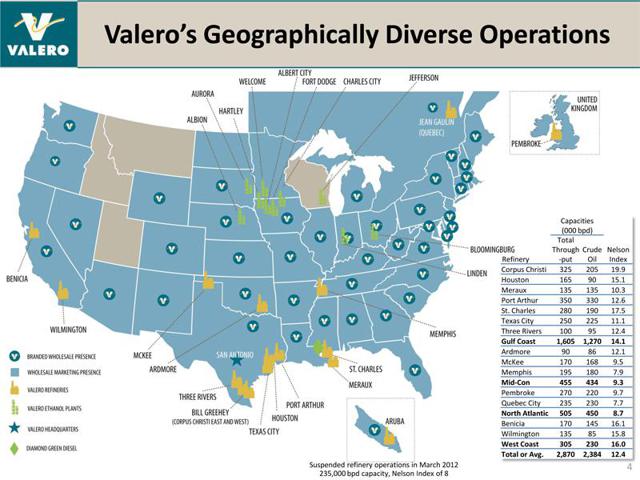 Source: company presentation
Expansion Projects
Approximately half of VLO capital expenditures are currently going toward investments in the company's growth and, as the chart below shows, the reinvestments are primarily in two areas: [1] processing cost-advantaged North American crude oil, and [2] logistics (transport and storage).
Building full-scale refineries is extremely expensive, takes a long time and involves regulatory hurdles so the location advantages discussed above are not temporary and give VLO somewhat of a moat. At the same time, VLO and other refiners are growing capacity by adding specialized crude processing equipment to existing refineries. The idea is basically to process crude into components that require further refining to get final products like fuel, but that are refined enough to be legally exported to international markets.
For example, VLO is investing $800 million to expand and upgrade three of its Texas refineries by early 2016. The expansions include building docks at the VLO refinery in Corpus Christi by 2014Q3.
As implied by the building of docks at the Corpus Christi refinery, in addition to increasing processing capacity, VLO is also investing heavily in expanding its logistics capabilities. In the last five years, VLO has invested $1.4 billion in various logistics expansion projects and plans to invest another $1.3 billion through 2015. The purpose of the massive logistics expansions is to increase access to the cost-advantaged North American crude discussed above in order to drive margin expansion by buying inexpensive crude input and selling the expensive refined products output on the international market.
As of December 2013, VLO owned approximately 65 miles of crude pipelines, 1,042 miles of refined products pipelines, 50 marine docks, rail facilities at several refineries and 1,536 railcars. Though it is unclear what portion of the railcar count is included in the total of 5,320 railcars VLO has purchased to be delivered between 2012Q4 and 2015Q2, I think the difference between the numbers still speaks volumes. Additionally, VLO expects to complete the construction of a rail facility at its refinery in Benicia, California in 2015.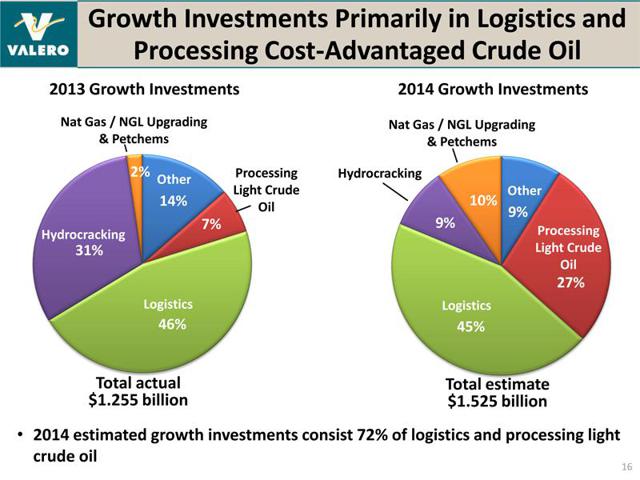 Source: company presentation
Shareholder Friendly
With a stated goal "to have one of the highest cash returns among peers via dividends and buybacks," VLO is clearly a shareholder-friendly company. In fact, the company doubled the amount of cash it returned to shareholders through dividends and buybacks in 2013, as compared to 2012.
In January 2014, VLO repurchased four million of its shares and increased its quarterly dividend by 11% to $0.25 per share for a 1.8% yield. That was the third dividend increase within a year and the current dividend is five times the $0.05 quarterly dividend from 2011Q1. The payout ratio is still only 17% so it seems quite likely that VLO will be able to make good on its promise to "grow the regular dividend at sustainable rate."
Analyst Opinions
Eleven analysts now rate VLO a Buy, seven rate it Hold and zero rate it Sell. The consensus rating is now Buy, though it was Hold at the time of my initial article in October. The consensus price target is now $53, though at the time I posted my $44 target, all analyst price targets except one were in the $34 to $42 range. Again, my current 9-12 month price target remains $59.
Here are the non-neutral analyst changes made this calendar year:
1/06/2014 Credit Suisse initiated at Outperform
1/09/2014 Imperial Capital raised price target for In-Line rating to $49
1/23/2014 Macquarie raised price target to $69
1/23/2014 Raymond James downgraded to Outperform with $63 target
1/30/2014 Barclays raised price target for Overweight rating to $70
1/30/2014 UBS initiated coverage with a Buy rating and $60 price target
2/04/2014 Imperial Capital raised price target for In-Line rating to $55
2/12/2014 Howard Weil initiated at Sector Perform with $41 price target
The lack of a Credit Suisse price target requires some explanation. On May 3, 2013, CS rated VLO Neutral with a $45 price target (VLO was $37 at the time). VLO dropped to $35 and stayed there for the next six months (as did the CS $45 target). On October 9 (just before VLO started its climb from $35 to $46), CS lowered their $45 target to $39 and kept it there for three months. On December 13, CS initiated new coverage on VLO and went back to the $45 target from May 2013, while VLO had been at $46 for weeks and without ever raising the $39 target. The rating was initiated at Neutral. Then on January 6, CS initiated VLO coverage again, but this time at Outperform (while VLO was at $51 and right before it sold off back down to $46).
My intent is actually not to criticize the venerable Credit Suisse. Rather, it is to make clear that I didn't just leave out the price targets that I don't like. I simply could not figure out which of the CS price targets the firm considers current and I do not want to contribute to spreading false information.
Final Thoughts
As much as I like VLO, I don't consider it an appropriate holding for all types of investors. For example, I would not recommend it for investors who are near retirement or who otherwise have a low risk tolerance since all refining stocks are both cyclical and somewhat volatile. With most stocks, I hold and grow positions over periods of many years, unless a company changes in an extreme and permanent way. I even do that with some cyclical stocks, while others I hold through multiple economic cycles, and yet others I may reduce positions at opportune times to rebuild later. Those are the kinds of things each investor has to decide and should think about before buying any stock.
With that all said, my belief is that VLO has very strong company-specific, industry and macro-economic growth trends in its favor. Thus, I consider VLO a strong holding to help diversify my portfolio and plan to buy more.
Although it has been more erratic than 2013 and I expect that to continue, I still believe 2014 will continue to be a very positive year for the market. I discuss that subject in detail in my 2013 Performance & 2014 Updates and Corrections Come, Corrections Go summary articles, which are intended to supplement my company-specific articles like this one.
Thank you for reading. I researched and wrote this article 2/22-3/20.
Disclosure: I am long VLO. I wrote this article myself, and it expresses my own opinions. I am not receiving compensation for it (other than from Seeking Alpha). I have no business relationship with any company whose stock is mentioned in this article. I may buy additional VLO shares at any time.