Much has been written about pSivida (NASDAQ:PSDV) since the FDA surprisingly entered into labeling discussions with the company about ILUVIEN, the ocular insert for diabetic macular edema. The labeling discussions came after a third failure to gain FDA approval for the same, so it came as quite a surprise. Indeed, much has been written about pSivida even before that surprise. In fact, since June, a total of 16 articles have been published on Seeking Alpha alone focusing on pSivida, including three SA PRO articles. However, as most who have a cursory knowledge of pSivida are aware, it is only getting a 20% royalty for ILUVIEN sales. The other 80% goes to Alimera (NASDAQ:ALIM), the company that sponsored its trials, by far the lion's share. For some reason, though, only one Seeking Alpha article has been published focusing on Alimera since June, and zero SA PRO articles.
If investors are going to get the full picture behind ILUVIEN and its potential return on investment, then knowledge of Alimera is critical to that end. How do the companies differ as investment vehicles as concerns ILUVIEN, and why? I will attempt to answer these questions in this article.
The Consequences of Lopsided Attention
From October 16th to the 23rd last year, pSivida fell 42% from $4.57 to $2.65 in response to the third failure to gain FDA approval for ILUVIEN. Then, on December 18th, shares rocketed back up 35% to over $4 when the surprise came. PSDV now stands at $4.43, almost exactly where it was prior to the big October 16th fall.
As for Alimera, shares fell from $3.34 to $2.18 over the same time period, about 35% in comparison to pSivida's 42% crash, and ALIM currently stands at $6.87, over 100% higher than it was on October 16th. At first glance, at least looking at the latest major ILUVIEN back and forth, it seems that the downside to ALIM is more limited than PSDV, and the upside far more pronounced. But it is not that simple.
Going back to November 11, 2011, when the two companies received the second complete response letter [CRL] rejecting ILUVIEN gives a fuller picture. On that day, ALIM fell 74%, PSDV fell only 49%. Looking at a long-term chart of the two, there is only one major noticeable anomaly.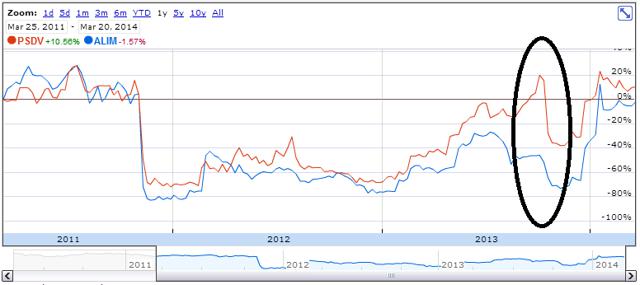 That is, starting from the second half of 2013 until the third CRL rejecting ILUVIEN, pSivida and Alimera began to diverge, with PSDV skyrocketing and ALIM trading sideways. This is coincident with heavy pSivida coverage but near total lack of Alimera coverage mentioned at the beginning of this article. As a result, the 3rd FDA rejection of ILUVIEN had a much larger impact on pSivida on the way down than it did on Alimera. ALIM had a lot of catch-up to do with PSDV when the surprise announcement of labeling discussions for ILUVIEN was made. Therefore, that announcement had a much larger impact on ALIM on the way back up than it did on PSDV. The two stocks are now nearly neck and neck since the big 11-11-11 (at 11:00?) second CRL FDA rejection, with pSivida taking a 10% lead.
Taking the long 3-year view, past price swings have not revealed which is a better play on ILUVIEN, but they do reveal that if you see start to see divergence in two companies that should trade together (perhaps having to do with lopsided coverage), you may be able to get a discount and higher upside on the laggard.
Business Model: Alimera vs. pSivida
pSivida is a unique biotech in that it does not develop new drugs, but rather, better ways of delivering existing ones. It focuses on the treatment of chronic diseases of the back of the eye. Its business model is two-pronged: One, it develops technologies on its own and then licenses them out to other companies in exchange for funding clinical trials. Examples of this are, of course, ILUVIEN licensed to Alimera, RetiSert licensed to Bausch and Lomb, and the Latanoprost Product, which Pfizer (NYSE:PFE) has an option to license beyond Phase II. It also has a funded evaluation agreement-which could lead to a partnership-with an unnamed Big Pharma company for the development of its latest generation nanotechnological ocular suspension called Tethadur. This part of pSivida's business model keeps its cash burn relatively low ($3.5M quarterly over the last year), and it has no debt, but it puts a big lid on income in that most of the proceeds go to the companies that fund the trials. As mentioned, pSivida only gets 20% on ILUVIEN sales.
Second, it develops some treatments independently where it thinks it can do so at reduced cost. For example, it is developing Medidur for posterior uveitis, currently in Phase III trials. Medidur being the same product as ILUVIEN, but for a different disease indication, pSivida has been able to fund these trials more cheaply. If successful, pSivida will keep the proceeds for itself. All in all, pSivida having this two-pronged approach, it creates a nice balance between cost-saving and risk-taking.
As for Alimera, its business model is the flipside of the coin and is less variegated than pSivida's. Alimera's future depends almost entirely on ILUVIEN. There is information on its website about a theoretical product called NADPH oxidase inhibitors for late-stage macular degeneration, but nothing in its last 10-K about it.
On the plus side, Alimera takes home the lion's share of earnings for ILUVIEN, at 80%. As Alimera's only commercial product, FDA approval of ILUVIEN is critical to Alimera's share price. But ILUVIEN is even more important to Alimera for another reason, and that is that Alimera is licensed to develop the same product for other disease indications, each for which a separate FDA approval is needed. The other indications that Alimera has its eye on (no pun intended) are dry AMD, wet AMD, and retinal vein occlusion [RVO]. The incidence of all three of these diseases is much larger than chronic DME. The only disease for which Alimera does not have rights for ILUVIEN is uveitis, which pSivida is developing under Medidur.
Given that Alimera is almost entirely dependent on the approval and success of ILUVIEN, and that its revenues from ILUVIEN will be 4x more than pSivida's, FDA approval will probably have a larger impact on Alimera shares than pSivida. How much more, no one can say for certain, but suffice it to say that ALIM is likely a more leveraged play on ILUVIEN than pSivida.
Near-Term Catalysts: Alimera vs. pSivida
The near-term catalysts for Alimera and pSivida are the same as far as ILUVIEN is concerned. The first and foremost is FDA approval, which, according to estimates, can be expected within the next quarter or two. Others are the launch of ILUVIEN by Alimera in France scheduled for this year (page 17) and the recent recommendation for approval in Italy. Ten other applications have already been submitted for approval in other EU countries.
pSivida has an additional near-term catalyst, and that is Medidur, which, as mentioned, is ILUVIEN for uveitis. pSivida has already started the first of two planned phase 3 clinical trials enrollments for this product, and data should be available on the first phase 3 Q3 of this year.
As the company already has a treatment for Uveitis on the market called Retisert, the advantage of Medidur is that it is a more advanced microinsert technology and has less negative side effects. Medidur would be a better success than Retisert, if approved, though it would cannibalize on Retisert sales in the future, thereby leading to a gradual withdrawal of the product.
While ILUVIEN catalysts may affect ALIM on the upside more strongly, pSivida's additional near-term catalyst in Medidur may even out that leveraging effect.
The Long View: Tethadur vs. Dry AMD, Wet AMD, and RVO
This brings me to pSivida's most promising product, which Alimera is not involved in, Tethadur. Tethadur is a nano-sized honeycomb-shaped drug delivery platform, which sustainably and continually carries and releases drugs, such as Eyelea, Herceptin, and Lucentis, among others.
The BioSilicon-based protein delivery system is designed to provide sustained release of antibodies and bioerodible neuroprotective agents, along with other products in the clinical pipeline. This makes pSivida a compelling growth candidate for the next few years, assuming near-term catalysts are triggered.
Tehadur's approval is far in the future compared to its counterparts, but if approved, it would be pSivida's claim to fame.
Preclinical data is expected this summer, which could put some color on its ultimate potential. This could be the launch pad of several partnerships with leading drug manufacturers as the company strategizes for effective commercialization of the product.
The long view regarding Alimera is its commercialization of ILUVIEN for dry AMD, wet AMD, and RVO. If Alimera can reach approval for these indications, it will be a compelling long-term growth factor for the company. At this theoretical point long into the future (post-ILUVIEN approval for AMD and RVO), one could say the two companies diverge for good. Why? Because if Tethadur succeeds, it being a more advanced insert than ILUVIEN, it would theoretically replace ILUVIEN, eventually pushing Alimera's products out of the market. If Tethadur fails, Alimera would maintain its dominance.
Cash Comparison
Considering that the two companies' business models are opposite sides of the same coin, the two companies' balance sheets are remarkably similar. Alimera has had a cumulative loss of $277M since inception, pSivida $271M. They also both have similar amounts of cash on hand. Alimera has $50M, consisting of $37.5M acquired in a recent private placement and $12.6M on its latest balance sheet. With a quarterly burn rate of $12.8M that leaves about a year of cash.
pSivida has $22M, consisting of $15.2M on its balance sheet plus $7M in a recent private placement. At an average quarterly burn rate of $3.5M, that gives about a year and a half. In terms of dilution, Alimera has the ability to finance at higher rates, though at a higher cash burn level. And if and when ILUVIEN is finally US-approved, pSivida will have the cash edge, because Alimera will owe pSivida a $25M milestone payment.
Conclusion
Bottom line, both companies are riding heavily on ILUVIEN for now, and though approval seems highly likely given the labeling discussions, if the FDA changes its mind again, both companies' share prices could take a beating, Alimera more so than pSivida. The chances of that are highly unlikely, in my view.
All things considered, it seems that Alimera is the leveraged ILUVIEN play for short-to-mid term and has a higher risk/return on that time frame, and that pSivida is the more balanced long-term play on ILUVIEN, Medidur, the Latanoprost Product, and Tethadur. Long term, it depends on Tethadur. If Tethadur succeeds, it could be a net negative for Alimera in the future. In the meantime, both companies have significant upside pending FDA approval, and investors who believe in ILUVIEN should gain exposure to both in accordance with their risk tolerance.
Disclosure: I am long PSDV. I wrote this article myself, and it expresses my own opinions. I am not receiving compensation for it (other than from Seeking Alpha). I have no business relationship with any company whose stock is mentioned in this article.
Additional disclosure: I may initiate a long position in ALIM over the next 72 hours.