Property and casualty insurer Cincinnati Financial Corp. (NASDAQ:CINF) yesterday announced that it expects to incur $65 million in relation to catastrophe losses during the second quarter of 2010.

These catastrophe claims emanated from severe storms in northern Ohio and flooding in Nashville, Tennessee that occurred during the quarter. A significantly large number of catastrophe losses in the first few months of 2010 contrast with the year 2009, which was marked by lower natural catastrophe losses. The frequency and intensity of weather-related catastrophes are expected to increase in the coming decades, largely on account of climate changes.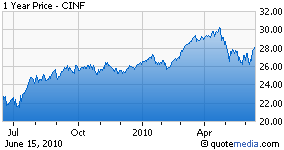 Catastrophe losses increases combined ratio, which inversely measures an insurance company's underwriting performance; the lower the combined ratio, the better. During the first quarter of 2010, Cincinnati reported a 210 basis point increase in combined ratio on account of catastrophe losses.

Cincinnati's geographic concentration ties its performance to business, economic, environmental and regulatory conditions in certain states. Though the company markets its property casualty insurance products in 37 states, its business is significantly concentrated in the Midwest region, which is prone to catastrophes which pressurizes the earnings.

Cincinnati has been suffering from sluggish top-line growth for several quarters, due to lackluster markets and economic pressure. The lingering effects of soft insurance market pricing are expected to affect growth rates and earned premium levels in 2010 or beyond, depending on when insurance market conditions improve. These conditions continue to weaken loss ratios and hamper near-term profitability. The Commercial Lines, which accounted for 75% of 2009 net written premiums, would also see weak or no business until the fragile economy strengthens significantly.

Cincinnati's Personal Lines segment has also been underperforming in the past. However, with an improvement in new business levels and strong retention levels along with rate increases that affected the homeowner line in 2009, it is expected to bring a moderate growth in 2010.

Cincinnati is also taking significant strides by implementing technology projects to improve critical efficiencies and streamline processes for the agencies, allowing it to win an increasing market share. Another positive factor is management reserving philosophies that has benefited earnings for the past several years from the favorable development of loss reserves on prior accident years.