Since 1975, the U.S. healthcare industry has used a medical condition classification system called ICD-9. Developed by the World Health Organization ("WHO"), ICD-9 classifications are primarily used for billing purposes, but also for clinical research, clinical quality measures, and as structured diagnosis data in Stage-1-certified Electronic Health Records ("HER") systems. During the late 1990s and early-to-mid 2000s, the majority of the western world switched from this system to an updated system called ICD-10, which allows for more complex classifications and more effective IT integration.
Despite these advantages, U.S. lobbyists have repeatedly managed to postpone U.S. adoption of the ICD-10 system through fear of cost implication and operational disruption. On October 1, 2014, the U.S. healthcare industry will hit a deadline that mandates the switch to the ICD10 system across the U.S. The industry-wide change offers up an investment opportunity in a number of companies. What follows are three of the best candidates. But first, an introduction to medical coding.
What Is Medical Coding?
Medical coding is the crux of the medical billing process. When a patient receives treatments in any registered healthcare facility, the treatment provider must claim payment from insurance companies or Medicare. To do so, the practitioner (or a member of their administration team) completes a claims document, which outlines the treatment and the equipment it requires. This document then goes to a medical coder, who goes through the treatment notes and assigns codes to each treatment aspect. The medical coder then sends this revised document to a medical biller, who processes the reimbursement claim.
As an example of the process, take a look at the two images below. The first is the practitioner-produced document, the second is the coder-produced document: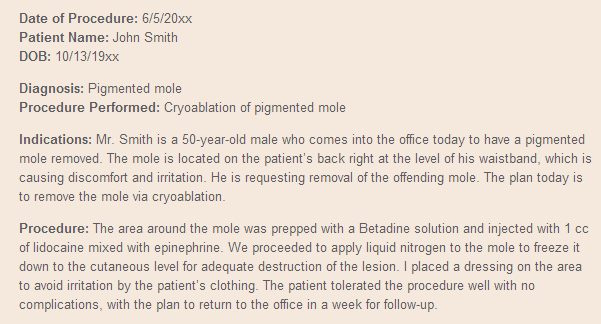 Source: AAPC
As these illustrations show, coding not only requires knowledge of the codes themselves, but a detailed knowledge of medical procedures. Without this knowledge, the claims forms will be inaccurate. A recent study conducted by Lott Group, a healthcare consulting company, revealed that 73% of the ICD-9 coding was inaccurate. With the October mandate comes a new penalty that dictates inaccurate ICD-10 coding would result in nonpayment of reimbursement. With nearly three quarters of claims being incorrect on the current coding system, you can see why educating coders will be such a high priority come October.
Two-Tiered Educational Requirements
Companies in this space will benefit from two different types of healthcare industry requirements when it comes to training coders. The first will be retraining of the current coders. The shift will raise the number of possible codes from around 14,000 under the ICD-9 system to over 155,000 under the ICD-10 system. The second requirement will be for training new coders. In a number of other countries, the changeover resulted in a 50% decline in the productivity of current coders. In addition, the Obamacare system is set to introduce 40 million new patients into the U.S. healthcare system. The combination of these two factors will drive demand for new, well-trained coders.
Nuance Communications, Inc.
Nuance Communications, Inc. (NASDAQ:NUAN) is a provider of voice and language solutions for both businesses and consumers, and is perhaps best known for its Dragon Dictate voice recognition software. The company has three main business focuses, in individual retail, business retail, and healthcare retail. Through its healthcare retail unit, and announced in September last year, Nuance developed a role-based education management program designed to aid healthcare professionals in the switchover. The training is customized, in the sense that a physician can provide Nuance with a list of their most common procedures, around which Nuance will tailor the training.
Nuance also provides Clintegrity 360, a sort of all-encompassing platform for ICD-10 coding. The assumption here is that the training will not only revolve around coding, but around coding using the Clintegrity 360 program, offering an additional revenue stream.
Problems with Debt
After a tough latter half of 2013, Nuance has recovered somewhat to trade just shy of $16, giving the company a current market capitalization of $5.11B, based on 317M shares outstanding. The company generated $1.85B in revenues during 2013, with a $1.08B gross profit and a net loss of $115M. The biggest problem the company has is debt. Though theoretically manageable at 41% of market cap, interest expense tore into its earnings last year at over $137M, which was the main reason that it operated at a loss. Additionally, its debt is not protected against rising interest rates, which is why interest expense rose significantly in 2013.
Potential investors should watch for two possible developments for the company to achieve a solid turnaround. First, it is crucial that any additional income from the ICD-10 switchover be used to pay down debt principal. Second, Nuance must seek out interest rate swap and cap agreements to protect itself against rising interest rates. If it can do that this year, the stock can turn around.
3M Company
3M Company (NYSE:MMM) is almost a household name, especially within the retail investment community, known for a huge range of technological, industrial, and engineering-related business operations. 3M offers a range of ICD-10 solutions, including training, systems conversion, translation, third-party coding services, and its 360 Encompass ICD-10 software, which is the company's answer to Nuance's Clintegrity 360. The company has worked under contract for Centers for Medicare and Medicaid Services [CMS], and will likely be near the top of the list over the next few months as institutions look to train existing coders and convert their current systems.
Finances
3M is currently trading at $133, a few dollars short of all-time highs logged at $140.25 at the turn of the new year. The company's market capitalization is a little over $88B, based on 662M shares outstanding. During 2013, 3M generated $30.8B in revenues, with a gross profit at $14.7B and net income of $4.65B.
Once again, this addition to the list represents a relatively low-risk exposure to the switchover. 3M is a much stronger company than Nuance, and pays a consistent quarterly dividend as well. The ICD-10 switchover can only serve as a tailwind for the company in the years ahead, making it a good long-term hold. While its debt is $6B, relative to equity it is only 7%, so there is less to worry about on that front, as interest rate rises won't affect it that much.
CodeSmart Holdings
CodeSmart Holdings (OTC:ITEN), and its subsidiary CodeSmart Group, is an online educational services company that specializes exclusively in the ICD-10 system. It offers a range of services, including solutions in ICD-10 transitions/support, outsource coding, coding audits, clinical documentation improvement and education, and the revenue cycle continuum. In short, the company trains people in ICD-10 coding and offers an outsourcing service whereby CodeSmart codes on behalf of other industry entities.
CodeSmart University is the company's online training platform, endorsed by more than 60 colleges and universities throughout the U.S. This platform will likely be the driver behind the company's growth during the coming six months and beyond.
Financials
The market currently values CodeSmart at just $13.09M, and the only available financials - Q3 2013 - report total revenues of $32,000, gross profit of $12,000, and a net loss of $3.57M. These figures are not particularly representative of the company's potential, however, as its main ICD-10 focus was low on the healthcare industry's radar last year. As the mandate deadline approaches, healthcare companies will be forced to divert resources towards the changeover.
CodeSmart's 2014 statements will be much more indicative of the company's potential to capture some of these redirected revenues. The company's management expects to enroll 1,000 existing coders, 1,500 clinicians, and approximately 5,000 new coders before October 2014 at costs of $1,500, $1,250, and $4,000 respectively. This amounts to approximately $10M in initial revenues. During 2015, CodeSmart management expects the company to generate $135M in revenues and $63M in net income.
CodeSmart is the speculative play out of the three options, with nearly 100% of its projected revenues derived from the ICD-10 switchover. As usual, such speculative plays come with high amounts of risk, so be aware that projections are just projections until they are realized, and there is no guarantee of this happening.
Risk/Reward Summary
A large cap like 3M generally moves with the broader market, and has only slightly elevated risk associated with company-specific factors, compared with an index fund like SPY. To compensate for that slightly elevated risk, 3M's dividend (about .6%) is a bit higher as a percentage of its stock price, compared with SPY (about .5%). On a long-term 5-year chart, you can see that it trades along with the broader market, outperforming somewhat, but not spectacularly.

Source: Google Finance
The biggest unknown with 3M is its healthcare segment, as it is impossible to know how the full implementation of Obamacare (which keeps getting postponed) will affect it. Healthcare accounts for only 17% of revenue (page 17), but was its fastest-growing segment in 2013, at 5%. 3M is more of an income long-term hold that could get a small bump from the switchover, rather than a capital growth investment or trade.
As for Nuance, as mentioned, debt could become a serious problem. This has already been picked up by investors, as NUAN has vastly underperformed the broader market since mid-2013.

Source: Google Finance
That being the case, potential upside is much larger in the event of a turnaround. If Nuance can secure the interest it pays on debt and get a significant tailwind from the ICD-10 switchover, gains could be significant as NUAN catches up with the broader Nasdaq. As there is no dividend, investors interested in Nuance should watch interest rates closely, Nuance's floating rate debt, and earnings growth as ICD-10 kicks in. To protect from downside in case debt payments get out of control, investors may want to hedge with a short bond position, for example, with put options on TLT.
As for CodeSmart, this is a pure microcap play exclusively on the ICD-10 switchover. Potential gains far outweigh the other two, but the risk of dilution is involved, as well as the risk that CodeSmart may have a hard time competing with other giants in the medical coding market. However, mitigating the dilution risk is the fact that CodeSmart has already filed 10 separate 8Ks for equity financings since November, some of which involve more than one private placement. Clearly, the company is padding its balance sheet in preparation for its main business as the switchover occurs.
As you can see from the 6-month chart below, dilutive financings have already had their effect on ITEN shares, and the stock seems to have found a bottom since the beginning of 2014. Flush with cash and the switch fast approaching, now could be a good time to take a position for those with high risk/reward tolerance.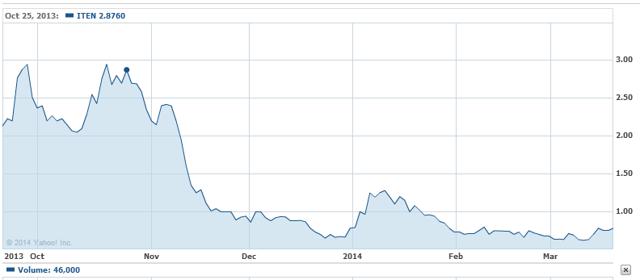 Conclusion
All said, the switchover will likely be billed as a great inconvenience to those companies and organizations it affects, with cost being billed as the root of the inconvenience. As investors, we can allocate capital where we see fit, so rather than an inconvenience, this cost represents an opportunity. Allocate resources to the industries towards which the cost will be redirected, and there is money to be taken off the table.
Disclosure: I have no positions in any stocks mentioned, and no plans to initiate any positions within the next 72 hours.
Business relationship disclosure: Business relationship disclosure: Business relationship disclosure: Market Exclusive is a team of analysts and writers. This article was written by Carlos Uribe, one of our Group contributors. We did not receive compensation for this article (other than from Seeking Alpha), and we have no business relationship with any company whose stock is mentioned in this article.
Editor's Note: This article covers one or more stocks trading at less than $1 per share and/or with less than a $100 million market cap. Please be aware of the risks associated with these stocks.