Since March 7, 2012, when the new CEO Elisabeth DeMarse replaced Daryl Otte at TheStreet, Inc. (NASDAQ:TST), the payoff, so far, from the switch has been very good for TST and investors of the stock.
Though TST generated a net profit in Q4 2013 of $213,000, after a string of 18 straight quarters of losses (beginning in Q3 2009), DeMarse said that the company isn't quite ready to show consistent EBITDA black ink for "several quarters."
But if the recent trend since DeMarse's arrival as CEO in March 2012 continues, real tangible progress at TST, on nearly all fronts of its financials, should provide little to no ammunition to the bears in 2014. The consensus appears to be that TST has reached an inflection point to the upside.
And at a 1.25 Price-to-Book ratio; a Total-cash-Per-Share of $1.60; rising y-o-y revenue growth of 7.1%; a 3.7% dividend yield; and no debt, investors aren't exactly taking a flier on this rebounding "Steady Freddie" stock.
Without getting into all the details of Q4 earnings and guidance (read the executive summary here and the earnings call here), the results were encouraging and satisfying, with a low-impact guidance inferring an improving P/L and continuing upturn in the company's Book Value.
In other words, DeMarse has established some credibility and perception of competence in this analyst's eyes, especially when the trend in the company's metrics demonstrate my case quite clearly, in my opinion.
Revenue, Gross Profit and Net Income Looking Good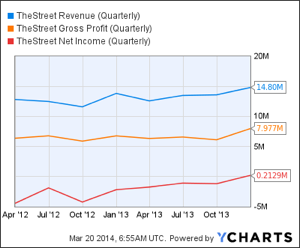 Since DeMarse took the reins of TST, revenue, gross profit and the bottom line have all improved, with the company's bottom line taking on the steepest incline of the three paramount metrics.
The combination of rising revenues, slightly lower gross margins, and rapidly falling SG&A expenses has resulted in Cash-from-Operations soaring to nearly $2MM for the fourth quarter, from approximately a deficit of $2.4MM for the first reporting quarter (Q2) of DeMarse's rein - an impressive swing of $4.4MM in only six quarters.
Revenue
On the revenue front, TST's four platforms "met or exceeded expectations," said DeMarse, with the company's subscription newsletter business - representing 80% of total revenue - rising 2.5% from Q3. "All in all, a good quarter, revenue-wise," she added.
Bookings for TST's total subscription services reached $11.6MM for Q4, an increase of 6.6%, y-o-y. Paid subscribers jumped 20.9% from Q4 of 2012, while total Bookings reached $45.0MM for the year, compared with $36.6MM for 2012.
Complaints that TST lacks 'organic growth' will now most likely vanish, as TST stated in its press release of Feb. 27 that, the 7.1% rise in revenue, y-o-y, "was primarily due to organic growth" from operations outside of recent acquisitions.
Additionally, TST delineated several avenues of new potential revenue streams, including the launch of Herb Greenberg's Reality Check; the launch of additional complimentary products and newsletters, called, Dividend Stock Advisor, Quant Ratings, Trifecta Stocks and actualer's Options, by the company's CIO Stephanie Link; and the advent of several other promotional schemes - from special offers, to advertising with NFL and College football franchises.
TST also said it would increase video production on the site, akin to Yahoo's well-trafficked video series, linked from the home page of the Finance section of the website.
At this point, it is difficult to say how effective any one stream, or collective streams of new projects and initiatives, will fair. Investors will need to follow-up on future conference calls to glean into the potential of an increased rate of revenue growth from subscriptions and advertising, especially when the environment for advertising revenue on the Internet, globally, is in decline.
Gross Margin
Gross margin was the only slight letdown, but overall, the disappointment is quite mild, as Q4 gross margin leaped dramatically, both sequentially and y-o-y. But, for the full fiscal year 2013, gross margin dropped slightly against full fiscal year 2012, though the first full quarter of DeMarse's tenure as CEO began midstream last fiscal year.
Overall, a 49.6% gross margin for 2013 isn't a dramatic enough decline from 2012 to cry margin erosion at this time.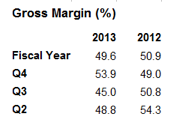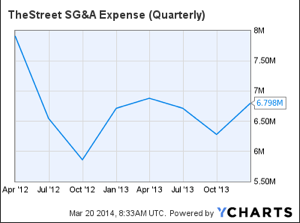 More Leveraging of SG&A
And here is where DeMarse hit the ball out of the park, since her start at TheStreet in 2012. Sales, General and Administration (SG&A) costs plummeted more than 1MM, or 14%, since Q2 2012. Growing revenue, mostly organic, according to DeMarse, while dramatically reducing the company's overhead, is a testimony to a CEO executing a plan to stop the bleed, the result of which, has been a refilling of TST's cash position to explore another acquisition.
All else being equal, investor should expect a downward bias to SG&A in the coming quarters through the increased traffic to TheStreet.com website, as "comScore shows year-over-year growth in uniques of 104% with page views of 31%," according to DeMarse. "As we grow our organic page views, we will use that as an opportunity to reduce our paid partner traffic, and try and effect savings there [SG&A]."
A quick peek at Alexa.com's "rank" statistics for TheStreet.com corroborates the announcement of a rather impressive jump in traffic to the website. From Alexa's chart of the company's ranking, the trend line higher appears quite steep since mid-2013. The traffic generated by its contributing writers and new blog has played a large role in the marked increase in the number of visitors to TheStreet.com, according to DeMarse.
Cash Position Soars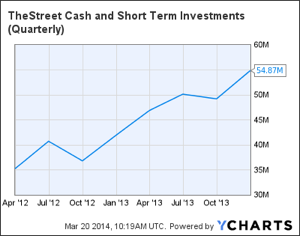 At the start of fiscal 2012, TST sported $65MM in cash/cash equivalents. That was before the acquisitions of The Deal, LLC in Sept. 2012; The DealFlow Report, The Life Settlements Report newsletters, and the PrivateRaise database from DealFlow Media, Inc. in Apr. 2013.
Following the acquisition of Deal, LLC, coupled with an operating loss in Q3 2012, TST's Cash/Cash Equivalents sank to $35MM. Today, the company has $55MM in the bank, or a very healthy 0.505 Cash/Assets ratio. Compare that ratio with the St. Louis Fed's Cash/Assets ratio of the collective of 500 stocks which comprise the S&P500.
According to the chart (below), the five categories (separated by total balance sheet assets size) that make up the 500 stocks indicate that TST's Cash/Total Assets ratio is nearly double the Q1 level (light-brown line) shown on the chart.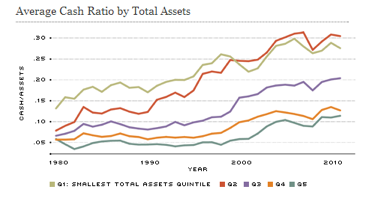 Courtesy of the St. Louis Federal Reserve
At approximately a 0.27 Cash/Cash Equivalents ratio, the chart implies that TST could stand to shed nearly $25MM of Cash and still fall at the median of the first quintile of the Fed's analysis, suggesting that TST is again in a "cash position available for acquisitions," stated DeMarse.
Further acquisitions would be welcome to investors, as growing revenue would likely outpace a tightly budgeted SG&A.
Conclusion
Though the analysis presented here is by no means comprehensive, the macro picture of TST's overall results, improved financial health, and reasonable marketing initiatives, should give investors a needed level of comfort with CEO DeMarse's performance during the six-quarter time period.
Because TST has no direct/published comparisons available to access relative strength to competitors, the company's most salient metrics reveal a turnaround is, indeed, in progress. And that barring any exogenous disruption to the model for its recovery, TST appears to be benefiting from good execution from this CEO.
Challenging revenue growth during a shrinking advertising-dollar climate could become more challenging if the bull market, which began in Mar. 2009, ends. But, for now, the company's cash position, debt-free balance sheet, 3.7% dividend payout, very high institutional/insider holdings, and reasonable valuation metrics compel me to recommend further due diligence.
Disclosure: I have no positions in any stocks mentioned, but may initiate a long position in TST over the next 72 hours. I wrote this article myself, and it expresses my own opinions. I am not receiving compensation for it (other than from Seeking Alpha). I have no business relationship with any company whose stock is mentioned in this article.
Editor's Note: This article covers one or more stocks trading at less than $1 per share and/or with less than a $100 million market cap. Please be aware of the risks associated with these stocks.