By Carolyn Austin
The Electronic Entertainment Expo meeting in LA this week has brought Star Trek's holodeck a step closer to reality. I'm talking, of course, about the new camera-based controller being served by Microsoft (NASDAQ:MSFT) named Kinect, which uses a camera array and microphone to let a player totally control a game character's body. If you've seen the film Gamer, you've got the idea.
Game enthusiasts are also talking up the new selection of 3D games. This is good news for the video game industry. According to a new PricewaterhouseCoopers survey, reported by Reuters:
… consumers in North America will spend 7.2% more this year on video game software, hardware and accessories than it did last year. That's good news, considering the industry sank by that percentage in 2009. Video games will significantly outpace the 1.2% growth in North America that all entertainment and media combined — including film, television, radio and print — is expected to notch. From 2011-14, video game industry growth will continue at a clip of 5.1%-6.5% annually.
Video game software sales generated $20 billion last year. Let's take a look at the major third-party publishers in a crowded market.
Activision Blizzard (NASDAQ:ATVI)
The maker of popular "Call of Duty" and "World of Warcraft" games, ATVI recently reported strong earnings (a 33 percent increase over prior-year quarter to $1.31 billion) and income (more than a doubled to $378 million) for the first quarter of 2010. The stock rose nearly 2 percent after the report to $11.12, even though company revised its estimates for the second quarter below market expectations.
Since then, however, ATVI revised guidance upwards and some analysts believe they will even beat the revised guidance estimates of $0.72 per year.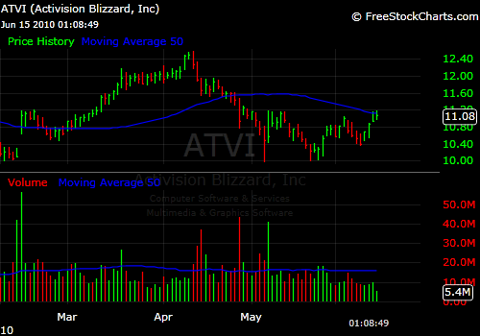 (Click to enlarge)
Comments: ATVI plans to release four new game releases for the fall, timed no doubt to create excitement for the Christmas holidays, and to expand on its existing game franchises. The stock is in a solid uptrend, bouncing off previous support, and currently trading at its pre-revised outlook price at about $11.12. The company pays a $0.15 dividend. Traders may be hesitant to buy as long as the suit filed by "Call of Duty" developers remains unresolved; however, the company fundamentals look strong enough to weather this squall and the technicals look good for a long position.
Electronic Arts (ERTS)
Electronic Arts, maker of the Sims, Need for Speed, and Medal of Honor games and distributor of Rock Band, recently reported a strong surge in sales following the launch of two new games. The company reported net income of $30 million compared with a net loss of $42 million for the same period last year. Revenue was up 14 percent to $979 million, and net revenue topped $859 million. The company predicted earnings for the year between $0.50 and $0.70 per share, in line with expectations, but anticipate a loss for next quarter.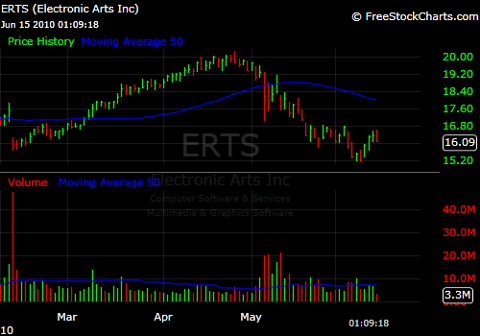 (Click to enlarge)
Comments: ERTS looks like a turnaround in the making, but volume looks weak and P/E and forward P/E show the stock as overvalued. On the other hand, the company has lots of cash and zero long-term debt, possibly grooming themselves for sale or merger? In the past, the management team has taken flak over strategy and performance, and some insider selling positions this one as a possible short (although a risky one).
Take-Two Interactive (NASDAQ:TTWO)
Take-Two Interactive, maker of Grand Theft Auto and Major League Baseball, reported a 54 percent increase in sales in their latest earnings report, large due to the popularity of its newly released western video game, Red Dead Redemption. For the first six months of the year, revenues increased 33 percent to $431 million; net loss decreased 74 percent to $16.9 million.
The increase in sales prompted TTWO to revise its forecast to an expected $0.10 to $0.30 loss from an expected $0.60 loss for the year. The company plans to release a downloadable form of the game, among others, to extend its lifespan, fight off piracy, and curtail secondary market sales.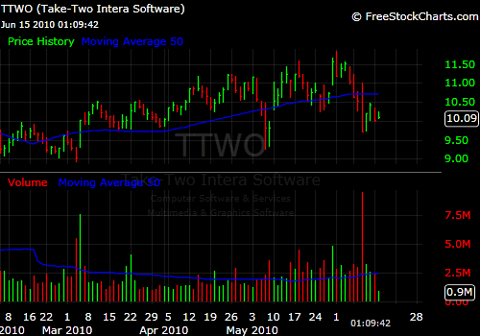 (Click to enlarge)
Comments: As a company, TTWO has solid fundamentals and looks to be creatively addressing their future prospects with its downloadable content strategy. It's also selling at a low P/E, but its recent run-up in stock price and current technical indicators (trending down) aren't rosy enough to recommend a buy. This could be one to watch for a good buying opportunity.
Disclosure: No positions