One of the hottest areas in the market nowadays is technology stocks, especially LinkedIn (LNKD), Facebook (NASDAQ:FB) and Twitter (NYSE:TWTR). Their popularity fueled my curiosity, and I decided to chose one of these stocks and dig for further analysis. Initially, I did some basic calculation to figure out how much a single user of these companies is worth. Table below shows the Price/MAU of Facebook, Twitter and LinkedIn.

As you can see, LinkedIn is the stock that looks cheap based upon the above mentioned metric. So I selected LinkedIn for further analysis. While comparing the company's results with the above mentioned peers, I observed that it has generated a return of 16.7%, which is on the lower side compared to the 48% return of Google (NASDAQ:GOOG) and 157% return of Facebook.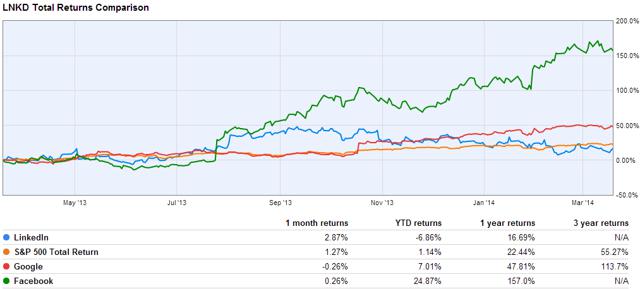 Source: Ycharts.com
Brief History of LinkedIn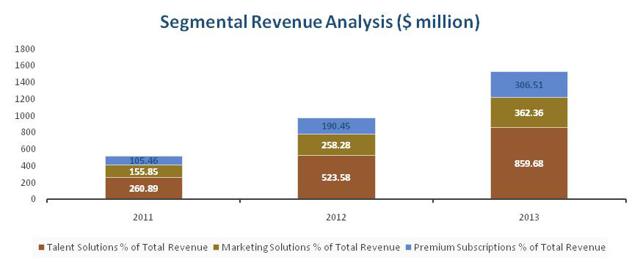 Source: LNKD 10K and Earnings Release
The company's Talent Solutions segment is the major contributor to the company's total revenue, as shown in the graph above. LinkedIn recorded a decline in revenue growth for all of its segments in FY 2013 in comparison to revenue growth recorded in FY 2012.

Source: LNKD 10K and Earnings Release
America is a major contributor to the company's revenue, as you can see from the chart above, and the company's revenue growth from this region declined in FY 2013. America contributed 68.81% to the company's total revenue in FY 2013, down from 79.18% in FY 2012. On the other hand, EMEA revenue contribution increased in comparison to APAC region.
The company generated 58.32% of its revenue from field sales in FY 2013, up from 55.08% in FY 2012. Contribution of the online sales to the company's total revenue declined from 44.92% in FY 2011 to 41.68% in FY 2013.


Source: LNKD 10K and Earnings Release
Overall, the company's revenue growth declined in FY 2013 as a result of staggering growth in all of its segments, geographic regions and channels.
Bottom-line Performance Analysis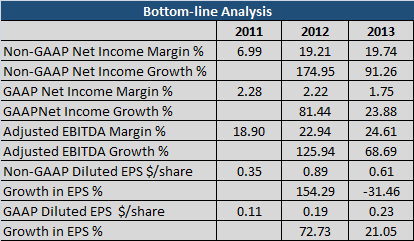 Source: LNKD 10K and Earnings Release
The table above shows an improvement in the company's non-GAAP net income margin, from 6.99% in FY 2011 to 19.74% in FY 2013. On the other hand, the company's GAAP net income margin declined from 2.28% in FY 2011 to 1.75% in FY 2013. The company's adjusted EBITDA margin improved from 18.90% in FY 2011 to 24.61% in FY 2013. Overall, the company's non-GAAP and GAAP net income as well as the company's EBITDA increased in FY 2013 but with a lower growth rate in comparison to the growth rate in FY 2012.
The company's non-GAAP diluted EPS recorded a decline of 31.46% in FY 2013 compared to the previous year's growth of 154.29%. The company's GAAP diluted EPS increased to $0.23 per share in FY 2013, up from $0.19/share and $0.11/share in FY 2012 and 2011, respectively.
Let's do some math
Now let's do some calculations and see whether the current price of LinkedIn is justified or needs correction. In my analysis I checked how much LinkedIn current earnings have to grow in five years in order to justify its current high price. I have used very simple assumptions for my analysis. Firstly LinkedIn current P/E stands at a mind boggling level of 887, which is quite high. Usually as the firms mature their P/E ratio falls. So I assumed that over five years LinkedIn price to earnings ratio will fall within the range of 30 to 150. This assumption is optimistic as you know that even the fastest-growing companies typically do not have P/E ratios higher than 30 or 40. My second assumption is about growth in stock price of LinkedIn. I have assumed that LinkedIn's stock will grow at a rate of 15% to 30% each year for the next five years. LinkedIn is riskier than the market so it has to provide a return greater than the market in order to justify its high risk.
After incorporating these assumptions, I ran a sensitivity analysis to quantify the required growth in LinkedIn's earnings that would justify its stock price. Results of the analysis are shown in the table below:

First column shows the P/E earning multiple whereas the first row shows the CAGR in the stock price of LinkedIn. My base is highlighted. If LinkedIn's P/E multiple falls to 70 over the next five years from its current unrealistic level and price witnesses an increase of 15% each year for the next five years then its EPS should be around $5.68 from its current level of 0.22 cents. How many of you think that this is achievable?
Now let's take a look at the growth rates LinkedIn needs to achieve this EPS.

Considering my base case of 70 P/E and 20% annualized growth in the stock price, LinkedIn needs to grow its EPS by of 73% over next five years. In my opinion such growth rates are very unlikely and if you don't like the numbers you can do this simple calculation all by yourself but believe me that the results will be the same.
Bottom line
It's true that LinkedIn is a very well managed company and is growing at a good pace. Its EPS and revenues are growing nicely. The company has several competitors like Monster (NYSE:MWW) in the recruitment services market, as well as social networking portals like Facebook and Twitter. To some extent, the company also faces competition from Google and Yahoo (YHOO) in the online advertising marketing. All these factors make me question the realization of the growth rate that is required to justify its current price. Though I admit that stock prices are set by the investors in the market and not by certain ratios, still in my opinion, there is no way such a high P/E multiple can be justified. Hence, I think that the LinkedIn's stock needs a significant price correction and I suggest that this is not a good entry point for investors to invest in LinkedIn.
Disclosure: I have no positions in any stocks mentioned, and no plans to initiate any positions within the next 72 hours. I wrote this article myself, and it expresses my own opinions. I am not receiving compensation for it (other than from Seeking Alpha). I have no business relationship with any company whose stock is mentioned in this article.