There are always a few bright spots in markets, even when the overall story is weak. That has been the case with certain commodity sectors, including coffee, natural gas and palladium over the past few months. It has also been the case with certain stocks with exposure to those commodities, as well as those which are simply outperforming their peers.
We think now is the time to close out some of these winning trades, especially as momentum has carried some past levels which we believe to be either realistic or appropriate on a valuation standpoint at this time. In some cases the news flow has turned and the picture is not looking as good as it did only a few weeks ago. Either way it does not hurt to take some risk off of the table right now and rotate into areas with better value and maybe even better momentum.
Chart of the Day:
We noticed an interesting article from Bloomberg today (located here) which discusses the coffee crop in Vietnam. As many readers are aware the price of coffee has zoomed higher on drought conditions in Brazil, so the decreased chance of those same conditions occurring in another important coffee producing region is obviously leading to traders selling. This paired with Brazil reassuring the market that there are ample coffee stocks might be reason enough to finally book all profits for those who bought the iPath Dow Jones-UBS Coffee Total Return Sub-Index ETN (NYSEARCA:JO) near the lows.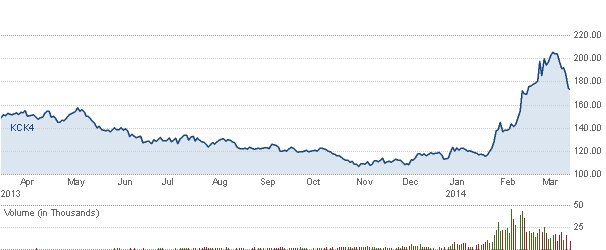 Source: CNBC
Commodity prices this morning are as follows:
Gold: $1,336.80/ounce, up by $6.30/ounce
Silver: $20.365/ounce, down by $0.065/ounce
Oil: $99.98/barrel, up by $1.08/barrel
RBOB Gas: $2.9233/gallon, up by $0.0278/gallon
Natural Gas: $4.318/MMbtu, down by $0.051/MMbtu
Copper: $2.9555/pound, up by $0.027/pound
Platinum: $1,437.40/ounce, up by $2.60/ounce
China's Iron Ore Ambitions
In what might be a watershed moment for the iron ore producers, namely Vale (NYSE:VALE), Rio Tinto (NYSE:RIO) and BHP Billiton (NYSE:BHP), China has announced plans which would create a large domestic iron ore producer that in the next decade could produce enough iron ore to meet half of the Chinese market's demand.
The Reuters story discussing this plan can be found here. Now to be fair, it does need to be noted that China only imports 70% of its iron ore demand, so the country does not even have to double current production in order to meet this ten year plan. The real issue comes down to cost, and that is where China is going to have to really focus their efforts, because like most of their various mining industries the production is about twice as expensive as the iron ore they import. If the industry can be streamlined and inefficiencies eliminated, then this might be a big issue for the major iron ore producers moving forward, but thus far the Chinese have not had much success when it comes to overhauling certain mining sectors or even meeting their timelines for doing so. We will continue to watch this however.
Take Some Profits...
Even though we maintain bullish outlooks on many names for the long-term, we always find it prudent to respect our initial intentions of entering an investment. Sometimes external factors can change a long-term investment into a short-term opportunity, but we have found that when buying something for a short-term trade it is usually best to take profits when the opportunity arises.
With the stock now fighting the $50/share level, we think that the resistance might come back into play. Either way it appears time to close out a successful short-term trade for those who have not already. Holding long-term positions through this would not get an argument from us.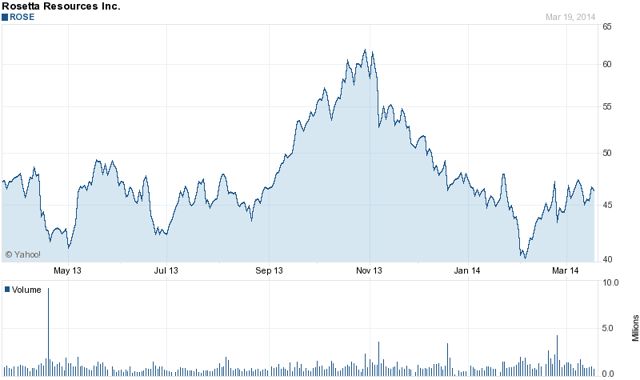 Source: Yahoo Finance
Which brings us to Rosetta Resources (NASDAQ:ROSE) this morning. We have now successfully called entry points in the $40-45/share range over the past few years more than we would like to count, and our most recent call has been no different. With the stock rising sharply today we think that now might be a good time to close out the entire trading position that readers set up. We like the name long-term, as we have stated before, but this was a trade on valuation and with that gap having closed and serious gains on the table we want to take some of the risk off.
Disclosure: I have no positions in any stocks mentioned, and no plans to initiate any positions within the next 72 hours. I wrote this article myself, and it expresses my own opinions. I am not receiving compensation for it (other than from Seeking Alpha). I have no business relationship with any company whose stock is mentioned in this article.