It was about a year ago when I purchased two of Cree's (NASDAQ:CREE) LED light bulbs for my home as an experiment to see if I liked them.
When these Cree LED bulbs were introduced to the market in March of 2013, Cree's CEO, Chuck Swoboda, put it like this:
"The Cree LED light bulb was designed to offer consumers a no-compromise lighting experience at a compelling price. Over the last couple of years we recognized that the consumer is instrumental in the adoption of LED lighting, but we needed to give them a reason to switch. We believe this breakthrough LED bulb will, for the first time, give consumers a reason to upgrade the billions of energy-wasting light bulbs. We could not think of a better way to get this bulb into consumers' hands than through The Home Depot, a visionary partner that embraces innovation."
Mr. Swoboda was right. One year later, Cree's LED light bulbs are the number one selling LED bulb in America, something I'm sure Home Depot (NYSE:HD) is glad to participate with.
To help keep the momentum going, Cree has announced price cuts to LED bulbs as well as introducing a 100 watt equivalent LED bulb that emits 1600 lumens and uses only 18 watts of electricity.

Today, all of my frequently used bulbs in my home are Cree LED.
If there is anyone still unsure about why LED bulbs simply make the most economic sense, see this chart below where I compare the following 4 kinds of 60 what equivalent light bulbs based on using them 3 hours a day at an average electric rate of 23.2 cents per kilowatt hour, which was the average electric rate for New York, Northern New Jersey and Long Island for January of 2014. I compare them to the cost of the life of the LED light bulb from Cree which should last 25,000 hours or 22.8 years when used 3 hours per day.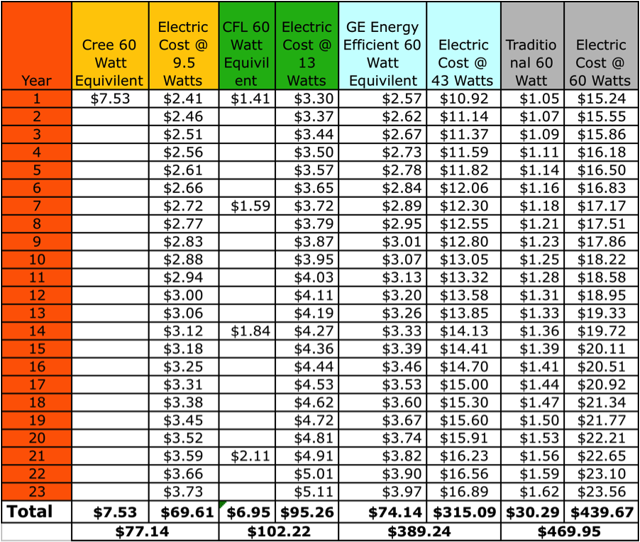 Note: Cost of bulb includes an 8% sales tax and an annual inflation rate of 2% was applied for both the cost of replacement bulbs and electric costs. Electricity costs is based on use of bulb 3 hours a day, 365 days a year for a total of 1095 hours of use per year. (Example, the 60 watt per hour bulb used 1095 hours = 65,700 watts or 65.7 Kilowatt hours and at 23.2 cents per kilowatt hour, the cost of electricity alone is $15.24.)
Source for wattage and cost of bulbs found here:
GE Energy Efficient
Sylvania 60 Watt incadescent
Compact Florescent Lightbulb
Cree 60 Watt Equivalent LED
Both the GE Energy efficient 60 watt bulb equivalent and the traditional 60 watt incandescent bulb costs are simply off the charts vs. both LED and CFL bulbs.
Both of these bulbs are energy hogs and the cost of the energy alone makes these bulbs, quite frankly, "poor man's bulbs" for lack of a better way to call out anyone that is still buying them. Not to mention the need to replace them every 1,000 hours of use, which could be about once a year.
While the CFL (compact florescent light) bulbs are far more efficient as they require just 13 watts of electricity, they still need to be replaced every 8,000 hours or every 7.3 years if using 3 hours a day. Also, the bulbs contain a small trace of Mercury that requires they get appropriately recycled.
This leaves us with the choice of LED light bulbs, in this case, a Cree 60 Watt equivalent that uses just 9.5 watts of electricity and lasts 25,000 hours.
The bulb that makes the most economic sense continues to be the LED. With the recent price cut by Cree for their MSRP of $9.97, Home Depot went even further and now offers the bulb for just $6.97, an investment American households should make today.

The average home has about 40 light bulbs. Buying 40 of Cree 60 watt equivalent LED light bulbs at $6.97 + 8% tax would cost $301.10.
That might be the last time you would need to buy another light bulb for the next 20-plus years and the cost of running those light bulbs is the best option.
What needs to be hammered home is the economics of LED light bulbs. Since Cree is America's No. 1 selling LED light bulb, Cree should prove to be the company that will reap the benefits as LED light bulbs make their way toward 100% market adoption. That adoption rate will take time for sure.
I recently spoke with Mike Watson, VP of Product Strategy at Cree, to both discuss the one-year anniversary of the introduction of the 40 and 60 watt equivalent bulbs to consumers and to answer some questions I had.
One terrific highlight Mr. Watson shared with me was that they have calculated that sales of LED light bulbs in America have enabled over $1 billion in lifetime energy savings for consumers.
Cree sent me a sample of their 100 watt equivalent bulb they recently introduced for my own review. It's a larger size than the 40 and 60 Watt equivalent. It lights beautifully and provides 1600 lumens of light. It's sure to be a home run for Cree.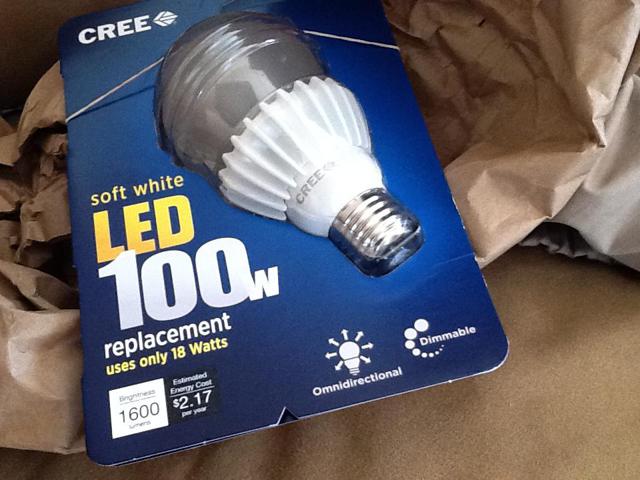 I asked Mr. Watson about other varieties of LED bulbs like 3 way light bulbs, lower wattage light bulbs that provide a dimmer light or LED light bulbs for chandeliers to which he replied that they of course do have a road map of future products and that they were launching what the market wants in terms of volume of what can be sold and adopted first.
I mentioned the importance of selling the educational side of the economics of these bulbs, especially for commercial and Government use. In essence, the faster America as a society switches to LED light bulbs, the faster the billions of dollars in savings we can have.
Mr. Watson made the point of describing that their strategy was to get the bulbs into the homes of the consumers and from there, those same consumers will "see the light" and demand to see LED light bulbs in their offices and government buildings as well. I agree with that strategy.
The trend of sales growth should remain very robust for their 2nd year setting the stage for further market adoption. Cree is already America's #1 selling LED light bulb. The introduction of their new 100 watt equivalent bulb at a price point of just $19.97 coupled with price reductions in many of their bulbs for consumers should also help drive sales momentum.
In Cree's most recent quarter ended December 29th, 2013, total revenue for the quarter was $415,086,000 of which $173,656,000 was from "lighting products" which is where the LED light bulbs fall under. Lighting products were 42% of Cree's overall revenue.
Aggregate revenue grew 20% in the most recent quarter vs. the prior year and revenue from the lighting products segment grew 42% from the prior year.
The LED light bulbs to the consumer are the driving force to Cree's aggregate revenue growth and this trend should continue as simply the economics of these bulbs should sell themselves.
I have high expectations for revenue growth for Cree. The lighting products segment under which the 40, 60, 75 and now 100 watt equivalent LED light bulbs sell under should continue to be the driving force behind Cree's aggregate revenue growth for the next 12 months.
Analysts project aggregate sales of $1.65 billion in fiscal year ending June 2014 and for sales to rise to $1.95 billion in fiscal year ending June 2015 for an increase in overall sales of 18.10%.
Investors should continue to pay close attention to the sales growth of the lighting products segment and like me, should have high expectations.
Disclosure: I have no positions in any stocks mentioned, and no plans to initiate any positions within the next 72 hours. I wrote this article myself, and it expresses my own opinions. I am not receiving compensation for it (other than from Seeking Alpha). I have no business relationship with any company whose stock is mentioned in this article.