Well hot dog, we got our Follow Through Day ().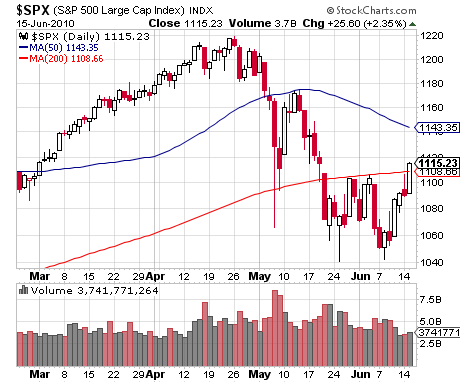 Sharp rallies accompanied by heavy buy-volume across the major indexes tells us institutions are showing some interest in the long side of this market.
Some of our friends in the media suggest it's all due to less fear over European concerns, but to us it's just good old fashioned buying.
This type of follow through off market lows has been evident in every major bull move. But not all follow through has led to sustained rallies.
As the major averages poke above their 40-week moving averages we want to see them gain traction.
It's important quality leadership step up here. While the not so bullish indication of Oil Services leadership led Tuesday's action with a 5% rally, it's more encouraging that we got some traditional leaders of sustainable rallies from Semiconductors (NYSEARCA:SMH), up 4.5%, Technology (NYSEARCA:IGN), up nearly 3% and Transportation (BATS:IYT), also up nearly 3%.
Further confirmation in coming sessions from other key sectors, like Retail (NYSEARCA:XRT), up more than 1%, and Finance (NYSEARCA:XLF), up more than 2%, would be positive signs for the broader market. We want to measure this action weekly as one day weighs little in the bigger picture.
And as Growth Stock buyers, we want to see recent breakouts stick from top stocks such as Mercadolibre (NASDAQ:MELI), Chipotle Mexican Grill (NYSE:CMG), Akamai Technologies (NASDAQ:AKAM) and Deckers Outdoor Corp. (NASDAQ:DECK).
We have a number of other top stocks poised to follow these leaders. Much of their success will be tied to the number of their peers that can continue to chug higher.