QRxPharma (OTCPK:QRXPY) (simply referred to as QRX in this article) is an Australian biotech that you probably haven't heard of much. In fact I didn't know about it until very recently. However when I started to research the company, stock, and trade opportunity… I couldn't help but say "Crikey."
It won't be seen mentioned in any internet articles, you won't see it mentioned on twitter or stocktwits, it won't be mentioned on CNBC, and the vast majority of biotech traders have no idea it exists. Although it seems counterintuitive, fact it has garnered such little attention is a major positive for anyone looking to get in a trade with a very favorable risk/reward profile.
The company has a pending announcement regarding an FDA Advisory Committee, as well as a regulatory date in late May. With a very low float, and two extremely important catalysts, the clock is ticking before QRPXY starts a nice move to the upside in a very short time.
I believe there is ~75% upside in shares of QRX in the very near term as a results of these important events.
Company Current State Overview
QRxPharma Limited (ASX: QRX and OTCQX: QRXPY) is a specialty pharmaceutical company focused on the development and commercialization of new treatments for pain management and abuse prevention products. The Company's Dual Opioid platform technology - a patented fixed-ratio combination of morphine and oxycodone - provides effective analgesia while decreasing the frequency and severity of clinically important opioid-related side effects. QRxPharma has three complementary pain management product formulations in late and early stage clinical development including: Moxduo IR, an immediate release oral capsule for acute pain; Moxduo CR, a controlled release oral tablet (with abuse deterrent and tamper resistant technologies) for chronic pain; and Moxduo IV, an intravenous formulation for moderate to severe hospital-based pain (Source: QRxPharma Website).
Financial Information:
At year-end 2013, QRX was debt-free and had $17.2M in cash, which is sufficient to fund operations for over one year and through the potential launch of MOXDUO during the second half of 2014 if approved by FDA in late May
In December, completed a $11.6M financing. This included $4.1M in common stock sold to existing shareholders through an oversubscribed share purchase plan. All shares in the offering were sold at $0.60 (equivalent to $3/share for the US ADR stock listing QRX) with approx. 164M shares of common stock outstanding on a post-offering basis for the primary Australian Stock Exchange (NYSE:ASX) listing QRX.AX-approx. 33M shares of equivalent common stock outstanding for the US ADR QRX
QRX's Key Product
QRX's portfolio includes three complementary morphine/oxycodone products: an immediate-release oral capsule for acute pain; a controlled-release oral tablet (with abuse deterrent and tamper resistant technologies) for chronic pain; and an intravenous formulation for moderate to severe hospital-based pain.
The product that will drive share appreciation in the near term and lay the foundation for the other products in its portfolio is the immediate-release version. QRX's lead Dual Opioid, Moxduo IR, is targeted to be a first-line therapy for patients with acute moderate to severe acute pain. Moxduo IR is a patent-protected combination in a fixed 3:2 ratio of morphine/oxycodone available in 4 different strengths.
Moxduo offers many benefits over the current standards of care, including:
A better safety profile, with documented safety advantages
Being the only opioid-opioid combination product available
Easily identifiable initial target patient population
A potential marketing advantage at launch due to anticipated Vicodin loss of market share from the recent rescheduling to Class II
Equal or greater efficacy with better tolerability (less severe adverse events)
The following two slides are taken from the company's latest corporate presentation (Link: Corporate Presentation) and provide a good overview of Moxduo's advantages compared to the current standards of care.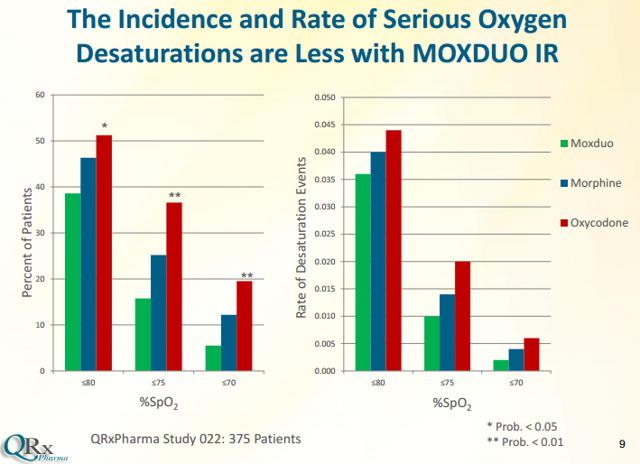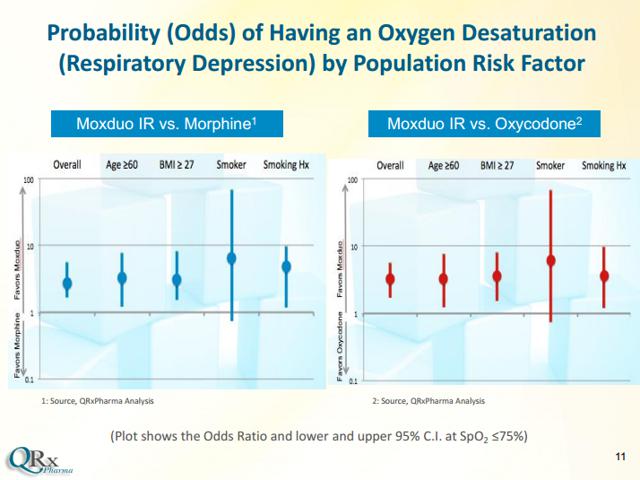 Moxduo has several key things going for it that would potentially allow it to immediately steal market share from the established names. Pain management specialists are already familiar with oxycodone and morphine and only need to be sold on the favorable adverse event profile of MoxDuo.The US is in a "Painkiller Boom" … due largely in part because of the introduction of Oxytocin, but safety is becoming more in focus (as illustrated by the negative spotlight currently being shined on Zohydro) Moxduo stands to benefit the most as they appear to be the leader in that area compared to the others.
The table below provides additional insight into how Moxduo compares to other drugs, and helps justify the notion that MoxDuo IR is better than morphine or oxycodone alone.
Source: Company Data
Moxduo's safety profile sets it apart from others. In June 2011, an Adverse Events initiated in January 2011, was designed to highlight the lower side effect profile of MoxDuo when equianalgesic doses of MoxDuo were compared with either oxycodone or morphine.
The Adverse Events study was conducted, with the focus being to generate data that would naturally highlight the safety advantage of MoxDuo IR. The study found that Respiratory depression associated with MoxDuo IR was less severe and of shorter duration than for morphine or oxycodone alone (p < 0.02), which was the primary endpoint. The importance of the Adverse Events study was that it showed clear superiority in respiratory depression, which is what really counts. In studies of opioids, nausea and vomiting are mere "adverse events" but respiratory depression is a serious adverse event because it can kill the patient, and respiratory depression is generally the most common serious adverse event with opioids.
Although the near term focus will be on the IR product, QRX's other products warrant notice given previous trial results, and the recent spotlight on Zogenix's (NASDAQ:ZGNX) Zohydro.
QRX provides the following description for its CR formulation:
"The controlled-release (NYSE:CR) formulation is designed to provide at least 12 hours of analgesia in patients suffering from moderate to severe chronic pain. Study results have demonstrated superior bioavailability and sustained blood levels for well over 12 hours, especially in the 12-24 hour period, when compared to OxyContin. Additionally, Moxduo CR is formulated with QRxPharma's proprietary, abuse deterrent technology known as Stealth BeadletsTM technology."
Unlike Zohydro, this formulation is tamper resistant, abuse deterrent, and reduces abuse by nasal insufflation (snorting) or injection following dissolution in a solvent such as water or alcohol.
Lastly, there is the IV formulation, described by QRX as:
"Moxduo intravenous (IV) is designed to address hospital-based, post-surgical pain. Studies comparing the efficacy and safety of Moxduo have demonstrated that QRxPharma's formulation of Moxduo IV resulted in less drug administered, fewer side effects and offered better pain relief than morphine alone."
The Catalyst
The impending catalysts for QRX both revolve around dates in which Moxduo IR will be considered for approval in the United States. While the results of both events will have a highly correlated impact on the share price of QRX, these fixed dates create an ideal environment for biotech traders.
May 25, 2014 is the Prescription Drug User Fee Act (PDUFA) date for Moxduo IR. The Moxduo IR new drug application (NDA) was refiled with the United States Food and Drug Administration (FDA) in November 2013 (Link to the announcement: QRX PR). Notice the use of the word "refiled" here as opposed to "filed" ... I will go into detail on that element of the story shortly.
The May PDUFA date for Moxduo IR will be preceded by an Advisory Committee meeting. QRX has guided that it expects the meeting to be held in early Q2, 2014. And as of this morning, it looks like that is official based on this update in the Federal Registrar.
Why did the company have to refile, you ask? Great question, here is a quick rundown of the events the caused the delay and subsequent refiling.
July 2011- QRxPharma Announces NDA Filing for MoxDuo® IR
Nov 2011- FDA sets PDUFA date for MoxDuo® IR in June 2012
June 2012- FDA issues Complete Response Letter (NYSE:CRL)
Feb 2013- QRxPharma Resubmits MOXDUO® New Drug Application to the FDA
March 2013- FDA sets MOXDUO Advisory Committee Meeting
May 2013- FDA sets new PDUFA date for MOXDUO NDA
Aug 2013- Complete Response Letter from FDA regarding MOXDUO NDA
Nov 2013- QRxPharma Refiles MOXDUO New Drug Application with the FDA
Dec 2013- QRxPharma Announces 25 May 2014 as New PDUFA Date for MOXDUO NDA
Key things to highlight from the previous delays:
The initial CRL was due to the FDA requesting additional analysis of the safety trial (Study 022) demonstrating safety advantage vs. equivalent doses of morphine or oxycodone in regards to oxygen desaturation levels
The completed compiled an additional data package to show the efficacy and safety quickly and gathered over 30 million data points to resubmit to the FDA
The August 2013 CRL did not question either safety or efficacy data of the trial results, it was more related to data quality given a miscalculation in time zones and daylight savings
The FDA indicated that as was the case previously, there will be an AdCom
This is the 3rd attempt at approval for QRX, and the data overwhelmingly show that a company needs to gain approval by the 3rd attempt at a resubmission. Data shows that if approval isn't granted at that point, the chances of ever being approved are almost 0%.
Obviously being rejected twice by the FDA is not a positive thing by any means. However the "Rule of 3" certainly applies here for QRX, and supports the notion that this is essentially a "make or break" moment for them. However, given the relatively immaterial nature of the second CRL, I believe the odds of Moxduo IR being approved by the FDA this time around are extremely high.
Valuing QRX shares
As it stands now QRX has a market capitalization of less than $140M, yet the market opportunity for the Moxduo portfolio is significantly higher. In an effort to garner a better idea of where shares should be trading at, I put together (as well as compiled) various valuation models and target prices.
While I am skeptical of putting too much stock into (pun intended) DCF Models in clinical stage biotechs, it does help manage investor and trader expectations. DCF price targets can trivialize the complexity of placing a value on this type of company, as there are too many assumptions and variables that are force fed into an otherwise straightforward methodology/approach.
Before diving into the figures, here are the "base case" assumptions and considerations taken into account when valuing QRX, starting with information provided in the company's latest corporate presentation.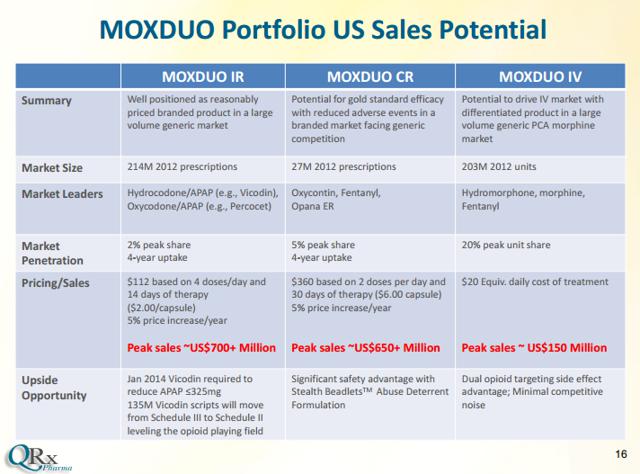 In addition to a DCF Analysis, one could a sum of the parts analysis to value QRX. Although technically just one drug, the different formulations/target markets can justify this type of analysis.
Another option to value QRX would be to simply apply a 3-5X multiple to peak sales of Moxduo.
The point I am trying to make is that there are many, many different assumptions and scenarios that could play out for MoxDuo and QRX. Rather than trying to create a specific model to get a valuation, one would be just as well off if they simply understand a potential range of values you get when using the different methods/assumptions.
QRX will likely get a shot at a piece of the very large, $17B pie, but just how big that slice will be is dependent on several factors. From a market standpoint, it appears that things are falling in the right direction for QRX and potentially paving the way for a "best case" scenario for the Moxduo portfolio. Additionally, as I have referenced several times within this article, there has been major scrutiny towards Zogenix's Zohydro since the FDA approved the drug last October. It is safe to say the approval was not expected, and Zogenix saw its market valuation rise form <$200M to nearly $800M in the months following the FDA's decision. However, recently shares have been under a lot of pressure as there is continued chatter about government regulation to ban the drug and keep it from reaching the market. Zogenix saw its value increase ~$500M in the months following the approval of Zohydro ER (which would be comparable to Moxduo CR).
Despite the seemingly non-existent coverage in the US, there are still analysts that have covered the stock in the past. The table below summarizes their sentiment, and a more detailed overview can be seen by visiting this site.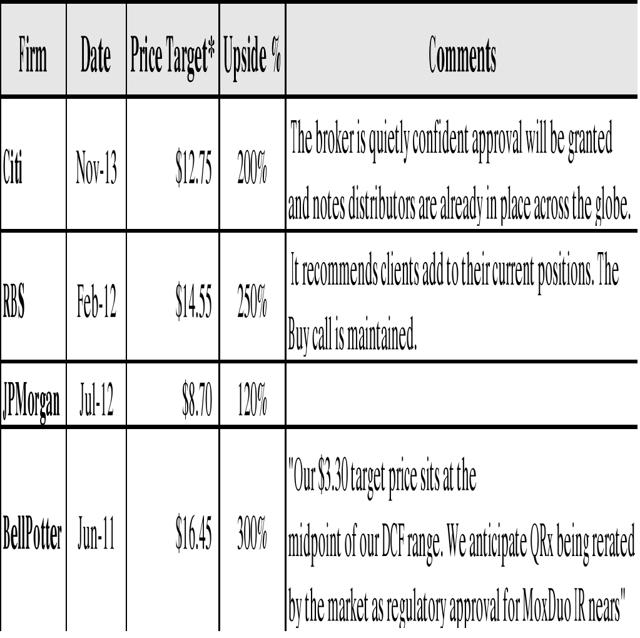 Based on everything mentioned above, and after putting together several models, I feel comfortable in saying that Moxduo IR by itself makes QRX easily worth $200M+. That valuation would represent ~40% upside from current levels. In more optimistic models, where MoxDuo CR makes it to market, the value of QRX shares have significant upside from these current levels, and would result in 150%+ returns. This valuation is not out of the realm of possibility whatsoever for QRX if certain things pan out in the coming years.
At this point in time, it is safe to say that shares of QRX seem significantly undervalued leading into these pivotal catalysts.
Caveat Emptor: There are Always Risks to Consider
With every reward comes some degree of risk. QRX is not without risk.
Regulatory Risk - If Moxduo does not get FDA approval this go around, QRX is done for.
Clinical Risk- There is the risk that MoxDuo IV and CR could fail to perform well in the late stage trials.
Timing Risk - There is the risk that Moxduo CR could take much longer to widely to gain regulatory approval (if ever), and with the lack of a special protocol assessment (NYSE:SPA) in place, the FDA could ask for additional data when the company files for approval.
IP risk - There is the risk that QRX could find itself locked in dispute over patent infringement should its science be found to lean too heavily on unrelated or unlicensed predecessor science.
Dilution/Capital Risk - A secondary offering would not be welcomed with open arms.
Current Sentiment and Trade Strategy
When trading small cap biotechs, identifying potential risks is just as (if not more important) than identifying reasons to buy. There is a set of factors that should be evaluated, and typically when a company raises a red flag in one area, additional red flags arise as well.
These factors include, but are not limited to:
Share count dilution via a secondary offering in an effort to raise cash
A parabolic move in stock price without a logical reason as to why
A lack of credible partnerships, or partnerships that don't clearly define the agreement terms
Constant stock pumping and promoting, coupled with a "cult investor" base of longs believing a management team that is deceptive and not straightforward
Trial data that does not justify meaningful sales potential because of efficacy and/or safety
Three prime examples that come to mind about companies who exhibit most or all of these characteristics are Amarin (NASDAQ:AMRN), Galena (NASDAQ:GALE), and QRX's fellow countryman Prana (NASDAQ:PRAN). Just take one quick look at a chart of the first two and you can see the outcome of the stock price (PRAN will soon follow in their footsteps I believe). Fortunately for QRX shareholders, or those looking to initiate a position, QRX passes that initial "sniff test."
But before doing that, let's check and make sure QRX doesn't fall into that category.
PASS (Offering out of the way)
PASS (Been basing for over a month now with very tight Bollinger Band Width)
PASS (Lucrative deals with several quality pharma companies throughout the world)
PASS (Quite possibly the might be the most under the radar biotech catalyst play ever…nobody knows about it yet)
Neutral (FDA confirmed CRLs weren't due to safety or efficacy)
At this point in time, QRX is trading in a tight range and waiting for confirmation of the AdCom date. I believe the AdCom announcement alone will act as a catalyst to prop the stock up and will ignite a run up into later April and May. QRX is still anticipating the company will have an AdCom date in April and has been preparing accordingly.
From a technical standpoint, the stock has attempted to break out a couple times this year, but been rejected by the 100 day EMA each time. Once it can clear that and get about ~$4.25, I imagine a very solid trade will be ripe for the taking, as it will be trading in the gap left from early September. From a valuation perspective, I think there is significant upside in both the near term on MoxDuo IR approval and in the long term with all 3 MoxDuo products. With the risk of dilution out of the way, and clearly defined catalyst dates, I think the risk/reward for buying shares of QRX is a no brainer around $4.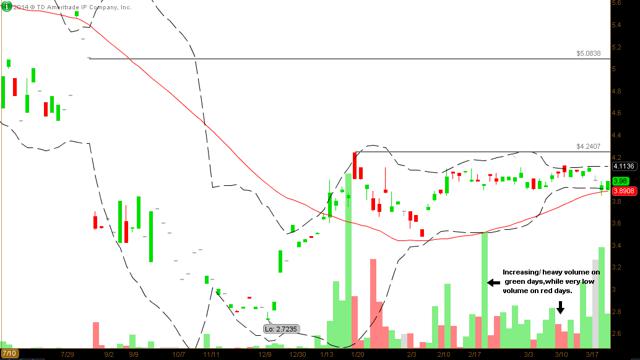 I estimate a good chance (80%+) for a favorable FDA advisory panel vote for QRX given the CRL issued by FDA did not raise any safety or efficacy issues from the pivotal study data and the upcoming ad-com will be focused on reviewing the results from Study 022. Also, there would be no rationale to reject MOXDUO unless there were serious concerns over the trial data--especially given the controversial approval of Zohydro ER on the basis that rejecting the drug would require examining similar approved opiate pain relievers.
As I mentioned earlier, this trade idea isn't on the radar for most (so it seems), which is just one more reason why this would be an ideal time to pick up shares. Given its low float, and the general herd like buying nature observed in small cap biotech, QRX could move very quickly once the move starts.
Disclosure: I am long QRXPY. I wrote this article myself, and it expresses my own opinions. I am not receiving compensation for it (other than from Seeking Alpha). I have no business relationship with any company whose stock is mentioned in this article.