The Company
The Monaco-based GasLog (NYSE:GLOG) is an international owner and operator of Liquefied Natural Gas ("LNG") vessels. The company owns, operates, and manages highest-quality, modern high-spec fleet of LNG carriers. GLOG has two main operating segments: Vessel Ownership and Vessel Management. In the Vessel Ownership segment, the services provided primarily consist of chartering out company-owned LNG carriers, and in the Vessel Management segment, the services provided consist of LNG carrier technical management services, as well as LNG carrier construction supervision services and other vessel management services provided to the company's Vessel Ownership segment and to external third-parties.

Source: Company Documents
Investment Thesis
GLOG offers investors strong earnings growth and highly-visible cash flows over the next several years. The company offers investors a chance to gain favorable exposure to the positive long-term demand fundamentals of the global LNG market. GLOG's modern fleet of 18 high-spec LNG ships, secured cash flows with reputed counterparties, strong portfolio of solid long-term charters, ability to expand through both new-builds and second-hand vessels, and the company's reputation for highest operational standards and technical reliability provide controlled exposure to the growing demand fundamentals of the LNG shipping market and are supportive of its strong growth story. Although the LNG shipping industry could face near-term challenges as vessels are delivered before the new liquefaction projects come online, the long-term fundamentals remain very positive. With the growing number of liquefaction and re-gasification facilities, the demand for seaborne cargoes should remain strong, while the high barriers to entry of owning (high cost/financing requirements) and operating (technically challenging operations) LNG vessels should keep the supply of vessels in check in the long term. Finally, potential formation of an MLP and new vessels' addition should provide further upside to GLOG.
Modern Fleet of High-Spec Ships
The company owns 18 modern, high-spec LNG vessels, and most of them are built at Samsung Heavy Industries (OTC:SMSHF), the world's leading LNG shipbuilder. Eight of the company's vessels are currently in the water, while further seven new vessels are expected to be delivered in the next 2 years. The company also recently bought 3 second-hand vessels, which will be delivered in 2Q14. GLOG's new fleet is equipped with tri-fuel diesel electric propulsion, which makes them more fuel-efficient compared to older fuel systems.
Earnings Visibility
GLOG offers investors a stable and secure stream of growing cash flows, as 15 of the company's 18 vessels have already secured long-term contracts (approx. 6 years on average) with BG Group (OTCQX:BRGYY) and Shell (NYSE:RDS.A). Most of the company's charters earn $75,000-$80,000 per day, generating an EBITDA of $23-$27 million per ship. Only the 3 second-hand vessels that were acquired by the BG Group at discounted prices will be earning around $60,000 per day. Among the 3 uncontracted ships, one was acquired at a discounted price and the other two new-builds are not expected to hit the water till late 2014 or early 2015, allowing GLOG to have an active involvement in the chartering market, and offering optionality to a rate recovery.

Source: Company Documents
Benefiting From Its Relationship with BG Group and Ceres Shipping
GasLog entered the shipping industry in 2001 by undertaking the management of the BG Group's fleet of LNG carriers. The company, in a short time, has built a strong reputation in the LNG shipping industry. It is considered as one of the most reliable operators of LNG vessels, and is often the first call for charterers, affording the company access to long-term contracts. GLOG's relationship with BG Group, the world's largest trader and producer of LNG, has been very beneficial for the company. The relationship accorded the company preferential access to long-term contracts with one of the most active charters in the sector. Backed by a long-term employment to BG Group, GasLog took delivery of its first fully-owned LNG carrier in 2010, and today, the company has 13 long-term charters signed with BG Group. In addition, GLOG manages 14 of BG Group's owned LNG carriers, including one vessel in which GLOG has a 25% equity stake. Similar to the recent sale and leaseback of three vessels at the discounted price of $156 million, locking an 11% EBITDA yield for the next 12 years, these managed vessels could potentially become growth targets for GasLog. Although GLOG's relationship with BG Group has been very beneficial for the company and has given it preferential access to long-term contracts, the company has also shown its ability to identify deals elsewhere. GLOG's acquisition of a 2010-built vessel last year in a distressed transaction for $162 million from Singapore-based STX Pan Ocean is testament of the company's ability to grow its fleet beyond new-build orders.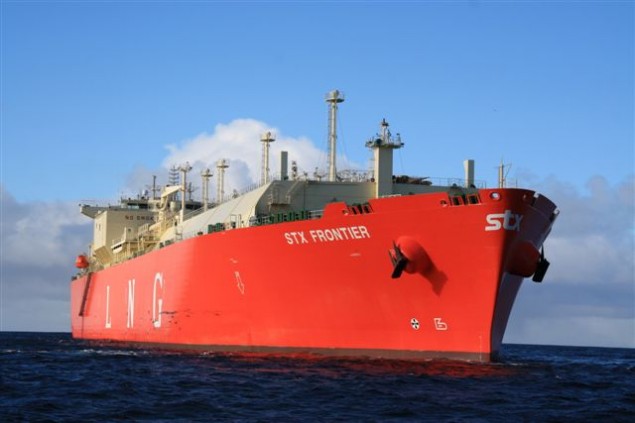 GLOG also benefits immensely from the extensive shipping experience of its Chairman, Peter Livanos. GasLog was originally founded as a part of the Ceres Shipping company. Peter Livanos, a Greek shipping tycoon and the owner of Ceres, still remains the majority shareholder of GLOG. Peter's Ceres Shipping has widespread operations and expertise in the shipping sector, allowing it to support GasLog with its business relationships and expertise. While Ceres has interests in other shipping sectors, all of its LNG interests are in GasLog, which eliminates the potential for any conflict of interest.
Leveraging the Operational Expertise
The company is also looking for potential opportunities to diversify. It is considering entering into markets such as Floating Storage and Regasification Unit ("FSRU"), where it can achieve synergies and benefit from its expertise in the LNG shipping sector. Since FSRUs have similar operating needs as LNG carriers, the move from LNG ships to FSRU is a natural progression. Moreover, the company can easily leverage from its reputation and strong financial position to expand into FSRU sector.
Delays In New Projects a Concern, but Could Also Work In Favor of GLOG
Although a strong demand growth for LNG carriers is expected from the already approved and under-construction projects, there is still a probability that the projects could be delayed. The Angola LNG project faced delays of 18 months due to technical problems, before it made its first export shipment in June last year. The $10 billion project has the capacity of 5.2 million tons per annum, and is operated by Chevron (NYSE:CVX), which has a 36.4% share in the project, while Sonangol has a 22.8% stake. Other stakeholders include Total (NYSE:TOT), BP Plc (NYSE:BP), and ENI. The new capacity expected to come online in the next couple of years could also encounter similar delays. If that is the case, it could cause further imbalance in the demand and supply as speculative vessels are delivered on time. However, this scenario can also work in favor of GasLog, as charterers are looking for experienced and tested operators, and GLOG could end up buying these speculative vessels from inexperienced owners at discounted prices.
Debt Financing Would Not Be an Issue
GLOG has an expected delivery of 4 new vessels in 2016, but is yet to secure financing for them. Although the company is yet to arrange debt for the expected delivery of 4 new vessels, it is unlikely that the company would face any difficulties in securing debt financing due to its reputation and strong financial position. GLOG is also looking to secure employment for three of its vessels; including 2 speculative orders to be delivered in 2014-15 and one second-hand vessel it bought last year in a distressed transaction. These ships could be delivered in a weak market, and may face employment problems given the expected delivery of a large number of vessels during the same period. However, in a situation where there is an oversupply of vessels, GLOG, due to its reputation as one of the most reliable operators, would still remain the first call for charterers.
Taking Measures to Reduce Dependency on BG Group
Although the company's relationship with BG Group has been very beneficial for GLOG, the company also depends heavily on BG for employment. All except one of company's delivered vessels are chartered out to the BG Group, making the company highly dependent on BG for its revenues. Investors might raise concerns that what if the BG Group does not renew the expired contracts, or the company could not make the payments due. However, the probability of such occurrences is very low, as BG is a highly reputed company, and secondly, both companies are very tightly intertwined in their operations. Nevertheless, GasLog is taking measures to reduce its dependency on BG, and has made a contract with Shell to diversify its sources of revenue.
Increasing Gas Prices Could Hurt Demand
Although the future prospects of natural gas are promising, its success depends on the price differential from substitutes (oil and coal), and also the regional differences in the prices that makes U.S. exports to other regions, especially Asia, rewarding. If the demand for natural gas in U.S. increases or shale production falls short due to any reason, the LNG exports and trade would be affected negatively. Therefore, a surge in the natural gas prices could negatively affect the demand for LNG carriers.
Speculative Orders
The LNG carrier fleet, which is expected to outpace demand in the near term, is a cause of concern for GLOG. The LNG market has previously been dominated by owners who either were traders or directly involved in the rest of the LNG supply chain; however, in anticipation of increased demand through the addition of liquefaction capacity, independent owners placed a record number of speculative orders. As a result, the order book of LNG carriers above 150,000 cbm grew to record 104 carriers, and a majority of these carriers are to be delivered in 2014-15. While the liquefaction capacity has often seen delays, the deliveries of these vessels have largely been on time. Despite the fact that the long-term fundamentals are attractive, the deliveries of a large number of carriers before the liquefaction capacity comes online could pressure the market in the near term.
Before We Conclude, Let's Dig Deeper in the LNG Shipping Industry
The LNG shipping market is expected to face challenges in the near term (2014 & 2015) as new-builds arrive ahead of LNG supply. Liquefaction projects coming online in 2014-15 have already secured tonnage, resulting in limited chartering opportunities for LNG ships in the near term. However, the long-term prospects of the industry remain bright due to rapid growth in U.S. exports. Post-2015, overcapacity in LNG shipping should improve as vessels are absorbed by new liquefaction projects.
Overcapacity Only A Short-Term Concern and Unlikely to Hurt GLOG
Overcapacity has also resulted in a drop in short-term rates, which are down from their peak in 2012. According to a report by Morgan Stanley, a total of 35 new-builds are scheduled to be delivered in 2014, and another 36 in 2015, out of which 18-20 remain uncontracted. This could drive low utilization in the illiquid LNG charter market. The new-builds should face low utilization rates as they compete for spot and short-term charters. For companies with open vessels, this should result in frequent revisions and high earnings uncertainty, which could result in increased volatility in their stock price. However, in the long term (in 2016-17), the supply/demand balance should tighten as new LNG capacity additions come online. Moreover, utilization rates should also improve once open vessels find long-term contracts.
The Asian demand, which is taking a bearish turn, is also putting pressure on spot and short-term LNG rates. After 1.5 years of turbulence, including a series of nuclear reactor shutdowns and the fallout of Japan's Fukushima disaster, Korean nuclear power generation capacity is surpassing historic norms. PIRA, the NYC-based leader in energy market analysis, also recently revised down its Asian demand forecast. Moreover, as mentioned earlier, 18-20 new-builds scheduled to be delivered this year remain without a job. All these factors are putting pressure on spot and short-term rates, which for modern dual-fuel/tri-fuel 165,000 cbm, have declined ~18% to $80kpd in the last three months. Additionally, as chartering opportunities remain limited and new-builds' deliveries set to accelerate; standard 145,000 cbm vessels have seen rates fall 35% to $60kpd.
The weaker near-term outlook and the decline in spots rates have also led to a slowdown in new-builds orders. According to Clarksons, only 4 new vessels were ordered in the last quarter of 2013, as compared to an average of 8 new vessels for the previous 8 quarters. Naviera Elcano, a Madrid-based firm engaged in the shipping of bulk products, ordered two of these vessels, and has chartered them under 20-year contracts to ship LNG from U.S. to Asia starting in the in the second quarter of 2016.
Japan, China, and Brazil Remain Strong Buyers
Despite of the factors mentioned above, China and Japan remain strong buyers, while Brazilian demand for LNG is expected to increase throughout the summer, as concerns about power blackouts during the World Cup this summer have increased Brazil's purchases. Moreover, as new liquefaction projects come online in 2016, the LNG shipping market should witness further improvement. The global capacity is expected to grow at an 8.2% CAGR by 2020 (MS estimates), an increase of 170mtpa by 2020 to 420mtpa from 243mtpa currently. More than 40% of this capacity is expected to come online in 2016-17, which suggests an incremental demand of over 100 ships. This also means that 10-15 vessels will still have to be ordered to service marginal demand in 2016.
House Committee Supports LNG Export
The rapid growth in American natural gas production is also positive news for the LNG shipping industry. House of Representatives' Committee on Energy and Commerce in a recent policy paper,"Prosperity at Home and Strengthened Allies Abroad - A Global Perspective on Natural Gas Exports", has outlined a number of benefits in U.S. becoming a natural gas-exporting nation. According to the report, the economic benefits of U.S exporting LNG outweigh the costs. The report further adds that America can produce more than enough natural gas to meet domestic demand affordably, while also supporting export markets.
Geopolitical Benefits
Although there are huge economic benefits of America exporting LNG, there are also geopolitical benefits. Both Russia and Iran are key players in LNG export markets, and by exporting natural gas, U.S. can supplant the influence of these exporters. The ongoing Russian-Ukrainian crisis makes this argument even stronger. By exporting LNG, the U.S. can strengthen ties with its allies and trading partners across the globe. The committee has urged the Department of Energy ("DoE") to speed up its LNG license approval process. The DoE has only approved 5 licenses in the last 3 years, and more than 20 applications still remain pending. The committee has recommended the DoE to approve all remaining export licenses by the end of the year, and is considering legislative action to streamline and expedite the approval process to better reflect America's new energy abundance and the benefits of natural gas exports. The report concludes that time is of essence, and this window of opportunity will not remain open for long, as the countries with near-term energy needs will look elsewhere for supplies.
Conclusion
The LNG shipping industry could face challenges in the near term, but post-2015, the market should tighten in the long term as the new facilities come online. GasLog is the best-positioned stock in the gas shipping market; even in the near term, it has the ability to outperform peers. It offers investors favorable exposure to the positive long-term demand fundamentals of the global LNG market. The company's growth is backed by secured cash flows with stalwart counterparties, a modern fleet of 18 high-spec LNG ships and top-quality operations. New vessel additions can add further upside. The company is trading at attractive valuation. While the company offers considerable upside from monetizing its charter portfolio through an MLP, it also provides solid downside protection. With the growing number of liquefaction and re-gasification facilities, the demand for seaborne cargoes should remain strong, while the supply of vessels should be kept in check by high barriers to entry of owning LNG vessels.
GLOG also benefits from an experienced management team with strong operational track-record. The company's CEO, Paul Wogan, worked for Teekay Corporation (NYSE:TGP) for 8 years. Paul worked as the president of Teekay Tanker Services, with responsibilities for the group's fleet of tankers. In addition, Paul has also served as an independent director of the largest shipbroker, Clarkson's. GasLog's CFO, Simon Crowe, has in the past worked for Subsea 7, a global service firm for the offshore industry, as a CFO. Prior to that, he worked as the vice president of strategy and planning for Transocean, the world's largest offshore driller. Graham Westgarth, the company's COO, has been in the shipping industry for the past 40 years, and was part of the senior leadership team of Teekay Shipping, where he served as the vice president of innovation, technology and projects.
Disclosure: I have no positions in any stocks mentioned, and no plans to initiate any positions within the next 72 hours. I wrote this article myself, and it expresses my own opinions. I am not receiving compensation for it (other than from Seeking Alpha). I have no business relationship with any company whose stock is mentioned in this article.