A Promise is a Promise
I recently wrote about Modern Mobility Aids Inc. (OTCPK:MDRM) in an article entitled "Marijuana Stocks: Investing in Canadian Schwag." In the article, I suggested that MDRM was attempting to mislead investors towards their stock by establishing a vague website regarding "their passion" for the marijuana industry. Mr. Declan French contacted me relatively quickly after the article was published to clear up any misunderstandings. Mr. French has been more direct regarding his plans for MDRM entering the marijuana industry.
If legitimate, this a great new play for this crazy industry. Based on this commitment to enter the marijuana industry in a constructive capacity as a licensed producer, I realize that I may have criticized this company too harshly before it was even up. It now seems reasonable to assume this company is a legitimate player. Even if I may have adjusted my attitude towards this company, I do not want investors to think that I am suggesting a long strategy. There are a lot of uncertainties. This article should read only as informative.
Who is MDRM?
Modern Mobility Aids was incorporated in Nevada on December 19, 2007 under the name Glider Inc., with a business plan to sell and distribute products for mobility-challenged individuals. However, since Mr. Declan French and Mr. Preston Shea have taken over as CEO and president, respectively, MDRM has seen a different direction for his company.
On their new website, marijuanahmo.com, the company indicates interest in the marijuana industry through the company subsidiary, MDRM Canada Ltd. (I initially criticized this company for the vagueness of this wording).
Mr. French has experience acting as president for several companies in the biopharma sector prior to MDRM. Mr. Shea is a licensed as a barrister and solicitor, (meaning he's a lawyer) by the Law Society of Upper Canada in Ontario. This team seems like a right balance of law and experience to launch a successful company.
Clearing the Air
I cannot comment on the valuations of the company. According to our email exchange, Mr. Declan indicated that MDRM is in negotiations to "acquire a licensed firm." This was in response to an email in which I asked what his strategy was for entering the marijuana market.
Mr. Declan French has been very reticent in his emails. I have had to rewrite this article several times due to the new correspondences.
1st Email correspondence: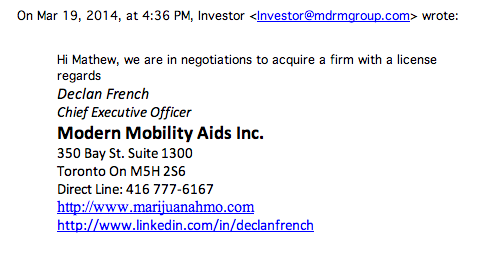 I asked Mr. French to clarify by what he meant by "licensed firm." He articulated that MDRM is in current negotiations to acquire "existing growers in Ontario." He did not clarify whether these growers were MMAR (Marihuana Medical Access Regulations)-licensed or MMPR-licensed. The distinction being that MMAR growers will become obsolete as MMPR rolls out.
Because of the vagueness, it is suggestible that these growers do not currently have MMPR licenses. Alternatively, Mr. French may have not disclosed the statuses of the growers' licenses because negotiations have not been finalized.
My main criticism of this company was for its vagueness. In our most recent exchange, Mr. French clarified what he meant by "growers" and what he meant by "MMPR."
I believe it is safe to assume that MDRM does have tangible plans for entering the medical marijuana industry.
Tumultuous Month For MDRM
Over the past month and a half, significant management changes have taken place. Contingent with this shift, MDRM has proposed interest in capitalizing on the marijuana industry.
On February 10, 2014, Declan French was appointed a member of the Board of Directors. Fourteen days later:
"Effective February 24, 2014, Samuel Hill our director and former Chief Executive Officer, President, Chief Financial Officer, Treasurer and Secretary resigned from such positions. On that same day, On February 24, 2014, our Board of Directors appointed Preston Shea as a member of the Board as well as our President. The Board also appointed another of its members Declan French as it Chief Executive Officer, Chief Financial Officer, Treasurer and Secretary."
Two days later, the company made this announcement:
"MDRM will strive to be a premier company in the cannabis domain as the attitudes in the western world towards medical marijuana are rapidly changing and there is a strong movement towards legalization of medical marijuana in many jurisdictions and the Medical marijuana industry is expected to experience remarkable growth in the next ten years as many countries legalize medical marijuana."
It is not clear what MDRM is implying by saying that they "strive to be premier company in the cannabis domain." In what respect?
The press release continues:
"In February 2014, the business focus of the Company evolved with a rapid expansion strategy in the life sciences and healthcare industry with a focus on production of Medical marijuana."
Here, the company is more concrete about their intentions. Their focus now is on "production of Medical Marijuana." As MMPR is the only legal avenue for production, it is suggestible that this is their goal. They further state:
"A mandate was created to acquire companies within the biopharma and alternative medicine sectors, targeting both innovative research and development as well as scalable licensed, cannabis manufacturing capacity."
In consideration that the company has had a relatively recent change in management, this directional shift makes sense. The company has acquired managerial assets to reconfigure their company for the marijuana market. At the same time, it could be a ruse to pump the stock.
Buying Hot Air or a Golden Ticket?
Without a license, you will be buying stock in a company without assets or cash merely on the idea that has not gone through. That said, the market has been very positive towards the company's LOIs (letters of intent) and MOUs (memorandum of understanding).
Before the management change, this stock was worth about $.001. The stock then rose about $.02 before Mr. French and Mr. Shea joined the company on the 10th of February. From the 10th to the 24th, the stock rose to $.05, although no announcement related to marijuana was made.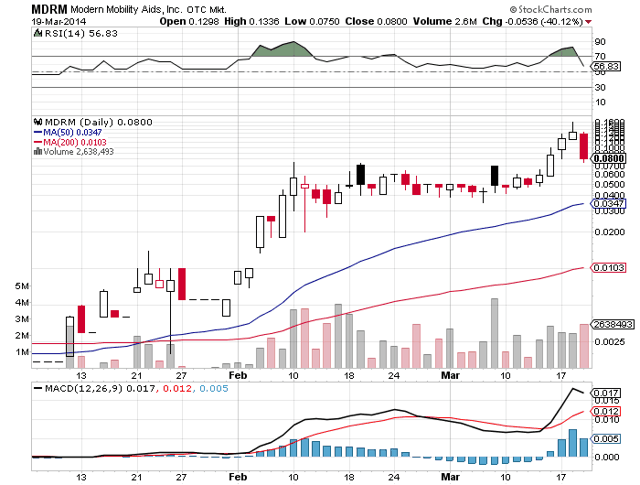 Once MDRM launched the website, marijuanahmo.com, on March 6th, the stock nearly tripled.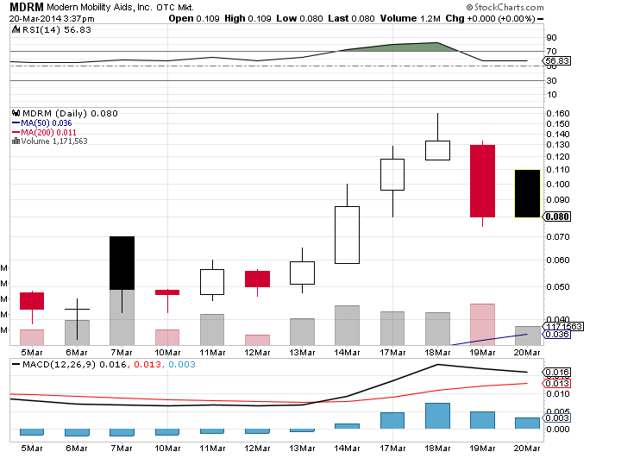 On March 19th, the company took a beating, losing nearly 40% of its gains.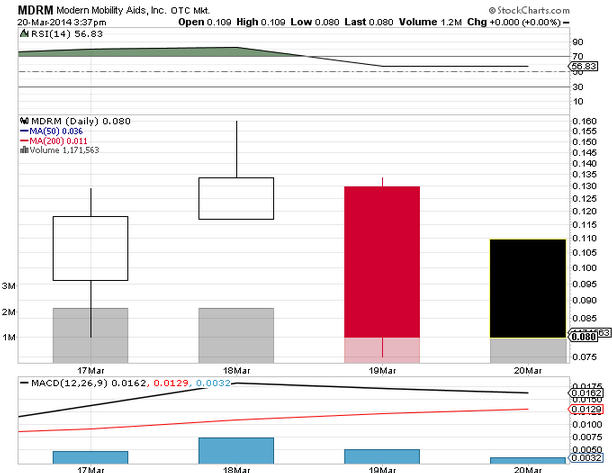 As March 19th was an overall bad day for the market, it is reasonable that such a young company would be hit so hard. Yet, it is surprising that the stock did not drop below the 19th's low of $.08. This suggests that investors are still keeping their skin in the game.
These charts tell a narrative. As soon as management changed, momentum started moving positively. There is reason to speculate that new management could have had a positive effect on the market's outlook towards this stock. Marijuana stocks are very popular right now, and investors have reason to be bullish, even on rumors and speculations.
Green Rush, Getting Crowded?
As far as valuation is considered for MDRM, if the company is indeed in negotiations to acquire a licensed grower in Canada, the company will be driven upwards by speculation. This is not much to make a committed investment. However, if the commitment is legitimate, this company could be considered a bargain. Again, there are too many uncertainties at this point.
If you believe that there are negotiations being made currently and that a deal will be struck between Modern Mobility Aids and a licensed producer/grower, then there is reason to speculate. I feel confident that there is. The market has favorably treated speculative buys without material grounds for doing so. Even the suggestion of a marijuana play launches a company upwards in valuations.
So far, the list of licensed producers is as follows:
1) Bedrocan Canada Inc.
2) Canna Farms Ltd.
3) CanniMed Ltd.
4) Delta 9 Bio-Tech Inc.
5) GreenLeaf Medicinals Ltd.
6) In The Zone Produce Ltd.
7) Mettrum Ltd.
8) MedReleaf Corp.
9) The Peace Naturals Project Inc.
10) ThunderBird Biomedical Inc.
11) Tweed Inc.
12) Whistler Medical Marijuana Corp.
The Publics
There has not been a cap set for the amount of producers that can obtain a license. So far, the publicly traded companies that have intimated intentions to procure a license or work with a licensed producer in the marijuana sector are as follows:
1) Abattis Bioceuticals (OTCQB:ATTBF)
2) Advanced Cannabis Solutions (OTCQX:CANN) -[This was is less tenable, for more info see Canada Cannabis Corp. (NYSE:CCC)]
3) Creative Edge Nutrition (OTC:FITX) - and, by default, Growlife (OTCQB:PHOT)
4) Easton Pharmaceuticals (OTCPK:EAPH)
5) Enertopia (OTCQB:ENRT)
6) MDRM Group Canada Ltd.
In addition, Tweed has long announced its plan to go public. No date as of yet. [Note to investors: some brokerages have announced that they will not carry shares of companies that sell medical marijuana. So far, I know of Schwab. If there is any additional brokerage firms that you know of, please share in the comments section]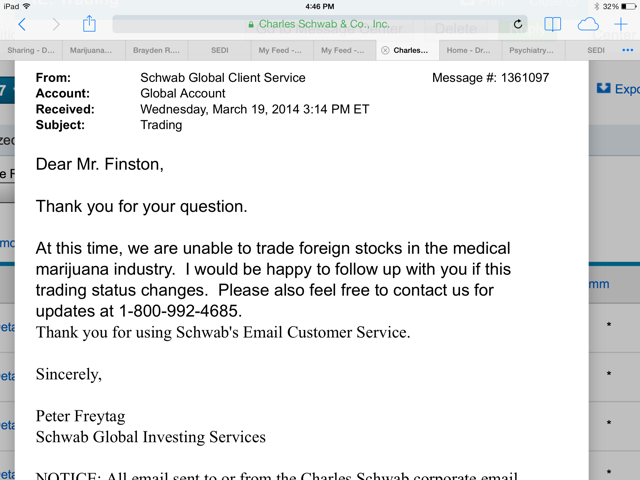 To Pump or Not to Pump?
I realize in sharing this information, this can be mistakenly interpreted as recommendation to buy not just MDRM, but also any of the companies mentioned. This is a volatile industry with a lot of uncertainty. I have made some strong claims in the past, but I do not recommend that investors should jump into any of the stocks mentioned solely based on reading this article. Besides from the correspondence I have recently had with MDRM, I have no idea what the likelihood will be of MDRM becoming a legitimate player. If you take their word that a negotiation is in progress and will be finalized, then dive right in. Many others will. I might.
I cannot verify the details regarding the legitimacy of MDRM's negotiations with growers. Since Mr. French has contacted me in good faith, I felt it my responsibility to publicly share our correspondence. There is still a haze of mystery surrounding this company. But a lot less so when they simply launched their website.
It seems that Mr. French's vision for MDRM is for it become a publicly traded company producing medical marijuana in the Canadian market. Without full disclosure, there is no way to validate that remark. Should you believe them? I'll let you folks decide.
Final Thoughts
I am not married to the idea of any company doing poorly in the marijuana sector. I am, however, adverse to companies becoming gratuitously overvalued and leading to imminent crashes. There has been growing criticism towards the sector. The more we pump up marijuana stocks, the harder they fall. This is not healthy. And it can cause ripple effects, creating irrational swings.
But just with MDRM, you should question the sincerity of all these companies that promise investors a chance to get in on the ground floor of a market revolution. The trend is definitely pushing towards legalization. The time frame is unclear.
However, I have reason now to be bullish for MDRM. Mr. French has indicated a clear vision for how he'd like to capitalize on this industry. With April 1st fast approaching, room on the ground floor is thinning.
Disclosure: I am long ATTBF. I wrote this article myself, and it expresses my own opinions. I am not receiving compensation for it (other than from Seeking Alpha). I have no business relationship with any company whose stock is mentioned in this article. In the next 72 hours, I may initiate a long position in MDRM, PHOT, CANN, ENRT.
Editor's Note: This article covers one or more stocks trading at less than $1 per share and/or with less than a $100 million market cap. Please be aware of the risks associated with these stocks.