Let's face it, utilities aren't the sexiest stocks around - highly regulated, low growth business models generally keep them off most "hot stocks" lists. But, guess what - the utilities sector is one of the 2 leading sectors in 2014, up 5% to 7%-plus, depending on which financial website you follow, and has handily outperformed the market so far this year.
However, this week's focus stock, NRG Yield (NYLD), has strong growth prospects, both for earnings and dividends. Like many of the stocks in our articles, it also has options-selling opportunities available.
Company Profile: NRG Yield owns a diversified portfolio of contracted renewable and conventional generation and thermal infrastructure assets in the United States. Its contracted generation portfolio includes three natural gas or multi-fuel facilities, eight utility-scale solar and wind generation facilities and two portfolios of distributed solar facilities that collectively represent 1,324 megawatts of generation capacity.
NYLD also owns thermal infrastructure assets with an aggregate steam and chilled water capacity of 1,098 megawatts thermal and electric generation capacity of 123 megawatts. These thermal infrastructure assets provide steam, hot water and/or chilled water, and in some instances electricity, to commercial businesses, universities, hospitals and governmental units in ten locations, principally through long-term contracts or pursuant to rates regulated by state utility commissions.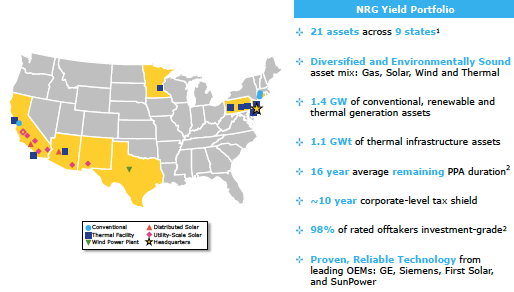 (Source: NYLD website)
With its mix of gas and renewable energy sources, NYLD stands to benefit from a growing trend - the US Energy Information Agency forecasted that "60% and 29% of all new electric generation capacity constructed in the US between 2011 and 2035, will be comprised of natural gas-fired generation and renewables, respectively." (Source: IEA)
Dividend Growth: After paying its initial partial dividend of $.23 in October 2013, NYLD jumped to a $.33 payout in Q1 2014 and is forecasting 20% dividend growth in 2014. Management is also targeting a 90% Dividend Payout Ratio.
Management estimates that its cash available for distribution, CAD, will increase over 26% in 2014, to $115 million. NYLD's current 3.37% dividend yield compares favorably to the electric utilities industry average of 2.17%.
Although you can find other, higher dividend yields in the utilities sector, we've added NYLD to our High Dividend Stocks By Sector Tables due to its future dividend growth prospects.

Options: If you want to increase NYLD's yield on a short-term basis, there are attractive June 2014 call options. The June $40.00 strike currently pays $1.35, a bit over 4 times NYLD's $.33 quarterly dividend. You can see more details on this and over 30 other covered call trades in our Covered Calls Table.

The $40 call is $.82 above NYLD's price/share, so if your shares get assigned before the ex-dividend date, you'll be amply compensated for the loss of the $.33 dividend.

NYLD also has put options available, but we haven't added a trade to our Cash Secured Puts Table yet as the put-selling yields aren't currently that attractive.
Earnings Growth: Since NYLD only went public in July 2013 it only about 5 months of earnings attributable to its shares. Hence the wild-looking P/E of 68.74. Its Price/Sales ratio should come down in 2014 if analysts' forecasts are correct. They're estimating 2014 revenue of $465 million, a 49% increase over 2013.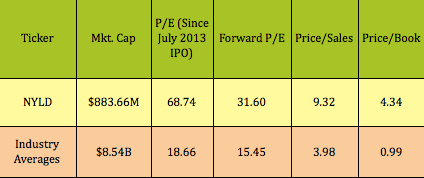 Analysts are also estimating big earnings growth of 117.54% in 2014 for NYLD, which makes NYLD look undervalued on a 2014 PEG basis. (We used a forward P/E ratio for this table, as 2013 only had 5 months of earnings.):

NYLD also raised its 2014 adjusted EBITDA guidance to $292 million, from $285 million, a 17% increase.
Where will NYLD's future earnings growth come from? It has right of first offer on six properties with 1,059 net MW of generation capacity: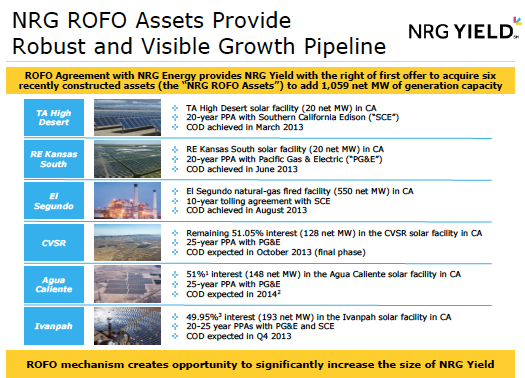 (Source: NYLD website)
NYLD also closed its 1st 3rd party acquisition in 2013, buying Energy Systems, a thermal energy provider in Omaha, Nebraska.
Stable cash flow via long-term contracts: NYLD's average contract remaining life is 16 years, with some stretching out to over 25 years: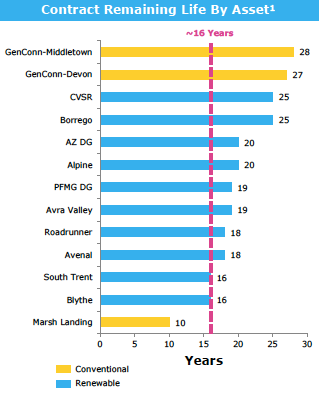 (Source: NYLD website)
Financials: NYLD's management efficiency ratios are roughly in line with industry averages, but it does have a superior ROE and Operating Margin. It carries more debt than average industry debt loads, but most of its debt is long term.

Disclosure: Author held no positions as of yet in any of the stocks mentioned in this article at the time of this writing.
Disclaimer: This article was written for informational purposes only.
Tables in this article were furnished by DoubleDividendStocks.com, except as where noted.
Disclosure: I have no positions in any stocks mentioned, but may initiate a long position in NYLD over the next 72 hours. I wrote this article myself, and it expresses my own opinions. I am not receiving compensation for it (other than from Seeking Alpha). I have no business relationship with any company whose stock is mentioned in this article.