Harman International Industries, Inc. (NYSE:HAR) is cashing in on the strong demand for entertainment in our cars. This Zacks Rank #1 (Strong Buy) recently raised fiscal 2014 guidance and is expected to post double digit earnings growth.
Harman manufactures infotainment and audio systems for vehicles worldwide. Its customers include the biggest names in the auto industry including BMW, Mercedes, Audi, Toyota, Chrysler, Volkswagen and GM. 25 million automobiles on the roads are now equipped with Harman audio and infotainment systems.
Consumers want to be connected at all times so infotainment remains a growing market.
Luxury vehicles were the first to get infotainment systems and it remains the most penetrated with about 50% of vehicles now sporting infotainment systems. In mainstream vehicles, the level remains at just 15% to 20% so there is opportunity. Some analysts believe that ultimately there will be 100% penetration of these systems in vehicles.
Harman already commands a large segment of the total infotainment industry with some analysts believing that it has a 25% market share.
Another Beat in Fiscal Q2
On Jan 30, Harman reported fiscal second quarter results and beat the Zacks Consensus by 11%. It was the fourth straight earnings surprise in a row.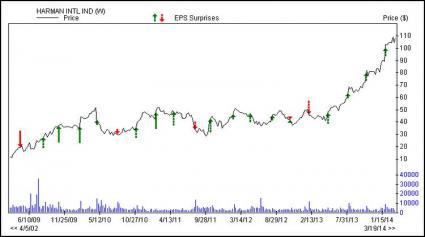 Revenue jumped 26% to $1.3 billion year-over-year. All three of the company's divisions saw higher sales due to company initiatives and stronger global economic conditions.
Momentum is building in the infotainment industry. Harman received $2.7 billion in new auto awards in the first two quarters of fiscal 2014.
Raised Full-Year Guidance
Harman was confident that the momentum it saw in the first half of the fiscal year would continue.
It raised full year EPS guidance to $4.16 from its prior guidance of $3.85. That easily exceeded the Q2 earnings beat of $0.11.
Analysts responded by raising estimates. Five estimates have moved higher since the earnings report pushing the Zacks Consensus up to $4.22. That is higher than the company's own guidance but given the strong first half of the fiscal year, analysts are bullish.
Earnings are expected to grow 37.3% in fiscal 2014 and another 27.6% in fiscal 2015.
Shares at Five-Year High
Shares have been trending higher over the last year as the company has continued to raise guidance and grow earnings.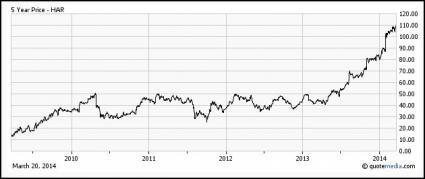 It is now trading with a forward P/E of 25.8 which is more expensive than it has been historically, but you're getting higher growth rates than years past.
For those looking for a unique way to play the spread of information and entertainment, Harman is a technology company that should be on your short list.
HARMAN INTL IND (HAR): Free Stock Analysis Report